Have a language expert improve your writing
Run a free plagiarism check in 10 minutes, generate accurate citations for free.
Knowledge Base
How to write a rhetorical analysis | Key concepts & examples
How to Write a Rhetorical Analysis | Key Concepts & Examples
Published on August 28, 2020 by Jack Caulfield . Revised on July 23, 2023.
A rhetorical analysis is a type of essay  that looks at a text in terms of rhetoric. This means it is less concerned with what the author is saying than with how they say it: their goals, techniques, and appeals to the audience.
Table of contents
Key concepts in rhetoric, analyzing the text, introducing your rhetorical analysis, the body: doing the analysis, concluding a rhetorical analysis, other interesting articles, frequently asked questions about rhetorical analysis.
Rhetoric, the art of effective speaking and writing, is a subject that trains you to look at texts, arguments and speeches in terms of how they are designed to persuade the audience. This section introduces a few of the key concepts of this field.
Appeals: Logos, ethos, pathos
Appeals are how the author convinces their audience. Three central appeals are discussed in rhetoric, established by the philosopher Aristotle and sometimes called the rhetorical triangle: logos, ethos, and pathos.
Logos , or the logical appeal, refers to the use of reasoned argument to persuade. This is the dominant approach in academic writing , where arguments are built up using reasoning and evidence.
Ethos , or the ethical appeal, involves the author presenting themselves as an authority on their subject. For example, someone making a moral argument might highlight their own morally admirable behavior; someone speaking about a technical subject might present themselves as an expert by mentioning their qualifications.
Pathos , or the pathetic appeal, evokes the audience's emotions. This might involve speaking in a passionate way, employing vivid imagery, or trying to provoke anger, sympathy, or any other emotional response in the audience.
These three appeals are all treated as integral parts of rhetoric, and a given author may combine all three of them to convince their audience.
Text and context
In rhetoric, a text is not necessarily a piece of writing (though it may be this). A text is whatever piece of communication you are analyzing. This could be, for example, a speech, an advertisement, or a satirical image.
In these cases, your analysis would focus on more than just language—you might look at visual or sonic elements of the text too.
The context is everything surrounding the text: Who is the author (or speaker, designer, etc.)? Who is their (intended or actual) audience? When and where was the text produced, and for what purpose?
Looking at the context can help to inform your rhetorical analysis. For example, Martin Luther King, Jr.'s "I Have a Dream" speech has universal power, but the context of the civil rights movement is an important part of understanding why.
Claims, supports, and warrants
A piece of rhetoric is always making some sort of argument, whether it's a very clearly defined and logical one (e.g. in a philosophy essay) or one that the reader has to infer (e.g. in a satirical article). These arguments are built up with claims, supports, and warrants.
A claim is the fact or idea the author wants to convince the reader of. An argument might center on a single claim, or be built up out of many. Claims are usually explicitly stated, but they may also just be implied in some kinds of text.
The author uses supports to back up each claim they make. These might range from hard evidence to emotional appeals—anything that is used to convince the reader to accept a claim.
The warrant is the logic or assumption that connects a support with a claim. Outside of quite formal argumentation, the warrant is often unstated—the author assumes their audience will understand the connection without it. But that doesn't mean you can't still explore the implicit warrant in these cases.
For example, look at the following statement:
We can see a claim and a support here, but the warrant is implicit. Here, the warrant is the assumption that more likeable candidates would have inspired greater turnout. We might be more or less convinced by the argument depending on whether we think this is a fair assumption.
Here's why students love Scribbr's proofreading services
Discover proofreading & editing
Rhetorical analysis isn't a matter of choosing concepts in advance and applying them to a text. Instead, it starts with looking at the text in detail and asking the appropriate questions about how it works:
What is the author's purpose?
Do they focus closely on their key claims, or do they discuss various topics?
What tone do they take—angry or sympathetic? Personal or authoritative? Formal or informal?
Who seems to be the intended audience? Is this audience likely to be successfully reached and convinced?
What kinds of evidence are presented?
By asking these questions, you'll discover the various rhetorical devices the text uses. Don't feel that you have to cram in every rhetorical term you know—focus on those that are most important to the text.
The following sections show how to write the different parts of a rhetorical analysis.
Like all essays, a rhetorical analysis begins with an introduction . The introduction tells readers what text you'll be discussing, provides relevant background information, and presents your thesis statement .
Hover over different parts of the example below to see how an introduction works.
Martin Luther King, Jr.'s "I Have a Dream" speech is widely regarded as one of the most important pieces of oratory in American history. Delivered in 1963 to thousands of civil rights activists outside the Lincoln Memorial in Washington, D.C., the speech has come to symbolize the spirit of the civil rights movement and even to function as a major part of the American national myth. This rhetorical analysis argues that King's assumption of the prophetic voice, amplified by the historic size of his audience, creates a powerful sense of ethos that has retained its inspirational power over the years.
The body of your rhetorical analysis is where you'll tackle the text directly. It's often divided into three paragraphs, although it may be more in a longer essay.
Each paragraph should focus on a different element of the text, and they should all contribute to your overall argument for your thesis statement.
Hover over the example to explore how a typical body paragraph is constructed.
King's speech is infused with prophetic language throughout. Even before the famous "dream" part of the speech, King's language consistently strikes a prophetic tone. He refers to the Lincoln Memorial as a "hallowed spot" and speaks of rising "from the dark and desolate valley of segregation" to "make justice a reality for all of God's children." The assumption of this prophetic voice constitutes the text's strongest ethical appeal; after linking himself with political figures like Lincoln and the Founding Fathers, King's ethos adopts a distinctly religious tone, recalling Biblical prophets and preachers of change from across history. This adds significant force to his words; standing before an audience of hundreds of thousands, he states not just what the future should be, but what it will be: "The whirlwinds of revolt will continue to shake the foundations of our nation until the bright day of justice emerges." This warning is almost apocalyptic in tone, though it concludes with the positive image of the "bright day of justice." The power of King's rhetoric thus stems not only from the pathos of his vision of a brighter future, but from the ethos of the prophetic voice he adopts in expressing this vision.
A faster, more affordable way to improve your paper
Scribbr's new AI Proofreader checks your document and corrects spelling, grammar, and punctuation mistakes with near-human accuracy and the efficiency of AI!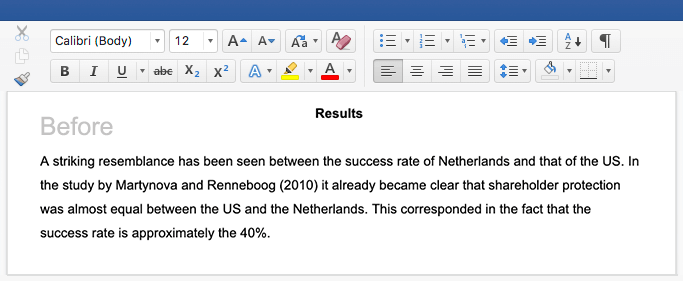 Proofread my paper
The conclusion of a rhetorical analysis wraps up the essay by restating the main argument and showing how it has been developed by your analysis. It may also try to link the text, and your analysis of it, with broader concerns.
Explore the example below to get a sense of the conclusion.
It is clear from this analysis that the effectiveness of King's rhetoric stems less from the pathetic appeal of his utopian "dream" than it does from the ethos he carefully constructs to give force to his statements. By framing contemporary upheavals as part of a prophecy whose fulfillment will result in the better future he imagines, King ensures not only the effectiveness of his words in the moment but their continuing resonance today. Even if we have not yet achieved King's dream, we cannot deny the role his words played in setting us on the path toward it.
If you want to know more about AI tools , college essays , or fallacies make sure to check out some of our other articles with explanations and examples or go directly to our tools!
Ad hominem fallacy
Post hoc fallacy
Appeal to authority fallacy
False cause fallacy
Sunk cost fallacy
College essays
Choosing Essay Topic
Write a College Essay
Write a Diversity Essay
College Essay Format & Structure
Comparing and Contrasting in an Essay
 (AI) Tools
Grammar Checker
Paraphrasing Tool
Text Summarizer
AI Detector
Plagiarism Checker
Citation Generator
The goal of a rhetorical analysis is to explain the effect a piece of writing or oratory has on its audience, how successful it is, and the devices and appeals it uses to achieve its goals.
Unlike a standard argumentative essay , it's less about taking a position on the arguments presented, and more about exploring how they are constructed.
The term "text" in a rhetorical analysis essay refers to whatever object you're analyzing. It's frequently a piece of writing or a speech, but it doesn't have to be. For example, you could also treat an advertisement or political cartoon as a text.
Logos appeals to the audience's reason, building up logical arguments . Ethos appeals to the speaker's status or authority, making the audience more likely to trust them. Pathos appeals to the emotions, trying to make the audience feel angry or sympathetic, for example.
Collectively, these three appeals are sometimes called the rhetorical triangle . They are central to rhetorical analysis , though a piece of rhetoric might not necessarily use all of them.
In rhetorical analysis , a claim is something the author wants the audience to believe. A support is the evidence or appeal they use to convince the reader to believe the claim. A warrant is the (often implicit) assumption that links the support with the claim.
Cite this Scribbr article
If you want to cite this source, you can copy and paste the citation or click the "Cite this Scribbr article" button to automatically add the citation to our free Citation Generator.
Caulfield, J. (2023, July 23). How to Write a Rhetorical Analysis | Key Concepts & Examples. Scribbr. Retrieved November 6, 2023, from https://www.scribbr.com/academic-essay/rhetorical-analysis/
Is this article helpful?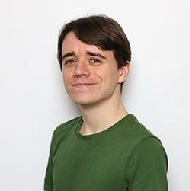 Jack Caulfield
Other students also liked, how to write an argumentative essay | examples & tips, how to write a literary analysis essay | a step-by-step guide, comparing and contrasting in an essay | tips & examples, what is your plagiarism score.

UNITED STATES
台灣 (TAIWAN)
TÜRKIYE (TURKEY)
Academic Editing Services
- Research Paper
- Journal Manuscript
- Dissertation
- College & University Assignments
Admissions Editing Services
- Application Essay
- Personal Statement
- Recommendation Letter
- Cover Letter
- CV/Resume
Business Editing Services
- Business Documents
- Report & Brochure
- Website & Blog
Writer Editing Services
- Script & Screenplay
Our Editors
Client Reviews
Editing & Proofreading Prices
Wordvice Points
Partner Discount
Plagiarism Checker
APA Citation Generator
MLA Citation Generator
Chicago Citation Generator
Vancouver Citation Generator
- APA Style
- MLA Style
- Chicago Style
- Vancouver Style
Writing & Editing Guide
Academic Resources
Admissions Resources
How to Write a Rhetorical Analysis Essay–Examples & Template
What is a Rhetorical Analysis Essay?
A rhetorical analysis essay is, as the name suggests, an analysis of someone else's writing (or speech, or advert, or even cartoon) and how they use not only words but also rhetorical techniques to influence their audience in a certain way. A rhetorical analysis is less interested in what the author is saying and more in how they present it, what effect this has on their readers, whether they achieve their goals, and what approach they use to get there.
Its structure is similar to that of most essays: An Introduction presents your thesis, a Body analyzes the text you have chosen, breaks it down into sections and explains how arguments have been constructed and how each part persuades, informs, or entertains the reader, and a Conclusion section sums up your evaluation.
Note that your personal opinion on the matter is not relevant for your analysis and that you don't state anywhere in your essay whether you agree or disagree with the stance the author takes.
In the following, we will define the key rhetorical concepts you need to write a good rhetorical analysis and give you some practical tips on where to start.
Key Rhetorical Concepts
Your goal when writing a rhetorical analysis is to think about and then carefully describe how the author has designed their text so that it has the intended effect on their audience. To do that, you need to consider a number of key rhetorical strategies: Rhetorical appeals ("Ethos", "Logos", and "Pathos"), context, as well as claims, supports, and warrants.
Ethos, Logos, and Pathos were introduced by Aristotle, way back in the 4th century BC, as the main ways in which language can be used to persuade an audience. They still represent the basis of any rhetorical analysis and are often referred to as the "rhetorical triangle".
These and other rhetorical techniques can all be combined to create the intended effect, and your job as the one analyzing a text is to break the writer's arguments down and identify the concepts they are based on.
Rhetorical Appeals
Rhetorical appeal #1: ethos.
Ethos refers to the reputation or authority of the writer regarding the topic of their essay or speech and to how they use this to appeal to their audience. Just like we are more likely to buy a product from a brand or vendor we have confidence in than one we don't know or have reason to distrust, Ethos-driven texts or speeches rely on the reputation of the author to persuade the reader or listener. When you analyze an essay, you should therefore look at how the writer establishes Ethos through rhetorical devices.
Does the author present themselves as an authority on their subject? If so, how?
Do they highlight how impeccable their own behavior is to make a moral argument?
Do they present themselves as an expert by listing their qualifications or experience to convince the reader of their opinion on something?
Rhetorical appeal #2: Pathos
The purpose of Pathos-driven rhetoric is to appeal to the reader's emotions. A common example of pathos as a rhetorical means is adverts by charities that try to make you donate money to a "good cause". To evoke the intended emotions in the reader, an author may use passionate language, tell personal stories, and employ vivid imagery so that the reader can imagine themselves in a certain situation and feel empathy with or anger towards others.
Rhetorical appeal #3: Logos
Logos, the "logical" appeal, uses reason to persuade. Reason and logic, supported by data, evidence, clearly defined methodology, and well-constructed arguments, are what most academic writing is based on. Emotions, those of the researcher/writer as well as those of the reader, should stay out of such academic texts, as should anyone's reputation, beliefs, or personal opinions.
Text and Context
To analyze a piece of writing, a speech, an advertisement, or even a satirical drawing, you need to look beyond the piece of communication and take the context in which it was created and/or published into account.
Who is the person who wrote the text/drew the cartoon/designed the ad..? What audience are they trying to reach? Where was the piece published and what was happening there around that time?
A political speech, for example, can be powerful even when read decades later, but the historical context surrounding it is an important aspect of the effect it was intended to have.
Claims, Supports, and Warrants
To make any kind of argument, a writer needs to put forward specific claims, support them with data or evidence or even a moral or emotional appeal, and connect the dots logically so that the reader can follow along and agree with the points made.
The connections between statements, so-called "warrants", follow logical reasoning but are not always clearly stated—the author simply assumes the reader understands the underlying logic, whether they present it "explicitly" or "implicitly". Implicit warrants are commonly used in advertisements where seemingly happy people use certain products, wear certain clothes, accessories, or perfumes, or live certain lifestyles – with the connotation that, first, the product/perfume/lifestyle is what makes that person happy and, second, the reader wants to be as happy as the person in the ad. Some warrants are never clearly stated, and your job when writing a rhetorical analysis essay is therefore to identify them and bring them to light, to evaluate their validity, their effect on the reader, and the use of such means by the writer/creator.
What are the Five Rhetorical Situations?
A "rhetorical situation" refers to the circumstance behind a text or other piece of communication that arises from a given context. It explains why a rhetorical piece was created, what its purpose is, and how it was constructed to achieve its aims.
Rhetorical situations can be classified into the following five categories:
Asking such questions when you analyze a text will help you identify all the aspects that play a role in the effect it has on its audience, and will allow you to evaluate whether it achieved its aims or where it may have failed to do so.
Rhetorical Analysis Essay Outline
Analyzing someone else's work can seem like a big task, but as with every assignment or writing endeavor, you can break it down into smaller, well-defined steps that give you a practical structure to follow.
To give you an example of how the different parts of your text may look when it's finished, we will provide you with some excerpts from this rhetorical analysis essay example (which even includes helpful comments) published on the Online Writing Lab website of Excelsior University in Albany, NY. The text that this essay analyzes is this article on why one should or shouldn't buy an Ipad. If you want more examples so that you can build your own rhetorical analysis template, have a look at this essay on Nabokov's Lolita and the one provided here about the "Shitty First Drafts" chapter of Anne Lamott's writing instruction book "Bird by Bird".
Analyzing the Text
When writing a rhetorical analysis, you don't choose the concepts or key points you think are relevant or want to address. Rather, you carefully read the text several times asking yourself questions like those listed in the last section on rhetorical situations to identify how the text "works" and how it was written to achieve that effect.
Start with focusing on the author : What do you think was their purpose for writing the text? Do they make one principal claim and then elaborate on that? Or do they discuss different topics?
Then look at what audience they are talking to: Do they want to make a group of people take some action? Vote for someone? Donate money to a good cause? Who are these people? Is the text reaching this specific audience? Why or why not?
What tone is the author using to address their audience? Are they trying to evoke sympathy? Stir up anger? Are they writing from a personal perspective? Are they painting themselves as an authority on the topic? Are they using academic or informal language?
How does the author support their claims ? What kind of evidence are they presenting? Are they providing explicit or implicit warrants? Are these warrants valid or problematic? Is the provided evidence convincing?
Asking yourself such questions will help you identify what rhetorical devices a text uses and how well they are put together to achieve a certain aim. Remember, your own opinion and whether you agree with the author are not the point of a rhetorical analysis essay – your task is simply to take the text apart and evaluate it.
If you are still confused about how to write a rhetorical analysis essay, just follow the steps outlined below to write the different parts of your rhetorical analysis: As every other essay, it consists of an Introduction , a Body (the actual analysis), and a Conclusion .
Rhetorical Analysis Introduction
The Introduction section briefly presents the topic of the essay you are analyzing, the author, their main claims, a short summary of the work by you, and your thesis statement .
Tell the reader what the text you are going to analyze represents (e.g., historically) or why it is relevant (e.g., because it has become some kind of reference for how something is done). Describe what the author claims, asserts, or implies and what techniques they use to make their argument and persuade their audience. Finish off with your thesis statement that prepares the reader for what you are going to present in the next section – do you think that the author's assumptions/claims/arguments were presented in a logical/appealing/powerful way and reached their audience as intended?
Have a look at an excerpt from the sample essay linked above to see what a rhetorical analysis introduction can look like. See how it introduces the author and article , the context in which it originally appeared , the main claims the author makes , and how this first paragraph ends in a clear thesis statement that the essay will then elaborate on in the following Body section:
Cory Doctorow 's article on BoingBoing is an older review of the iPad , one of Apple's most famous products. At the time of this article, however, the iPad was simply the latest Apple product to hit the market and was not yet so popular. Doctorow's entire career has been entrenched in and around technology. He got his start as a CD-ROM programmer and is now a successful blogger and author. He is currently the co-editor of the BoingBoing blog on which this article was posted. One of his main points in this article comes from Doctorow's passionate advocacy of free digital media sharing. He argues that the iPad is just another way for established technology companies to control our technological freedom and creativity . In " Why I Won't Buy an iPad (and Think You Shouldn't, Either) " published on Boing Boing in April of 2010, Cory Doctorow successfully uses his experience with technology, facts about the company Apple, and appeals to consumer needs to convince potential iPad buyers that Apple and its products, specifically the iPad, limit the digital rights of those who use them by controlling and mainstreaming the content that can be used and created on the device .
Doing the Rhetorical Analysis
The main part of your analysis is the Body , where you dissect the text in detail. Explain what methods the author uses to inform, entertain, and/or persuade the audience. Use Aristotle's rhetorical triangle and the other key concepts we introduced above. Use quotations from the essay to demonstrate what you mean. Work out why the writer used a certain approach and evaluate (and again, demonstrate using the text itself) how successful they were. Evaluate the effect of each rhetorical technique you identify on the audience and judge whether the effect is in line with the author's intentions.
To make it easy for the reader to follow your thought process, divide this part of your essay into paragraphs that each focus on one strategy or one concept , and make sure they are all necessary and contribute to the development of your argument(s).
One paragraph of this section of your essay could, for example, look like this:
One example of Doctorow's position is his comparison of Apple's iStore to Wal-Mart. This is an appeal to the consumer's logic—or an appeal to logos. Doctorow wants the reader to take his comparison and consider how an all-powerful corporation like the iStore will affect them. An iPad will only allow for apps and programs purchased through the iStore to be run on it; therefore, a customer must not only purchase an iPad but also any programs he or she wishes to use. Customers cannot create their own programs or modify the hardware in any way.
As you can see, the author of this sample essay identifies and then explains to the reader how Doctorow uses the concept of Logos to appeal to his readers – not just by pointing out that he does it but by dissecting how it is done.
Rhetorical Analysis Conclusion
The conclusion section of your analysis should restate your main arguments and emphasize once more whether you think the author achieved their goal. Note that this is not the place to introduce new information—only rely on the points you have discussed in the body of your essay. End with a statement that sums up the impact the text has on its audience and maybe society as a whole:
Overall, Doctorow makes a good argument about why there are potentially many better things to drop a great deal of money on instead of the iPad. He gives some valuable information and facts that consumers should take into consideration before going out to purchase the new device. He clearly uses rhetorical tools to help make his case, and, overall, he is effective as a writer, even if, ultimately, he was ineffective in convincing the world not to buy an iPad .
Frequently Asked Questions about Rhetorical Analysis Essays
What is a rhetorical analysis essay.
A rhetorical analysis dissects a text or another piece of communication to work out and explain how it impacts its audience, how successfully it achieves its aims, and what rhetorical devices it uses to do that.
While argumentative essays usually take a stance on a certain topic and argue for it, a rhetorical analysis identifies how someone else constructs their arguments and supports their claims.
What is the correct rhetorical analysis essay format?
Like most other essays, a rhetorical analysis contains an Introduction that presents the thesis statement, a Body that analyzes the piece of communication, explains how arguments have been constructed, and illustrates how each part persuades, informs, or entertains the reader, and a Conclusion section that summarizes the results of the analysis.
What is the "rhetorical triangle"?
The rhetorical triangle was introduced by Aristotle as the main ways in which language can be used to persuade an audience: Logos appeals to the audience's reason, Ethos to the writer's status or authority, and Pathos to the reader's emotions. Logos, Ethos, and Pathos can all be combined to create the intended effect, and your job as the one analyzing a text is to break the writer's arguments down and identify what specific concepts each is based on.
Let Wordvice help you write a flawless rhetorical analysis essay!
Whether you have to write a rhetorical analysis essay as an assignment or whether it is part of an application, our professional proofreading services feature professional editors are trained subject experts that make sure your text is in line with the required format, as well as help you improve the flow and expression of your writing. Let them be your second pair of eyes so that after receiving paper editing services or essay editing services from Wordvice, you can submit your manuscript or apply to the school of your dreams with confidence.
And check out our editing services for writers (including blog editing , script editing , and book editing ) to correct your important personal or business-related work.
Access My STLCC Email
Access Banner Self Service
Access Canvas
Access the Course Schedule
Register for a Continuing Education Class
View Our Campuses
Rhetorical Analysis Sample Essay
Harriet Clark
Ms. Rebecca Winter
13 Feb. 2015
Not Quite a Clean Sweep: Rhetorical Strategies in
Grose's "Cleaning: The Final Feminist Frontier"
A woman's work is never done: many American women grow up with this saying and feel it to be true. 1 One such woman, author Jessica Grose, wrote "Cleaning: The Final Feminist Frontier," published in 2013 in the New Republic, 2 and she argues that while the men recently started taking on more of the childcare and cooking, cleaning still falls unfairly on women. 3 Grose begins building her credibility with personal facts and reputable sources, citing convincing facts and statistics, and successfully employing emotional appeals; however, toward the end of the article, her attempts to appeal to readers' emotions weaken her credibility and ultimately, her argument. 4
In her article, Grose first sets the stage by describing a specific scenario of house-cleaning with her husband after being shut in during Hurricane Sandy, and then she outlines the uneven distribution of cleaning work in her marriage and draws a comparison to the larger feminist issue of who does the cleaning in a relationship. Grose continues by discussing some of the reasons that men do not contribute to cleaning: the praise for a clean house goes to the woman; advertising and media praise men's cooking and childcare, but not cleaning; and lastly, it is just not fun. Possible solutions to the problem, Grose suggests, include making a chart of who does which chores, dividing up tasks based on skill and ability, accepting a dirtier home, and making cleaning more fun with gadgets. 5
Throughout her piece, Grose uses many strong sources that strengthen her credibility and appeal to ethos, as well as build her argument. 6 These sources include, "sociologists Judith Treas and Tsui-o Tai," "a 2008 study from the University of New Hampshire," and "P&G North America Fabric Care Brand Manager, Matthew Krehbiel" (qtd. in Grose). 7 Citing these sources boosts Grose's credibility by showing that she has done her homework and has provided facts and statistics, as well as expert opinions to support her claim. She also uses personal examples from her own home life to introduce and support the issue, which shows that she has a personal stake in and first-hand experience with the problem. 8
Adding to her ethos appeals, Grose uses strong appeals to logos, with many facts and statistics and logical progressions of ideas. 9 She points out facts about her marriage and the distribution of household chores: "My husband and I both work. We split midnight baby feedings ...but ... he will admit that he's never cleaned the bathroom, that I do the dishes nine times out of ten, and that he barely knows how the washer and dryer work in the apartment we've lived in for over eight months." 10 These facts introduce and support the idea that Grose does more household chores than her husband. Grose continues with many statistics:
[A]bout 55 percent of American mothers employed full time do some housework on an average day, while only 18 percent of employed fathers do. ... [W]orking women with children are still doing a week and a half more of "second shift" work each year than their male partners. ... Even in the famously gender-neutral Sweden, women do 45 minutes more housework a day than their male partners. 11
These statistics are a few of many that logically support her claim that it is a substantial and real problem that men do not do their fair share of the chores. The details and numbers build an appeal to logos and impress upon the reader that this is a problem worth discussing. 12
Along with strong logos appeals, Grose effectively makes appeals to pathos in the beginning and middle sections. 13 Her introduction is full of emotionally-charged words and phrases that create a sympathetic image; Grose notes that she "was eight months pregnant" and her husband found it difficult to "fight with a massively pregnant person." 14 The image she evokes of the challenges and vulnerabilities of being so pregnant, as well as the high emotions a woman feels at that time effectively introduce the argument and its seriousness. Her goal is to make the reader feel sympathy for her. Adding to this idea are words and phrases such as, "insisted," "argued," "not fun," "sucks" "headachey," "be judged," "be shunned" (Grose). All of these words evoke negative emotions about cleaning, which makes the reader sympathize with women who feel "judged" and shunned"—very negative feelings. Another feeling Grose reinforces with her word choice is the concept of fairness: "fair share," "a week and a half more of 'second shift' work," "more housework," "more gendered and less frequent." These words help establish the unfairness that exists when women do all of the cleaning, and they are an appeal to pathos, or the readers' feelings of frustration and anger with injustice. 15
However, the end of the article lacks the same level of effectiveness in the appeals to ethos. 16 For example, Grose notes that when men do housework, they are considered to be "'enacting "small instances of gender heroism," or 'SIGH's'—which, barf." 17 The usage of the word "barf" is jarring to the reader; unprofessional and immature, it is a shift from the researched, intelligent voice she has established and the reader is less likely to take the author seriously. This damages the strength of her credibility and her argument. 18
Additionally, her last statement in the article refers to her husband in a way that weakens the argument. 19 While returning to the introduction's hook in the conclusion is a frequently-used strategy, Grose chooses to return to her discussion of her husband in a humorous way: Grose discusses solutions, and says there is "a huge, untapped market ... for toilet-scrubbing iPods. I bet my husband would buy one." 20 Returning to her own marriage and husband is an appeal to ethos or personal credibility, and while that works well in the introduction, in the conclusion, it lacks the strength and seriousness that the topic deserves and was given earlier in the article. 21
Though Grose begins the essay by effectively persuading her readers of the unfair distribution of home-maintenance cleaning labor, she loses her power in the end, where she most needs to drive home her argument. Readers can see the problem exists in both her marriage and throughout the world; however, her shift to humor and sarcasm makes the reader not take the problem as seriously in the end. 22 Grose could have more seriously driven home the point that a woman's work could be done: by a man. 23
Works Cited
Grose, Jessica. "Cleaning: The Final Feminist Frontier." New Republic. The New Republic, 19 Mar. 2013. Web. 28 Mar. 2014.
Article author's claim or purpose
Summary of the article's main point in the second paragraph (could also be in the introduction)
Third paragraph begins with a transition and topic sentence that reflects the first topic in the thesis
Quotes illustrate how the author uses appeals to ethos
Analysis explains how the quotes show the effective use of ethos as noted in the thesis
Transition and topic sentence about the second point from the thesis
Quote that illustrates appeals to logos
Analysis explains how the quotes show the effective use of logos, as noted in the thesis
Transition and topic sentence about the third point from the thesis
Quotes that illustrate appeals to pathos
Analysis explains how the quotes show the effective use of pathos, as noted in the thesis
Transition and topic sentence about fourth point from the thesis
Quote illustrates how the author uses appeal to ethos
Analysis explains how quote supports thesis
Transition and topic sentence about fourth point from thesis
Conclusion returns to the ideas in the thesis and further develops them
Last sentence returns to the hook in the introduction
Learn more about the " Rhetorical Analysis Graphic Organizer ."
Learn more about " Pathos, Logos, and Ethos ."
Features for Creative Writers
Features for Work
Features for Higher Education
Features for Teachers
Features for Non-Native Speakers
Learn Blog Grammar Guide Community Academy FAQ
Grammar Guide
What Is a Rhetorical Analysis and How to Write a Great One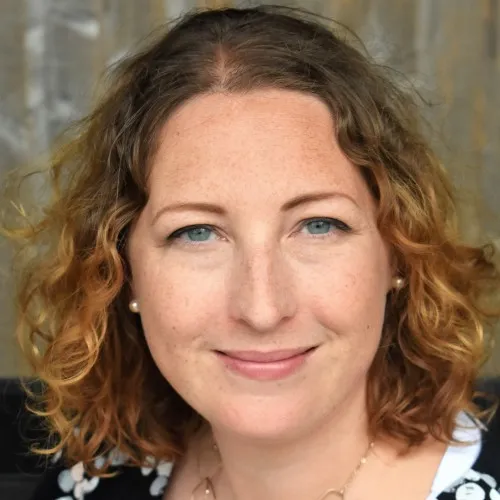 Helly Douglas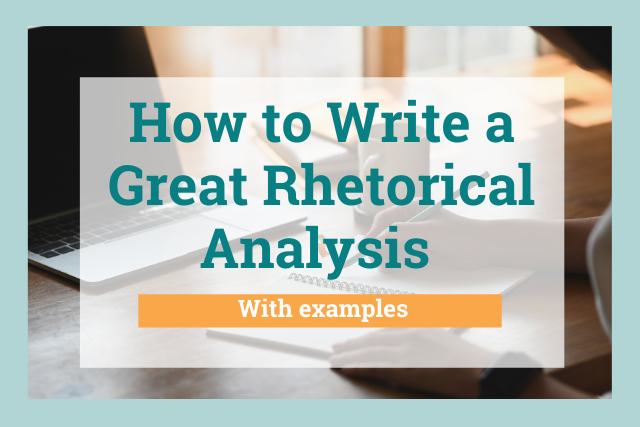 Do you have to write a rhetorical analysis essay? Fear not! We're here to explain exactly what rhetorical analysis means, how you should structure your essay, and give you some essential "dos and don'ts."
What is a Rhetorical Analysis Essay?
How do you write a rhetorical analysis, what are the three rhetorical strategies, what are the five rhetorical situations, how to plan a rhetorical analysis essay, creating a rhetorical analysis essay, examples of great rhetorical analysis essays, final thoughts.
A rhetorical analysis essay studies how writers and speakers have used words to influence their audience. Think less about the words the author has used and more about the techniques they employ, their goals, and the effect this has on the audience.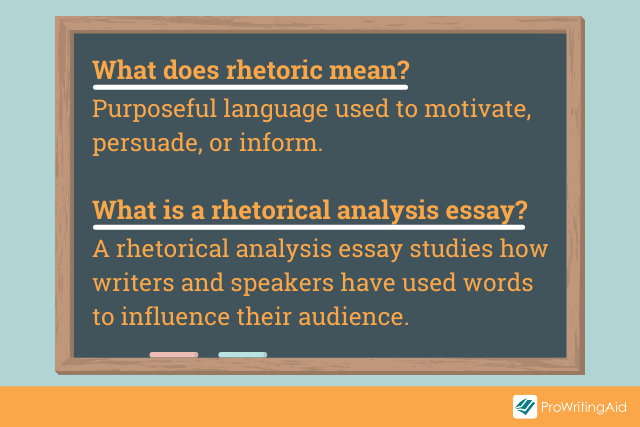 In your analysis essay, you break a piece of text (including cartoons, adverts, and speeches) into sections and explain how each part works to persuade, inform, or entertain. You'll explore the effectiveness of the techniques used, how the argument has been constructed, and give examples from the text.
A strong rhetorical analysis evaluates a text rather than just describes the techniques used. You don't include whether you personally agree or disagree with the argument.
Structure a rhetorical analysis in the same way as most other types of academic essays . You'll have an introduction to present your thesis, a main body where you analyze the text, which then leads to a conclusion.
Think about how the writer (also known as a rhetor) considers the situation that frames their communication:
Topic: the overall purpose of the rhetoric
Audience: this includes primary, secondary, and tertiary audiences
Purpose: there are often more than one to consider
Context and culture: the wider situation within which the rhetoric is placed
Back in the 4th century BC, Aristotle was talking about how language can be used as a means of persuasion. He described three principal forms —Ethos, Logos, and Pathos—often referred to as the Rhetorical Triangle . These persuasive techniques are still used today.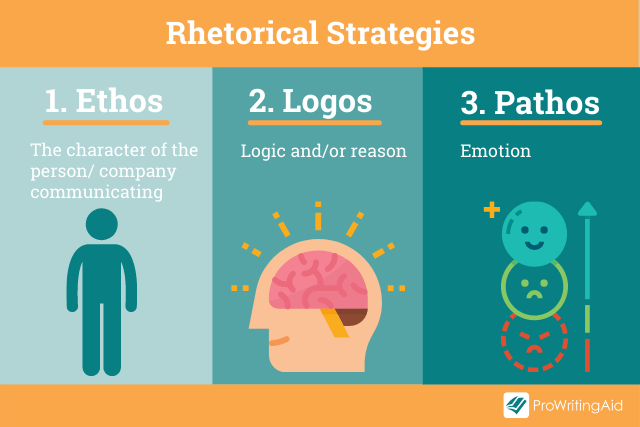 Rhetorical Strategy 1: Ethos
Are you more likely to buy a car from an established company that's been an important part of your community for 50 years, or someone new who just started their business?
Reputation matters. Ethos explores how the character, disposition, and fundamental values of the author create appeal, along with their expertise and knowledge in the subject area.
Aristotle breaks ethos down into three further categories:
Phronesis: skills and practical wisdom
Arete: virtue
Eunoia: goodwill towards the audience
Ethos-driven speeches and text rely on the reputation of the author. In your analysis, you can look at how the writer establishes ethos through both direct and indirect means.
Rhetorical Strategy 2: Pathos
Pathos-driven rhetoric hooks into our emotions. You'll often see it used in advertisements, particularly by charities wanting you to donate money towards an appeal.
Common use of pathos includes:
Vivid description so the reader can imagine themselves in the situation
Personal stories to create feelings of empathy
Emotional vocabulary that evokes a response
By using pathos to make the audience feel a particular emotion, the author can persuade them that the argument they're making is compelling.
Rhetorical Strategy 3: Logos
Logos uses logic or reason. It's commonly used in academic writing when arguments are created using evidence and reasoning rather than an emotional response. It's constructed in a step-by-step approach that builds methodically to create a powerful effect upon the reader.
Rhetoric can use any one of these three techniques, but effective arguments often appeal to all three elements.
The rhetorical situation explains the circumstances behind and around a piece of rhetoric. It helps you think about why a text exists, its purpose, and how it's carried out.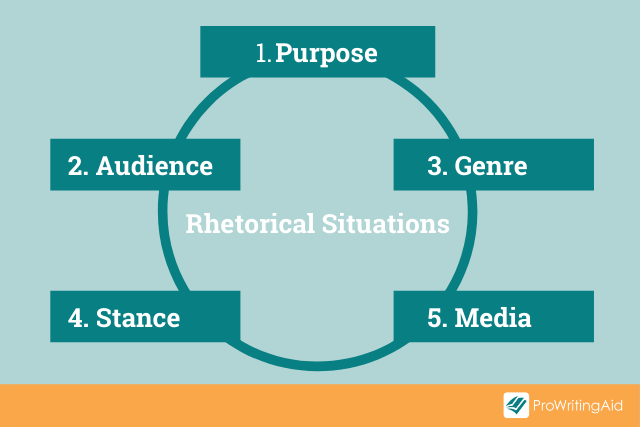 The rhetorical situations are:
1) Purpose: Why is this being written? (It could be trying to inform, persuade, instruct, or entertain.)
2) Audience: Which groups or individuals will read and take action (or have done so in the past)?
3) Genre: What type of writing is this?
4) Stance: What is the tone of the text? What position are they taking?
5) Media/Visuals: What means of communication are used?
Understanding and analyzing the rhetorical situation is essential for building a strong essay. Also think about any rhetoric restraints on the text, such as beliefs, attitudes, and traditions that could affect the author's decisions.
Before leaping into your essay, it's worth taking time to explore the text at a deeper level and considering the rhetorical situations we looked at before. Throw away your assumptions and use these simple questions to help you unpick how and why the text is having an effect on the audience.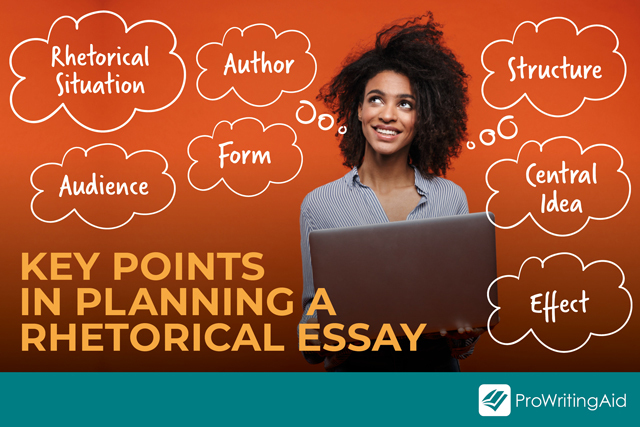 1: What is the Rhetorical Situation?
Why is there a need or opportunity for persuasion?
How do words and references help you identify the time and location?
What are the rhetoric restraints?
What historical occasions would lead to this text being created?
2: Who is the Author?
How do they position themselves as an expert worth listening to?
What is their ethos?
Do they have a reputation that gives them authority?
What is their intention?
What values or customs do they have?
3: Who is it Written For?
Who is the intended audience?
How is this appealing to this particular audience?
Who are the possible secondary and tertiary audiences?
4: What is the Central Idea?
Can you summarize the key point of this rhetoric?
What arguments are used?
How has it developed a line of reasoning?
5: How is it Structured?
What structure is used?
How is the content arranged within the structure?
6: What Form is Used?
Does this follow a specific literary genre?
What type of style and tone is used, and why is this?
Does the form used complement the content?
What effect could this form have on the audience?
7: Is the Rhetoric Effective?
Does the content fulfil the author's intentions?
Does the message effectively fit the audience, location, and time period?
Once you've fully explored the text, you'll have a better understanding of the impact it's having on the audience and feel more confident about writing your essay outline.
A great essay starts with an interesting topic. Choose carefully so you're personally invested in the subject and familiar with it rather than just following trending topics. There are lots of great ideas on this blog post by My Perfect Words if you need some inspiration. Take some time to do background research to ensure your topic offers good analysis opportunities.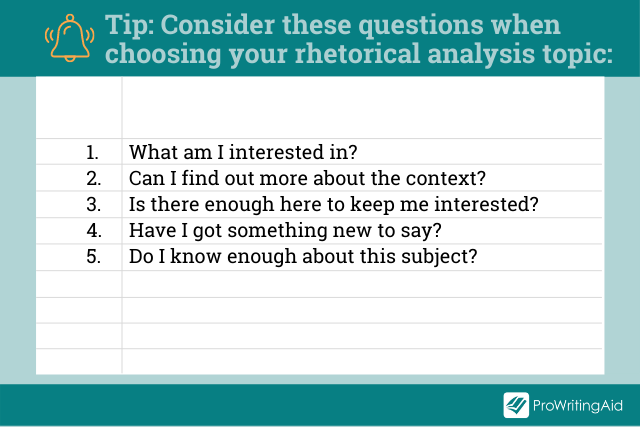 Remember to check the information given to you by your professor so you follow their preferred style guidelines. This outline example gives you a general idea of a format to follow, but there will likely be specific requests about layout and content in your course handbook. It's always worth asking your institution if you're unsure.
Make notes for each section of your essay before you write. This makes it easy for you to write a well-structured text that flows naturally to a conclusion. You will develop each note into a paragraph. Look at this example by College Essay for useful ideas about the structure.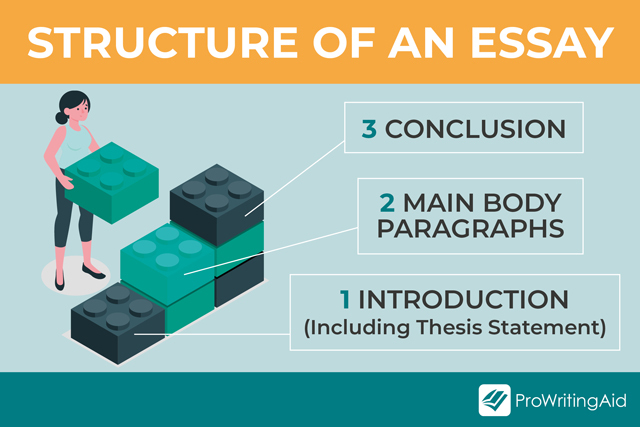 1: Introduction
This is a short, informative section that shows you understand the purpose of the text. It tempts the reader to find out more by mentioning what will come in the main body of your essay.
Name the author of the text and the title of their work followed by the date in parentheses
Use a verb to describe what the author does, e.g. "implies," "asserts," or "claims"
Briefly summarize the text in your own words
Mention the persuasive techniques used by the rhetor and its effect
Create a thesis statement to come at the end of your introduction.
After your introduction, move on to your critical analysis. This is the principal part of your essay.
Explain the methods used by the author to inform, entertain, and/or persuade the audience using Aristotle's rhetorical triangle
Use quotations to prove the statements you make
Explain why the writer used this approach and how successful it is
Consider how it makes the audience feel and react
Make each strategy a new paragraph rather than cramming them together, and always use proper citations. Check back to your course handbook if you're unsure which citation style is preferred.
3: Conclusion
Your conclusion should summarize the points you've made in the main body of your essay. While you will draw the points together, this is not the place to introduce new information you've not previously mentioned.
Use your last sentence to share a powerful concluding statement that talks about the impact the text has on the audience(s) and wider society. How have its strategies helped to shape history?
Before You Submit
Poor spelling and grammatical errors ruin a great essay. Use ProWritingAid to check through your finished essay before you submit. It will pick up all the minor errors you've missed and help you give your essay a final polish. Look at this useful ProWritingAid webinar for further ideas to help you significantly improve your essays. Sign up for a free trial today and start editing your essays!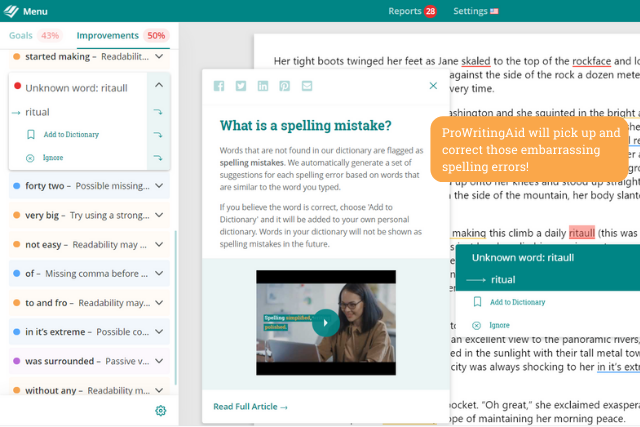 You'll find countless examples of rhetorical analysis online, but they range widely in quality. Your institution may have example essays they can share with you to show you exactly what they're looking for.
The following links should give you a good starting point if you're looking for ideas:
Pearson Canada has a range of good examples. Look at how embedded quotations are used to prove the points being made. The end questions help you unpick how successful each essay is.
Excelsior College has an excellent sample essay complete with useful comments highlighting the techniques used.
Brighton Online has a selection of interesting essays to look at. In this specific example, consider how wider reading has deepened the exploration of the text.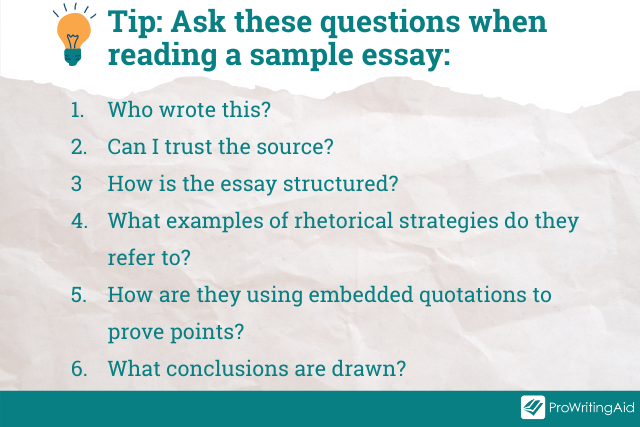 Writing a rhetorical analysis essay can seem daunting, but spending significant time deeply analyzing the text before you write will make it far more achievable and result in a better-quality essay overall.
It can take some time to write a good essay. Aim to complete it well before the deadline so you don't feel rushed. Use ProWritingAid's comprehensive checks to find any errors and make changes to improve readability. Then you'll be ready to submit your finished essay, knowing it's as good as you can possibly make it.
Try ProWritingAid's Editor for Yourself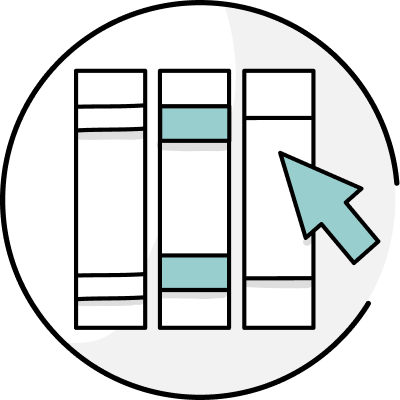 Be confident about grammar
Check every email, essay, or story for grammar mistakes. Fix them before you press send.
Helly Douglas is a UK writer and teacher, specialising in education, children, and parenting. She loves making the complex seem simple through blogs, articles, and curriculum content. You can check out her work at hellydouglas.com or connect on Twitter @hellydouglas. When she's not writing, you will find her in a classroom, being a mum or battling against the wilderness of her garden—the garden is winning!
Get started with ProWritingAid
Drop us a line or let's stay in touch via :
9.4 Annotated Student Sample: "Rhetorical Analysis: Evicted by Matthew Desmond" by Eliana Evans
1 Unit Introduction
Introduction
1.1 "Reading" to Understand and Respond
1.2 Social Media Trailblazer: Selena Gomez
1.3 Glance at Critical Response: Rhetoric and Critical Thinking
1.4 Annotated Student Sample: Social Media Post and Responses on Voter Suppression
1.5 Writing Process: Thinking Critically About a "Text"
1.6 Evaluation: Intention vs. Execution
1.7 Spotlight on … Academia
1.8 Portfolio: Tracing Writing Development
Further Reading
Works Cited
2.1 Seeds of Self
2.2 Identity Trailblazer: Cathy Park Hong
2.3 Glance at the Issues: Oppression and Reclamation
2.4 Annotated Sample Reading from The Souls of Black Folk by W. E. B. Du Bois
2.5 Writing Process: Thinking Critically about How Identity Is Constructed Through Writing
2.6 Evaluation: Antiracism and Inclusivity
2.7 Spotlight on … Variations of English
2.8 Portfolio: Decolonizing Self
3.1 Identity and Expression
3.2 Literacy Narrative Trailblazer: Tara Westover
3.3 Glance at Genre: The Literacy Narrative
3.4 Annotated Sample Reading: from Narrative of the Life of Frederick Douglass by Frederick Douglass
3.5 Writing Process: Tracing the Beginnings of Literacy
3.6 Editing Focus: Sentence Structure
3.7 Evaluation: Self-Evaluating
3.8 Spotlight on … The Digital Archive of Literacy Narratives (DALN)
3.9 Portfolio: A Literacy Artifact
Works Consulted
2 Unit Introduction
4.1 Exploring the Past to Understand the Present
4.2 Memoir Trailblazer: Ta-Nehisi Coates
4.3 Glance at Genre: Conflict, Detail, and Revelation
4.4 Annotated Sample Reading: from Life on the Mississippi by Mark Twain
4.5 Writing Process: Making the Personal Public
4.6 Editing Focus: More on Characterization and Point of View
4.7 Evaluation: Structure and Organization
4.8 Spotlight on … Multilingual Writers
4.9 Portfolio: Filtered Memories
5.1 Profiles as Inspiration
5.2 Profile Trailblazer: Veronica Chambers
5.3 Glance at Genre: Subject, Angle, Background, and Description
5.4 Annotated Sample Reading: "Remembering John Lewis" by Carla D. Hayden
5.5 Writing Process: Focusing on the Angle of Your Subject
5.6 Editing Focus: Verb Tense Consistency
5.7 Evaluation: Text as Personal Introduction
5.8 Spotlight on … Profiling a Cultural Artifact
5.9 Portfolio: Subject as a Reflection of Self
6.1 Proposing Change: Thinking Critically About Problems and Solutions
6.2 Proposal Trailblazer: Atul Gawande
6.3 Glance at Genre: Features of Proposals
6.4 Annotated Student Sample: "Slowing Climate Change" by Shawn Krukowski
6.5 Writing Process: Creating a Proposal
6.6 Editing Focus: Subject-Verb Agreement
6.7 Evaluation: Conventions, Clarity, and Coherence
6.8 Spotlight on … Technical Writing as a Career
6.9 Portfolio: Reflecting on Problems and Solutions
7.1 Thumbs Up or Down?
7.2 Review Trailblazer: Michiko Kakutani
7.3 Glance at Genre: Criteria, Evidence, Evaluation
7.4 Annotated Student Sample: "Black Representation in Film" by Caelia Marshall
7.5 Writing Process: Thinking Critically About Entertainment
7.6 Editing Focus: Quotations
7.7 Evaluation: Effect on Audience
7.8 Spotlight on … Language and Culture
7.9 Portfolio: What the Arts Say About You
8.1 Information and Critical Thinking
8.2 Analytical Report Trailblazer: Barbara Ehrenreich
8.3 Glance at Genre: Informal and Formal Analytical Reports
8.4 Annotated Student Sample: "U.S. Response to COVID-19" by Trevor Garcia
8.5 Writing Process: Creating an Analytical Report
8.6 Editing Focus: Commas with Nonessential and Essential Information
8.7 Evaluation: Reviewing the Final Draft
8.8 Spotlight on … Discipline-Specific and Technical Language
8.9 Portfolio: Evidence and Objectivity
9.1 Breaking the Whole into Its Parts
9.2 Rhetorical Analysis Trailblazer: Jamil Smith
9.3 Glance at Genre: Rhetorical Strategies
9.5 Writing Process: Thinking Critically about Rhetoric
9.6 Editing Focus: Mixed Sentence Constructions
9.7 Evaluation: Rhetorical Analysis
9.8 Spotlight on … Business and Law
9.9 Portfolio: How Thinking Critically about Rhetoric Affects Intellectual Growth
10.1 Making a Case: Defining a Position Argument
10.2 Position Argument Trailblazer: Charles Blow
10.3 Glance at Genre: Thesis, Reasoning, and Evidence
10.4 Annotated Sample Reading: "Remarks at the University of Michigan" by Lyndon B. Johnson
10.5 Writing Process: Creating a Position Argument
10.6 Editing Focus: Paragraphs and Transitions
10.7 Evaluation: Varied Appeals
10.8 Spotlight on … Citation
10.9 Portfolio: Growth in the Development of Argument
11.1 Developing Your Sense of Logic
11.2 Reasoning Trailblazer: Paul D. N. Hebert
11.3 Glance at Genre: Reasoning Strategies and Signal Words
11.4 Annotated Sample Reading: from Book VII of The Republic by Plato
11.5 Writing Process: Reasoning Supported by Evidence
12.1 Introducing Research and Research Evidence
12.2 Argumentative Research Trailblazer: Samin Nosrat
12.3 Glance at Genre: Introducing Research as Evidence
12.4 Annotated Student Sample: "Healthy Diets from Sustainable Sources Can Save the Earth" by Lily Tran
12.5 Writing Process: Integrating Research
12.6 Editing Focus: Integrating Sources and Quotations
12.7 Evaluation: Effectiveness of Research Paper
12.8 Spotlight on … Bias in Language and Research
12.9 Portfolio: Why Facts Matter in Research Argumentation
13.1 The Research Process: Where to Look for Existing Sources
13.2 The Research Process: How to Create Sources
13.3 Glance at the Research Process: Key Skills
13.4 Annotated Student Sample: Research Log
13.5 Research Process: Making Notes, Synthesizing Information, and Keeping a Research Log
13.6 Spotlight on … Ethical Research
14.1 Compiling Sources for an Annotated Bibliography
14.2 Glance at Form: Citation Style, Purpose, and Formatting
14.3 Annotated Student Sample: "Healthy Diets from Sustainable Sources Can Save the Earth" by Lily Tran
14.4 Writing Process: Informing and Analyzing
15.1 Tracing a Broad Issue in the Individual
15.2 Case Study Trailblazer: Vilayanur S. Ramachandran
15.3 Glance at Genre: Observation, Description, and Analysis
15.4 Annotated Sample Reading: Case Study on Louis Victor "Tan" Leborgne
15.5 Writing Process: Thinking Critically About How People and Language Interact
15.6 Editing Focus: Words Often Confused
15.7 Evaluation: Presentation and Analysis of Case Study
15.8 Spotlight on … Applied Linguistics
15.9 Portfolio: Your Own Uses of Language
3 Unit Introduction
16.1 An Author's Choices: What Text Says and How It Says It
16.2 Textual Analysis Trailblazer: bell hooks
16.3 Glance at Genre: Print or Textual Analysis
16.4 Annotated Student Sample: "Artists at Work" by Gwyn Garrison
16.5 Writing Process: Thinking Critically About Text
16.6 Editing Focus: Literary Works Live in the Present
16.7 Evaluation: Self-Directed Assessment
16.8 Spotlight on … Humanities
16.9 Portfolio: The Academic and the Personal
17.1 "Reading" Images
17.2 Image Trailblazer: Sara Ludy
17.3 Glance at Genre: Relationship Between Image and Rhetoric
17.4 Annotated Student Sample: "Hints of the Homoerotic" by Leo Davis
17.5 Writing Process: Thinking Critically and Writing Persuasively About Images
17.6 Editing Focus: Descriptive Diction
17.7 Evaluation: Relationship Between Analysis and Image
17.8 Spotlight on … Video and Film
17.9 Portfolio: Interplay Between Text and Image
18.1 Mixing Genres and Modes
18.2 Multimodal Trailblazer: Torika Bolatagici
18.3 Glance at Genre: Genre, Audience, Purpose, Organization
18.4 Annotated Sample Reading: "Celebrating a Win-Win" by Alexandra Dapolito Dunn
18.5 Writing Process: Create a Multimodal Advocacy Project
18.6 Evaluation: Transitions
18.7 Spotlight on . . . Technology
18.8 Portfolio: Multimodalism
19.1 Writing, Speaking, and Activism
19.2 Podcast Trailblazer: Alice Wong
19.3 Glance at Genre: Language Performance and Visuals
19.4 Annotated Student Sample: "Are New DOT Regulations Discriminatory?" by Zain A. Kumar
19.5 Writing Process: Writing to Speak
19.6 Evaluation: Bridging Writing and Speaking
19.7 Spotlight on … Delivery/Public Speaking
19.8 Portfolio: Everyday Rhetoric, Rhetoric Every Day
20.1 Thinking Critically about Your Semester
20.2 Reflection Trailblazer: Sandra Cisneros
20.3 Glance at Genre: Purpose and Structure
20.4 Annotated Sample Reading: "Don't Expect Congrats" by Dale Trumbore
20.5 Writing Process: Looking Back, Looking Forward
20.6 Editing Focus: Pronouns
20.7 Evaluation: Evaluating Self-Reflection
20.8 Spotlight on … Pronouns in Context
Learning Outcomes
By the end of this section, you will be able to:
Identify the ways a student writer has analyzed the rhetorical strategies in a persuasive text.
Demonstrate critical thinking and problem-solving when reading a rhetorical analysis.
Matthew Desmond (b. 1979 or 1980) is a sociology professor at Princeton University . He has published four books, each addressing issues of poverty or racial inequality in American life. He has been recognized by the Politico 50 list as an important contributing voice to national political debate. In the analysis that follows, student Eliana Evans examines Desmond's work from a rhetorical perspective.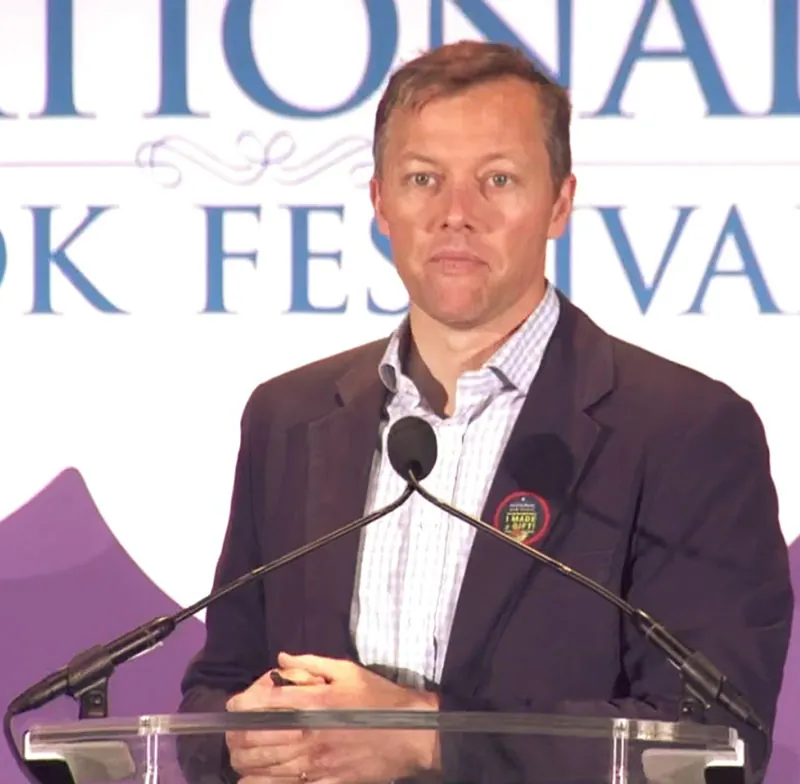 Living by Their Own Words
Story as persuasion.
public domain text Imagine it's Friday—payday. One American worker picks up her check for $637. Now, imagine that $550 will go toward rent, leaving only a small amount for everything else. The remaining $87 must be divided among food, utilities, childcare, and medical treatment. Unfortunately, many of the nation's poor don't have to imagine this troubling scenario because this is their reality. In his book Evicted: Poverty and Profit in the American City , ethnographer and author Matthew Desmond follows eight poor families in Milwaukee, Wisconsin, as they struggle to establish and maintain one of humanity's most basic needs: housing. As an ethnographer, Desmond gathers research to promote the study and documentation of human culture: how people live under all kinds of conditions. end public domain text
annotated text Ethos. By mentioning Desmond's qualifications as an ethnographer, Eliana Evans appeals to ethos: Desmond is an authority whose opinions can be taken seriously. end annotated text
annotated text Introductory Anecdote. By beginning with a real-life example and addressing the reader directly, the writer immediately emphasizes Desmond's hard-hitting point. This strategy engages readers from the start. end annotated text
public domain text Living and working in the typical mid-size American city of Milwaukee in the early 2000s, Desmond highlights the source of the cyclical poverty he observes around him. He concludes that unstable housing is "deeply . . . implicated in the creation of poverty" (5). end public domain text
annotated text Thesis Statement. The writer notes that Desmond offers his thesis statement, or the main point of his argument, without delay, building off the specific example in the introduction. end annotated text
public domain text Throughout his book, Desmond explains that inflated rents and evictions— the forced loss of housing—create power imbalances between landlords and tenants. Legal and economic systems rigged against the poor are to blame for creating an unbreakable cycle of poverty for renters. To advance his deductive argument, Desmond largely employs emotional anecdotal evidence, introducing readers to the real-life circumstances of eight families, thus using pathos to reach his readers. To reinforce this anecdotal evidence, he also employs logical statistical evidence as well as emotional allusions to the nation's founding principle of equality. end public domain text
public domain text To bring his book to life, Desmond uses many quotations from the people he portrays in the cycle of poverty. Early in the book, he describes the life of Sherrena Tarver, an entrepreneur landlord who owns and manages numerous properties and has to evict nonpaying tenants in the most difficult circumstance. At one point, she faces a tough decision about Lamar, a legless man who occupies an apartment where he helps neighborhood boys stay in school and control their lives. He simply cannot meet his financial responsibilities, and Sherrena is torn between helping him and protecting her own bottom line. "I guess I got to stop feeling sorry for these people because nobody is feeling sorry for me," she states (11). She will have to pay her own mortgage on the property. No connection exists if others do not feel sorry for Sherrena, who has to face her own inner conflict about Lamar. end public domain text
annotated text Ethos, Pathos, and Logos. Desmond speaks with authority as someone who cares deeply about the injustices of the housing situation. Evans notes that Desmond also relies on emotional and logical thought and examples, and she shows this in his quotations. end annotated text
public domain text Although his book identifies unstable housing as a cause of poverty, Desmond writes for the purpose of creating empathy in voters and establishing facts that policy makers cannot ignore to remedy the housing trap. The moving description of eviction and its effects allows readers to fully appreciate his proposed solutions. As a main point, Desmond advocates for legislation that would establish a universal housing voucher program combined with government regulation to stabilize rents. He explains that voucher "programs lift roughly 2.8 million people out of poverty" each year (302). If these programs were expanded and supported by laws that would prevent landlords from establishing exploitative rents, many more people could be helped. Desmond hopes to convince voters who have been moved by his ethnographic discussion to elect candidates who are serious about ending poverty and creating a more equal America. end public domain text
annotated text Language Use. Evans uses the phrase "as a main point" to emphasize to readers that Desmond strongly believes in the voucher system. end annotated text
public domain text In support of his argument, Desmond presents multiple anecdotal examples to illustrate the root of the cyclical poverty his subjects face. For example, in Chapter 16, Kamala, a middle-aged mother of three, leaves her children for one evening in the care of Devon, their father. Later, a fire caused by a lamp kills their eight-month-old daughter. The apartment is uninhabitable, but the landlord, Sherrena, keeps the month's rent. The police report that the three children, abandoned by Devon, were alone in the apartment. The high cost of monthly rent leaves Kamala with few options for proper childcare, and without childcare, she has few options for employment. The exploitation by landlords such as Sherrena only intensifies the tenant's poverty. Kamala, who still has two children to support, is left with no home, no money, and little means of survival. Her story, and the stories of the many others Desmond chronicles, supports the argument that unstable housing is a cause of poverty, not a condition. end public domain text
annotated text Examples and Pathos. Desmond's discussion gains emotional strength from the story of a child's needless death. end annotated text
annotated text Pathos and Logos. The logic of the situation is that a family must endure hardship with little support. The overwhelming need and the trap of poverty in poor housing make for strong logical and emotional persuasion. end annotated text
public domain text Desmond relays the stories of Kamala and others to generate empathy with readers. These stories create emotional appeal in that they allow readers to experience the spiraling effects of poverty along with people they come to care about. Indeed, Desmond relies on the intensity of Kamala's story to give poverty a face. Kamala is no longer a nameless, faceless statistic. She is a real woman who experiences the loss of a child as a result of circumstances beyond her control. Kamala's story helps break the preconception that poor people are lazy and make individual choices to perpetuate their own poverty. Her situation illustrates a cycle of unbreakable tragedy and poverty that begins with her inability to secure affordable and stable housing. The details of her story make it hard for the public to ignore. end public domain text
public domain text Desmond does not rely on anecdotal evidence alone. He also includes statistical evidence to support his argument. end public domain text
annotated text Logical Evidence. The writer notes Desmond's use of quantitative evidence—an appeal to logic. Readers are eager to learn facts that will strengthen the impact of Desmond's argument. end annotated text
public domain text In the prologue, Desmond explains that Arleen pays "88 percent of [her] $628-a-month welfare check" in rent (3). This disproportionate sum creates a situation in which "1 in 8 poor renting families nationwide [are] unable to pay all of their rent" (5). In Milwaukee, "landlords evict roughly 16,000 adults and children each year" (4). Such numbers go beyond empathy and instead appeal to logic. Policy makers are likely to reject the idea of drafting laws to relieve poverty based on feelings or empathy. Statistics, however, provide hard numbers that are not subject to debate and that reinforce the need for logical and realistic solutions. Desmond also notes that eviction and its effects have been vastly ignored by sociologists. These statistics fight preconceptions such as Why don't poor people just get jobs? In addition, by using personification, Desmond explains that poverty is a formidable enemy that a minimum-wage job cannot defeat. end public domain text
annotated text Logos. As a skilled writer, Desmond knows that if political action is called for, he will have to present a heavy dose of facts and numbers. Evans notes that readers are more likely to be persuaded by a combination of different rhetorical strategies, such as pathos and logos. end annotated text
annotated text Personification. Evans notes that Desmond uses figurative language to personify the idea of poverty, calling it "a formidable enemy." end annotated text
public domain text Finally, Desmond appeals to his readers' sense of right and wrong when he asks a key rhetorical question: Is housing a fundamental American right? If readers answer "yes," then it is un-American to systematically lock poor people away from the founding ideals of the country through housing, banking, and legal systems that work to guarantee their poverty. The American dream is one of equal opportunity. Yet, despite the constitutional guarantee of civil rights, the poor people who struggle to maintain housing in Desmond's Milwaukee are further separated from the American dream by race. end public domain text
public domain text For example, in Chapter 3, Desmond describes the segregation that has long plagued Milwaukee: despite the "open housing measure" guaranteed by "the 1968 Civil Rights Act," Milwaukee "remain[s] one of the most racially divided cities in the nation" (34). The housing divide in Milwaukee not only keeps poor people from achieving the American dream of stable and affordable housing, but it also supports a system of segregation that goes against the founding ideal of equality. end public domain text
annotated text Logos and Pathos. Desmond addresses the issue of right vs. wrong. He attempts to persuade readers by offering examples that make them think about the legal aspects of housing (logos) and the effects that deprivation have on individuals (pathos) . end annotated text
public domain text Desmond's argument is enticing in many ways. However, critics point out that he proposes a solution that fixes only the short-term problem of sustaining stable housing with a universal voucher program that provides no incentive for work. The long-term problem, which Desmond never addresses, would have to include a solution that would raise a massive number of people out of poverty by enabling them to sustain reliable housing, along with other living expenses, without relying heavily on government assistance. Vouchers may begin to eat away at the root of poverty, but they are a short-term, rather than a long-term, fix. end public domain text
annotated text Addressing Counterclaims. Evans is careful to include some possibly negative views of Desmond's main points to indicate that she has considered all sides before reaching a final verdict on the validity of his argument . end annotated text
public domain text In the end, though, Desmond's argument is effective because he provides ample evidence with varying appeals to support his claims. The use of anecdotes allows readers to feel the pain of poverty. Desmond's statistical research shows logical reasons to end poverty through universal housing. The mentions of founding principles such as equality show that readers have a moral obligation as Americans to participate in a solution to the housing crisis. end public domain text
public domain text Although much of Desmond's book relies on its anecdotal evidence and emotional appeal, it is his logic that ultimately proves convincing. He identifies a tangible cause of poverty, then offers an equally tangible solution to the problem he describes. If having stable and affordable housing will help end poverty and thus improve society, then the government should provide this through vouchers and rent regulation. end public domain text
annotated text Conclusion and Thesis Statement Reaffirmed. Evans praises Desmond for his rhetorical ability to appeal to readers in different ways. She claims that his logical approach, presenting facts and figures along with emotional appeals, should be enough to convince the government to act. end annotated text
Desmond, Matthew. Evicted: Poverty and Profit in the American City. Broadway Books, 2016.
Discussion Questions
As an Amazon Associate we earn from qualifying purchases.
Want to cite, share, or modify this book? This book uses the Creative Commons Attribution License and you must attribute OpenStax.
Access for free at https://openstax.org/books/writing-guide/pages/1-unit-introduction
Authors: Michelle Bachelor Robinson, Maria Jerskey, featuring Toby Fulwiler
Publisher/website: OpenStax
Book title: Writing Guide with Handbook
Publication date: Dec 21, 2021
Location: Houston, Texas
Book URL: https://openstax.org/books/writing-guide/pages/1-unit-introduction
Section URL: https://openstax.org/books/writing-guide/pages/9-4-annotated-student-sample-rhetorical-analysis-evicted-by-matthew-desmond-by-eliana-evans
© Apr 5, 2023 OpenStax. Textbook content produced by OpenStax is licensed under a Creative Commons Attribution License . The OpenStax name, OpenStax logo, OpenStax book covers, OpenStax CNX name, and OpenStax CNX logo are not subject to the Creative Commons license and may not be reproduced without the prior and express written consent of Rice University.
Rhetorical Analysis Definition and Examples
The analysis can be used on any communication, even a bumper sticker
An Introduction to Punctuation
Sample Rhetorical Analyses
Examples and observations, analyzing effects, analyzing greeting card verse, analyzing starbucks, rhetorical analysis vs. literary criticism.
Ph.D., Rhetoric and English, University of Georgia
M.A., Modern English and American Literature, University of Leicester
B.A., English, State University of New York
Rhetorical analysis is a form of criticism or close reading that employs the principles of rhetoric to examine the interactions between a text, an author, and an audience . It's also called rhetorical criticism or pragmatic criticism.
Rhetorical analysis may be applied to virtually any text or image—a speech , an essay , an advertisement, a poem, a photograph, a web page, even a bumper sticker. When applied to a literary work, rhetorical analysis regards the work not as an aesthetic object but as an artistically structured instrument for communication. As Edward P.J. Corbett has observed, rhetorical analysis "is more interested in a literary work for what it does than for what it is."
A Rhetorical Analysis of Claude McKay's "Africa"
A Rhetorical Analysis of E.B. White's "The Ring of Time"
A Rhetorical Analysis of U2's "Sunday Bloody Sunday"
"Our response to the character of the author—whether it is called ethos, or 'implied author,' or style , or even tone—is part of our experience of his work, an experience of the voice within the masks, personae , of the work...Rhetorical criticism intensifies our sense of the dynamic relationships between the author as a real person and the more or less fictive person implied by the work." (Thomas O. Sloan, "Restoration of Rhetoric to Literary Study." The Speech Teacher )
"[R]hetorical criticism is a mode of analysis that focuses on the text itself. In that respect, it is like the practical criticism that the New Critics and the Chicago School indulge in. It is unlike these modes of criticism in that it does not remain inside the literary work but works outward from the text to considerations of the author and the audience...In talking about the ethical appeal in his 'Rhetoric,' Aristotle made the point that although a speaker may come before an audience with a certain antecedent reputation, his ethical appeal is exerted primarily by what he says in that particular speech before that particular audience. Likewise, in rhetorical criticism, we gain our impression of the author from what we can glean from the text itself—from looking at such things as his ideas and attitudes, his stance, his tone, his style. This reading back to the author is not the same sort of thing as the attempt to reconstruct the biography of a writer from his literary work. Rhetorical criticism seeks simply to ascertain the particular posture or image that the author is establishing in this particular work in order to produce a particular effect on a particular audience." (Edward P.J. Corbett, "Introduction" to " Rhetorical Analyses of Literary Works ")
"[A] complete rhetorical analysis requires the researcher to move beyond identifying and labeling in that creating an inventory of the parts of a text represents only the starting point of the analyst's work. From the earliest examples of rhetorical analysis to the present, this analytical work has involved the analyst in interpreting the meaning of these textual components—both in isolation and in combination—for the person (or people) experiencing the text. This highly interpretive aspect of rhetorical analysis requires the analyst to address the effects of the different identified textual elements on the perception of the person experiencing the text. So, for example, the analyst might say that the presence of feature x will condition the reception of the text in a particular way. Most texts, of course, include multiple features, so this analytical work involves addressing the cumulative effects of the selected combination of features in the text." (Mark Zachry, "Rhetorical Analysis" from " The Handbook of Business Discourse , " Francesca Bargiela-Chiappini, editor)
"Perhaps the most pervasive type of repeated-word sentence used in greeting card verse is the sentence in which a word or group of words is repeated anywhere within the sentence, as in the following example:
In quiet and thoughtful ways , in happy and fun ways , all ways , and always , I love you.
In this sentence, the word ways is repeated at the end of two successive phrases, picked up again at the beginning of the next phrase, and then repeated as part of the word always . Similarly, the root word all initially appears in the phrase 'all ways' and is then repeated in a slightly different form in the homophonic word always . The movement is from the particular ('quiet and thoughtful ways,' 'happy and fun ways'), to the general ('all ways'), to the hyperbolic ('always')." (Frank D'Angelo, "The Rhetoric of Sentimental Greeting Card Verse." Rhetoric Review )
"Starbucks not just as an institution or as a set of verbal discourses or even advertising but as a material and physical site is deeply rhetorical...Starbucks weaves us directly into the cultural conditions of which it is constitutive. The color of the logo, the performative practices of ordering, making, and drinking the coffee, the conversations around the tables, and the whole host of other materialities and performances of/in Starbucks are at once the rhetorical claims and the enactment of the rhetorical action urged. In short, Starbucks draws together the tripartite relationships among place, body, and subjectivity. As a material/rhetorical place, Starbucks addresses and is the very site of a comforting and discomforting negotiation of these relationships." (Greg Dickinson, "Joe's Rhetoric: Finding Authenticity at Starbucks." Rhetoric Society Quarterly )
"What essentially are the differences between literary criticism analysis and rhetorical analysis? When a critic explicates Ezra Pound's Canto XLV , for example, and shows how Pound inveighs against usury as an offense against nature that corrupts society and the arts, the critic must point out the 'evidence'—the 'artistic proofs' of example and enthymeme [a formal syllogistic argument that is incompletely stated}—that Pound has drawn upon for his fulmination. The critic will also call attention to the 'arrangement' of the parts of that argument as a feature of the 'form' of the poem just as he may inquire into the language and syntax. Again these are matters that Aristotle assigned mainly to rhetoric...
"All critical essays dealing with the persona of a literary work are in reality studies of the 'Ethos' of the 'speaker' or 'narrator'—the voice—source of the rhythmic language which attracts and holds the kind of readers the poet desires as his audience, and the means this persona consciously or unconsciously chooses, in Kenneth Burke's term, to 'woo' that reader-audience." (Alexander Scharbach, "Rhetoric and Literary Criticism: Why Their Separation." College Composition and Communication )
Audience Analysis in Speech and Composition
Definition and Examples of Ethos in Classical Rhetoric
A Rhetorical Analysis of U2's 'Sunday Bloody Sunday'
Invented Ethos (Rhetoric)
Rhetoric: Definitions and Observations
What Is Phronesis?
Feminist Literary Criticism
Deliberative Rhetoric
An Introduction to Rhetorical Questions
Use Social Media to Teach Ethos, Pathos and Logos
Enthymeme - Definition and Examples
Persuasion and Rhetorical Definition
Pathos in Rhetoric
Definition and Examples of Rhetorical Stance
Definition and Examples of Analysis in Composition
The 10 Best Literary Theory and Criticism Books
By clicking "Accept All Cookies", you agree to the storing of cookies on your device to enhance site navigation, analyze site usage, and assist in our marketing efforts.

Chapter 6: Thinking and Analyzing Rhetorically
6.3 What is Rhetorical Analysis?
Rhetoric: The art of persuasion
Analysis: Breaking down the whole into pieces for the purpose of examination
Unlike summary, a rhetorical analysis does not only require a restatement of ideas; instead, you must recognize rhetorical moves that an author is making in an attempt to persuade his or her audience to do or to think something. In the 21st century's abundance of information, it can sometimes be difficult to discern what is a rhetorical strategy and what is simple manipulation; however, an understanding of rhetoric and rhetorical moves will help you become more savvy with the information surrounding you on a day-to-day basis. In other words, rhetorical moves can be a form of manipulation, but if one can recognize those moves, then one can be a more critical consumer of information rather than blindly accepting whatever one reads, sees, hears, etc.
The goal of a rhetorical analysis is to explain what is happening in the text,  why the author might have chosen to use a particular move or set of rhetorical moves, and how those choices might affect the audience. The text you analyze might be explanatory, although there will be aspects of argument because you must negotiate with what the author is trying to do and what you think the author is doing. Edward P.J. Corbett observes, rhetorical analysis "is more interested in a literary work for what it does than for what it is"  (qtd. in Nordqvist).
One of the elements of doing a rhetorical analysis is looking at a text's rhetorical situation. The rhetorical situation is the context out of a which a text is created.
The questions that you can use to examine a text's rhetorical situation are in   Chapter 6.2 .
Another element of rhetorical analysis is simply reading and summarizing the text. You have to be able to describe the basics of the author's thesis and main points before you can begin to analyze it.
The questions that you can use to summarize a text are in  Chapter 5.1
A third element of rhetorical analysis requires you to connect the rhetorical situation to the text. You need to go beyond summarizing and look at how the author shapes his or her text based on its context. In developing your reading and analytical skills, allow yourself to think about what you're reading, to question the text and your responses to it, as you read. Use the following questions to help you to take the text apart—dissecting it to see how it works:
Does the author successfully support the thesis or claim?   Is the point held consistently throughout the text, or does it wander at any point?
Is the evidence the author used effective for the intended audience? How might the intended audience respond to the types of evidence that the author used to support the thesis/claim?
What rhetorical moves do you see the author making to help achieve his or her purpose? Are there word choices or content choices that seem to you to be clearly related to the author's agenda for the text or that might appeal to the intended audience?
Describe the tone in the piece. Is it friendly? Authoritative? Does it lecture? Is it biting or sarcastic? Does the author use simple language, or is it full of jargon? Does the language feel positive or negative? Point to aspects of the text that create the tone; spend some time examining these and considering how and why they work. (Learn more about tone in Section 4.5 " Tone, Voice, and Point of View . ")
Is the author objective, or does he or she try to convince you to have a certain opinion? Why does the author try to persuade you to adopt this viewpoint? If the author is biased, does this interfere with the way you read and understand the text?
Do you feel like the author knows who you are? Does the text seem to be aimed at readers like you or at a different audience? What assumptions does the author make about their audience? Would most people find these reasonable, acceptable, or accurate?
Does the text's flow make sense? Is the line of reasoning logical? Are there any gaps? Are there any spots where you feel the reasoning is flawed in some way?
Does the author try to appeal to your emotions? Does the author use any controversial words in the headline or the article? Do these affect your reading or your interest?
Do you believe the author? Do you accept their thoughts and ideas? Why or why not?
It is also a good idea to revisit Section 2.3 "How to Read Rhetorically." This chapter will compliment the rhetorical questions listed above and help you clearly determine the text's rhetorical situation.
Once you have done this basic, rhetorical, critical reading of your text, you are ready to think about how the rhetorical situation ( Section 6.2 ) – the context out of which the text arises –  influences certain rhetorical appeals ( Section 6.4 ) that appear in it.
Attributions
This chapter contains material from "The Word on College Reading and Writing" by Monique Babin, Carol Burnell, Susan Pesznecker, Nicole Rosevear, Jaime Wood , OpenOregon Educational Resources , Higher Education Coordination Commission: Office of Community Colleges and Workforce Development is licensed under CC BY-NC 4.0
A Guide to Rhetoric, Genre, and Success in First-Year Writing by Melanie Gagich & Emilie Zickel is licensed under a Creative Commons Attribution-NonCommercial-ShareAlike 4.0 International License , except where otherwise noted.
Feedback/Errata
Comments are closed.
How to Write a Rhetorical Analysis Essay: Outline, Steps, & Examples
If you are assigned to write a rhetorical analysis essay, you have one significant advantage. You can choose a text from an almost infinite number of resources. The most important thing is that you analyze the statement addressed to an audience. The task of a rhetorical analysis essay is to identify the speaker's main objectives. However, it is also crucial to work through the rhetorical strategies the speaker uses.
Our specialists will write a custom essay on any topic for 13.00 10.40/page
In this article by Custom-Writing.org experts, you will get to know the SOAPSTone and rhetorical appeals. This is included in our seven-step guide on how to write a rhetorical analysis essay. You'll find out the essential tips on formatting and formulating the thesis statement. There are also a rhetorical essay outline and examples at the end for your reference!
❓ What Is Rhetorical Analysis?
👣 Writing Steps
👀 Essay Examples
🔗 References
❓ what is a rhetorical analysis essay.
In a rhetorical analysis essay, you have to divide a text into parts and explain whether they work together or not . It is quite different from a usual literary analysis . The task is to find out how successful the speaker is at reaching their objective.
How to Write a Rhetorical Analysis Essay: Main Steps
There are several steps you should follow to hit the highest score for your essay. First, you should work with SOAPSTone and rhetorical appeals. Then, you should proceed with basic tasks, such as writing a thesis statement and outline. When you have these done, it's time to put it all together into the three main parts of the essay.

Step #1: Identify the SOAPSTone of the Text
SOAPSTone is a very handy tool to help you understand the text you are dealing with. The following questions allow you to gather all the information you will need for future analysis.

Step #2: Identify Rhetorical Appeals Used in the Text
Rhetorical appeals are also known as "modes of persuasion" and include ethos, pathos, and logos. They can be understood as tools for making others believe a particular point of view. Some of the most potent examples can be found in advertisements.
Ethos is related to the speaker's credibility. Mentioning some impressive qualifications or years of practice reassures the reader of the speaker's reliability and trustworthiness. It helps to persuade the audience.
For example, a doctor might write an article about the surgery success rate after 30 years of practicing in the field. Demonstrating one's expertise like this is an excellent example of ethos.
Pathos is all about emotions. Evoking deep feelings in the listeners is a powerful tool, which helps the speaker convince them. The range of emotions varies from love, admiration, and sympathy to anger and hate. Whenever the response from the audience aligns with what the speaker is expecting, it is a win. Usually, it is achieved by using provocative language.
For instance, a mayoral candidate shouts out into the crowd that hundreds of people could lose their jobs if they don't do something. The speaker aims to make the audience feel resentful of the current situation and sympathetic to a new plan. This way, they are more likely to vote for this candidate since they feel passionate about the promises.
Emotions are not always enough to convince someone to follow you, are they? Therefore, the last crucial mode is logos. Logos is responsible for logic. Appealing to reason is mostly used in an academic environment , but it's not uncommon in other fields. The speaker could use reliable data , facts, and evidence to convince the audience.
Receive a plagiarism-free paper tailored to your instructions.
Using numbers is always a good idea. For example, during the presentation, the speaker can include some graphs and percentages: "Last year, we finished 23% of projects ahead of schedule, saving over two million dollars for our customers."
Step #3: Formulate Your Thesis Statement
Remember that your thesis statement is considered to be the front page of your paper. When successfully composed, it points out the main idea of your essay. Therefore, it has to be as clear and specific as possible.
You want to include everything you found out about the chosen text in this single sentence. If you didn't skip the first two steps, it shouldn't be a problem! A decent thesis statement would look like this:
"In her article, the writer mentions her expertise and up-to-date statistics, and appeals to the readers' pity to convince them of the necessity of regular yearly check-ups for disease prevention."
Don't worry if you still can't come up with anything decent. try using a rhetorical analysis thesis generator that will give you some ideas of what direction you should take in your writing.
Step #4: Create Your Rhetorical Analysis Essay Outline
Even though keeping your essay organized is not your most important task, it is undoubtedly helpful! If you don't want to forget anything and save yourself quite a lot of time, follow our advice and write an outline . This can be especially helpful if you mostly use visual memory.
Just 13.00 10.40/page , and you can get an custom-written academic paper according to your instructions
Introduction, main body, and conclusion create the basic layout of any essay. The main body of the paper includes at least three paragraphs. The rhetorical analysis essay outline also fits this rule.
Carefully go through all the notes you've made and mark the main points you want to include in your essay. Think about the evidence you have to support them. Along with the thesis statement, write it all down in a format of a list. When you are done with it, you may use it as a cheat sheet during the next steps of the writing process.
Now, you're all set up and ready to begin writing your essay!
Step #5: Write Your Rhetorical Analysis Essay Introduction
There are several things you need to consider when writing an introduction:
If it's not your school assignment, let the reader know that it's a rhetorical analysis.
Come up with a hook to interest the reader.
Don't forget to mention the text or speech you're analyzing. You can also drop a few facts about it.
Think of the SOAPSTone details that matter and include them here as well. You don't have to mention all of the parts, just the ones that make sense to you.
At the end of the introduction, write your thesis statement . It brings more clarity to this part of the essay.
Step #6: Write Your Body Paragraphs
As usual, this is where you put all your findings and support them with some facts. Don't forget that there should be at least three body paragraphs . Since it fits the number of rhetorical appeals, you can go ahead and write about ethos, pathos, and logos. Another way of organizing the paragraphs is to present the text's details chronologically, meaning from beginning to end. In this case, whatever text or speech you chose, it was probably well-prepared, so it helps your analysis look coherent.
It doesn't matter which option you prefer, but make sure you provide enough support for your arguments . The most effective way to make it work is to use quotes. Also, stick to using the third-person so that you don't break the rules of academic writing.
You can see how your main points can be organized most effectively in the rhetorical analysis essay sample at the end of the article.
Step #7: Write Your Rhetorical Analysis Essay Conclusion
The purpose of the conclusion is to sum up the most important findings of your analysis . You need to include your thesis statement here as well, but not word-for-word. Aim to paraphrase it and make it seem more sophisticated. This can be achieved by using new terminology. Maybe there is something the readers now understand from your essay that they couldn't have before.
Then, in the form of a summary, briefly mention the main ideas that support your thesis. You don't have to be a professional summary typer , just get your idea across in a concise manner. You might add a few words about the importance of your analysis as well. If you think that this issue is worth further research, write that down too.
👀 Rhetorical Analysis Essay: Examples
Below you'll find an essay aiming to analyze On Women's Right to Vote by Susan B. Anthony – a speech regarded as one of the best in American history. In this rhetorical analysis essay example, you can see how to put everything together by following the seven-step guide above. Here, the main body is divided into three paragraphs presenting one rhetorical appeal each.
Here are some other essay examples for you to check out.
Obama Speech: Rhetorical Analysis and Evaluation
"Get Out" Movie's Rhetorical Analysis
Susan B. Anthony's Speech: Rhetorical Analysis
Rhetorical Analysis of John F. Kennedy's Inaugural Address
Steve Jobs' Commencement: Rhetorical Analysis
Blogs on Euthanasia: Rhetorical Analysis
Rhetorical Writing Analysis of Jenna Berko's Essay
Rhetorical Analysis Essay Topics
A rhetorical analysis of one of Hallmark's commercials .
Steve Jobs' speech at Stanford University in 2005: rhetorical analysis.
The use of rhetorical devices in Gary Shteyngart's Only Disconnect .
Rhetorical strategies used in horror film Us by Jordan Peele.
Analyze Hamlet's monologues in W. Shakespeare's The Tragedy of Hamlet, Prince of Denmark .
Discuss how Martin Luther King Jr. uses rhetorical appeals in his Letter from Birmingham Jail .
Describe the rhetorical devices used in Greta Thunberg's speech .
The common rhetorical aspects used in articles of Carolyn Gregoire and Sophie Reeves .
Examine the rhetoric in Brooks' Reading Too Much Political News Is Bad for Your Well-Being .
Analyse the persuasive devices in Google Analytics App .
Study the application of rhetorical strategies in Beyond Vietnam: A Time to Break Silence by Martin Luther King, Jr .
Compare the lyrics rhetoric in The Times They Are A-Changing and The Wind of Change .
Rhetorical analysis for applying critical thinking .
Describe the rhetorical devices used in Confessions of a Female Chauvinist Sow by Anne Roiphe .
Examine the persuasive techniques in the Gillette commercial We Believe: The Best Men Can Be .
Compare the rhetorical schemes of Abraham Lincoln's Second Inaugural Address and Emily Dickinson's Success is Counted Sweetest .
Rhetorical analysis of Media Control by Noam Chomsky .
Analyse the persuasive devices used in political debates The Issue of Women and Race (2019).
Rhetorical appeal in Andrew Cadelago's film Snack Attack .
Discuss the rhetorical strategies in Hidden Intellectualism by Gerald Graff .
Analyse the persuasive devices used in Angelina Jolie's speech on female empowerment .
Describe the rhetorical appeals applied by Steinbeck in Of Mice and Men to stir up the emotions of the readers.
Compare the rhetoric of Margaret Fuller and Fredrick Douglass . .
Body by Milk and Moms Demand Action advertising campaigns: rhetorical analysis.
Describe the use of three appeals in Coors Light Beer ad .
Discuss the persuasive tactics in the 1950s advertising with Marilyn Monroe .
Analyze the rhetorical strategies in Aveeno advertisement .
Examine the efficiency of persuasive devices in the Stop Bullying public campaign .
The instruments used to persuade the audience in Anti-Drug Abuse public campaign .
Explore the rhetorical appeals in Julius Caesar by W. Shakespeare .
Analyze the persuasive strategies of FIFA franchise .
Rhetoric of The American Scholar by Ralph Waldo Emerson.
Describe the rhetorical devices that made Pericles' Funeral Oration one of the world's most influential speeches.
Persuasive techniques in American Crisis by Thomas Paine .
Analyze the rhetorical strategies used by Linda Hogan in Dwellings .
Explore the modes of persuasion in Narrative of the Life of Frederick Douglas .
The Myth of the Charioteer : rhetorical analysis.
Discuss the rhetorical appeals of Pop Can: Popular Culture in Canada .
The three appeals in Claire Giordano's Virtual Promise .
Rhetorical devices in the film Henry V (1944) directed by Laurence Olivier.
Describe the rhetoric technique used by Michelle Obama in her TED speech .
Analyze the persuasive tactics in James Q. Wilson's Just Take Away Their Guns .
Compare the rhetorical strategies in Moore's Idiot Nation and Gatto's Against School .
What in the world is a rhetorical analysis? – NC State University
Rhetorical Analysis – Stanford University
Rhetorical Strategies // Purdue Writing Lab
Rhetorical Analysis – Writers Workshop (Illinois)
Rhetorical Analysis – SAGE Research Methods
Rhetorical Analysis | Department of English | University of Washington
Doing a Rhetorical Analysis of a Text (CSU)
Aristotle's Rhetorical Situation // Purdue Writing Lab
Ethos, logos, pathos: Strategies of persuasion in social/environmental reports
Share to Facebook
Share to Twitter
Share to LinkedIn
Share to email
Recommended for You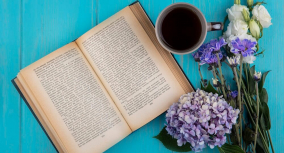 How to Write a Book Review: Format, Outline, & Example
As a student, you may be asked to write a book review. Unlike an argumentative essay, a book review is an opportunity to convey the central theme of a story while offering a new perspective on the author's ideas. Knowing how to create a well-organized and coherent review, however, is...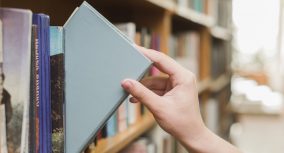 Good Book Report: How to Write & What to Include
Reading books is pleasurable and entertaining; writing about those books isn't. Reading books is pleasurable, easy, and entertaining; writing about those books isn't. However, learning how to write a book report is something that is commonly required in university. Fortunately, it isn't as difficult as you might think. You'll only...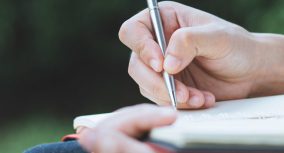 How to Write an Analysis Essay: Examples + Writing Guide
An analysis / analytical essay is a standard assignment in college or university. You might be asked to conduct an in-depth analysis of a research paper, a report, a movie, a company, a book, or an event. In this article, you'll find out how to write an analysis paper introduction,...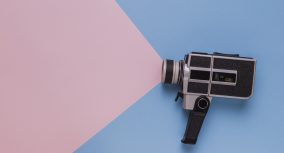 How to Write a Film Analysis Essay: Examples, Outline, & Tips
A film analysis essay might be the most exciting assignment you have ever had! After all, who doesn't love watching movies? You have your favorite movies, maybe something you watched years ago, perhaps a classic, or a documentary. Or your professor might assign a film for you to make a...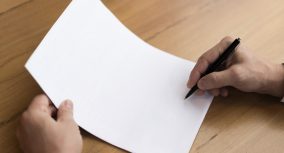 How to Write a Critique Paper: Tips + Critique Essay Examples
A critique paper is an academic writing genre that summarizes and gives a critical evaluation of a concept or work. Or, to put it simply, it is no more than a summary and a critical analysis of a specific issue. This type of writing aims to evaluate the impact of...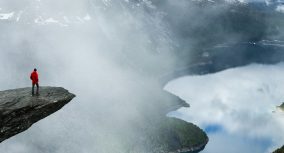 Short Story Analysis: How to Write It Step by Step [New]
Have you ever tried to write a story analysis but ended up being completely confused and lost? Well, the task might be challenging if you don't know the essential rules for literary analysis creation. But don't get frustrated! We know how to write a short story analysis, and we are...
Purdue Online Writing Lab Purdue OWL® College of Liberal Arts
Organizing Your Analysis

Welcome to the Purdue OWL
This page is brought to you by the OWL at Purdue University. When printing this page, you must include the entire legal notice.
Copyright ©1995-2018 by The Writing Lab & The OWL at Purdue and Purdue University. All rights reserved. This material may not be published, reproduced, broadcast, rewritten, or redistributed without permission. Use of this site constitutes acceptance of our terms and conditions of fair use.
This resource covers how to write a rhetorical analysis essay of primarily visual texts with a focus on demonstrating the author's understanding of the rhetorical situation and design principles.
There is no one perfect way to organize a rhetorical analysis essay. In fact, writers should always be a bit leery of plug-in formulas that offer a perfect essay format. Remember, organization itself is not the enemy, only organization without considering the specific demands of your particular writing task. That said, here are some general tips for plotting out the overall form of your essay.
Introduction
Like any rhetorical analysis essay, an essay analyzing a visual document should quickly set the stage for what you're doing. Try to cover the following concerns in the initial paragraphs:
Make sure to let the reader know you're performing a rhetorical analysis. Otherwise, they may expect you to take positions or make an evaluative argument that may not be coming.
Clearly state what the document under consideration is and possibly give some pertinent background information about its history or development. The intro can be a good place for a quick, narrative summary of the document. The key word here is "quick, for you may be dealing with something large (for example, an entire episode of a cartoon like the Simpsons). Save more in-depth descriptions for your body paragraph analysis.
If you're dealing with a smaller document (like a photograph or an advertisement), and copyright allows, the introduction or first page is a good place to integrate it into your page.
Give a basic run down of the rhetorical situation surrounding the document: the author, the audience, the purpose, the context, etc.
Thesis Statements and Focus
Many authors struggle with thesis statements or controlling ideas in regards to rhetorical analysis essays. There may be a temptation to think that merely announcing the text as a rhetorical analysis is purpose enough. However, especially depending on your essay's length, your reader may need a more direct and clear statement of your intentions. Below are a few examples.
1. Clearly narrow the focus of what your essay will cover. Ask yourself if one or two design aspects of the document is interesting and complex enough to warrant a full analytical treatment.
The website for Amazon.com provides an excellent example of alignment and proximity to assist its visitors in navigating a potentially large and confusing amount of information.
2. Since visual documents often seek to move people towards a certain action (buying a product, attending an event, expressing a sentiment), an essay may analyze the rhetorical techniques used to accomplish this purpose. The thesis statement should reflect this goal.
The call-out flyer for the Purdue Rowing Team uses a mixture of dynamic imagery and tantalizing promises to create interest in potential, new members.
3. Rhetorical analysis can also easily lead to making original arguments. Performing the analysis may lead you to an argument; or vice versa, you may start with an argument and search for proof that supports it.
A close analysis of the female body images in the July 2007 issue of Cosmopolitan magazine reveals contradictions between the articles' calls for self-esteem and the advertisements' unrealistic, beauty demands.
These are merely suggestions. The best measure for what your focus and thesis statement should be the document itself and the demands of your writing situation. Remember that the main thrust of your thesis statement should be on how the document creates meaning and accomplishes its purposes. The OWl has additional information on writing thesis statements.
Analysis Order (Body Paragraphs)
Depending on the genre and size of the document under analysis, there are a number of logical ways to organize your body paragraphs. Below are a few possible options. Which ever you choose, the goal of your body paragraphs is to present parts of the document, give an extended analysis of how that part functions, and suggest how the part ties into a larger point (your thesis statement or goal).
Chronological
This is the most straight-forward approach, but it can also be effective if done for a reason (as opposed to not being able to think of another way). For example, if you are analyzing a photo essay on the web or in a booklet, a chronological treatment allows you to present your insights in the same order that a viewer of the document experiences those images. It is likely that the images have been put in that order and juxtaposed for a reason, so this line of analysis can be easily integrated into the essay.
Be careful using chronological ordering when dealing with a document that contains a narrative (i.e. a television show or music video). Focusing on the chronological could easily lead you to plot summary which is not the point of a rhetorical analysis.
A spatial ordering covers the parts of a document in the order the eye is likely to scan them. This is different than chronological order, for that is dictated by pages or screens where spatial order concerns order amongst a single page or plane. There are no unwavering guidelines for this, but you can use the following general guidelines.
Left to right and top to down is still the normal reading and scanning pattern for English-speaking countries.
The eye will naturally look for centers. This may be the technical center of the page or the center of the largest item on the page.
Lines are often used to provide directions and paths for the eye to follow.
Research has shown that on web pages, the eye tends to linger in the top left quadrant before moving left to right. Only after spending a considerable amount of time on the top, visible portion of the page will they then scroll down.
Persuasive Appeals
The classic, rhetorical appeals are logos, pathos, and ethos. These concepts roughly correspond to the logic, emotion, and character of the document's attempt to persuade. You can find more information on these concepts elsewhere on the OWL. Once you understand these devices, you could potentially order your essay by analyzing the document's use of logos, ethos, and pathos in different sections.
The conclusion of a rhetorical analysis essay may not operate too differently from the conclusion of any other kind of essay. Still, many writers struggle with what a conclusion should or should not do. You can find tips elsewhere on the OWL on writing conclusions. In short, however, you should restate your main ideas and explain why they are important; restate your thesis; and outline further research or work you believe should be completed to further your efforts.
Rhetorical Analysis Essay
Rhetorical Analysis Essay Outline

Crafting an Effective Rhetorical Analysis Essay Outline - Free Samples!
10 min read
Published on: Apr 8, 2018
Last updated on: Nov 1, 2023
People also read
Rhetorical Analysis Essay - A Complete Guide With Examples
Rhetorical Analysis Essay Topics – 120+ Unique Ideas
Rhetorical Analysis Essay Example - Free Samples
Ethos, Pathos, and Logos - Structure, Usage & Examples
Share this article
Have you ever stared at a blank page, wondering how to begin your rhetorical analysis essay?
You're not alone. Many students find the first step, creating an outline, to be a challenge.
The truth is - tackling a rhetorical analysis without a well-structured outline can lead to confusion and disorganization. But fear not because there's a solution.
In this blog, we will show you how you can create a rhetorical analysis essay outline. By the end, you'll have a thorough understanding of what your outline should look like.
So, keep reading to find out how you can beat the blank pages!
On This Page On This Page
What Is Rhetorical Analysis Essay?
A rhetorical analysis essay is a type of analytical essay that examines how an author uses language and persuasion to get their message across.
It involves analyzing speeches or essays to understand how authors use strategies within the rhetorical triangle to influence their intended audience. These techniques usually involve logical appeal, moral argument, and vivid imagery that appeals to the listener.
Key Elements to Analyze
In a rhetorical analysis essay, you would be analyzing the text keeping these key rhetorical concepts in mind:
Ethos: This concerns the credibility of the author or speaker.
Logos: This focuses on the logical aspects of the argument.
Pathos: Pathos explores the emotional appeal of the discourse.
Style and Tone: This involves analyzing the author's writing style and the overall tone of the text.
These elements provide a structured approach to rhetorical analysis, revealing how effective communication is achieved.
Why Create a Rhetorical Analysis Essay Outline?
Writing a rhetorical analysis essay requires a writer to draft a structured piece of writing. This essay type is one of the most challenging tasks students are assigned to do for their academics.
Apart from conducting a strong analysis, a rhetorical analysis essay depends on how perfectly the essay outline is drafted.
An outline organizes the raw information and makes it understandable for the readers. It serves as your compass, ensuring you stay on course throughout the rhetoric essay. It helps you structure your ideas and arguments, adding clarity to your essay writing process.
Moreover, an outline works as a checklist for your essay. It assures you that nothing important is missed in the content.
Components of a Rhetorical Analysis Outline
Now that we've explored why creating an essay outline is essential, it's important to explore the different components of a rhetorical analysis outline.
Here's a detailed rhetorical analysis essay outline:
Each element plays a crucial role in crafting a well-structured and persuasive analysis, so let's explore them in detail:
Introduction
The introduction of your rhetorical analysis essay serves as the gateway to your analysis. It's where you captivate your reader's interest, provide essential background information, and present your thesis statement.
Here are the elements typically included in an introduction paragraph:
Hook The " hook " is a sentence or two designed to grab the reader's attention. It could be a thought-provoking quote, a surprising fact, or a compelling question. The purpose is to make your reader interested in what you're about to discuss—how an author uses rhetorical devices.
Background Information After the hook, provide some context. Here, you briefly introduce the text you're analyzing, the author or speaker, and the overall topic. It's like giving your reader a map to navigate through your analysis.
Thesis Statement The thesis statement is the main argument, your "claim." This concise sentence outlines what you'll be analyzing and what your main points will be. Your thesis should tell the reader what to expect in your analysis.
The body of your essay is where you dissect the author's persuasive techniques and reveal their impact on the audience. It contains sections dedicated to each rhetorical strategy you're examining.
In these sections, you'll explain the strategies, provide evidence from the text, and offer your insightful analysis of their effectiveness.
Section for Each Rhetorical Strategy
In the body paragraphs, you'll have sections dedicated to each rhetorical strategy you're analyzing. These sections each will focus on a different aspect of the text. For each strategy, you'll do three things:
Explanation of the Strategy Start by explaining what the rhetorical technique is. Define it clearly for your reader. This is like providing a dictionary definition.
Examples from the Text Next, provide examples from the text you're analyzing. These are specific quotes or passages where the author or speaker uses the strategy you're discussing. It's like showing your reader the evidence.
Analysis of the Effectiveness Finally, analyze how effective the strategy is. This is where you dive deep into the text and explain how and why the strategy persuades the audience.
The conclusion should leave your readers with a sense of closure and a clear understanding of your analysis.
You don't introduce new information or arguments in this section; instead, you tie everything together. Here are the three essential elements of an impactful essay conclusion:
Restate Thesis Start by restating your thesis to remind readers of your main argument. Repeating your main argument clearly helps the reader tie in all they have read in your essay.
Summarize Main Points Summarize the main points from each section of your analysis. This serves as a reminder of the highlights of your arguments made throughout the essay.
Final Thoughts Conclude by sharing your thoughts on how the author's strategies affect the audience and the text's broader importance. Encourage readers to consider these strategies' impact and the text's relevance.
This structure in your rhetorical analysis outline ensures that your analysis is clear, well-organized, and persuasive. Each component plays a crucial role in guiding your reader through your analysis.
Steps to Create a Rhetorical Analysis Essay Outline
Creating an essay outline is a crucial step in organizing your thoughts and effectively analyzing a piece of rhetoric. Here are the steps to craft an outline for a rhetorical analysis essay:
Step 1 - Choose the Text
Select the piece of rhetoric that you will be analyzing. It could be a speech, a written essay, an advertisement, a political campaign, or any other form of communication.
Step 2 - Identify Rhetorical Devices and Rhetorical Appeals
Look for rhetorical devices such as metaphor, simile, analogy, hyperbole, and alliteration. Analyze how these devices contribute to the message. Identify any repetition, parallelism, or rhetorical questions used in the text.
Moreover, look for common rhetorical appeals i,e., ethos, pathos, and logos.
Step 3 - Analyze Appeals and Strategies in Each Section
For each argument, dedicate a body paragraph that will analyze how the author/speaker uses ethos, pathos, and logos.
Note the specific rhetorical devices used in each section and their impact.
Step 4 - Consider the Effect on the Audience
While outlining the last body paragraph, add points that analyze how the appeals are intended to affect the audience.
Consider whether the author/speaker is trying to persuade, inform, entertain, or provoke a specific emotional response. Include specific examples and quotations from the text to support your analysis.
Step 5 - Filter Out Extra Information
It's important to know what parts of the arguments should be included and which should be filtered out.
After having a sketch of the introduction and body paragraphs, remove any information that might feel irrelevant.
Step 6 - Conclude and Summarize
For the ending, make sure to restate your thesis statement. Include points that directly support your arguments and sum up your analysis.
These steps help you plan your essay for a well-structured, clear, and cohesive essay.
Here's a sample rhetorical analysis essay outline template that analyzes ethos, pathos and logos :
Here's a practice outline:
Rhetorical Analysis Essay Outline Fill In The Blanks
Rhetorical Analysis Essay Outline Examples
Here are some rhetorical analysis essay outline pdf that you can use as reference outlines:
Rhetorical Analysis Essay Outline Ethos Pathos Logos
Rhetorical Analysis Essay Outline Ap Lang
Visual Rhetorical Analysis Essay Outline
Comparative Rhetorical Analysis Essay Outline
Rhetorical Analysis Essay Introduction Outline
Need more help getting started? Check out these expert rhetorical analysis essay examples to get inspired!
In conclusion, you've got the tools and examples you need to ace your rhetorical analysis essay. The steps we've gone through provide a strong starting point for your academic journey into analyzing persuasive writing.
But if you ever hit a wall or need help with tight deadlines, don't forget our essay writing service . Our skilled writers have helped lots of students like you get top-notch essays.
So, why wait? Place your order now and set yourself up for academic success!
Nova A. (Literature, Marketing)
Nova Allison is a Digital Content Strategist with over eight years of experience. Nova has also worked as a technical and scientific writer. She is majorly involved in developing and reviewing online content plans that engage and resonate with audiences. Nova has a passion for writing that engages and informs her readers.
Paper Due? Why Suffer? That's our Job!
Keep reading
We value your privacy
We use cookies to improve your experience and give you personalized content. Do you agree to our cookie policy?
Website Data Collection
We use data collected by cookies and JavaScript libraries.
Are you sure you want to cancel?
Your preferences have not been saved.
How to Write a Rhetorical Analysis Essay
What Is a Rhetorical Analysis Essay: Definition
If you're tasked with defining -'what is a rhetorical analysis essay?', our dissertation service provides a thorough explanation of the topic.
A rhetorical analysis essay requires you to analyze a piece of writing, speech, or another form of communication to determine how effectively the author or speaker has used rhetorical strategies to convey their message. A rhetorical analysis aims to identify the techniques used by the author or speaker to persuade their audience and evaluate the effectiveness of those techniques in achieving the intended goal.
One rhetorical essay example might be an analysis of a political speech. In this case, you would examine how the speaker uses language, tone, and other rhetorical strategies to appeal to their audience. You would also evaluate how successfully those strategies convey the speaker's message. Another example of rhetorical analysis essay might be analyzing a piece of advertising. Here, you would examine how the advertiser uses visual and verbal cues to persuade their audience to buy a particular product or service, and you would evaluate the effectiveness of those cues in achieving that goal.
In short, a rhetorical analysis essay analyzes how language and other persuasive strategies are used to achieve a particular goal. By carefully examining the techniques used by an author or speaker, you can gain a deeper understanding of how language and persuasion work and develop your skills as a communicator.
Rhetorical Analysis Essay Prompt
When given a rhetorical analysis essay prompt, it is important to carefully analyze the prompt to understand the assignment's expectations. The prompt will typically provide you with a text to analyze and a set of specific questions or tasks to guide your analysis.
Here are two different prompts for rhetorical analysis examples:
Analyze the use of rhetorical strategies in Martin Luther King Jr.'s 'I Have a Dream' speech. Identify at least three specific rhetorical strategies used by King, and evaluate their effectiveness in achieving his goal of promoting civil rights for African Americans.
Analyze the use of visual rhetoric in a recent political advertisement. Identify the specific visual and verbal cues used by the ad's creator, and evaluate how those cues are used to persuade the viewer. Consider the ad's intended audience and the creator's goal in shaping the viewer's perception.
In both of these prompts, the key to a successful rhetorical analysis essay is to carefully analyze the text or visual rhetoric to identify the specific strategies used to persuade the audience and to evaluate the effectiveness of those strategies in achieving the intended goal.
Rhetorical Analysis Strategies
There are three universal methods of persuasion—also called rhetorical strategies. To handle the task, you need to have a good understanding of these strategies and their use.
So, what are the 3 rhetorical strategies? Let's define each and look closer at their key attributes with our dissertation service :
The ethos rhetorical device is what establishes the author's credibility in a literary piece. Simply put, the skillful use of this strategy is what helps readers determine whether or not a particular author can be trusted on a specific matter. Credibility is defined by the author's expertise, knowledge, and moral competence for any particular subject. According to Aristotle, there are three categories of ethos: arete (virtue, goodwill), phronesis (useful skills & wisdom), and eunoia (goodwill towards the audience).
For example, when the author of a book is a well-known expert in a specific subject, or when a product is advertised by a famous person – these are uses of ethos for persuasion. 
According to the pathos literary definition, this Greek word translates to "experience," "suffering," or "emotion" and is one of the three methods of persuasion authors are able to use to appeal to their readers' emotions. In a nutshell, the key goal of this strategy is to elicit certain feelings (e.g. happiness, sympathy, pity, anger, compassion, etc.) in their audience with the sole goal of persuading them of something. The main goal is to help readers relate to the author's identity and ideas.
Some of the common ways to use pathos in rhetoric are through:
Storytelling;
Personal anecdotes, etc.
Just to give you an example, when you see an advertisement that shows sad, loveless animals and it asks you to donate money to an animal shelter or adopt an animal – that's clear use of emotional appeal in persuasion.
According to the logos literary definition, this word translates from Greek as "ground," "plea," "reason," "opinion," etc. This rhetorical strategy is solely logical; so, unlike ethos or pathos that rely on credibility or emotions, the logos rhetorical device is used to persuade readers through the use of critical thinking, facts, numbers and statistics, and other undeniable data.
For example, when the author of a literary piece makes a statement and supports it with valid facts – that's logos.
These three strategies: logos, ethos, and pathos play an essential role in writing a rhetorical analysis essay. The better you understand them, the easier you will be able to determine how successful the author of the assigned text was in using them. Now, let's take a look at how to start.
Rhetorical Analysis Essay Example
For a better understanding, take a careful look at our analysis sample essay. This will serve as an inspiration for your assignment.
Rhetorical Analysis Essay Example:
Get a better idea of what's needed to master this type of writing. Take a look at our rhetorical analysis essay example, which was written by one of our professional writers.
Choosing Rhetorical Analysis Topics
Choosing a rhetorical analysis topic can be a challenging task, but there are several strategies you can use to identify a suitable topic.
Consider your interests and passion. Think about the texts that have had the most significant impact on you and that you feel passionate about analyzing. This can include speeches, essays, advertisements, or even social media posts.
Explore current events or issues that are relevant to your life or the lives of those around you . Analyzing a timely and relevant text can add depth and meaning to your analysis and may also make it more engaging to your audience.
Look for texts that have had a significant impact on society or culture. This could include classic speeches, historical documents, or even popular cultural texts such as music videos or movies.
Reflect on the scope of your analysis once you have identified a few potential topics. Make sure the text is complex enough to analyze in detail but not so dense or lengthy that it becomes overwhelming. Additionally, ensure enough information is available to support your analysis and provide context for your arguments.
Unique Rhetorical Analysis Essay Topics
Now if you're wondering - 'what is a rhetorical analysis essay example that stands out?', consider the following rhetorical analysis essay topics from our ' write my paper for me ' expert writers:
The rhetorical strategies used in a political speech
The effectiveness of an advertisement in persuading its target audience
The use of figurative language in a poem or song
The rhetorical techniques used in a famous historical document, such as the Declaration of Independence or the Gettysburg Address
The use of social media to convey a message or persuade an audience
The use of humor in a comedic TV show or movie
The rhetorical devices used in a TED talk or other popular talk
The use of imagery in a work of literature, such as a novel or short story
The persuasive techniques used in a persuasive essay or editorial
The use of language in a product review or critique of a work of art or literature.
High School Rhetorical Analysis Essay Topics
With these high school rhetorical analysis essay topics, you can start your analysis and produce a strong and effective essay.
The use of persuasive techniques in a political campaign ad
The rhetorical strategies used in a famous speech, such as Martin Luther King Jr.'s 'I Have a Dream' speech
The use of imagery and symbolism in a work of literature, such as William Golding's 'Lord of the Flies.'
The persuasive techniques used in a college application essay
The rhetorical devices used in a poem, such as Robert Frost's 'The Road Not Taken.'
The use of humor in a satirical TV show or movie
The rhetorical strategies used in a popular YouTube video or podcast
The use of emotional appeals in a charity or non-profit advertisement
The rhetorical devices used in a historical document, such as the Constitution or the Bill of Rights
The persuasive techniques used in a personal essay or memoir.
College Rhetorical Analysis Essay Topics
Here are ten college-level topics you can use for your ap rhetorical analysis essay:
The use of persuasive techniques in a political speech delivered by a contemporary leader
The rhetorical strategies used in a famous literary work, such as Toni Morrison's 'Beloved.'
The use of figurative language and literary devices in a contemporary poem or song
The persuasive techniques used in a corporate advertising campaign or public relations effort
The rhetorical devices used in a contemporary work of art, such as a painting or sculpture
The use of emotional appeals in a documentary or film exploring a social issue
The rhetorical strategies used in a scientific research paper or article
The use of humor and satire in a contemporary TV show or movie
The persuasive techniques used in a political opinion editorial published in a major newspaper or online media outlet
The rhetorical devices used in a speech delivered at a significant historical event, such as the Stonewall Riots or the March on Washington.
2023 Rhetorical Analysis Essay Topics
Here are some unique rhetorical analysis essay topics for 2023 from our essay writing service :
The use of rhetorical strategies in a popular TikTok video or trend
The persuasive techniques used in a social media influencer's sponsored post
The rhetorical devices used in a podcast episode exploring a current social issue
The use of visual rhetoric in a contemporary art exhibit or installation
The rhetorical strategies used in a political satire TV show, such as 'The Daily Show with Trevor Noah.'
The persuasive techniques used in a climate change awareness campaign
The use of rhetorical devices in a contemporary speech given by a notable public figure, such as Alexandria Ocasio-Cortez or Greta Thunberg
The rhetorical strategies used in popular video games, such as 'Fortnite.'
The use of emotional appeals in a recent documentary film, such as 'The Social Dilemma.'
The persuasive techniques used in a contemporary marketing campaign for a popular fashion brand.
How to Write a Rhetorical Analysis: Step-by-Step
Writing a rhetorical analysis essay can be a valuable skill for students of all disciplines, as it requires various forms of critical thinking, analysis, and evaluation of communication. Whether you are analyzing a political speech, a work in academic writing, or a visual advertisement, following these steps can help you write a compelling and insightful rhetorical analysis essay.
Analyze the Text : The first step in writing a rhetorical analysis is carefully reading and analyzing the text. Look for the author's purpose, the target audience, and the text's context. Take note of any rhetorical devices, such as metaphors, repetition, or appeals to ethos, pathos, or logos, that the author uses to convey their message.
Organize Your Analysis: After the actual analysis, organize your thoughts into an outline or structure for your analysis. Begin with an introduction that provides some background information on the text and the author's purpose. Then, break down the text into smaller sections and analyze each in detail. Use specific examples from the text to support your analysis.
Write Your Analysis : With your outline or structure in place, you can begin writing your analysis. Start with an attention-grabbing introduction that sets the tone for your analysis. Then, work through your analysis, using specific examples from the text to support your arguments. Provide the summary in your rhetorical analysis conclusion and a final statement about the author's effectiveness using key rhetorical concepts.
If you need extra help with the proper way to cite in MLA or understanding how to title an essay , contact our team of skilled writers.
Do You Want to Ease Your Academic Burden?
Order a rhetorical analysis essay from our expert writers today and experience the power of top-notch academic writing.
Rhetorical Techniques 
You'll need to employ some rhetorical techniques to write good rhetorical analysis essays. These are persuasive strategies used to appeal to an audience and effectively communicate a message. Three of the most commonly used techniques, otherwise known as the rhetorical triangle, are ethos, pathos, and logos.
Ethos refers to the credibility and authority of the speaker or writer. It involves establishing oneself as a trustworthy and knowledgeable source to persuade the audience through ethical appeal. Ethos can be established through professional credentials, moral argument, personal experience, or other forms of expertise.
Pathos refers to the use of emotional appeals to persuade an audience. This can be accomplished through vivid imagery, powerful language, and relatable stories or experiences. The goal of pathos is to evoke strong emotional reactions in the audience, such as empathy, compassion, or outrage.
Logos refers to the use of logic and reason to persuade an audience. It involves providing factual information, statistics, and other evidence to support the arguments presented. Logos uses logical appeal and effectively convinces them to adopt a particular viewpoint.
Rhetorical Essay Outline
Here is a detailed outline for writing a rhetorical essay, along with examples:
I. Introduction
A. Background information on the topic
B. Rhetorical analysis essay thesis statement
C. Brief overview of the rhetorical analysis
Rhetorical analysis introduction example: The concept of freedom has been a fundamental aspect of American society since its inception. In the speech 'I Have a Dream' delivered by Martin Luther King Jr. in 1963, the issue of freedom and equality for African Americans is passionately addressed through the use of rhetorical devices. This essay will analyze King's use of ethos, pathos, and logos to persuade his audience and convey his message of equality and freedom.
A. Explanation of ethos and its importance
B. Examples of ethos in the text
C. Analysis of the effectiveness of ethos in the speech
Example: King establishes his credibility as a speaker through ethos by referencing his role as a Baptist minister and a leader in the civil rights movement. He also appeals to the authority of the founding fathers and the Constitution to support his argument for equality. By using these sources of authority, King gains the trust and respect of his audience, making them more likely to accept his message.
III. Pathos
A. Explanation of pathos and its importance
B. Examples of pathos in the text
C. Analysis of the effectiveness of pathos in the speech
Example: King uses pathos by employing emotional language and vivid imagery to elicit strong emotions from his audience. For example, he uses phrases like 'sweltering heat of injustice' and 'the quicksands of racial injustice' to create a sense of urgency and desperation in his listeners. By tapping into their emotions, King is able to create a powerful connection with his audience and inspire them to take action.
A. Explanation of logos and its importance
B. Examples of logos in the text
C. Analysis of the effectiveness of logos in the speech
Example: King also uses logos by presenting logical arguments and evidence to support his message. For instance, he references the Emancipation Proclamation and the Declaration of Independence to argue that the American promise of freedom and equality should apply to all citizens. He also uses statistics to highlight the economic and social disparities faced by African Americans. King reinforces his message and persuades his audience to take action by presenting a logical and well-supported argument.
V. Conclusion
A. Restate thesis statement
B. Summarize the main points
C. Concluding thoughts
Example: In conclusion, Martin Luther King Jr.'s 'I Have a Dream' speech is a powerful example of effective rhetoric. By using ethos, pathos, and logos, King is able to persuade his audience and convey his message of freedom and equality for all. His speech continues to inspire people today and serves as a reminder of the power of rhetoric to effect change.
Meanwhile, if you'd like a perfect literary analysis in APA essay format done by expert writers, reach out to us for help.
Here's an article that shows THE PROPER WAY TO CITE IN MLA
To ensure that you complete the outline correctly
Feel free to ask one of our writers for help.
Steps to Polish Your Rhetorical Analysis
Here are some steps you can take to polish your rhetorical analysis. By following these steps, you can improve the quality and effectiveness of your rhetorical analysis.
Re-read the text: To ensure that you have a comprehensive understanding of the text, read it several times. Pay attention to the language, structure, and overall tone of the text.
Identify the author's purpose : Determine the author's main goal in writing the text. Are they trying to inform, persuade, or entertain? Understanding the author's purpose will help you analyze the text more effectively.
Analyze the rhetorical situation: Consider the context in which the text was written. Who is the intended audience? What is the author's background, and how might that influence their writing? Understanding the rhetorical situation will help you understand the purpose and effectiveness of the rhetorical techniques used in the text.
Identify the rhetorical techniques used: Look for specific techniques used by the author to persuade or convey their message. These might include appeals to ethos, pathos, or logos, as well as the use of figurative language, repetition, or rhetorical questions.
Evaluate the effectiveness of the techniques: Once you have identified the rhetorical techniques used, evaluate their effectiveness in achieving the author's purpose. Consider how the techniques affect the audience's perception of the message and whether they are persuasive.
Revise and edit : Once you have completed your analysis, revise and edit your essay to ensure your argument is clear and well-supported. Pay attention to the organization of your essay, the clarity of your language, and the coherence of your analysis.
Get feedback : Ask a peer, instructor, or tutor to read your essay and provide feedback. Consider their suggestions for improvement and revise accordingly.
Get more info about HOW TO TITLE AN ESSAY
Still Struggling to GRASP THE CONCEPT?
If rhetorical essay writing isn't your strong point, there's no need to worry. Our essay writing service have hundreds of professional writers who are here to help. Just let them know what you need.
Looking to Take Your Academic Performance to the Next Level?
Say goodbye to stress, endless research, and sleepless nights - and hello to a brighter academic future.
Related Articles
Rhetorical Analysis
Sample rhetorical analysis essay.
Student essay is used with permission.  It was originally submitted double-spaced with no extra spaces between the lines, featured proper MLA pagination, and 1/2″ paragraph indents.  The writing assignment asks for an argument about how several rhetorical elements work together to create a functioning whole in a given chapter of Michael Shermer's 2004 book The Science of Good and Evil: Why People Cheat, Gossip, Care, Share, and Follow the Golden Rule .
Liana Monnat
English 101
Instructor: Joshua Dickinson
October 16, 2016
Michael Shermer Successfully Proves That Humans Can Be Good Without God
            In his chapter entitled "Can We Be Good Without God?" Michael Shermer's objective is to prove that one does not need to be religious to be capable of moral behavior.  Shermer has, in his previous four chapters, taken care to establish ethos by demonstrating that he is an open-minded and intelligent fellow.  Judging by his use of vocabulary, he assumes his readers are also intelligent people, with whom he attempts to develop a connection through his intermittent use of humor.  Shermer has already proved that his arguments are well-supported by large quantities of evidence, which lets his audience know that what he is saying is inherently trustworthy.  Taking all of this into consideration and having carefully analyzed this chapter, the reader is compelled by logic to agree with Shermer that one can have religion without morality, and morality without religion.
Shermer begins his fifth chapter with an appeal to pathos.  He describes to readers the massacre perpetrated at Columbine High School by Eric Harris and Dylan Klebold (141).  His description of the event along with a photograph of the black-clad, angry-looking murderers gives the reader a glimpse of the terror that must have been experienced by those unfortunate enough to have been present at the massacre.  In building up to proving his argument, Shermer appeals to readers' ability to reason by showing that outside influences do not cause a person to behave immorally.  He explains that in the aftermath of the event, many theories were put forth to rationalize the cause of Harris and Klebold's murderous rampage.  Included in these causes were use of prescription drugs, cult or gang influence, a fatherless home, homosexuality, and exposure to violence in video games (143-144).  Shermer uses logic to point out that none of these causes were relevant, particularly the idea that video game violence may have been the cause.  He makes mention of several newspapers that make such a claim, but dismisses the articles as having been written by "wannabe social commentators" and "ad hoc social scientists" and lacking in evidence (143).  Shermer shows how ridiculous the notion of video games being the causal factor is by relaying testimony of other players of violent games.  They all point out that they have not been driven to violence by their gaming habits (143).  By presenting these testimonies, he appeals to our common sense and ability to reason as intelligent individuals to realize that if video games caused people to behave violently, all gamers who played violent games would exhibit violent behavior, which is certainly not the case.  Shermer has thus far proved to readers that outside influences do not cause a person to abandon their morality.
Having logically dismantled the previous cases, Shermer turns his focus to the subject of gun control.  He quips that those in favor of more gun control took advantage of the Columbine massacre by "squawking for more legislation" (146).  His use of the word 'squawking' brings chickens to mind, and the great amount of noise they produce at the slightest provocation.  I believe creating this visual was probably the intent behind his humorous choice of words.
Liberal gun control advocates thoroughly ridiculed, Shermer notes that conservatives answered the call for more gun control by insisting that guns were not the problem.  The problem, as conservatives saw it, was the evil souls of the people who used them to commit evil deeds (146).  I feel that Shermer purposefully saved mentioning the gun control issue for last because it deals with the ideas of evil, morality, and religion.  He has taken much care in the preceding chapters to make it clear that he does not believe that evil exists, and that morality is not a product of religion.  The issue of gun control seems a well-chosen topic from which to begin his argument of how morality is a thing separate from religion.
The first example of evidence Shermer offers in his argument is an excerpt from a letter read by Congressman Tom DeLay.  He uses the excerpt to bring to readers' attention an argument that is commonly made to explain violent acts.  It implies that as science provides evidence for questions that people once looked to religion to answer, people no longer feel obligated by a higher power to behave morally (147).  Shermer disputes this argument by describing the case of another perpetrator of a school shooting.  Rumors of the perpetrator being an atheist were quickly dispelled by the family priest, whose explanation was that the boy was a sinner but not an atheist, to which Shermer sarcastically quips "Thank God for that" (147).  This remark demonstrates his disgust that the priest would imply that being a Christian murderer was less offensive than being an atheist.  With this evidence, Shermer has supported his argument and demonstrated to his audience that religious people do not necessarily have morals.
For Shermer's next move, he takes into consideration the opinions of several credible people who believe that morality is impossible without religion.  He utilizes quotes from the 103rd archbishop of Canterbury, Pope Pious XI, and the deeply religious Dostoyevsky who all fervently insist that religion is absolutely necessary for morality (149-150).  Shermer then includes the religious views of Laura Schlessinger, his one-time colleague.  He immediately diminishes her religious credibility by referring to her as a "self-appointed religious authority" (150). This implies to readers that although she is considered a 'religious authority' her opinions should not be taken too seriously.   He points out that although Schlessinger claims to have grown up lacking morals due to an atheistic upbringing, she admits that her parents still managed to instill her with some degree of morality (151).  This admission helps support his idea that non-religious people can have morals, but is the only part of Shermer's paragraphs about Schlessinger that appear to be relevant to his argument.  He continues on about her, however, and it becomes apparent to readers that Shermer once admired her work but was taken aback by her conversion to Judaism.  He further weakens her authority by poking fun at her, and readers (this reader, at least) cannot help but wonder if he only included these paragraphs about Schlessinger because he is still disgruntled about her defection from his cause.
Shermer has, through several quotes from religious authorities, demonstrated to his audience that religious people are adamant that religion is necessary for moral behavior.  In an effort to prove that they are wrong, he refutes the claims of these authorities by serving up examples of religious people that committed atrocities while zealously practicing their religion.  His go-to example is Hitler and the annihilation of the Jews in Germany.  He illustrates for readers the religious fervor of Hitler by quoting him as saying "I believe today that I am acting in the sense of the Almighty Creator.  By warding off the Jews I am fighting for the Lord's work" (qtd. on 153).  By strategically using this quote, Shermer is proving to readers that not only did Hitler commit mass murder, he did so in the Lord's name.  This example, more than any other, is meant to show that religion and morality are not related.
In perhaps his most convincing argument that one need not be religious to behave morally, Shermer gets personal.  He asks readers the question "What would you do if there was no God?" (154).  Now the reader must contemplate the point Shermer has been trying to make, but on an intimate level.  He forces one to admit that if it was learned that God did not exist, the vast majority of people would continue to behave morally.  Most people would not, free from fear of eternal reprisal, proceed to pillage, rape, and commit murder.  After this degree of self-examination, it would be illogical to disagree that morality is not a creation of religion.
In his chapter "Can We Be Good Without God?", Shermer successfully proves that we can indeed be good without God.  He appealed to readers' emotions by describing the nightmare that was the Columbine massacre and led his audience to logically conclude that no outside influences caused the perpetrators' behavior.  Through the strategic use of quotes and examples, Shermer effectively demonstrated that contrary to the beliefs of religious authorities, deeply religious people are capable of behaving extremely immorally.  Shermer ingeniously substantiated his point by asking readers to ponder what their own behavior might be like without God holding them accountable for their actions.  I feel that this was his most convincing piece of evidence in support of his argument, it is hard to deny his logic when applying it to oneself.  It can be assumed that most readers would continue to behave morally, and would agree with Shermer that we can be good without God.
Shermer, Michael. "Can We Be Good Without God?"  The Science of Good and Evil: Why People Cheat,
Gossip, Care, Share, and Follow the Golden Rule.   Henry Holt and Company, LLC, 2004, pp.141-156.
Sample Rhetorical Analysis Essay (MLA Format). Authored by : Liana Monnat. Provided by : Jefferson Community College. Located at : http://www.sunyjefferson.edu . Project : ENG 101. License : CC BY-SA: Attribution-ShareAlike