How to Write a DBQ 2023
A DBQ essay is an assigned task which tests a student's analyzation and understanding skills. They also test a student in thinking outside the box. These skills are essential for success in gaining this academic qualification. In this article from EssayPro — professional essay writers team, we will talk about how to write a DBQ, we will go through the DBQ format, and show you a DBQ example.
What Is a DBQ?
Many students may prosper: "What is a DBQ?". Long story short, DBQ Essay or "Document Based Question" is an assigned academic paper which is part of the AP U.S. History exam (APUSH) set by the United States College Board. It requires a student's knowledge of a certain topic with evidence from around 3 to 16 reliable sources. Understanding the APUSH DBQ and its outline is essential for success in the exam, itself.
DBQ Outline
We understand that learning how to write a DBQ essay can be difficult for beginners. This is why our professional writers have listed the DBQ format for your own reference while preparing for the exam. Like all essays, this involves an introduction, thesis, body, and conclusion.
Introduction
An introductory sentence to hook your audience.
State the background of the topic. Using a source relating to a historical occurrence or historical figure can be helpful at this time.
Describe the claims made in your paper which can be supported by the evidence.
Create a brief description of the evidence that will be included in the body paragraphs.
Write a paragraph which talks about how the DBQ essay question will be answered.
Body Paragraph 1
Include the strongest argument. This should be linked to the thesis statement. Read our example of thesis statement .
Include an analysis of the references which relate to the strongest argument.
Write a statement which concludes the analysis in a different point of view. Include a link to the thesis.
Write a transition sentence to the next body paragraph.
Body Paragraph 2
Include a reasonable argument which links to the thesis, and the first argument in the previous body paragraph.
Body Paragraph 3
Include a reasonable argument which links to the thesis, and the second argument in the previous body paragraph.
Write a transition sentence to the conclusion.
Create a summarizing argument of the whole paper.
Include the main points or important information in the sources.
Create a concluding sentence or question which challenges the point of view that argues against these sources.
Feeling Overwhelmed Writing a DBQ ESSAY?
Asking yourself 'who can write my research paper '? Our experts are able to produce an essay within hours.
How to Write a DBQ: Step-By-Step Instructions
For some students, writing a DBQ essay may be hard. Not to worry. Our easy-to-read step-by-step instructions talk about the essential points which includes how to write a DBQ thesis, analyzation, time-management and proofreading your work. It is always important to write your paper in accordance to the DBQ outline for achieving the success you're capable of.
The DBQ involves:
Planning: 15 Minutes
Writing: 2 hours and 45 Minutes
Proofreading: 10 Minutes
Time management is essential for a successful grade in this form of examination. The general DBQ outline states that the duration is 3 hours and 15 minutes. Spend around 15 minutes planning, 2 hours and 45 minutes writing, and 10 minutes proofreading. Follow these easy-to-read step-by-step instructions to learn how to write a DBQ thesis, body and conclusion successfully.
Step 1: Planning (15 Minutes)
During the exam, it is important to study the provided sources. The exam is 3 hours, so 15 minutes for planning is a reasonable approach. During this time, analyze all of the important key-points from the sources provided. Then, take a note of all of the key points, and write them under the titles; introduction, thesis, body, and conclusion.
Step 2: Introduction (5 Minutes)
First impressions count. Keep the introduction short and brief. Don't go straight into answering the question in this part of the paper. For a successful introduction, write a brief summary of the overall paper. It is also important to include an introductory sentence.
Step 3: Thesis (20 Minutes)
This form of essay requires a separate 3 paragraphs for the DBQ thesis. Describe the claims made in your paper which can be supported by the evidence. The second paragraph should include a description of the paper. The third paragraph should include how you're going to answer the question.
The key difference with other essays is that the thesis plays an important role in the DBQ structure.
The APUSH DBQ thesis should not be two sentences long.
The thesis should be written with act least 2 or 3 paragraphs long.
Step 4: Body (2 Hours and 16 Minutes)
Write well-structured, categorized paragraphs. Each paragraph should include one point. Avoid mixing ideas in the paragraphs. Include your answer to the assigned question with the provided documents. It is also important to read between the lines. Each paragraph should link to the thesis.
Step 5: Conclusion (10 Minutes)
The final part of your paper. The conclusion plays a vital role in persuading your audience. A poorly written conclusion means a skeptical audience. For well-written conclusion, summarize the entire paper. Link the conclusion to the thesis. Answer the question in a concluding sentence, "the big idea".
Step 6: Proofreading (10 Minutes)
Spend around 10 minutes proofreading your work at the end of the exam. It is important to proofread your work to make sure it does not contain any grammatical mistakes. Any writing errors can lower one's grade. Please make sure that the body paragraphs answer the question and link to the thesis, this is the most important part of the paper.
Writing Tips to Success with Your DBQ Essay
Understand: Before writing, make sure that you understand the sources and the essay question. Duration: Remember that the exam duration is 3 hours and 15 minutes. Study: Practice how to write a DBQ before the actual exam. Identify: Find the key-points from the sources to include in your essay.
Read Between the Lines: Don't just write about what you read, but write about what the passages imply. Read all Documents: Make sure you have read all of the sources, prior to writing the paper. Read the Outline: Following the DBQ essay outline is essential for understanding how to structure the paper during the exam. Categorize: Put each point into categories. This will come in useful for writing the body paragraphs. Write the Author's Opinion: Show an understanding of the writer's point of view. Write a Temporary DBQ Thesis on your Notes: Doing so will assist you during the paper writing. Follow DBQ Examples: Following a DBQ essay example, while studying, is an excellent way to get a feel for this form of assignment.
DBQ Example
Do you need more help? Following a sample DBQ essay can be very useful for preparation. Usually, when practicing for exams, students commonly refer to an example for understanding the DBQ structure, and other revision purposes. Click on the button to open our DBQ example from one of our professional writers. Feel free to use it as a reference when learning how to write a DBQ.
The Great War and the second ordeal of conflict in Europe, played a fundamental in the increase of the rights for women. During the second world war, the British government encouraged house-wives to do the work of what was primarily traditional for men to do.Such as growing crops and butchering animals, which was generally considered to be"men's work". One of the slogans was "dig for victory". The reason for this was for people to take care of themselves during the difficult times of rationing.
If you think that it's better to pay someone to write my dissertation instead of writing it by your own, get help from our law essay writing team.
Following steps and outlines for custom writing is a great way to learn how to write a DBQ essay. As well as writing tips. Time management is vital for the positive result. Following our advice will enable you to get a good grade by learning how to write a good DBQ. Because learning the DBQ format is essential. Practice is very important for any form of examination. Otherwise, one could not do as well as his or her potential allows him or her to do so.
You might be interested in information about this type of essay, such as the definition essay .
Are you still stuck? Do you sometimes think to yourself: 'Can someone write essay for me '? You're in luck. Our essay writing service is designed to allow you to easily find custom essay writers at your convenience. Every DBQ essay we deliver is completely original.
Do You Need Help From A PROFESSIONAL ESSAY WRITER?
Our experts are able to produce a DBQ essay example within hours. Why not give it a try to improve your knowledge?
Related Articles
Free Consultation
The Spark Advantage
Who We Serve
About Admissions Consultants
Testimonials
College Admissions
BS/MD Programs
Private School Admissions
Transfer Admissions
Results by Year
> Miscellaneous
What Is a Document-Based Question (DBQ)?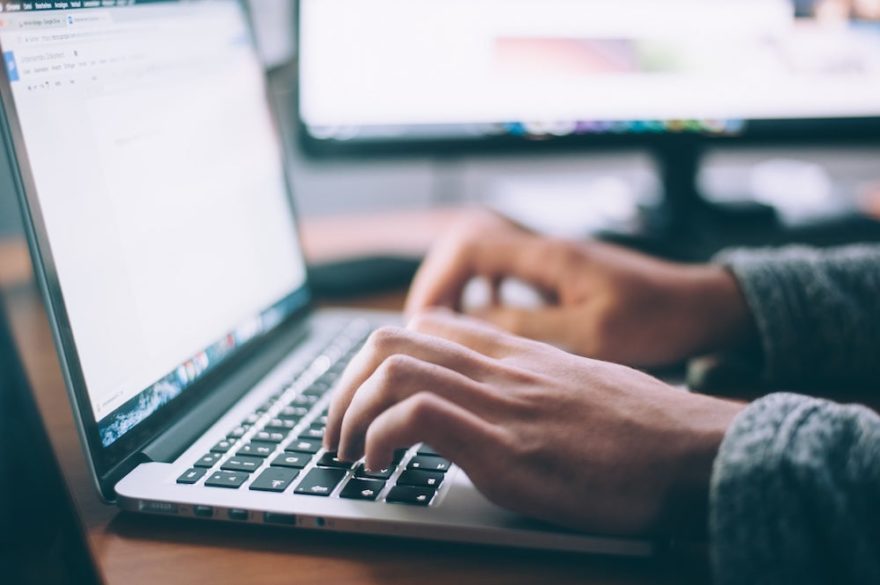 Image via Unsplash by glenncarstenspeters
As you prepare for your college career, you'll want to take as many Advanced Placement (AP) courses as you can manage. In addition to offering an extra challenge, these courses can help you get college credit, which can save you time and money. Before you can claim that college credit, however, you'll need to pass the AP exam, which may include a document-based question (DBQ). Find out what a DBQ is and how to write an impressive essay for your AP exam.
What's the Purpose of a DBQ?
A DBQ is a type of essay question, which means you'll have to write several paragraphs in response. These DBQs require you to use historical documents to analyze a trend or issue from the past. Each DBQ typically has five to seven documents for you to analyze. The documents can be primary or secondary sources, including maps, newspapers, letters, and more.
Essentially, when you answer a DBQ, you use all the skills you learned in your AP class and become a historian. As you write your essay, you'll need to demonstrate that you have the ability to:
Assess the context behind the documents, including the author's perspective and the target audience.
Find connections between the various documents.
Write a solid thesis statement and use your analysis of the documents to support it.
Apply your knowledge of the historical issue to develop a stronger case.
Which Exams Include a DBQ?
Document-based questions appear on select AP exams only. If you take the AP U.S. History, AP European History, or AP World History exam, you'll have to answer a DBQ. Each exam includes one DBQ, and all follow the same format while using relevant source material.
How Is a DBQ Formatted?
The DBQ appears at the beginning of the writing section, which is Part II of the AP exam. First, you'll see the instructions for the section at the top of the page. Underneath, you'll find the essay question and the historical documents.
Every test taker has 15 minutes to read over the documents. Then, you have about 40 minutes to write the essay. Each AP history exam has a total of two essay questions (one DBQ and one long essay), with up to 90 minutes to write your response. However, the proctor won't tell you to finish the first question and start working on the long essay halfway through. That means it's your responsibility to keep an eye on the time and make sure you can complete both essays successfully.
How Do You Write a DBQ?
When you answer a DBQ, you need at least a basic understanding of the issue at hand. Yet, your historical knowledge is a minor part of this essay question. Instead, your ability to analyze the sources and draw a conclusion is the most important factor. Follow the tips below to get as high of a score as possible on the DBQ.
1. Read and Reread the Question
You could write the best essay the College Board has ever read, but if it doesn't address the question, it automatically loses at least a point during the scoring process. Before you even think about writing your response, read the prompt a few times. Ask yourself what the DBQ wants you to do. For example, you may have to compare sources, contrast differing documents, or describe a historical account.
2. Analyze the Documents Carefully
Next, turn your attention to the sources. Read over each one carefully, paying close attention to how the documents are similar or different. Assess their time period, their point of view, and any other context you can glean.
3. Outline and Organize Your Essay
To make the most of your limited time, create a brief outline to organize your thoughts. Be sure to include at least five paragraphs in your essay. It should start with an introduction, end with a conclusion, and have at least three body paragraphs in between.
4. Start With a Strong Introduction
After organizing your essay, start writing a compelling introduction. Along with drawing in the reader and explaining what the essay covers, the introduction should include your thesis statement. Since the entire essay depends on a good thesis statement, take an extra moment to make sure you are making a solid argument and responding to the original question.
5. Write and Edit Your Argument
Finally, write the essay, and take care to support your thesis statement throughout. Reference the historical sources repeatedly, and use your analytical skills to examine what the documents say and why. End with a conclusion that wraps up your argument, and if possible, mention how the issue affected history.
How Are DBQs Scored?
When you take any AP exam, you have limited time to work with. Knowing how the exam is scored can help you focus your time and energy in the right place.
Your DBQ score makes up a quarter of your grade on the entire AP exam. Overall, you can score up to seven points on the DBQ. According to the College Board guidelines , here's how you can earn each point:
Write a strong thesis that answers all components of the question.
Present an argument that includes historical context and references the sources.
Link at least six of the provided sources to your argument.
Analyze the context, point of view, purpose, and audience for four or more of the sources.
Discuss the greater historical context to give the argument more weight.
Mention a piece of supporting evidence that isn't included in the sources.
Connect the argument with another historical development, a different discipline, or another theme or approach.
While scoring a perfect seven might seem impossible, getting a high score can go a long way toward college credit. Many colleges offer course credit for a three or above on an AP exam.
Whether you're considering a major in history, political science, or any other subject, we can help with the college admissions process. Contact Spark Admissions for a free consultation, and get the guidance you need to get into the top schools on your list.
Subscribe to our newsletter for college admissions news
Related articles from the spark admissions blog.
Life Skills College Students Should Learn Now
Categories: Miscellaneous
How to Help Prepare Your Child for College?
Writing a Medical School Letter of Intent or Letter of Interest
Spark admissions has the highest college admissions success rate in the country..
Contact us to learn more about our admissions consulting services.
Schedule Your Free Consultation

Choose Your Test
Sat / act prep online guides and tips, what is a dbq the document-based question explained.
Advanced Placement (AP)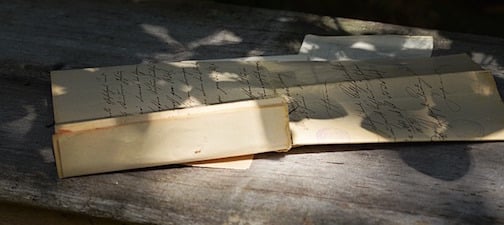 The dreaded DBQ, or "document-based question," is an essay question type on the AP History exams (AP US History, AP European History, and AP World History). For the DBQ essay, you will be asked to analyze some historical issue or trend with the aid of the provided sources, or "documents," as evidence.
The DBQ is an unfamiliar type of in-class essay for many students, but it does not need to be a source of dread or panic. In this guide I'll go over the DBQ's purpose and format, what the documents are and how to use them, how this type of essay is scored, and how to prepare. I'll tell you everything you need torock this unique type of essay!
Note: The rubric, guidelines, and skills tested for all of the History APs are identical; only the historical source material is different.
The DBQ Essay Explained
As a veteran of the DBQ, I'm here to answer all your questions. Why do the AP History exams even have a document-based question? What will it look like on the exam? What are these documents, anyways? Let's dive right in.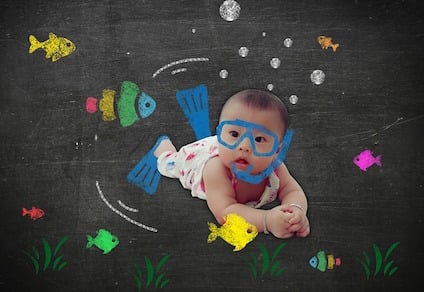 This baby is too young to be diving into the DBQ!
Why the DBQ?
The point of the document-based question is not to torment you but actually to put you in the historian's shoes as an interpreter of historical material. Cool, right?
The DBQ is testing your ability to:
create a strong thesis and support that thesis with the aid of the documents provided
analyze sources for characteristics such as author's point of view, the author's purpose, the audience, and context
make connections between the documents
bring in outside knowledge to strengthen the argument
This may sound like a tall order, but you probably already use all these skills all the time.
Here's an example:
Suppose your friend asks for your help in deciding whether to buy a particular new brand of soccer ball. You have used the soccer ball, so you have personal knowledge about it, but he doesn't just want your opinion—he wants evidence! (Your friend takes buying soccer balls very seriously).
So first, you collect information (your "documents"). These could include:
online reviews of the soccer ball
your brother's opinion
the price at the store
the cost of other soccer balls
ads for the soccer ball
Next, you'll analyze these "documents" to make a decision about whether the ball is a good purchase for your friend or not. For that, you might:
Assess bias (also known as the author's point of view): Maybe the soccer ball ad isn't the most objective measure of the ball's quality. Maybe your brother hates soccer.
Consider the author's audience: Maybe that review of the soccer ball was written for professional soccer players, and you want to know how it is for casual players!
Think about the context of your friend's decision: What time of year is it? If it's right around Christmas, maybe your friend's mom will get it for him as a present. What you already know about soccer is part of the context as well--you know your friend won't want a ball that's too bouncy, for example.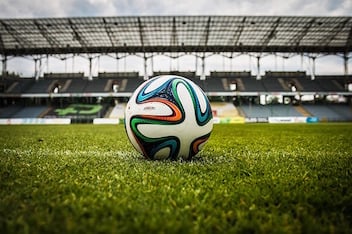 Buying the right soccer ball might have higher stakes than the AP exam.
If you were going to go back and write an essay for your friend about this after you've reviewed your "documents," your thesis might be something like one of these examples:
"This soccer ball is a good purchase for my friend because it has all the elements of a good soccer ball at a great price point."
"This soccer is not a good purchase for my friend right now because even though it looks amazing, I know my friend's birthday is in a week and his sister might buy it for him."
Then you would use the "documents" and your outside knowledge (for example, your experience with the soccer ball and your knowledge about soccer) to support that claim.
That's a document-based question! In fact, I would assert that the DBQ is the easiest essay to score highly on in the AP History exams. As overwhelming as it might be now to think about all of that information getting thrown at you at once, think of it this way:
Instead of relying primarily on your knowledge, the DBQ gives you a bunch of sources to use in your analysis. This means you don't have to be worried you'll waste five minutes racking your brain trying to remember the name of that guy who did that thing. It's important to bring in some outside information for a top score, but the main thing you need to do is analyze.
95% of the info you really need is there. You just have to learn how to use it.
Let's move on to test formatting so you know what to expect from document-based questions.
What Does the DBQ Format Look Like?
Each of the AP history tests has one DBQ, and it is always the first question in the test booklet for the writing section (Part II of the exam). When you open your booklet and turn to the DBQ, you will see the instructions, the prompt, and then the documents.
You will have a 15-minute reading period, with a recommended 40 minutes of writing time. The test has two essays, and you will have 90 minutes total to plan and write them. You won't be forced to move on from one essay to the other, so be sure to budget your time carefully.
You are not required to use the entire reading/planning period. You can begin writing whenever you wish. However, be sure you plan carefully because the writing will go much faster if you have a good outline.
That covers the general format, but no doubt you want to hear more about these mysterious documents. Stay tuned!
What's the Deal With These Documents?
You will receive up to seven sources. These could be primary or secondary, and they could take almost any form: letters, newspaper articles, maps, pictures, cartoons, charts, and so on.
You will need to use all or all but one of the documents in your essay. You should go further in-depth on at least four of the documents. (See the rubric breakdown section below for more details).
For US History, no DBQ will focus exclusively on the time period prior to 1607 or after 1980, although they may focus on a broader time period that includes one of those time periods.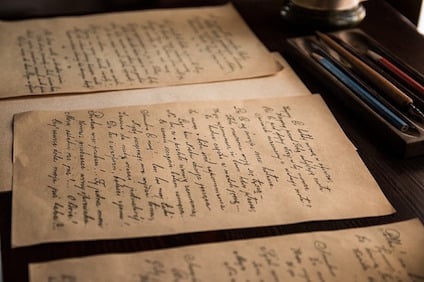 Don't worry, they won't be original copies.
Now that we've discussed the purpose, format, and document protocol of the DBQ, we need to discuss scoring.
How Is the DBQ Scored?
How much is the DBQ worth on your exam? And how do those pesky AP graders even score it?
How Much Is the Document-Based Question Worth?
The DBQ is 25% of your total grade. The entire second section of exam is 50% of your grade, and there are two equally weighted essays.
What Does the Rubric Mean?
The rubric the graders use is freely available to you on the College Board website.
Click here for the rubric.
Don't worry if these look like gibberish to you. I'll break it down briefly here, and go even more in-depth on my article about how to prepare for and write a DBQ .
DBQ Rubric Breakdown
There are four categories in this rubric: thesis, analysis of the document, using outside evidence, and synthesis. You can score up to seven points.
Thesis and Argument—2 points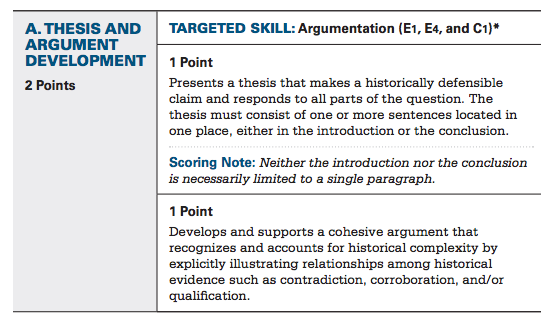 The breakdown:
One point for having a clear, historically plausible thesis that is located in the introduction or conclusion.
You can get another point here for having a particularly good thesis that presents a nuanced relationship between historical factors, and doing a good job supporting that thesis in your essay.
Document Analysis—2 points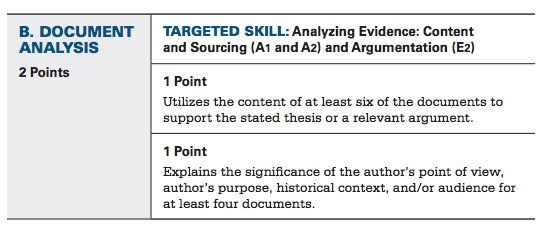 One point for using 6-7 of the documents in your essay. Easy-peasy.
author's point of view
author's purpose
historical context
Just be sure to tie any further analysis back to your main argument!
Using Outside Evidence—2 points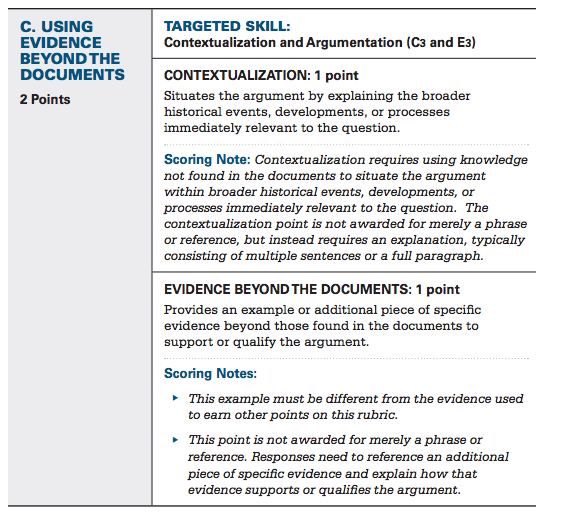 One point is just for context—if you can locate the issue within its broader historical situation. You do need to write several sentences about it but the contextual information can be very general.
One point is for being able to name an additional specific example relevant to your argument that is not mentioned in the documents. Don't stress if you freeze up and can't remember one on test day. This is only one point and it will not prevent you from getting a 5 on the exam.
Synthesis—1 point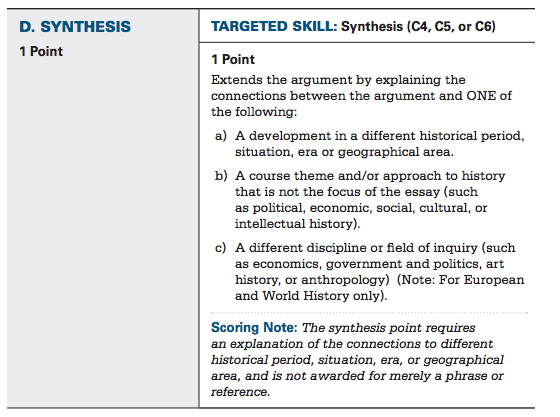 All you need to do for synthesis is relate your argument about this specific time period to a different time period, geographical area, historical movement, etc.
It is probably easiest to do this in the conclusion of the essay.
Still with me? Just remember: the most important thing is having a strong thesis that is supported by the information in the documents and whatever other related information you have around in your brain.
If you are an auditory learner, I recommend this video , which breaks down all the components you need to get a seven.
Looking for help studying for your AP exam?
Our one-on-one online AP tutoring services can help you prepare for your AP exams. Get matched with a top tutor who got a high score on the exam you're studying for!
Parting Thoughts on Scoring
If this seems like a lot to take in, don't worry. You don't have to get a perfect score on the DBQ to get a five on the AP. Somewhere in the 5-6 range can definitely get you there. To get a 3 on the exam (which still gives you course credit at a lot of colleges), you only need a 3 on the DBQ. (See page eight of this document .)
Additionally, overall historical accuracy is important but not 100% necessary for every tiny detail of the essay. Anything that is in the documents should be correct, but when you start to bring in outside sources for your DBQ essay on unionization and working conditions and you can't remember if the Triangle Shirtwaist Factory Fire was in 1911 or 1912, just pick one and don't sweat it. If minor details are incorrect and don't detract from the overall meaning of the essay, you won't lose points.
Now that you understand the purpose, format, and rubric for document-based questions, I'll give you some tips on how to get the score you're aiming for.
How Can I Rock the DBQ?
Two things will help you crush the DBQ: prepping beforehand, and hitting all the right notes on test day!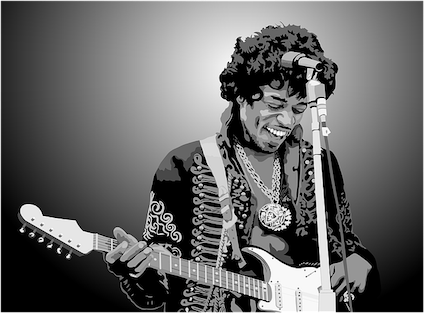 Rock the DBQ like Jimi rocked the 1960s.
Preparing for the DBQ
As you might expect, the most important thing you can do to prepare is to practice writing this type of essay.
Try out the practice DBQs available online at the College Board website: look here for AP US History (and here for a complete APUSH practice test ), here for AP European History , and here for AP World History . You don't necessarily have to write an entire essay every time you practice—it's also helpful to read the question and texts and then create outlines with a thesis.
Ask a trusted teacher or advisor to look over your practice drafts and/or outlines with the rubric and advise what you might be missing.
Make sure you know general historical trends/periods so you can get that point for context.
You can find more prep tips in my article on how to write a DBQ .
During the Test
Read the question carefully . Make sure you know what is being asked before you start trying to answer.
While you read the documents, take notes on what they mean, who is writing, etc.
Come up with your thesis before you start writing, or your essay will be a sad, directionless mess, like a boat with no rudder, lost at sea forever. If you aren't sure of your thesis yet, brainstorm in your notes—not while you are writing.
Once you have a thesis, stay on topic. If you're writing about how Smaug wrecked the Forbidden Mountain, don't start talking about how amazing and clever Bilbo is, even if it's true.
Make sure you use all the documents—doing so gets you easy points.
However, don't simply regurgitate sources with no analysis. If you find yourself doing a lot of "Source A says blah, and Source B says blah, and Source C says blah..." make sure you are using the documents to make a point , and not letting the documents use you.
A great way to analyze the documents is to make connections between them! Who agrees? Who disagrees? Why?
Don't forget to provide context, one outside example, and a connection to another period/area/historical theme if you can! That's three points right there.
And there you have it! You are ready to start prepping for success.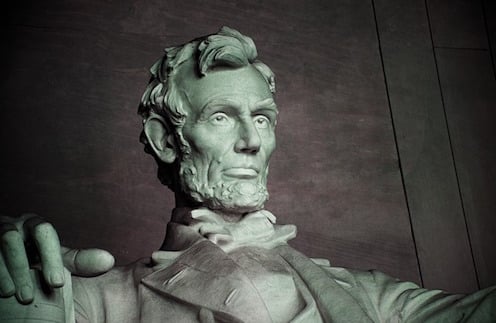 Abraham Lincoln believes in you!
Final Thoughts
I know I just threw a lot of information at you. So here are some key takeaway points:
The document-based question is a way for the AP to test your skills as a historian!
Don't panic! It doesn't have to be overwhelming, even though you are getting tons of information thrown at you in a short time.
The DBQ is based on skills that you can learn and practice: writing a strong thesis, using given evidence to support an argument, making connections between different documents and pieces of evidence, placing specific information in a broader context, analyzing an author's intent, bias, audience, etc.
What's Next?
Need more study resources for AP World History ? See our Best AP World History Study Guide or get more practice tests from our complete list.
Need more resources for AP US History ? Try this article on the best notes to use for studying from one of our experts. Also check out her review of the best AP US History textbooks !
Or just looking for general information about your upcoming APs ? See here for instructions on how to register for AP exams , complete AP test dates , and information on how much AP tests cost (and how to get AP financial aid).
Want to improve your SAT score by 160 points or your ACT score by 4 points? We've written a guide for each test about the top 5 strategies you must be using to have a shot at improving your score. Download it for free now:
Ellen has extensive education mentorship experience and is deeply committed to helping students succeed in all areas of life. She received a BA from Harvard in Folklore and Mythology and is currently pursuing graduate studies at Columbia University.
Student and Parent Forum
Our new student and parent forum, at ExpertHub.PrepScholar.com , allow you to interact with your peers and the PrepScholar staff. See how other students and parents are navigating high school, college, and the college admissions process. Ask questions; get answers.
Ask a Question Below
Have any questions about this article or other topics? Ask below and we'll reply!
Improve With Our Famous Guides
The 5 Strategies You Must Be Using to Improve 160+ SAT Points
How to Get a Perfect 1600, by a Perfect Scorer
Series: How to Get 800 on Each SAT Section:
Score 800 on SAT Math
Score 800 on SAT Reading
Score 800 on SAT Writing
Series: How to Get to 600 on Each SAT Section:
Score 600 on SAT Math
Score 600 on SAT Reading
Score 600 on SAT Writing
Free Complete Official SAT Practice Tests
What SAT Target Score Should You Be Aiming For?
15 Strategies to Improve Your SAT Essay
The 5 Strategies You Must Be Using to Improve 4+ ACT Points
How to Get a Perfect 36 ACT, by a Perfect Scorer
Series: How to Get 36 on Each ACT Section:
36 on ACT English
36 on ACT Math
36 on ACT Reading
36 on ACT Science
Series: How to Get to 24 on Each ACT Section:
24 on ACT English
24 on ACT Math
24 on ACT Reading
24 on ACT Science
What ACT target score should you be aiming for?
ACT Vocabulary You Must Know
ACT Writing: 15 Tips to Raise Your Essay Score
How to Get Into Harvard and the Ivy League
How to Get a Perfect 4.0 GPA
How to Write an Amazing College Essay
What Exactly Are Colleges Looking For?
Is the ACT easier than the SAT? A Comprehensive Guide
Should you retake your SAT or ACT?
When should you take the SAT or ACT?
Stay Informed
Get the latest articles and test prep tips!
Looking for Graduate School Test Prep?
Check out our top-rated graduate blogs here:
GRE Online Prep Blog
GMAT Online Prep Blog
TOEFL Online Prep Blog
Holly R. "I am absolutely overjoyed and cannot thank you enough for helping me!"
PRO Courses Guides New Tech Help Pro Expert Videos About wikiHow Pro Upgrade Sign In
EDIT Edit this Article
EXPLORE Tech Help Pro About Us Random Article Quizzes Request a New Article Community Dashboard This Or That Game Popular Categories Arts and Entertainment Artwork Books Movies Computers and Electronics Computers Phone Skills Technology Hacks Health Men's Health Mental Health Women's Health Relationships Dating Love Relationship Issues Hobbies and Crafts Crafts Drawing Games Education & Communication Communication Skills Personal Development Studying Personal Care and Style Fashion Hair Care Personal Hygiene Youth Personal Care School Stuff Dating All Categories Arts and Entertainment Finance and Business Home and Garden Relationship Quizzes Cars & Other Vehicles Food and Entertaining Personal Care and Style Sports and Fitness Computers and Electronics Health Pets and Animals Travel Education & Communication Hobbies and Crafts Philosophy and Religion Work World Family Life Holidays and Traditions Relationships Youth
Browse Articles
Learn Something New
Quizzes Hot
This Or That Game New
Train Your Brain
Explore More
Support wikiHow
About wikiHow
Log in / Sign up
Education and Communications
College University and Postgraduate
Academic Writing
How to Write a DBQ Essay
Last Updated: September 23, 2023 Fact Checked
This article was co-authored by Emily Listmann, MA . Emily Listmann is a private tutor in San Carlos, California. She has worked as a Social Studies Teacher, Curriculum Coordinator, and an SAT Prep Teacher. She received her MA in Education from the Stanford Graduate School of Education in 2014. There are 7 references cited in this article, which can be found at the bottom of the page. This article has been fact-checked, ensuring the accuracy of any cited facts and confirming the authority of its sources. This article has been viewed 666,353 times.
In the past, Document Based Questions (DBQ) were rarely found outside of AP history exams. However, they're now used in social studies classes across grade levels, so you're bound to take a DBQ test at some point. [1] X Research source Going into the test, you will need strong background knowledge of the time periods and geographical areas on which you will be tested. Your documents will always relate back directly to the major subjects and themes of your class. The key to success is to analyze the provided documents and use them to support an argument in response to the essay prompt. While DBQ tests are rigorous, they allow you to actually do historical work instead of merely memorize facts. Don't stress, put on your historian hat, and start investigating!
Writing Help
Analyzing the Documents
For an AP exam, you'll then have 45 minutes to write your essay. Exact times may vary for other exams and assignments but, for all DBQ essays, document analysis is the first step.
For an AP exam, you will also need to include a thesis, set the prompt's historical context, use 6 documents to support an argument, describe 1 piece of outside evidence, and discuss the point of view or context of at least 3 of the sources. Label these elements as you review and outline so you don't forget something.
A prompt might ask you to analyze or explain the causes of a historical development, such as, "Explain how the Progressive Movement gained social, political, and cultural influence from the 1890s to the 1920s in the United States."
You might need to use primary sources to compare and contrast differing attitudes or points of view toward a concept, policy, or event, such as, "Compare and contrast the differing attitudes towards women's rights in the United States from 1890 to 1920."
Keywords in these examples inform you how to read your sources. For instance, to compare and contrast differing attitudes, you'll need to identify your sources' authors, categorize their points of view, and figure out how attitudes changed over the specified period of time.
Suppose one of the documents is a suffragette's diary entry. Passages in the entry that detail her advocacy for the Women's Rights Movement are evidence of her point of view. In contrast, another document is newspaper article written around the same time that opposes suffrage.
A diary entry might not have an intended audience but, for documents such as letters, pamphlets, and newspaper articles, you'll need to identify the author's likely readers.
Most of your sources will probably be written documents, but you'll likely encounter political cartoons, photographs, maps, or graphs. The U.S. Library of Congress offers a helpful guide to reading specific primary source categories at https://www.loc.gov/teachers/usingprimarysources/guides.html .
Suppose you have a letter sent from one suffragette to another about the methods used to obtain the right to vote. This document may help you infer how attitudes vary among the movement's supporters.
A newspaper article depicting suffragettes as unpatriotic women who would sabotage World War I for the United States helps you understand the opposing attitude.
Perhaps other sources include a 1917 editorial on the harsh treatment of imprisoned suffragists and an article on major political endorsements for women's suffrage. From these, you'd infer that 1917 marked a pivotal year, and that the role women played on the home front during World War I would lead to broader support for suffrage.
For instance, perhaps you read that the National American Woman Suffrage association (NAWSA) made a strategic shift in 1916 from focusing on state-by-state suffrage to prioritizing a constitutional amendment. Mentioning this switch to a more aggressive strategy supports your claim that the stage was set for a 1917 turning point in popular support for women's suffrage.
When you think of outside evidence during the planning stages, jot it down so you can refer to it when you write your essay. A good spot could be in the margin of a document that relates to the outside information.
Developing an Argument
For example, after reviewing the documents related to women's suffrage, identify the opposing attitudes, how they differed, and how they changed over time.
Your rough argument at this stage could be, "Those in opposition saw suffragettes as unpatriotic and unfeminine. Attitudes within the suffrage movement were divided between conservative and confrontational elements. By the end of World War I, changing perceptions of the role of women contributed to growing popular support for suffrage."
Suppose your DBQ is, "How did World War I affect attitudes toward women's suffrage in the United States?" A strong tentative thesis would be, "The roles women played in the workforce and in support of the war effort contributed to growing popular support for the suffrage movement."
A weak thesis would be, "World War I affected how Americans perceived women's suffrage." This simply restates the prompt.
For example, under numeral I., write, "New Woman: perceptions shift in the 1890s." This section will explain the 1890s concept of the New Woman, which rejected traditional characterizations of women as dependent and fragile. You'll argue that this, in part, set the stage for shifting attitudes during and following World War I.
You can start your planning your essay during the reading portion of the test. If necessary, take around 5 minutes out of the writing portion to finish outlining your argument.
For instance, under "I. New Woman: perceptions shift in the 1890s," write "(Doc 1)," which is a pamphlet praising women who ride bicycles, which was seen as "unladylike" at the time.
Beneath that line, write "(Doc 2)," which is an article that defends the traditional view that women should remain in the household. You'll use this document to explain the opposing views that set the context for suffrage debates in the 1900s and 1910s.
Suppose your tentative thesis is, "The roles women played in the workforce and in support of the war effort contributed to growing popular support for the suffrage movement." You decide that "contributed" isn't strong enough, and swap it out for "led" to emphasize causation.
Drafting Your Essay
If you have 45 minutes to write, take about 5 minutes to make an outline. If you have an introduction, 3 main points that cite 6 documents, and a conclusion, plan on spending 7 minutes or less on each of these 5 sections. That will leave you 5 minutes to proofread or to serve as a buffer in case you need more time.
Check the time periodically as you write to ensure you're staying on target.
To set the context, you might write, "The Progressive Era, which spanned roughly from 1890 to 1920, was a time of political, economic, and cultural reform in the United States. A central movement of the era, the Women's Rights Movement gained momentum as perceptions of the role of women dramatically shifted."
If you'd prefer to get straight to the point, feel free to start your introduction with your thesis, then set the context.
A timed DBQ essay test doesn't leave you much time to write a long introduction, so get straight to analyzing the documents rather than spell out a long, detailed intro.
Each body section should have a topic sentence to let the reader know you're transitioning to a new piece of evidence. For example, start the first section with, "The 1890s saw shifts in perception that set the stage for the major advances in women's suffrage during and following World War I."
Be sure to cite your documents to support each part of your argument. Include direct quotes sparingly, if at all, and prioritize analysis of a source over merely quoting it.
Whenever you mention a document or information within a document, add parentheses and the number of the document at the end of the sentence, like this: "Women who were not suffragettes but still supported the movement wrote letters discussing their desire to help (Document 2)."
For example, a private diary entry from 1916 dismissing suffrage as morally corrupt isn't necessarily a reflection of broader public opinion. There's more to consider than just its content, or what it says.
Suppose a more reliable document, such as a major newspaper article on the 1916 Democratic and Republican national conventions, details the growing political and public support for women's suffrage. You'd use this source to show that the diary entry conveys an attitude that was becoming less popular.
In your essay on World War I and women's suffrage, you could summarize your argument, then mention that the war similarly impacted women's voting rights on an international scale.
Revising Your Draft
If you're taking an AP history exam or other timed test, minor errors are acceptable as long as they don't affect your argument. Spelling mistakes, for instance, won't result in a loss of points if the scorer can still understand the word, such as "sufrage" instead of "suffrage."
A clear thesis statement.
Set the prompt's broader historical context.
Support your argument using 6 of the 7 included documents.
Identify and explain 1 piece of historical evidence other than the included documents.
Describe 3 of the documents' points of view, purposes, audiences, or context.
Demonstrate a complex understanding of the topic, such as by discussing causation, change, continuity, or connections to other historical periods.
As with spelling and grammar, minor errors are acceptable as long as the scorer knows what you mean. Little spelling mistakes are fine, but you'll lose points if you write that a source supports suffrage when it doesn't.
Community Q&A
Remember that you shouldn't just identify or summarize a document. Explain why a source is important, and tie each reference into your argument. Thanks Helpful 0 Not Helpful 0
If you're taking an AP history exam, find exam rubrics, practice tests, and other resources at https://apcentral.collegeboard.org/courses . Thanks Helpful 0 Not Helpful 0
Taking a timed test can be tough, so time yourself when you take practice tests. Thanks Helpful 0 Not Helpful 0
You Might Also Like
↑ http://www.gpb.org/blogs/education-matters/2016/10/14/getting-started-document-based-questions
↑ https://sourceessay.com/tips-to-write-an-impressive-dbq-essay/
↑ https://libguides.jcu.edu.au/writing/writing1
↑ https://apcentral.collegeboard.org/pdf/ap-us-history-dbq-2018.pdf?course=ap-united-states-history
↑ https://history.rutgers.edu/component/content/article/52/106-writing-historical-essays-a-guide-for-undergraduates
↑ https://apcentral.collegeboard.org/pdf/ap-us-history-course-and-exam-description.pdf
↑ https://writingcenter.unc.edu/tips-and-tools/editing-and-proofreading/
About This Article
Document-Based Questions, or DBQ essays, are often used in social studies classes to test your ability to do historical work rather than simply memorize facts. Start by spending some time reviewing the documents and developing an argument. Pay special attention to keywords in the prompt that will help you construct your argument. For example, if the prompt includes the words "compare and contrast," you'll need to include 2 different viewpoints in your essay and compare them. Then, as you read your sources, note the authors, points of view, and other key details that will help you figure out how to use the documents. Once you've reviewed all of the material, come up with your response. Sketch out a tentative thesis that encapsulates your argument and make an outline for your essay. You can then draft your essay, starting with an introduction that gives context and states your thesis, followed by supporting body paragraphs. To learn how to write a conclusion for your DBQ, keep reading! Did this summary help you? Yes No
Reader Success Stories
Apr 4, 2017
Did this article help you?
Emily Balint
Apr 18, 2016
Miracle Frappe
May 6, 2019
Oct 30, 2016
Kate Alberry
Dec 30, 2020
Featured Articles
Trending Articles
Watch Articles
Terms of Use
Privacy Policy
Do Not Sell or Share My Info
Not Selling Info
Don't miss out! Sign up for
wikiHow's newsletter
Get Free Profile Evaluation
What is a dbq.
Reviewed by:
Former Admissions Committee Member, Columbia University
Reviewed: 5/4/22
As you prepare for your AP exams, you might be wondering: What is a DBQ, and what does it mean? This article provides information on what exactly DBQs are and answers some DBQ-related questions you may be asking.
As high school students think about applying for colleges, some take as many Advanced Placement (AP) courses as possible to increase their chances of getting into the college they want. While AP classes are not necessary for getting admitted into college, these classes do help your chances of being accepted. 
If you are considering taking AP classes, it is recommended that you consider taking an AP History course. AP History classes are versatile credits, as they are helpful for those who are going into post-secondary Humanities, Social Sciences, and STEM programs. 
If you're taking–or considering taking AP history classes, you might have heard the acronym 'DBQ' thrown around. You might wonder what a DBQ is or what the DBQ means for you as an AP student. 
The DBQ is an essay you'll have to write as a requirement for all AP History exams. So, what exactly is a DBQ essay?
What is a DBQ Essay?
DBQ stands for Document-Based Questions essay. While this essay is a crucial part of AP History exams, you'll also find multiple choice questions, short answers, and a long essay section on this exam. 
If you are taking multiple AP history courses, you may have to write multiple DBQ essays for each exam.
The DBQ requires the individual writing the exam to analyze the provided documents and develop a thesis statement that answers the essay question. The exam will require you to then write an analytical essay outlining your findings. 
For your DBQ, you will be provided with five to seven historical documents such as: 
The purpose of a DBQ essay is to test the individual's ability to identify and analyze patterns, issues, and trends from historical documents. The essay tests you on what you have learned and the skills you have gained throughout your AP History courses.
The DBQ is formatted like most analytical essays, with an introduction, a thesis statement, body paragraphs, and a conclusion. 
During your AP exam, you will have fifteen minutes to read over and familiarize yourself with the documents provided. You will have forty-five minutes to write the essay. 
For the DBQ portion of your exam, you will find an essay question or prompt and five to seven historical documents to guide your writing. Your goal is to utilize the information you pull from the documents to respond to the easy prompt and form your argument.
How to Write a DBQ
Before you begin to write, you should have a thorough understanding of the essay question, the accompanying documents, and the argument you are going to present. 
Make sure your argument directly responds to the essay question. You will need to provide strong evidence from the documents to support your observations throughout your essay. Like other essays, you must build a persuasive case for your argument. 
Here is a breakdown of the writing process for the DBQ:
1. Read Over Your Materials 
Read and familiarize yourself with the essay question before looking at the documents so you know what you are looking for. 
2. Begin Your Analysis of the Documents
Read over the documents and identify patterns (or lack of), rhetoric, and other relevant information that relates to the essay question. 
3. Present Your Thesis Statement
Once you have collected evidence and have an argument, write your thesis statement. 
4. Plan What You Will Write, and in What Order
Ensure that you create an outline for your essay before you begin writing. This will help you organize your thoughts and make writing easier.
5. Start Writing! 
Some people find it easier to write their body paragraphs first (with the thesis statement in mind) and then write their introductory and concluding paragraphs after, but write in the way that best suits you. 
6. Finish With a Strong Conclusion
Your concluding paragraph will be the last piece of your essay that the markers read. Remember to avoid introducing any new ideas or arguments in the final paragraph. 
7. Proofread and Edit
If you have time, proofread and edit your essay. The clearer your writing is, the easier it will be for the reader to get through your essay. Clear and concise writing will reflect in your final mark. 
Keep in mind the time limit while you are writing. You only have forty-five minutes to write the essay, so you want to make sure you are using your time effectively.
How is a DBQ Scored?
The DBQ portion of your exam is worth 25% of the overall exam grade. It is the second highest weighted portion of the exam, after the multiple choice questions portion. 
Colleges consider your AP exam scores during the admissions process, so performing as best as you can on your AP exams does matter.
The DBQ essay is marked based on the following categories: 
Thesis statement (0-1 point)
Contextualization (0-1 point)
Evidence (0-3 points)
Analysis and reasoning (0-2 points)
Here is an overview of the rubric for the DBQ essay:
The entire essay is worth seven points, each category carrying a different number of points. Keep the points system in mind when writing. It will help you strategize how much time to spend on each piece of the essay. Doing this will allow you to better manage your time and put in extra work on the factors that matter most.
FAQs: What is a DBQ?
Now that we have answered the question "What is a DBQ?," you may still have other questions about the specifics of the essay. Here are answers to some frequently asked questions about the DBQ essay. 
1. How Do You Write a DBQ?
You should approach writing the DBQ like other persuasive essays you have written for your history courses. An important piece of writing the DBQ is ensuring that you understand what is being asked of you and making sure you directly address the essay question in your argument. 
There are no right or wrong answers. Think of the DBQ essay as a chance to demonstrate your analytical and critical thinking skills and present your argument in a logical order. 
You will also want to ensure that your essay is well-written with proper grammar. While the content of your essay is important, being able to present your argument in a cohesive, digestible, and intelligible manner can also greatly impact your score. 
2. What is the Purpose of a DBQ?
The purpose of a DBQ is to test your skills as a practicing historian. The essay tests your analytical skills, ability to parse historical documents, and historical knowledge.
Throughout your history classes, you will gain knowledge and skills essential to the historical approach–the DBQ evaluates your ability to apply these skills. 
Essentially, the essay evaluates how well you can parse and analyze historical documents while keeping their respective historical, political, and cultural contexts in mind. 
3. How Long is a DBQ Essay?
There is no word limit to the essay, but there is a time limit. You have forty-five minutes to write the DBQ essay. With the time limit in mind, you should aim to write five to six paragraphs for the essay. 
These paragraphs should include an introduction with your thesis statement, body paragraphs to support your thesis, and a conclusion paragraph. Your thesis statement should only be one or two sentences maximum, and each paragraph should be between five to seven sentences. 
It may be tempting to write as much as possible within the short time frame. However, the key to acing your DBQ essay is to prioritize quality over quantity. 
You can write a strong, effective essay in five or six concise paragraphs, so remember to focus on presenting your argument clearly and concisely.
Final Thoughts
If AP classes are a good fit for you, you should consider taking as many as you can in areas that interest you. Top schools such as Yale , Cornell , Columbia , and Harvard take AP classes seriously when considering applicants and sometimes even give students credit for their AP classes. 
Ultimately, the DBQ is similar to other essays you will find on exams but have a larger focus on the application of knowledge and skills. If you study and prepare before taking the exam, there is nothing to worry about.
While taking the exam, be aware of your time and use it wisely, develop a strong thesis statement, and create an outline for your essay. If you take all the right steps, writing your essay should be easier than you thought!
Get A Free Consultation
You may also like.
How to Get Into College
What Is A Good PSAT Score? - Avg. Scores + Comparisons
How It Works
Prices & Discounts
DBQ Essays: What Are They and How Do You Write One?
Table of contents
As a student, you'll come across different types of essays throughout your college journey. Essays provide a great way to portray your understanding of a topic and display your writing skills .
One of the most common types of essays in college is a Document-Based Question (DBQ) essay. You'll occasionally be asked to write these types of essays, and it's therefore important to understand the essentials of writing them.
In this article, we'll help you understand what DBQ essays are and the step-by-step process you can use to write the best DBQ essays in college.
What are DBQ Essays?
A Document-Based Question (DBQ) Essay is an essay in which you carefully study a specific document, analyze it, and then answer questions based on the document.
This type of essay is meant to test your understanding and analysis skills. It also tests how much you can think outside the box. They are usually part of the AP U.S. History exam.
To write a good DBQ essay, you must portray an understanding of the topic and link it to evidence from reliable sources.
Limited-Time Offer: 15% Off on an Original DBQ Essay
How to format a dbq essay.
Like any other essay, your DBQ essay should have an introduction, a body, and a conclusion. Let's review the components of each section and how to write them for the best performance.
1. Introduction
The first paragraph of your essay is the introductory paragraph . Here, you review the historical background of the document and the main idea covered in the essay. Take five minutes to write this section, and keep it short and brief. Include a brief statement that summarizes the points you are going to discuss in the essay body.
2. Thesis statement
The final paragraph of the introduction should be your thesis statement. A thesis is a concise statement or a claim that summarizes your overall argument. Identify the claims you'll make in your paper, which shall be backed by evidence.
Your thesis should be one to two sentences long, describing your opinion or stand on the idea under discussion.
3. Body paragraph 1
After the thesis stamen, start writing the first paragraph of your essay. Here, you identify the strongest argument that links to the thesis statement, then provide supporting details from your evidence sources. Start with a topic sentence to let the reader know what this paragraph is about.
After the topic sentence, discuss your argument and cite each piece of evidence that supports every argument you make. Analyze the evidence in relation to the main idea rather than merely quoting it. Use direct quotes sparingly if you have to.
4. Body Paragraph 2
In the second paragraph, you identify the second relevant argument and link it to the thesis statement. The argument in this paragraph should be less superior to the first paragraph but still relevant to the main idea.
Make a logical connection between your second argument and the relevant sources of evidence. Remember to cite the evidence appropriately and demonstrate that you've understood what they mean and not just what they say.
5. Body Paragraph 3
In the third paragraph, identify your third relevant argument, and like the other arguments, link it to the thesis statement. State your argument in the topic sentence and explain it in subsequent sentences citing the evidence.
Your argument in this paragraph can be inferior to the ones in the first and second paragraphs but relevant to the thesis statement.
6. Concluding paragraph
After discussing all your argumentative points in the essay body, it's time to conclude your DBQ essay. Weave your arguments together in a conclusion paragraph , which links back to your thesis statement and shows you've sufficiently proven your claims.
Summarize the main points in the essay and let the reader see that you've adequately responded to the essay prompt. Don't use this section to merely rephrase the introduction and your thesis statement. Instead, provide a conclusive analysis that reconnects the historical context to the main idea and your arguments.
How to Write a DBQ Essay in 9 Steps
So, how do you write a DBE essay so that it flows effortlessly and satisfactorily answers the essay prompt? Here are the steps you need to follow to write the best essay for your AP History exams.
1. Read and understand
Start by carefully reading the essay prompt and the provided document, word by word and understand the concept. Take the first 15 minutes of your time to review the prompt. Understand the document and develop your argument.
Identify all the key points and write them down as draft notes. As you analyze the main document, figure out how it relates to the other sources provided.
2. Identify the main idea
Once you've reviewed and understood the document, identify the main idea and note the keywords in the essay prompt. The keywords will help you understand what you need to accomplish in your assay and the type of evidence to look for in the provided sources.
For instance, the essay prompt may ask you to:
Also, take note of common keywords like 'Social, Political, or Economic.' Always keep the prompt in mind while writing to avoid being irrelevant and losing points. The prompts will also help you develop your arguments based on the main idea of the document.
3. Gather evidence
Now that you know the main idea, pick out the sources of evidence that support the main idea. Identify how each source relates to your essay prompt and categorize them based on the prompt.
Figure out how each source can support an argument. For instance, if you're comparing the attitudes towards women's rights in different historical times, you can categorize your sources of evidence based on the contrasting ideologies they represent.
4. Find external sources
When writing your DBQ essay, you'll also need to cite other external sources that support the ideas in the main document.
Identify at least one external source that's relevant to your claims and use the events in the document to support your arguments in the essay. Jot it down somewhere so you can refer to it later when you start writing.
5. Identify the writer's point of view
As you analyze your document and prepare to start writing, identify the author's point of view concerning the main idea.
Who influenced them to write the document and what did they intend to achieve with it? How do they feel and what's their take on the documented events? Also, identify their intended audience and how his writing might have influenced them.
6. Write your thesis statement
Now that you have the main idea and your sources of evidence, it's time to develop your argument and put it down as a thesis statement.
Review the essay prompt again and form your own perspective or opinion that responds to the prompt without simply restating it. Remember the claim you make should be specific and supported by your sources of evidence.
For instance, when writing a DBQ essay about The Effects of World War II on Women's Rights, your thesis statement can be:
" The selfless efforts of women in World War II promoted their human rights and empowered them to a higher social status in the society. "
Here's a useful video by Heimler's History on writing DBQ essays.
7. Polish your thesis statement
Re-read your thesis statement and polish it to ensure it's clear and concise. Delete any unnecessary words that do not impact the meaning of the statement.
A good thesis statement has no fluff and responds directly to the essay prompt without being too short or too long.
8. Start writing by creating an outline
Once you've encapsulated your arguments into a thesis statement, it's time to start writing. You start writing by creating an outline of your arguments first.
An effective outline should include:
The introduction
Thesis statement
First argument
Second argument
Third argument
After creating the outline, explain your arguments and fill in the evidence while citing the sources.
Creating an outline will help you organize your points and make your work easier when you start writing the main essay. Following the outline will also save you time and help you finish writing your essay on time.
9. Proofread and polish
After you finish writing, spare 10 minutes to proofread and correct any spelling or grammatical errors. Identify and rewrite weird sentence structures, add missing words, and replace those that complicate meaning.
While proofreading, delete fluffy sentences that don't add value to your essay. Also, check that you've appropriately cited the evidence sources and that your essay is well structured before submitting it.
Final Thought
DBQ essays will significantly contribute to your final grade. It's, therefore, necessary to take time to learn how to write an excellent one and practice before the final exams.
Remember your DBQ essay test will be timed, and that doesn't leave you much time to include fluff. Go directly to your points and explain them in clear and concise sentences.
If you've been having trouble writing these types of essays , use the tips in this article to make it hassle-free onwards.
Need more help? Writers Per Hour is here to assist you with this writing assignment of yours. Our professional writers can help you research, outline, write, revise and proofread high-quality DBQ essays that are sure to give your grades a boost.
Last edit at Jul 27 2023
Adela Belin
What does your service do?
Do you have free essay samples?
How much does it cost?
How to order my essay?
Share this article
Sign up and get 20% off on a custom paper
By entering your email above you agree to receive our periodical marketing emails. We do not sell or share your personal information.
Do My Case Study For Me
Write My Book Report for Me
Do My Accounting Assignment
Buy Extended Essay
Buy Persuasive Essay
Fast Writing Service
Buy ToK Essay
Write My Thesis
Do My Math Problems
Paper Editing Service
Pay Someone to Write My Paper
IA writing service
College Paper Writer
Do My Powerpoint
Buy Analysis Essay
Buy Personal Statement
Write My Speech
Buy Research Proposal
Write My Lab Report
Do My Research Paper
Write My Discussion Post
Write My Annotated Bibliography
Buy Argumentative Essay
Professional Dissertation Writer
Homework Writer
Professional Business Plan Writers
Hire Creative Writers
MBA Essay Writer
Capstone Project Writer
Hire Research Paper Writer
Urgent Essay Writing Service
Write My Assignment
Write My Literature Review
Psychology Essay Writing Service
Do My Coursework
Buy Biology Paper
Write My Philosophy Paper
Buy Non Plagiarized Essay
Case Brief Help
Marketing Plan Writing Service
Hempstead High School
Alverta B. Gray Schultz Middle School
Barack Obama Elementary School
David Paterson Elementary School
Joseph A. McNeil Elementary School
Rhodes Academy
Jackson School
Marshall School
Prospect School

Hempstead Union Free School District
Dedicated to excellence in education
Social Studies, DBQ Writing Process
Social Studies
Page Navigation
** Curriculum Calendar Pacing Guides K-12 **
September 11th
Hispanic Heritage Month (September 15 - October 15)
Constitution Day - September 17
Black History Month - February
Women's History Month - March
Common Core Shifts Literacy in Social Studies
Elementary Social Studies Curriculum
E-Textbooks, Online Social Studies Textbooks
Hempstead High School: Course Offering Flow Chart
Historical Resources
Learning Standards
NYS Social Studies Field Guide
Past NYS Global History & United States History Regents Assessments
Secondary Social Studies Curriculum
Social Studies Skills
Student: Note Taking Template (Blank)
United States History & Government Regents Review
What Are the Social Studies?
Department of Social Studies
TBA, District Director of Humanities
516 434-4038
Writing Process
Document–Based Question
The Document-Based Question (DBQ) is a combination of up to eight short answer Scaffolding Questions and an essay that is based on the scaffolding (building) of those documents. Each DBQ will give you specific information including:
The theme of the essay (subject)
The historical context (background)
Your task (job)
Your ability to understand the DBQ process will help you effectively organize your essay .
The Document-Based Question may require you to :
Answer factual questions.
Compare and contrast information.
Draw inferences (assumptions) and conclusions (decisions).
Analyze different types of documents including maps, graphs, charts, photos, political cartoons, short readings, and primary sources.
Be scored based on a grading rubric.
The essay should be constructed by taking the information provided and creating a thesis statement based on the task. Additionally, the thesis statement must be proved in the body paragraphs by combining relevant outside information, citing and explaining (analysis) the information in the supporting DBQ documents. The DBQ essay requires the following elements that have been included in a checklist on the back of this form.
DBQ Checklist
Step 3 – Decide which documents will be most helpful for writing this body paragraph. I will use documents ___________________________
Time Management & Time Allotment Strategies
Allotting an appropriate amount of time to each task on the DBQ and maintaining that schedule will maximize the score you will receive on the DBQ assessment. Note- the NYS Social Studies assessment allots 90 minutes for the Document-Based Question. Approximately half of the given time should be allotted to answering the scaffolding questions the other half should be for the essay.
Time Management Reflection Chart
Questions or Feedback? |
Web Community Manager Privacy Policy (Updated) |
Tips to write an impressive DBQ Essay
DBQ  (Document-Based Question ) essay is commonly asked in the AP exams, US, and European history exams. DBQ essay writing is like a sixty-four-thousand-dollar-question; if you answer it correctly, you will score well in the AP exam. As evident from its name, DBQ is based on a number of documents that are about a specific period of time or topic. You have to work through these documents and find out how they are connected with each other, trends that are visible during the era, etc. Remember, you don't have to simply explain the events but analyze them as well, just the way a historian analyzes primary sources and establishes the chain of circumstances between events.
There are two main aspects that you need to focus on in order to write a DBQ essay – proper planning and using effective methods. Usually, you get 15 minutes for reading and 40 minutes for writing the DBQ essay in the AP exam ( total time given is 55 minutes). You have to use these first 15 minutes to understand the essay question, think about it, and sort out the documents. There is no need to start writing before 15 minutes, rather use this time to plan your paper. Even if this task seems like a tough nut to crack, you can easily hammer on it if you follow these tips for DBQ academic writing.
1.  Read and comprehend the question Identify critical things like the location, personalities, time period, etc. Underline these things as you might need them if it is a compare and contrast question. Write down your viewpoint and think of other information that you can relate to this question. Make sure you do the brainstorming before reading the documents as it will be difficult to think about other information with documents occupying your mind. Once you understand the question, you will be in a better position to answer it accurately.
2.  Analyze the documents effectively Although the number of documents may vary from exam to exam, you need to examine as many documents as you can. Also, you have to add evidence from your to end to support your arguments. The documents can be in the form of articles, speeches, letters, legislation excerpts, charts, pictures, maps, and diary entries. Some documents may be well-known, but nearly all of them will seem new to you.
3.  Briefly write the principal idea of the text Find out who has created the document. Try to answer the questions in connection with the document. Write down the most important events mentioned in the documents. Sort out the documents in different groups to be able to analyze the information properly. This information will come handy while essay writing. Instead of labeling the documents like "document 1 or document 2," use the title of the document.
4.  Present a thesis statement Write a summary of your essay and figure out what you are already familiar with and what documents you will use in your paper. Make separate paragraphs for every idea that you want to discuss.
5.  Write an essay Your chief objective is to write a good thesis with strong and clear paragraphs supported by evidence that answer the essay question and conclude it properly.
Introduction  Introduce the topic to the reader. Give the historical context of the topic and mention the ideas you will describe and present a thesis.
Body paragraphs Usually, this section has two or more paragraphs. Every paragraph should discuss only one idea. Analyze the documents that you had sorted into different groups. Start with the first group of documents and begin each paragraph with the topic statement. Try to use as many documents as you can. Write down your own information that you had learned in the class and support your ideas with the documents. Make sure that every point relates to the thesis statement and is support with the suitable document or external information. It's important to use external information to obtain the maximum credit for DBQ academic writing. Remember, there is no one right answer for the DBQ essay. You can use the evidence to present an argument from your point of view.
Conclusion Start with paraphrasing the objective of your DBQ essay and give a summary of the ideas you have expressed in previous sections. Discuss the impact of the essay question in today's world. If you don't have the time to write a long conclusion, conclude your essay with a few sentences instead of ending it abruptly.
6.  Proofread Ideally, you should proofread your DBQ essays after writing to check whether you have got the names, dates, and documents correct. Also, check for the flow of the essay and that all the paragraphs are in a logical order. If you want to feel confident and improve your chances to write an excellent timed essay on your AP exam, you need to practice more and learn more about the exam. Use these tips to write a DBQ essay and perfect your skills in writing DBQ essay.