Olivia (Twelfth Night)
Another strong female character in Twelfth Night is Olivia. She is an intelligent character of court, a woman of independence and of property after her father left his possessions to her brother, and then she in turn inherited them from him. However when she marries, according to social aspects of that era, her husband will gain all of that power. She is also the object of desire from Orsino, Sir Andrew, Malvolio and eventually Sebastian.
Essay Example on Twelfth Night is Olivia
At the beginning of the play, Olivia is a cloistress in mourning for her brother, and shows excessive melancholy and extravagance that parallels Orsino.
Both characters are steeped in the melancholy of sentimental love to the point of being blinded by it and both suffer from the complexities of love. But Orsino takes a passive approach to the pursuit of love, in the way that he sends Cesario to pursue Olivia, whereas Olivia takes a more active role. However, Olivia's attempts to be reclusive seem to be more posturing than actual mourning, and this is another way in which appearances are deceptive, as Olivia soon transforms, removing her veil and asking Cesario "Is't not well done?"
Although Olivia can be seen as a typical cultural construction of femininity, she transgresses that role and shows impetuosity in the way that she relentlessly pursues Cesario.
In Elizabethan times, women could not be seen to be chasing men as it gave women wantonness, similarly the Bible was thought to be factual, and Adam created Eve for him, not the other way around.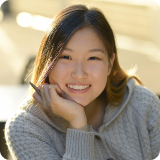 Proficient in: Nature
" Amazing as always, gave her a week to finish a big assignment and came through way ahead of time. "
Olivia however appears to recognize that she oversteps the rules of conduct: "Have you not set mine honor at the stake?" Even though Olivia steps out of her assigned sociohistorical position, she later steps back into it by marrying Sebastian to provide the Jacobian audience with closure.
She is worldly wise in the way that she knows how money can win somebody over "I thank you for your pains: spend this for me" she says to Cesario, and she also has a good relationship with Feste the jester, albeit occasionally scolding him for being out of line, she seems to enjoy and find amusing his witty repartee. Although she is undoubtedly intelligent, she shows fickleness in the way that she swaps Cesario for Sebastian, and this also is similar to the inconstancy of Orsino. Through Orsino, Shakespeare criticizes women "For women are as roses, whose fair flower / Being once display'd, doth fall that very hour", and the impermanence of women's beauty. Although Olivia seems to dislike Malvolio at times "O, you are sick of self-love, Malvolio, and taste with a distemper'd appetite." she displays compassion and kindness in the way that she attempts to bring him back into the wedding society. This sentimentality is seen in many of Shakespeare's portrayals of women, and is similar to the way in which Maria is presented.
Maria is Olivia's lady in waiting, and is a character who balances the household. She tolerates Sir Andrew and Sir Toby's folly, yet doesn't hesitate to scold them when she feels it has gone too far. Sir Toby and Maria are having an affair, and Sir Toby boasts that she adores him. Maria is the character who single-handedly thinks up the plot to gull Malvolio, and in doing so gains the admiration of the male characters, Sir Toby says "O, twill be admirable" of the plan. She is a literary construct who embodies some of Shakespeare's main ideas and themes. She can also be seen as some of Shakespeare's praise of women, as in letting a female character be so intelligent, witty and quick-minded, Shakespeare is giving women qualities that were scarcely seen to exist in Elizabethan England.
Cite this page
Olivia (Twelfth Night). (2019, Nov 27). Retrieved from https://paperap.com/paper-on-4152-twelfth-night-olivia/
"Olivia (Twelfth Night)." PaperAp.com , 27 Nov 2019, https://paperap.com/paper-on-4152-twelfth-night-olivia/
PaperAp.com. (2019). Olivia (Twelfth Night) . [Online]. Available at: https://paperap.com/paper-on-4152-twelfth-night-olivia/ [Accessed: 28 Nov. 2023]
"Olivia (Twelfth Night)." PaperAp.com, Nov 27, 2019. Accessed November 28, 2023. https://paperap.com/paper-on-4152-twelfth-night-olivia/
"Olivia (Twelfth Night)," PaperAp.com , 27-Nov-2019. [Online]. Available: https://paperap.com/paper-on-4152-twelfth-night-olivia/. [Accessed: 28-Nov-2023]
PaperAp.com. (2019). Olivia (Twelfth Night) . [Online]. Available at: https://paperap.com/paper-on-4152-twelfth-night-olivia/ [Accessed: 28-Nov-2023]
Gender roles in Shakespeare's 'Twelfth Night' Pages: 3 (861 words)
Twelfth Night And She's The Man Comparison Essay Pages: 2 (590 words)
Disguise In Twelfth Night Pages: 4 (1190 words)
Treatment Of Love In Twelfth Night Pages: 5 (1203 words)
Dramatic Irony In Twelfth Night Pages: 7 (1860 words)
Characters in Shakespeare's "Twelfth Night" Pages: 4 (912 words)
Shakespeares 'Twelfth Night' Pages: 13 (3799 words)
Olivia Lum and Hyflux Pages: 3 (880 words)
Death and the Symbol of the Night in the Book Night by Elie Wiesel Pages: 3 (889 words)
Prosperity To Feudalism Between The Tenth And Twelfth Centuries Pages: 2 (586 words)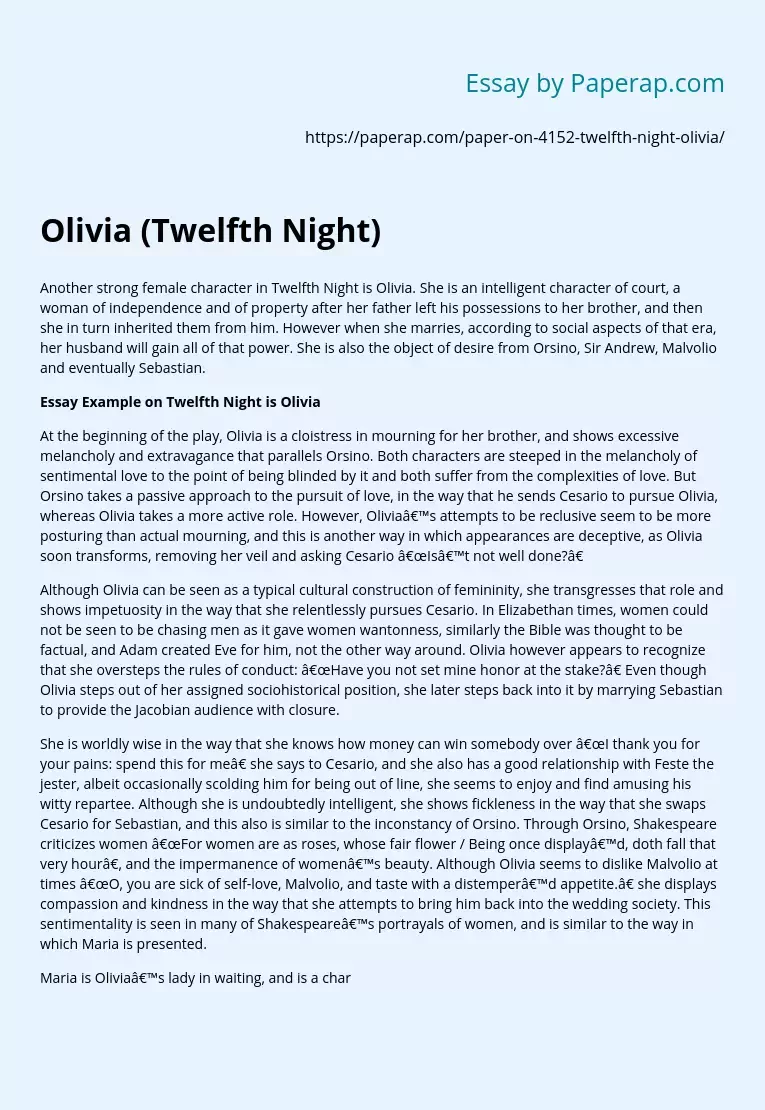 Improving writing skills since 2002
(855) 4-ESSAYS
Type a new keyword(s) and press Enter to search
Olivia in the twelfth night.
Word Count: 529
Approx Pages: 2
View my Saved Essays
Downloads: 15
Problems? Flag this paper!
In Shakespeare's comedic and light-hearted story the Twelfth Night, Olivia, a rich countess of Illyria, is the constant admiration of Orsino, Duke of Illyria. Orsino, who in his cowardly ways is unable to approach Olivia, so sends Cesario (Viola, disguised as a man) to court Olivia for him. Generally accustomed to being treated with dignity and respect, Olivia is flirtatious and playful in romantic matters. Her behavior toward Viola-Cesario, with whom she is infatuated, is thrown in high contrast to Viola's mostly nonchalant and subtle flattering of Orison. . Cesario appeals to Olivia when he speaks of the Duke's love in a poetic and soothing quality. Cesario states, "With adorations, and fertile tears/ With groans that thunder love, with signs of fire," wooing Olivia with his passionate words expressing the Duke's undying true love (I, v, 244-5). Cesario shows his vulnerability when saying, "Make me a willow cabin at your gate/ And call upon my soul within the house But make the babbling gossip of the air Cry out Olivia!" which also shows (I, v, 257-63) Cesario also courts Olivia in a teasing and sarcastic but respectful manner, showing Olivia is not all seriousness, revealing a humorous side. Olivia shows attraction for Cesario because of his expressive and unrehearsed speeches of devotion. Cesario, being a woman herself, is telling Olivia things any women wants to hear, making it easy for Cesario to appeal to Olivia. Olivia proclaims her love to Cesario by saying, "Yet come again; for thou perhaps mayst move/ That heart which now abhors to like his love," revealing her incapability of not falling in love with Cesario and feeling unable to stop what is happening in the matters of love but let fate take it's course (III, ii, 162-3). In another encounter with Cesario, Olivia believes "If one should be the pray, how much the better/ To fall before the lion than the wolf" (III, I, 127-8).
Essays Related to Olivia in the Twelfth Night
1. the twelfth night.
The Twelfth Night The Twelfth Night is a play about changes and yet the character of Olivia does not seem to change.. ... Olivia has fallen in love with Cesario but what Olivia does not know is that Cesario is really Viola. ... Olivia says, "Make me a willow cabin at your gate And call upon my soul within the house; Write loyal cantons of contemned love And sing them loud even in the dead of night; Hallo your name to the reverberate hills And make the babbling gossip of the air Cry out "Olivia!" ... This is a fantasy that Olivia carries with her and Viola seems to ...
Word Count: 551
Grade Level: High School
2. Love in Twelfth Night
In the play, "Twelfth Night," Shakespeare writes about the emotion of love. ... Olivia once said that Malvolio is "sick with self love" (1.5.86). Olivia is correct and the rest of the characters as well because they all agree with Olivia. This type of love seems to really irritate the characters in Twelfth Night and that is why they Dislike Malvolio. ... The theme love plays a wonderful role in the play Twelfth night. ...
Word Count: 694
Approx Pages: 3
3. Twelfth Night by William Shakespeare
The carnivalesque mood of the Twelfth Night festivities only brings more confusion into the unraveling of this situation. ... Several major characters exist in Twelfth Night, and Shakespeare uses another character to counteract them. He also mixes up personalities and occupations in order to follow the Twelfth Night theme and make things more topsy-turvy. ... Although the Twelfth Night theme is the most recognizable theme found in Twelfth Night, it is not the only theme present. ... Just as William Shakespeare states in Twelfth Night, "Be not ...
Word Count: 1772
Approx Pages: 7
4. Twelfth Night - Theme of Love
Twelfth Night 5. ... How has Shakespeare presented love in the play Twelfth Night? ... The above quote sums up Twelfth Night's idea of love and this is reiterated throughout the play. ... In this opening scene of Twelfth Night we see Orsino pledging his love for Olivia, however, what is made clearer and clearer through the play is that he is not actually in love with her. ... This strange and bizarre decision is exactly what love is all about according to Twelfth Night. ...
Word Count: 1335
Approx Pages: 5
5. twelfth night
In "Twelfth Night", we find that many characters do possess a sort of cruelty in them - and this cruelty changes from something seething within them into something which they inflict tremendously on others, in particular, Malvolio. Despite Twelfth Night being a comedy, dark humour does prevail in this play, and ends in hideous cruelty shown towards Malvolio. There is a reference of cruelty within the character of Olivia. Olivia is described by Orsino as "fair cruelty" and "sovereign cruelty". ... Conclusively, we see that cruelty exists in the hearts of many characters in "Twelfth Night", a...
6. Shakespeare's Parallels
Twelfth Night and Othello each show prime examples of reoccurring motifs. ... In Twelfth Night, Olivia's house and the Duke's palace are the prominent settings. ... In Twelfth Night, Viola and Olivia have a familiar bond - being strong, take-charge women. ... The Duke, Viola and Olivia are also parallel characters in Twelfth Night. ... In Twelfth Night, Maria, Sir Toby, and Sir Andrew eavesdrop on Malvolio. ...
Word Count: 2423
Approx Pages: 10
7. Exploring the Themes and Characters of Twelfth Night
Twelfth Night is considered one of Shakespeare's greatest comedies. ... Twelfth Night is the only one of the Shakespearean plays that has an alternate title; which is Twelfth Night, or What You Will (SparkNotes.com, 2003). ... The "Twelfth Night- is considered to be a reference to the twelfth night of the Christmas celebration. ... Maria plays the role of the well-born servant to Olivia in Twelfth Night. ... It seems likely that the play was named Twelfth Night because it was performed on Twelfth Night, that is the twelfth and final night of the Christmas season and festivities. ...
Word Count: 3301
Approx Pages: 13
Has Bibliography
8. Twelfth Night Criticism
William Shakespeare and The Twelfth Night Known for his tragedies, comedies, sonnets and love stories, William Shakespeare is argued to be one of the best writers of his time. Throughout his plays, including The Twelfth Night, he uses disguise and deceit to fool the other characters to benefit another. ... The Twelfth Night is agreed by most critics to be the point of Shakespeare's comic peak This novel was written possibly in 1599 (but usually dated 1601) and the plot was said to be derived from Barnaby Riche's story "Apolonius and Silla." ... The Twelfth Night (January 6th) is a...
Word Count: 1009
Approx Pages: 4
My Preferences
My Reading List
Twelfth Night
William Shakespeare
Literature Notes
Play Summary
Character List
Summary and Analysis
Act I: Scene 1
Act I: Scene 2
Act I: Scene 3
Act I: Scene 4
Act I: Scene 5
Act II: Scene 1
Act II: Scene 2
Act II: Scene 3
Act II: Scene 4
Act II: Scene 5
Act III: Scene 1
Act III: Scene 2
Act III: Scene 3
Act III: Scene 4
Act IV: Scene 1
Act IV: Scene 2
Act IV: Scene 3
Act V: Scene 1
Character Analysis
Duke Orsino
Sir Toby Belch, Sir Andrew Aguecheek, and Maria
Critical Essays
Major Themes
Major Symbols and Motifs
William Shakespeare Biography
Famous Quotes
Film Versions
Essay Questions
Cite this Literature Note
Character Analysis Olivia
The comedy opens with music being played to remind the duke of Olivia; the first scene discusses the lady's charms; and she is mentioned in the second scene as having lost a brother. Viola feels an instant empathy with a person mourning a lost brother since she herself believes that her brother is also drowned. In the third scene, Olivia's house is the setting, and in the fourth scene, Olivia is again the central subject of discussion. Thus, we hear a great deal about this important lady before we actually meet her.
At first, Olivia seems to be the emotional counterpart for the duke; he is a melancholy parallel for Olivia, and Olivia has sworn to abjure the world for seven years to mourn for her dead brother, an act of extreme sentimental melancholy. Olivia is also the opposite of Viola in many ways. While Olivia is attracted to her opposite (Viola in the guise of Cesario), Viola will be attracted to her opposite, Duke Orsino.
Other than the melodramatic pose that Olivia is assuming at the beginning of the play (we know it to be a pose because she is willing to immediately discard it in order to flirt with Cesario), Olivia is presented as being essentially an intelligent woman with a number of good qualities. Her intelligence is constantly seen in the many household matters that she has to attend to. She has to contend with her drunken uncle, Sir Toby Belch, and when Malvolio presents himself in his mad garb, she feels compassion for her foolish steward. Yet, earler when Feste made fun of Malvolio, the over-serious steward, Olivia was fully capable of appreciating the clown's wit.
The single quality that characterizes Olivia best is perhaps her impetuous love and her assertion of it. She is much more aggressive in the pursuit of her love than is Duke Orsino in his pursuit of Olivia. While she recognizes the duke's good qualities and acknowledges them, she is adamant in her refusals, and, thus, it is part of the comedy that the lady who has no sympathy for the duke falls so irrationally in love with a young girl disguised as a young boy. When she discovers that she has actually married young Sebastian, Viola's twin, she quickly transfers her love to him, just as Duke Orsino is able to transfer his love to Viola.
Previous Viola
Next Duke Orsino
has been added to your
Reading List!
Removing #book# from your Reading List will also remove any bookmarked pages associated with this title.
Are you sure you want to remove #bookConfirmation# and any corresponding bookmarks?