Nike SWOT Analysis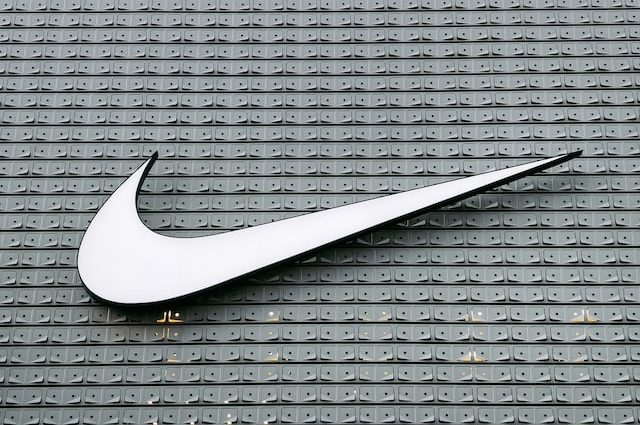 Before we dive deep into the SWOT analysis, let's get the business overview of Nike. Nike is a multinational corporation based in the United States that designs, develops, and sells sports apparel, footwear, equipment, and accessories. The company was founded in 1964 by Bill Bowerman and Phil Knight and was originally known as Blue Ribbon Sports. It officially became Nike in 1971, named after the Greek goddess of victory.
Nike is one of the world's largest suppliers of athletic shoes and apparel and has a significant presence in the global market. The company's product line includes a wide range of sports and fitness-related products, including running shoes, basketball shoes, football boots, apparel, and equipment. Nike also owns several subsidiary brands, including Converse and Hurley.
The company is known for its iconic "swoosh" logo and marketing campaigns featuring high-profile athletes such as Michael Jordan, Serena Williams, and Cristiano Ronaldo. Nike has also been involved in several controversies related to its labor practices, environmental impact, and marketing strategies, leading the company to make efforts to address these issues and improve its social and environmental responsibility.
Nike Business Model: Not a business but an inspiration
Here's a SWOT analysis for Nike:
A SWOT analysis is a strategic planning tool used to evaluate the Strengths, Weaknesses, Opportunities, and Threats of a business, project, or individual. It involves identifying the internal and external factors that can affect a venture's success or failure and analyzing them to develop a strategic plan. In this article, we do a SWOT Analysis of Nike.
SWOT Analysis: Meaning, Importance, and Examples
Brand recognition : Nike is one of the most recognizable brands in the world, with its iconic "swoosh" logo and distinctive branding. The company's marketing campaigns featuring high-profile athletes and celebrities have helped to build a strong association between the Nike brand and success, achievement, and performance.
Innovation : Nike has a reputation for innovation and has been at the forefront of developing new product technologies and materials. The company's commitment to research and development has helped it stay ahead of competitors and offer products at the cutting edge of sports performance.
Product quality : Nike is known for producing high-quality products that are durable, comfortable, and perform well. The company's products are designed to meet the needs of athletes and fitness enthusiasts of all levels, from beginners to professionals.
Brand loyalty : Nike has a solid and loyal customer base, with many consumers identifying strongly with the Nike brand and its values. The company's focus on creating products that inspire and enable people to achieve their goals has helped build a community of brand advocates passionate about the Nike brand.
Weaknesses:
Reputation risks : Nike has faced several controversies over the years regarding its labor practices, environmental impact, and marketing strategies. These controversies have damaged the company's reputation and potentially harmed its brand value.
Dependence on third-party manufacturers : Nike outsources the production of its products to third-party manufacturers, which can create quality control and supply chain issues. This can impact the consistency and quality of Nike's products.
High pricing : Nike's products are often priced higher than those of competitors, which can be a barrier for some consumers who are looking for more affordable options.
Limited product range : While Nike offers a wide range of sports apparel, footwear, equipment, and accessories, its product range is still limited compared to some of its competitors, which may limit its appeal to some consumers.
Increasing competition : The sports apparel and footwear industry is highly competitive, with many strong competitors vying for market share. The increasing competition could impact Nike's sales and market position.
Opportunities:
Expansion into new markets : Nike has a strong presence in North America, Europe, and Asia, but there are still many untapped markets around the world where the company could expand. For example, Nike could focus on increasing its presence in emerging markets like Africa and Latin America.
Growth in e-commerce : The evolution of e-commerce has opened up new opportunities for Nike to reach consumers worldwide. By investing in its online sales channels, Nike can reach more consumers and improve its overall sales performance.
Increased focus on sustainability : As consumers become more environmentally conscious, there is a growing demand for sustainable and eco-friendly products. Nike has already tried to improve its sustainability practices, but significant room remains for growth.
Partnerships and collaborations : Nike has a history of successful collaborations with high-profile athletes and celebrities. Nike can continue strengthening its brand and expanding its reach by forming strategic partnerships with influential figures and brands.
Innovation and technology : Nike has a strong reputation for innovation and could continue to develop new technologies and materials to improve its products and stay ahead of competitors.
Overall, Nike has several opportunities to continue to grow and expand its brand in the global market. By focusing on these opportunities, the company can maintain its position as one of the world's leading sports apparel and footwear brands.
Nike doesn't sell shoes. It sells an idea with its marketing strategy!!
Nike is a global brand that faces several threats in the highly competitive sports apparel and footwear market. Some of the main threats to the Nike brand include the following:
Intense competition : The sports apparel and footwear industry is highly competitive, with many strong competitors vying for market share. Nike faces competition from well-established brands like Adidas, Under Armour, and Puma, as well as new and emerging brands.
Economic conditions : Economic downturns or global economic instability can impact consumer spending, hurting Nike's sales and revenue.
Counterfeit products : Nike is a popular brand, and as such, it is a target for counterfeiters who produce and sell fake Nike products. This can damage the Nike brand by diluting its reputation for quality and performance.
Changing consumer preferences : Consumer preferences can shift quickly, and Nike must stay attuned to these changes to ensure that its products remain relevant and in demand.
Supply chain disruptions : Nike relies on third-party manufacturers to produce its products, and any disruptions in the supply chain, such as factory closures or shipping delays, can impact its ability to deliver products to customers.
Negative publicity : Any negative publicity related to labor practices, environmental impact, or other ethical issues can harm the Nike brand by damaging its reputation and turning off consumers.
Check out the SWOT Analysis of Global Businesses
Related posts.
Almarai SWOT Analysis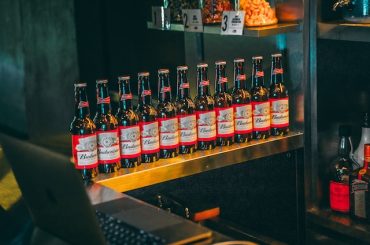 AB InBev SWOT Analysis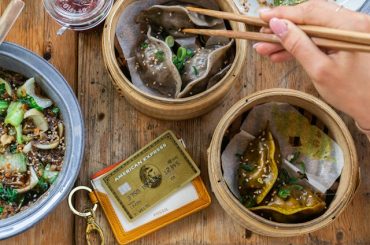 American Express SWOT Analysis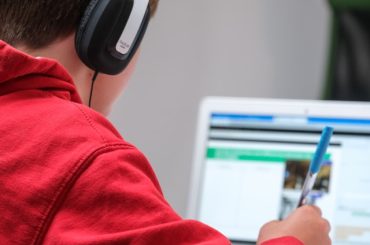 Mind Tools SWOT Analysis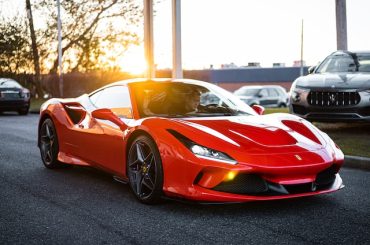 Ferrari SWOT Analysis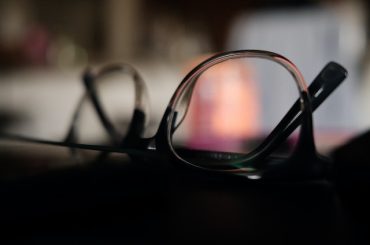 Warby Parker SWOT Analysis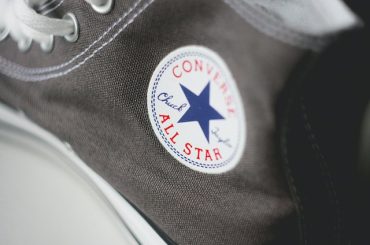 Converse SWOT Analysis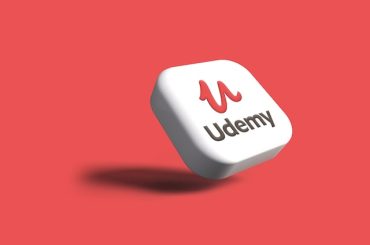 Udemy SWOT Analysis
Type above and press Enter to search. Press Esc to cancel.

Nike SWOT 2023 | SWOT Analysis of Nike
By S. K. Gupta, Last updated: April 19, 2023
Company: Nike CEO: John Joseph Donahoe Founders: Phil Knight and Bill Bowerman Year founded: 1964 Headquarter: Beaverton, Oregon Employees (FY22): 79,100 Type: Public Ticker Symbol: NKE Revenue (FY22): US$46.71 Billion Profit | Net income (FY22): US$6.04 Billion
Products & Services: Apparel | Athleisure | Footwear | Sports Equipments | Accessories Competitors: Adidas | Under Armour | Allbirds | New Balance | Sketchers | Puma | Fila | ASICS | Lululemon | Fabletics | Victoria Secrets
Did you know? Nike swoosh logo is inspired by the Greek goddess of victory, Nike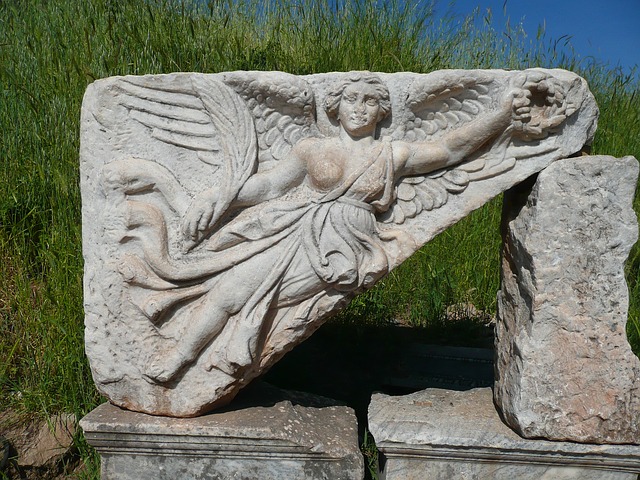 Table of Contents
An Overview of Nike
Nike, Inc. is an American multinational corporation. Nike is headquartered in Beaverton, Oregon, USA . It was found by Bill Bowerman and Phil Knight in the year 1964 . The company specializes in athletic wear, providing footwear, apparel, athletic equipment, and accessories.
Nike's primary goal is to supply athletes with exceptional products and wearable that aids them in better sports performance . However, due to the success, Nike has gotten the company now provides athleisure wear as well. Currently, John Donahoe is the CEO of Nike.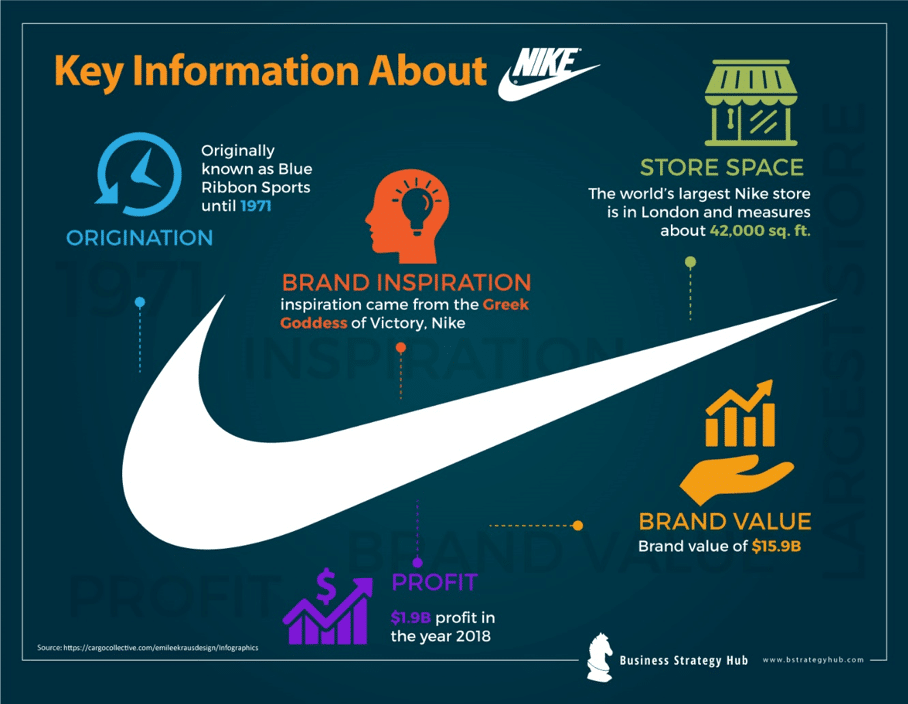 SWOT A nalysis of Nike
Here's a detailed breakdown of Nike SWOT analysis.
Nike's Strengths – Internal Strategic Factors
1. Strong Brand Awareness and Brand Value
Nike is one of the most recognizable brands in the world as its name alone is memorable, easy to pronounce, and very unique. Its swoosh symbol is easily recognized by everyone. According to Interbrand global brand ranking report, Nike is ranked at # 10 position with a brand value of $50.2 Billion .
2. Huge Customer base
Nike has millions of customer from around the world who loyally follow Nike's trends, participate in Nike events, and even provide customer feedback. Due to its huge popularity, Nike's market cap has grown to $193 billion as of April 2023.
3. Aimed For Sustainability
Nike's CEO Mark Parker has addressed that they will continue to acknowledge the environmental issues in the communities. The CEO ensures that Nike will help to contribute in finding a solution against these environmental issues.
4. Iconic Relationships
Nike's long-term partnership with Michael Jordan has proved to be beneficial in terms of sales for the company. Their collaboration resulted in " Air Jordan 1 Shoes ". Additionally, Nike teamed up with the famous basketball player to help design the "Air Jordan 1 Shoes".
5. Side Brands
Nike's ability to maintain and enhance its side brands such as converse and Hurley have enabled it to enjoy unparalleled success for decades.
6. Low Manufacturing Cost
Most of Nike's footwear is manufactured in foreign countries. In the fiscal year 2022, Vietnam produced 44% , Indonesia produced 30% , and China produced 20% of total Nike's footwear. Other operations are in Argentina, Brazil, India, Italy, and Mexico.
7. In-house Professionals
Nike has a team of professionals that design its shoes and other athletic accessories. Nike believes that their business has flourished due to the thorough research that is conducted for each product.
8. Superior Marketing Capabilities
Nike has excellent marketing campaigns. The brand heavily relies on demand creation expense , which includes advertisement, promotion, endorsement contracts, media print and complimentary products. In the fiscal year 2019, 2020, 2021, and 2022 Nike spent $3.7 billion, $3.6 billion, $3.1 billion and $3.8 billion respectively. The brand has successfully utilized social media and marketing campaigns to target more customers .
9. Black Community Support
The brand has excellent marketing campaigns and recently released " Don't Do It " ad campaign in support of Black communities against racism.
10. High Market Share
Nike is a market leader in footwear industry . Nike has captured approximately 39% of the global athletic footwear market and 13% of global athletic apparel market.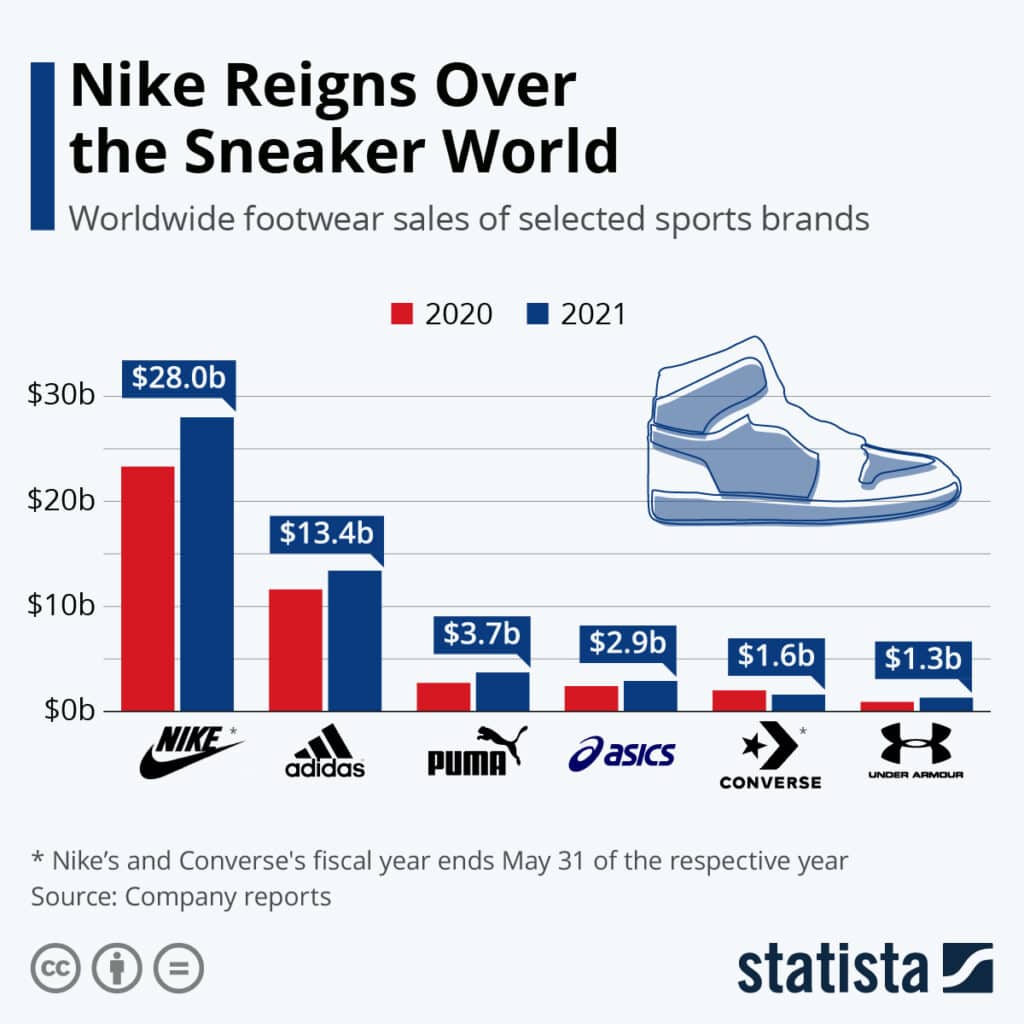 Nike's Weaknesses – Internal Strategic Factors
1. Poor Labor Conditions in Foreign Countries
In the last 20 years, Nike has been consistently targeted regarding their poor labor conditions. These issues include forced labor, child labor, low wages, and horrific working conditions that were deemed " unsafe ".
2. Retailers Have a Stronger Hold
Nike's retail sector makes Nike weak due to its sensitivity against pricing. 65% of Nike products are sold directly to wholesalers or retailers. With retailers serving as their core customers, Nike does not put up a fight against their pricing structures whatsoever.
3. Pending Debts
Although Nike's income statements prove to be prosperous, a quick glance at their balance sheet could paint a different picture. Nike is still facing financial threats. As of FY22, Nike's total long term debt was $8.9 billion
4. Lawsuits
Recently, a former employee accused Nike of discrimination based on his Croatian origin.
Four former female Nike employees filed a class-action lawsuit against the company in August 2018. According to these women, Nike has a toxic company culture for women. The women filed their case against the sportswear company claiming that the company violated the Equal Pay Act . The women said the company engaged in systematic gender pay bias where men were paid more than women for the same amount of work.
5. Lack of Diversification
Nike's over-dependence on sporting apparel or lack of diversification is a major weakness. The pandemic has discouraged physical interaction and gathering with sporting events canceled or postponed . Several sporting teams are on the brink of collapse. If the crisis discourages sporting events for longer, Nike's losses can be catastrophic.
6. Contradicting Strategies
Nike pledged to shift all its facilities to 100% renewable energy with net-zero carbon emissions under the " Move to Zero " scheme. While the strategy is great and welcomed, it contradicts Nike's strategy that favors innovation over sustainability. This creates the perception that Nike is not committed to addressing climate change and its pledge is just a marketing stunt.
7. Dependency on North America especially US Market
Even after having established itself globally, Nike still relies on the U.S Market in terms of sales and revenue. In the fiscal year 2022, about 41 % of Nike's sales came from the North America , while the rest of 59% came globally. Despite its fame, Nike depends on the U.S for substantial sales and growth.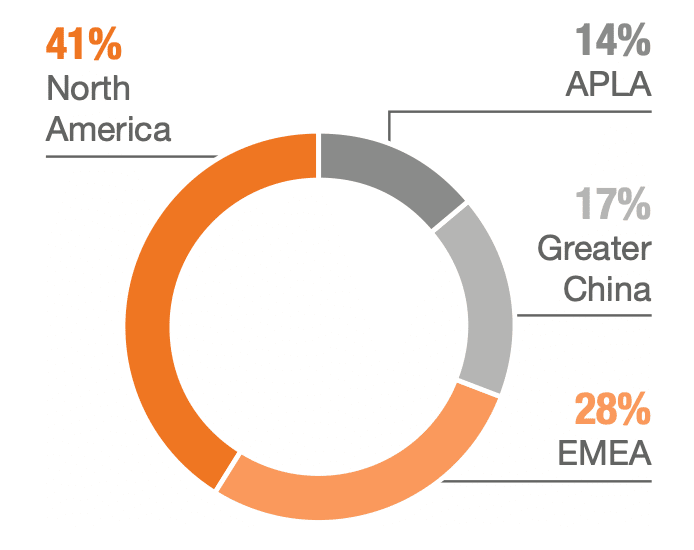 8. Sexual Harassment
Former female employees also pointed out that sexual harassment and misconduct was very common in the company. The New York Times conducted interviews with 50 former and present Nike employees to investigate the company culture. Through the interviews, it was established that Nike did have a toxic working environment, where sexual misconduct was rampant.
Multiple female employees reported that they had complained to the HR but saw no action being taken from their part. The women were left devastated and felt unsafe while working at Nike. Some even left their jobs. The entire controversy has significantly affected the company's image.
Nike's Opportunities – External Strategic Factors
1. Emerging Markets
Although Nike already has a presence in many foreign countries, there is still plenty of opportunities for Nike. This is because emerging markets like India, China, and Brazil are gradually flourishing.
2. Innovative Products
Although Nike has produced many products, there is still a lot to innovate. Nike has extended its reach in technology in association with fitness and health. Products like wearable technology that monitors physical activities, is the first step in building innovative technology products . Combining technology with athletic wear can prove to be beneficial as it is an aspect of the fashion industry that still hasn't been explored much.
3. Efficient Integration
The supply and production of Nike's products depend on independent manufacturers. The brand can either acquire a few of these or make some of its own for a more efficient and streamlined supply chain.
4. Cutting ties with big retailers
Nike has decided to cut ties with some of the biggest multi-brand retailers and wholesale partners. According to the report , Nike will no longer work with wholesale retailers such as Zapoo's , Dillard's , Fred Meyer , Bob's Stores , etc. The step is taken for better product positioning and greater customer experience.
5. Acquired Artificial Intelligence Start-up
With its vast financial resources, Nike can acquire small or medium companies or startups. It recently acquired predictive analytics platform – Celect to expand its online sales capabilities and predict customer's shopping behavior.
6. Merges with the Metaverse
Recently, Nike acquired RTFKT, a digital shoe-making company . Yes, you heard that right, the company designs shoes, but for the virtual stratosphere only. However, RTFKT also claimed that it partnered with FEWOCiOUS (a young artist) to sell real shoes along with their digital versions. Nike is banking on the opportunity to market their digital shoes on the Metaverse , where players can use their Metamask wallets to purchase different types of in-game merchandize.
7. Exiting From Wholesale Distribution
Recently, Nike announced it's going to be exiting the wholesale distribution market in the U.S. The company plans to only market its products at Nike stores , app , and websites . According to Nike, the move away from distributors is going to help them double their profit margins . Moreover, Nike will also have the opportunity to spearhead the customer shopping experience as well as control prices .
8. Nike to End Use Of Kangaroo Leather For Its Shoes
Nike has announced a significant move that will please both animal rights activists and consumers. The athletic apparel giant will no longer use kangaroo skins in their shoes, ending a controversial practice. The decision comes after Puma made a similar move weeks ago.
Instead of kangaroo leather, Nike will use synthetic material in its new line of Tiempo football boots, the Tiempo Legend Elite, set to launch this summer. The company also ended its partnership with its sole kangaroo leather supplier in 2021, reflecting its commitment to more sustainable and ethical practices.
9. Consumer Direct Strategy
Nike has accelerated the consumer-direct strategy, which means shifting its focus to digital business and subsequently closing physical stores. In fiscal year 2022, 42 % of its Nike revenue comes from online sales. Clearly, the pandemic is shaping up how Nike interacts with its customers.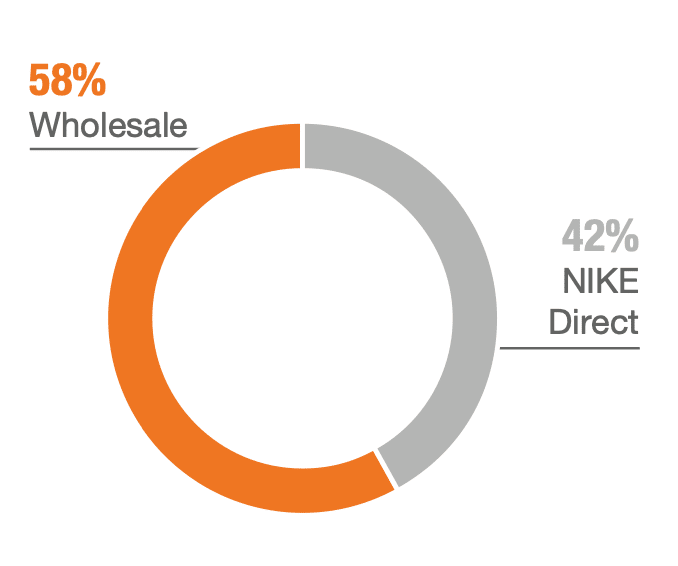 Nike's Threats – External Strategic Factors
1. Counterfeit Products
Counterfeit products can significantly affect the revenue and reputation of Nike. The company deals globally and the risk of counterfeit products has become higher. A number of merchandisers and retailers offer counterfeit Nike products at lower prices.
The low-priced products are made from low-quality materials but still have the Nike label. This can tarnish the image of the brand as the customers might feel that Nike has started producing low quality products.
2. Increased competitive pressure
Although, Nike is a dominating the athletic industry, competition, and new emerging brands are still potential threats to the company. With higher competition ratio, Nike has to spend more money on marketing and advertising.
Nike spent $3.8 Billion specifically on marketing and demand generation in fiscal year 2022. To overpower competition, Nike's safest bet is to design innovative products that are tailored according to the needs of athletes.
3. Marketing Budget Pressure
Companies like Under Armour , Adidas and Lululemon are spending more on marketing and advertising campaigns, increasing the pressure on Nike.
4. Currency Foreign Exchange Risks
Since the brand operates globally, it is affected by fluctuating foreign exchange rates. Nike reports its financial earnings in U.S dollars. This affects its revenue as the U.S dollar is exposed to volatility against other financial currencies.
5. Patent Disputes
Regardless of whether a company is wrong or right, patent disputes are hotly and fiercely contested in the public domain and expose some dirty secrets about sides in the dispute. Nike and Adidas have been engaged in a fierce patent disputes over Primeknit and Flyknit shoes in U.S. and German courts.
6. Economic Uncertainty
Regardless of the industry, all companies are susceptible to the negative effects of a global recession . During lockdown, Nike had reported a decline in sales and sales can drop further in the future if the recession strikes as hard as predicted by experts.
7. Trade Tensions
Nike depends on different markets across the world evidenced by the recent increase in its stocks rallied by an increase in sales in China . With China and the US as its biggest markets, a large chunk of Nike's sales will be threatened if the trade tensions between the two giants escalate.
8. Patent Conflict towards Adidas Primeknit Shoes
In an appeal to a U.S. agency, Nike filed a complaint that Adidas has been infringing on the company's Flyknit shoe technology patent. The company also stated that the German shoe manufacturer had used Nike's Flyknit tech in 49 shoe designs (which uses Primeknit tech).
However, according to an Adidas representative , the company will fight these claims and stated that Adidas has started using their Primeknit technology after numerous years of research and development.
9. Risk to Kangaroo Population
Nike has been accused of putting the Australian kangaroo population at risk of extinction. The leading athletic brand uses kangaroo skin to manufacture leather football shoes . Animal rights activists and advocates have urged Nike to rethink its strategies and to use plant-based alternatives . So far, Nike hasn't responded to these allegations.
10. Nike Faces A Wave Of Retail And Warehouse Thefts
Nike experiences a surge in theft crimes throughout its supply chain, including warehouse and train thefts. According to the National Retail Foundation, retail theft has become a massive problem in the United States, with an estimated cost of $95 billion.
The company has reported that thieves are stealing from shelves and vehicles. This forced Nike to close a popular outlet store in its hometown of Portland. In addition, two suspects were arrested in Memphis for stealing Nike merchandise worth about $60,000 from five rail cars. Despite having 344 stores across the United States, including outlets and Converse stores, Nike finds it hard to prevent theft along its entire supply chain.
11. Nike Sues Lululemon Over Patent Infringement
Nike has filed a complaint in Manhattan federal court against Canadian athletic apparel company, Lululemon, alleging patent infringement of at least four footwear products.
Nike claims that Lululemon's Blissfeel, Chargefeel Mid, Chargefeel Low, and Strongfeel footwear have caused economic harm and irreparable injury to the company.
Although this isn't the first time Nike sued Lululemon for patent infringement, the recent complaint alleges that three patents have been infringed, including one addressing the performance of footwear when force is applied. While the company seeks unspecified damages, Lululemon has yet to comment on the matter.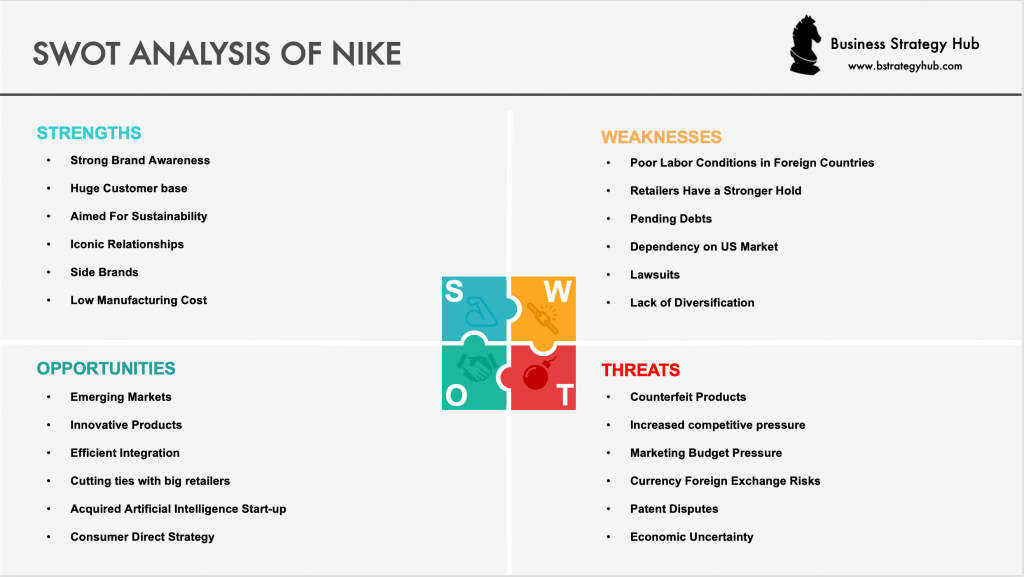 Final Thoughts
The fiscal 2022 proved to be successful for Nike. Although the brand is still in debt, the next few years look promising. Nike has grown exponentially in the last decade.
From releasing new product lines to building new brands, to outsourcing, and establishing a global presence alone is an extraordinary achievement.
Through this SWOT analysis of Nike, you will be able to understand the business model of the brand .
References & more information
Xu, V. (2020, March 17). Your favorite Nikes might be made from forced labor. Here's why . The Washington Post.
Cara Salpini( 2021, Nov 4). Nike is on track to make $50 billion this year. How much is that, really? Retail Dive
Interbrand – Best Global Brands 2021
Related posts:
Starbucks SWOT 2023 | SWOT Analysis of Starbucks
Apple swot 2023 | swot analysis of apple, 26 comments.
This article was very interesting. Thank you. The article was enlightening.
Dorrene, Thanks for your positive feedback, I am glad you liked it.
It's to easy to understand and explain to others.. Thanks it will help me my upcoming presentation. 😃
Thank you Gargi, I have been through business school not so long ago, so I can totally relate to you. I am guessing the presentation is for school?
No. I m persuing MBA integrated..
Great, All the best for your MBA!
Lot of clarity in the format – the SWOT is explained.
Using for my management program – Leadership & People Management. It's a great help. Thanks.
Hi Choo Patrick,
I am glad you liked our analysis. Thank you !
i want to know the publisher of this analysis
Hi Ap, here are the details
Date of Publish : Dec 17, 2018 Author : SG
Quick and to the point. Good read. Thank You
Oasis, I am glad you liked it !
who wrote this article ? can i know the name? very grateful analysis.
Thanks Taku, I am glad you liked our analysis. – SG
why is there no reference?
Hi Divya, Most of the information is from Nike's annual report and few points have embedded hyperlinks for references.
top analysis
THIS HELPED ME A LOT!
Hey, who is the author of this report and what year was it finalized. I need this info for citations.
Hey Justin,
Author: S.K Gupta First published: December 17, 2018 Last updated: Oct 06, 2020
Hey! loved it, read it in my class!
Hi Aden, Glad you loved it, happy reading !
Hey this was super helpful for a school project. Thank you.
Thanks Nicholas for the feedback, glad to see it was helpful. Happy Reading 🙂
I really love your work thank you this was so helpful to help me help another person but not me thank you for this thank you.
Leave a Reply Cancel reply
Save my name, email, and website in this browser for the next time I comment.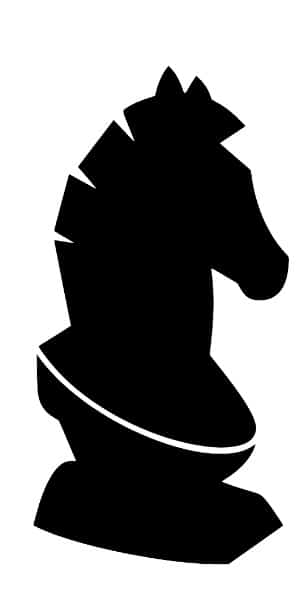 Home — Essay Samples — Business — Swot Analysis — A SWOT Analysis of Nike, Inc.

A Swot Analysis of Nike, Inc.
Categories: Swot Analysis
About this sample

Words: 880 |
Published: Oct 2, 2018
Words: 880 | Pages: 2 | 5 min read
Table of contents
Works cited:, opportunities.
Calhoun, C. (Ed.). (2004). Dictionary of the social sciences. Oxford University Press.
Davis, N., & Tearle, P. (Eds.). (1999). Electronic texts in the humanities: principles and practice. Oxford University Press.
Frey, T. K., & Palmer, B. (2014). Information literacy instruction: Theory and practice (2nd ed.). Neal-Schuman.
Hsu, S. (2019). The role of technology in education: a bridge to success. Journal of International Education Research, 15(2), 27-38.
Lenski, G. (2015). The religious factor: A sociological study of religion's impact on politics, economics, and family life. Routledge.
Lipponen, L., Hakkarainen, K., & Paavola, S. (Eds.). (2004). Perspectives on learning and technology: Affective and social dimensions of collaborative learning with ICT. Springer.
Moore, M. G., & Kearsley, G. (2012). Distance education: A systems view of online learning. Cengage Learning.
Schaffhauser, D. (2019). The impact of technology on education delivery: Benefits and drawbacks. EdTech Magazine.
Toffler, A. (1971). Future shock. Random House.
White, L. A. (1959). The evolution of culture: The development of civilization to the fall of Rome. McGraw-Hill.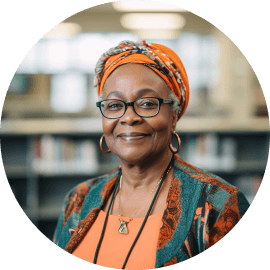 Cite this Essay
Let us write you an essay from scratch
450+ experts on 30 subjects ready to help
Custom essay delivered in as few as 3 hours
Get high-quality help

Prof Ernest (PhD)
Verified writer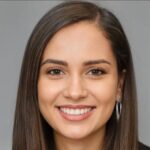 + 120 experts online
By clicking "Check Writers' Offers", you agree to our terms of service and privacy policy . We'll occasionally send you promo and account related email
No need to pay just yet!
Related Essays
2 pages / 1023 words
2 pages / 934 words
2 pages / 893 words
4 pages / 1993 words
Remember! This is just a sample.
You can get your custom paper by one of our expert writers.
121 writers online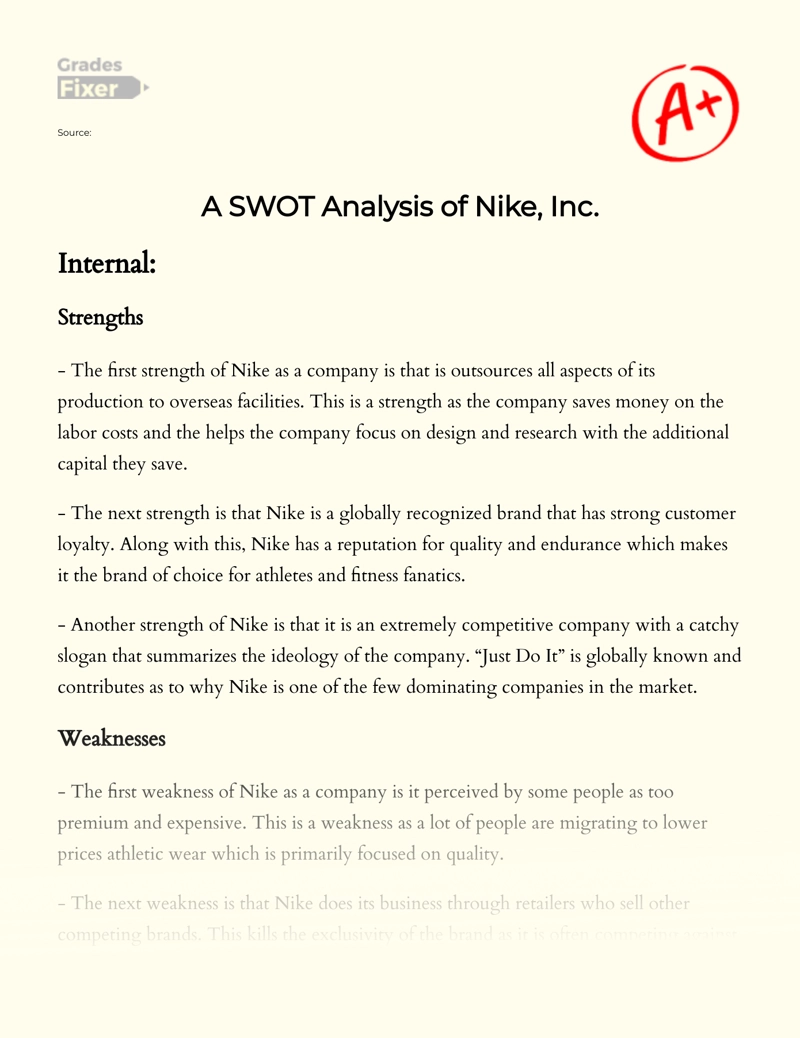 Still can't find what you need?
Browse our vast selection of original essay samples, each expertly formatted and styled
SWOT analysis is defined as special and beneficial technique (tool) which is used by individuals as well as organisations in order to analyse the strengths, weaknesses, opportunities and threats.it is also known as SWOT matrix [...]
Strengths are the characteristics of the business or project that give it an advantage over others. Skechers is one of the fastest-growing athletic footwear brands in the world. The strengths of Skechers is, it has a high [...]
Strengths: Volkswagen has one of the widest brand portfolios among automotive companies, including the likes of Audi, Bentley, Bugatti, Lamborghini Porsche, SEAT, Škoda selling over 10 million cars annually. Enabling the [...]
Background of The Business: McDonalds started out with the two McDonalds brothers; Maurice and Richard. They came up with the idea to design an assembly line that maximized space and minimized wastage. Their idea would soon be [...]
In this proposal, we discuss the marketing plan of our athletic wear company Peak Performance. We begin with an explanation of how and why we have created our company the way we have, including our mission statement and [...]
To help the management of CTC develop better strategies and plans for sustainability, they usually carry out Canadian Tire SWOT analysis. By analyzing the weak points and potential threats of the corporation, it can easily know [...]
Related Topics
By clicking "Send", you agree to our Terms of service and Privacy statement . We will occasionally send you account related emails.
Where do you want us to send this sample?
By clicking "Continue", you agree to our terms of service and privacy policy.
Be careful. This essay is not unique
This essay was donated by a student and is likely to have been used and submitted before
Download this Sample
Free samples may contain mistakes and not unique parts
Sorry, we could not paraphrase this essay. Our professional writers can rewrite it and get you a unique paper.
Please check your inbox.
We can write you a custom essay that will follow your exact instructions and meet the deadlines. Let's fix your grades together!
Get Your Personalized Essay in 3 Hours or Less!
We use cookies to personalyze your web-site experience. By continuing we'll assume you board with our cookie policy .
Instructions Followed To The Letter
Deadlines Met At Every Stage
Unique And Plagiarism Free
StudyDriver in your Smartphone!
SWOT Business Analysis of Nike
Introduction, public opinion, competitor analysis, brand perceptual map, swot analysis, implications and recommendations.
A brand consist not only of the logo or the visual identity. It is more than the product, the advertising campaign or the slogan. It is neither only controlled by the company behind it nor only a collection of perceptions that reside in the mind of customers. A brand is a collection of things and it identifies everything that sets into the mind of the customer; it is the idea and feeling a customer has about the company and product. In this paper, an analysis of the brand Nike will be conducted. The brand analysis for Nike will help to understand Nike as a brand and the context surrounding it. While Nike may not always have the direct control over its brand, it needs to identify every interaction the customer has which influences its perceptions. This paper tries to identify how Nike should maintain his strong brand position - which would lead to loyal customers and an increase in customer preference and profit.
The remainder of this paper will proceed as follows. First, a short introduction to Nike. The next section will discuss the public opinion on Nike. Later there will be a competition analysis and with that information a brand perceptual model will be conducted. At last this paper will identify a SWOT analysis and it will conclude with recommendations and implications for Nike.
Nike was established in 1962. It all started with a cooperation between Bill Bowerman and Phil Knight, who started to sell shoes under the name "Blue Ribbon Sports". In 1978 the name of the company was officially changed into the, now widely known, "Nike", which is a reflection of a Greek goddess who personifies victory. Nike was established to fulfil a mission. This mission is to bring inspiration and innovation to every athlete in the world. In addition, Nike's focus is to continually seek to innovate, design and develop products to improve athletic performance. Its desire is to design products with true performance innovation and technology benefits which help the athlete perform better. Important is that Nike beliefs that if you have a body, you are an athlete and that implies that Nike is a brand for everyone. With its headquarter in the USA, shops all over the world and more than 40.000 employees, Nike is at the moment one of the leading athletic footwear, apparel and equipment company in the world. Nike is famous for its "woosh" logo, which is recognized by people all over the world. For a lot of consumers, wearing Nike is a statement and it is a brand that can be worn with honour. The success of Nike is reflected in there continuously revenue growth, which was 8% in 2013 (Nike, INC. , 2013).
In addition to its mission, Nike wants the company to achieve profitable and sustainable growth. Therefore, Nike pays a lot of attention to minimize any potentially negative impact on communities or nature. They state that there aim is to challenge, push and explore ways that change the game entirely for materials, design and manufacturing. Nike does not grow just to get bigger. They grow to be better and do better.
Since Nike is a brand that has an important position in the society, the media is reporting a lot about Nike. According to The Wall Street Journal, Nike's profits still raise because the demand for shoes and clothes grows even among people who have no intention of wearing them to the gym (Germano & Stynes, 2014). This claim is confirmed by the widely available photos on the internet of fashion bloggers who are wearing Nike. It is a reflection of the fact that there is a current trend where fashion meets sporty. In addition, an interview done by Bloomberg with Mark Parker, the CEO of Nike, shows that Nike needs to move into the direction of a lifestyle brand because of the cultural shift that has put sports and fitness in a position that permeates many aspects of everyday life (Bloomberg TV, 2014). Moreover, Seeking Alpha called Nike the "Goddess of Victory, with an unstoppable growth business" (Seeking alpha , 2014). Since one of Nike's mission is to maintain sustainable growth, the public opinion keeps a close eye on it. Business Insider reports that Nike was able to solve its sweatshops problem which was considered as an enormous problem of Nike in the beginning of the 21th century. Nike was being shamed in public for its labour practices to the point where it badly tarnished the companyA´s image and hurt sales. However, according to Business Insider, Nike was able to turn this image around by showing transparency. Moreover, according to Business Insider other companies who outsource could use Nike's turnover as an example (Nisen, 2013). In today's world, where the opinion of the digital media and especially bloggers are almost becoming more important than the marketing campaigns of the brand itself, it is important to shed a light on them. A post from Emily Schuman, blogger from cupcakesandcashmere.com with more than 6 million page views a month can be more influential than an advertisement of Nike itself. Luckily for Nike, the general opinion of fashion bloggers on Nike is very positive (Schuman, 2014).
Nike is operating in the apparel, footwear and accessories industry which is a highly competitive market, with presence of a large number of players such as Puma, Adidas, New Balance and Asics. The apparel, footwear and accessories industry is exposed to continuous changes in consumer preferences and technology. As a result, if Nike is unable to adapt to changes quickly, it will immediately lose its market share. Comparing the results to its competitors, Nike reported total revenue increase in the third quarter of 2014 by 14.5% year on year (CSImarket, 2014). However, Nike feels the rising competition from emerging players and local players in emerging markets, which focus on niche market segments and are increasingly improving their product quality. The major threat for Nike comes from Adidas because they're best positioned to compete and have the second largest market share, which was 17% for Nike and 12% for Adidas in 2013 (Kondej, 2013). Adidas is a German brand established in 1949 that designs and manufactures sports shoes, clothing and accessories. The main marketing strategy slogan for Adidas is: "Adidas is all in", which aims to present a unified image to consumers interested in sports, fashion, street, music and pop culture. Puma is another German multinational company which is a treat to Nike, it was formed in 1924. Its mission is to be the fastest sports brand in the world. Another competitor of Nike is New Balance is an American company found in 1906. Its mission is building a global brand that athletes are proud to wear, associates are proud to create and communities are proud to host. The last competitor that will be analysed in this article is Asics, a Japanese brand found in 1949. Its mission is to become the number one brand for the sports enthusiastic.
In order to compare Nike with its competitors it is useful to develop a brand perceptual map. Using a brand perceptual map gives the opportunity to graphically display and explain the perceptions of customers with relation to the product characteristics. For constructing the brand perception map the brands are compared by two opposite aspects pairs, fashionable and non-fashionable and low comfort with high comfort. A fashionable brand is a brand that is conforming to the latest fashion trends or sets the trends by itself. Comfortable is mind and body being at ease or make a person feel secure, happy or relaxed.
In order to identify what the scores for the different brands are for the 2 dimensions, it is important to determine consumers' perceptions and evaluations of the product or service in relation to its competitors. Normally, marketers determine it by asking consumers a series of questions, but for this paper it is based on my own knowledge. On the fashionable versus non-fashionable scale, Nike scores the highest since it is recognized by a lot of people for providing clothes and shoes that could also be worn outside the gym. On the other hand, Asics is a brand which focus on the practical use. Adidas and New Balance are both brands that are highly fashionable but are valued less fashionable then Nike. Puma, with its mission to be the fastest sports brand in the world, already implies that it does not really focus on the fashionable aspect.
Asics scores highest on the comfortable aspect since it is well known for its high quality and comfortable sporting clothes. On the other hand New Balance is called a sports brand but its shoes are mainly sold for daily usage so it scores low on the comfortable aspect. Nike and Adidas are both recognized for their comfort, while Puma is not really perceived as highly comfortable.
Figure 1. Brand Perceptual Map
A SWOT analysis is very useful to identify the external and internal factors that influence Nike.
One of NikeA´s strength is its logo, the so called "woosh". When people see the logo without the brand name, they will immediately be able to identify it as Nike, which shows the power of the brand. Moreover, Nike is staying ahead of the technology curve, with an enormous capacity of innovation and a good R&D department. On the other hand, Nike is showing some weaknesses since it is still mostly reliant on its footwear sales, although its wide range for sportswear. Moreover, Nike is facing enormous high advertisement costs. Nike is investing a lot of money into its marketing strategy and although its strategy works it comes at a high price tag. Nike is having opportunities since it is not only seen as a sporting brand but more and more customers put on Nike products just because their fashion style. Moreover, Nike can easily expand to emerging markets because of their strong brand name. For example Brazil, where the passion for sports is high, is one of the easily target market in the future. The main treat for Nike is, as discussed before, the highly competitive market. If Nike is unable to adapt to consumer preferences quickly, it will immediately lose some of its market share to one of its competitors. Moreover, economic downturns affect consumer goods industries. The more of a population that is suffering financially, the smaller the market for NikeA´s goods.
This paper identifies that Nike is a brand with a very good position. It is highly valued by its consumers and other critics and is the leader in its industry. Nike is both scoring high with its product on the comfortable and fashionable scale. Although, Nike has a very good brand positioning there are still some challenges ahead. First of all, Nike needs to make sure to react fast to consumer preferences changes. It needs to make sure that it stays innovating to be able to keep ahead of its competition. Moreover, with the current trend where fashion meets sporty, Nike needs to make sure that its products are both comfortable and fashionable to target both the consumers that want the best sporting wear and the consumers that want Nike products to wear during daily life. Moreover, Nike should acknowledge the power of Bloggers and should think to include this more in its marketing and advertisement strategy. However, after carefully examining the various aspects of the Nike brand and its competitors, I can conclude that the brand is facing a bright future. Still this brand analysis is just a very small step into analysing the forces that are influencing Nike. Especially, to conduct a more useful analysis, deeper market research is needed, where consumers are answering questions.
Bloomberg TV. (2014, Oct. 22). Nike CEO Parker: I'm Bullish on Relationship With Apple. Retrieved Nov. 20, 2014, from Bloomberg TV: https://www.bloomberg.com/video/nike-ceo-our-connection-to-athletes-drives-company-HTGswG72R9C6dt24shLU6w.html
CSImarket. (2014). Nike sales versus its competitors . Retrieved Nov. 21, 2014, from CSImarket: https://csimarket.com/stocks/compet_glance.php?code=NKE
Germano, S., & Stynes, T. (2014, Sept. 25). Nike Profits Rise on Higher Footwear, Apparel Sales. Retrieved Nov. 20, 2014, from The Wall Street Journal : https://online.wsj.com/articles/nike-earnings-rise-on-higher-footwear-apparel-sales-1411677987?KEYWORDS=Nike
Kondej, M. (2013). The sportswear revolution: global market. Euromonitor International .
Nike, INC. . (2013). ANNUAL REPORT ON FORM 10-K. Nike .
Nisen, M. (2013, Sep. 09). How Nike Solved Its Sweatshop Problem. Retrieved Nov. 20, 2014, from Business Insider: https://www.businessinsider.com/how-nike-solved-its-sweatshop-problem-2013-5
Schuman, E. (2014, Feb.). New Kicks. Retrieved Nov. 20, 2014, from Cupcakes and Cashmere: https://cupcakesandcashmere.com/fashion/new-kicks
Seeking alpha . (2014, Nov. 15). Nike: Goddess Of Victory, Unstoppable Growth Business. Retrieved Nov. 20, 2014, from Seeking Alpha : https://seekingalpha.com/article/2685425-nike-goddess-of-victory-unstoppable-growth-business
Cite this page
SWOT Business Analysis of Nike. (2017, Jun 26). Retrieved from https://studydriver.com/swot-business-analysis-of-nike/
"SWOT Business Analysis of Nike." StudyDriver.com , 26 Jun 2017, https://studydriver.com/swot-business-analysis-of-nike/
StudyDriver.com. (2017). SWOT Business Analysis of Nike . [Online]. Available at: https://studydriver.com/swot-business-analysis-of-nike/ [Accessed: 20 Nov. 2023]
"SWOT Business Analysis of Nike." StudyDriver.com, Jun 26, 2017. Accessed November 20, 2023. https://studydriver.com/swot-business-analysis-of-nike/
"SWOT Business Analysis of Nike," StudyDriver.com , 26-Jun-2017. [Online]. Available: https://studydriver.com/swot-business-analysis-of-nike/ . [Accessed: 20-Nov-2023]
StudyDriver.com. (2017). SWOT Business Analysis of Nike . [Online]. Available at: https://studydriver.com/swot-business-analysis-of-nike/ [Accessed: 20-Nov-2023]
SWOT Business Analysis of Nike. (2017, Jun 26). Retrieved November 20, 2023 , from https://studydriver.com/swot-business-analysis-of-nike/
Save time with Studydriver!
Get in touch with our top writers for a non-plagiarized essays written to satisfy your needs
Stuck on ideas? Struggling with a concept?
A professional writer will make a clear, mistake-free paper for you!
Leave your email and we will send a sample to you.
Please check your inbox
Interested in this topic?
Please indicate where to send you the sample.
Hi! I'm Chatbot Amy :)
I can help you save hours on your homework. Let's start by finding a writer.
Undergraduate
High School
Architecture
American History
Asian History
Antique Literature
American Literature
Asian Literature
Classic English Literature
World Literature
Creative Writing
Linguistics
Criminal Justice
Legal Issues
Anthropology
Archaeology
Political Science
World Affairs
African-American Studies
East European Studies
Latin-American Studies
Native-American Studies
West European Studies
Family and Consumer Science
Social Issues
Women and Gender Studies
Social Work
Natural Sciences
Pharmacology
Earth science
Agriculture
Agricultural Studies
Computer Science
IT Management
Mathematics
Investments
Engineering and Technology
Engineering
Aeronautics
Medicine and Health
Alternative Medicine
Communications and Media
Advertising
Communication Strategies
Public Relations
Educational Theories
Teacher's Career
Chicago/Turabian
Company Analysis
Education Theories
Shakespeare
Canadian Studies
Food Safety
Relation of Global Warming and Extreme Weather Condition
Movie Review
Admission Essay
Annotated Bibliography
Application Essay
Article Critique
Article Review
Article Writing
Book Review
Business Plan
Business Proposal
Capstone Project
Cover Letter
Creative Essay
Dissertation
Dissertation - Abstract
Dissertation - Conclusion
Dissertation - Discussion
Dissertation - Hypothesis
Dissertation - Introduction
Dissertation - Literature
Dissertation - Methodology
Dissertation - Results
GCSE Coursework
Grant Proposal
Marketing Plan
Multiple Choice Quiz
Personal Statement
Power Point Presentation
Power Point Presentation With Speaker Notes
Questionnaire
Reaction Paper
Research Paper
SWOT analysis
Thesis Paper
Online Quiz
Literature Review
Movie Analysis
Statistics problem
Math Problem
All papers examples
How It Works
Money Back Policy
Terms of Use
Privacy Policy
We Are Hiring
Nike, SWOT Analysis Example
Pages: 1
Words: 224
This SWOT analysis was written by one of our professional writers.

You are free to use it as an inspiration or a source for your own work.
Need a custom SWOT analysis written for you?
Nike is well-known for its established reputation and global brand recognition. The company seeks to preserve and expand its market presence through active sponsorship of the major sport events and huge investments in scientific research and development of its footwear. Unfortunately, Nike is not secured from reputation pitfalls: Nike brand is often associated with workforce exploitation and the use of child labor in third world countries. These scandals present the major threat to Nike's reputation. Globalization provides Nike with virtually unlimited expansion opportunities, while scientific approach to product development and brand recognition add their value to Nike's current market position. Nevertheless, Nike should be particularly cautious about globalization and its global expansion threats, including currency exchange losses and increased price sensitivity. In conditions of the economic recession, the company must work to create unique products, which will help Nike to sustain its competitive advantage in the long run.
Stuck with your SWOT analysis?
Get in touch with one of our experts for instant help!
Linux, Research Paper Example
Gun Laws, Violent Crimes, and Public Opinion, Essay Example
Time is precious
don't waste it!
Plagiarism-free guarantee
Privacy guarantee
Secure checkout
Money back guarantee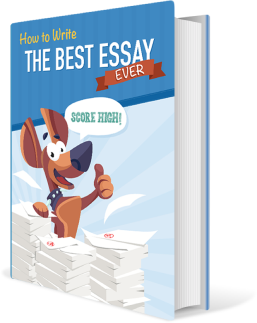 Related SWOT analysis Samples & Examples
Health policy analysis, swot analysis example.
Pages: 5
Words: 1239
Pre-Registration Analysis Plan, SWOT Analysis Examples
Pages: 7
Words: 1897
Jail Based Education, SWOT Analysis Example
Words: 1400
Professional Communication, SWOT Analysis Example
Pages: 3
Words: 825
Statistical Thinking in Health Care, SWOT Analysis Example
Words: 939
Developing a Missile: The Power of Autonomy and Learning, SWOT Analysis Example
Words: 1339
Nike Company: SWOT Analysis
Introduction, situational analysis, swot analysis, strategy formulation, strategic current.
Nike Inc. is one of the largest manufacturers of apparel and design products, primarily focusing on athletic footwear and related products. The company is involved in international trade relations around the world, designing, developing, and manufacturing its original products. This essay will attempt a SWOT analysis to identify the strengths and weaknesses of the company, as well as its potential opportunities and risks. Thus, a full-fledged understanding of the principles of operation on which this brand is based will be created.
In a generalized environment, Nike's loss of demographics due to rising age and declining association with sports is a major concern. Nike strives to show its advantage over other brands in an equal environment, as evidenced, for example, by the brand's long-term coexistence with such titans as Adidas and Reebok. Nike's competitiveness is not in question and is considered to be their strongest force if applied to The Five Forces Analysis. However, their monopoly in the market is complicated by the presence of large rival brands and young companies aiming to take a segment of the market from Nike.
At the same time, it should be borne in mind that in the modern world, the competition between rival companies is becoming more and more aggressive. Accordingly, opposing companies may use methods that are outside the ethical sphere of Nike. At the same time, companies are additionally threatened by constantly emerging young companies that are more energetic and position themselves as "killers" of big brands. This term means that young companies provide an alternative to a popular brand that is of lower quality in production but significantly more affordable. Thus, the company is deprived of a large segment of the market, which requires additional financial influence to replenish, which is also unprofitable for the company.
Speaking about the strengths of the Nike brand, the first thing that draws attention to itself is its grandiose scale. Nike's signature checkmark and its iconic "Just Do It" slogan has proven to be extremely effective in influencing a mass audience. The already established popularity of the brand, provided by outstanding design and marketing solutions, is perhaps its main strength. The established reputation of the brand and its widespread popularity allow Nike, as a company focused on sportswear, to enter into collaborations with famous athletes. Thus, the star power of the brand is only further enhanced by the mutually beneficial contract concluded with the sports star. A large amount of the company's budget is spent on creative advertising and marketing, which ensures its popularity.
Nike is distributed all over the world, but its production principle consists of the refusal to localize production. The company's activities can be described as mobile because the company is in constant search of financially profitable production options. The logistics industry of the company operates according to the philosophy of globalization, in which the most successful business is supported by the presence of transnational ties. However, at the moment, such principles of production are more of a difficulty for the company than an advantage.
The situation of border closure and sanitary restrictions on production conditions cannot but impose a great additional burden on the company's activities. Thus, production slowed down in the era of a pandemic represents an impressive weakness for the company. It should be noted, however, that Nike was able to capitalize on its reputation in the era of the pandemic by donating over 30,000 pairs of specifically designed shoes to frontline medical workers (Johnson, 2020). However, the company still requires some restructuring in the production and localization aspects to be prepared for similar emergencies on a global scale in the future.
Perhaps at this stage of the company's existence, Nike, with such brand appeal and power of influence, could expand its production space. This implies that the brand could go beyond sportswear design. A feasible opportunity for Nike is product diversification, which is also offering a fresh design perspective that characterizes the company. The company is the largest in its industry, but at the same time, its principle of market dominance is conditioned by the defined by healthy competition, which has its threats.
Thus, a possible strategy is a thoughtful and advertised entry into other manufacturing industries, for example, covering the entire market of sports accessories. Nike could also develop a more profitable and more affordable line of budget footwear that would expand the brand's reach without putting additional pressure on production. The process of diversification, bringing variety to its range of products, could easily take Nike to other markets.
At the same time, the strength of the brand will be impressive enough for Nike to be effectively protected from financial failure. An alternative strategy to building competence would be to cross alliances with other companies that pose a threat to Nike. By teaming up with cheaper manufacturing forces, the company could develop more affordable footwear, and expand its sphere of influence, while neutralizing competitive young firms.
Thus, in the last part of the work, it is required to give a balanced assessment of the implementation of the above strategies. First of all, the company needs to expand its workforce to include designers and manufacturers of other accessories, such as glasses or sporting goods. Then it is required to determine the place of production, but at the same time to avoid criticism for harmful manufacturing and air pollution. In parallel with the production of new series of products, Nike needs to develop a special advertising campaign. Perhaps given the already committed contracts with sports stars, Nike should involve celebrities in advertising to ensure public attention. Thus, taking into account all the strengths, weaknesses, and external threats, Nike will have the opportunity to bypass its competitors and seize new markets.
Johnson, L. M. (2020). Nike will donate 30,000 shoes to frontline workers fighting Covid-19 . CNN Business. Web.
Cite this paper
Select style
Chicago (A-D)
Chicago (N-B)
BusinessEssay. (2023, January 16). Nike Company: SWOT Analysis. Retrieved from https://business-essay.com/nike-company-swot-analysis/
BusinessEssay. (2023, January 16). Nike Company: SWOT Analysis. https://business-essay.com/nike-company-swot-analysis/
"Nike Company: SWOT Analysis." BusinessEssay , 16 Jan. 2023, business-essay.com/nike-company-swot-analysis/.
BusinessEssay . (2023) 'Nike Company: SWOT Analysis'. 16 January.
BusinessEssay . 2023. "Nike Company: SWOT Analysis." January 16, 2023. https://business-essay.com/nike-company-swot-analysis/.
1. BusinessEssay . "Nike Company: SWOT Analysis." January 16, 2023. https://business-essay.com/nike-company-swot-analysis/.
Bibliography
BusinessEssay . "Nike Company: SWOT Analysis." January 16, 2023. https://business-essay.com/nike-company-swot-analysis/.
IBM: Analyzing the Financial Situation
American Express: Financial Analysis
AT&T TOWS Analysis: The Network of the Future
Netflix Case Study Report: Brief History
Starbucks Company's Overview and Competitor Analysis
The Tesla Firm's Business Model Within the Industry
Analysis of the Russet Cup Cafe
Southwest Airlines Company and Employees' Role in It
The Walt Disney Company's Marketing Transformations
Carnival Corporation's Organizational Analysis