Skip to primary navigation
Skip to main content
Skip to primary sidebar
Skip to footer
Raise the Bar Reading
A Reading Teacher's Blog
Teaching Narrative Writing in 1st, 2nd, and 3rd Grade
When teaching narrative writing in 1st, 2nd, and 3rd grade, there are so many writing skills to cover. They range from creating a sequence of events (beginning, middle, and end) to more difficult skills like building strong characterization. With a class full of students at such varying levels of writing, it can be overwhelming to think of where to start with your narrative writing unit.  
Narrative writing can be one of the most motivational types of writing for students since the topics can be something they feel connected to in their own lives.  Personal narratives allow them to talk about their own experiences they want to share, and fictional narratives let students create a story about absolutely anything that they want!  
As you can see in the chart below, students are expected to do a little bit more with narrative writing as they grow as writers from 1 st to 3 rd grade.
So, 1 st grade focuses on developing sequenced events (beginning, middle, end). With 2 nd and 3 rd grade, the focus is creating a hook/opening, events (beginning, middle, end), and a closing. In 2 nd and 3 rd grade students also need to begin to develop characterization.
For young writers learning such a new, specific format of writing, it is really important to break it up into small, clear steps.
Below is how I tackle narrative writing step by step:
INTRODUCE NARRATIVE WRITING:
First, I explain what a narrative is with visuals and examples. I go through a pre-written narrative writing example. These examples will differ depending on whether we are working on writing fictional narratives or personal narratives.
We identify and discuss each part of the piece of writing. For first graders that means the beginning, middle, and end. For second and third graders, that means an opening, events (beginning, middle and end), and closing.
GUIDED WHOLE GROUP PRACTICE:
I like to model the actual process of writing a narrative as well. With modeling a personal narrative, I like to pick an experience we have had in school that year so that it is easy for students to participate. I keep this model basic and clear so that students are not overwhelmed in what they need to produce in their first piece of narrative writing. While modeling, I refer to the prewritten example that I provided earlier. I also display sentence starters and transitions to use as a guide.
INDEPENDENT NARRATIVE WRITING PRACTICE:
First, students can practice the narrative format by using picture prompts for beginning, middle, and end. They use the visuals to describe what happens from the beginning to the end of their story.
Next, it's time for students to begin fictional narrative or personal narrative writing from scratch! At first, I usually provide a writing prompt for the entire class that is easily relatable. The prompts will vary depending on if we are working on writing personal narratives ("Tell about a time when…") or fictional narratives ("Write a story about…"). However, you could also give multiple options or have students develop their own individual topics.
During the prewriting phase of the writing process, students brainstorm using graphic organizers.
I like give students two graphic organizers – one for them to first brainstorm ideas for their drafts, and then one to organize their ideas into a narrative writing format.
While writing their drafts, students can refer to sentence starters to help guide them in writing their stories.
After writing their drafts, I give students an editing checklist to use as a reference. This makes it easier for them to make sure they have included each part of a piece of narrative writing.
TARGET NARRATIVE WRITING SKILLS:
As students are ready, I target specific narrative writing skills either as a whole class, or with just a small group that is ready for taking their writing to the next level.
To introduce a particular narrative writing skill (i.e. writing narrative hooks), I display a poster that is student-friendly with visuals and examples. Then, I have graphic organizers or practice pages that students can use to work through each strategy on their own.
Most students will need help with the following narrative skills:
Writing a Strong Narrative Hook:
Breaking narrative hooks down by hook types is so helpful for giving them some tools for creating their own leads. Grab the posters below and a couple practice writing pages for free here .
Writing a Strong Narrative Ending:
Similar to writing hooks, breaking down narrative endings by type is also a helpful way for students to try out different closings for their piece of writing.
Small Moments Writing:
So often, personal narratives can just turn into a list of moments in order. By teaching and practicing small moments writing , students can see how much more powerful their writing becomes when they zoom in on the most important moment in their story.
Describing Characters:
When teaching narrative writing in 2 nd grade, students need to learn to describe characters by their actions, thoughts, and feelings. By 3 rd grade, the Common Core asks that students also use dialogue to develop characterization in their writing.
Describing Character Feelings
You can display a poster of different ways to describe similar feelings to build stronger word choice in their writing. Students can use this poster to go through and edit their word choice in their own piece of writing.
Using Fiction Story Elements:
You can have students prewrite with story elements graphic organizers to ensure they hit each element in their own writing.
ONGOING NARRATIVE WRITING PRACTICE:
I love using fictional narrative and personal narrative journals to provide students with tons of ongoing practice! I use them as informal free-writes just for continual practice, but some or all of the entries could be used for writing pieces that go through the writing process (prewriting, drafting, editing, revising, and publishing) as well.
All of the materials shown in this blog post for teaching narrative writing in 1st, 2nd, and 3rd grade can be found in the Narrative Writing Unit in my TpT shop!
Next: Teaching Opinion Writing in the Primary Grades
Copyright 2021 Raise the Bar Reading
Customized by Laine Sutherland Design
Language & Grammar
Science & Social Studies
Digital Learning
Teaching narrative writing tips and activities.
Last week, I walked you through how I thought Opinion Writing should be taught! Today, you're going to get teaching narrative writing tips. Like the last week, I'm going to share best practices I think are best, mentor text suggestions, and even a closer look at Common Core expectations. I hope you can walk away with ideas, activities, and inspiration for your narrative writing lesson plans. All of the images you see below (except for the read-alouds) are part of my ELA writing units. The links to all grade levels are at the bottom!
Time to check grade level expectations from Common Core
Common Core writing domain focuses on three big types of writing: informative, narrative, and today's topic OPINION WRITING! It begins kindergarten and each year, gets progressively more in depth and detailed. Here is a look at K-5's expectations for opinion writing, according to Common Core.
Primary Standards:
Kinder: Use a combination of drawing, dictating, and writing to narrate a single event or several loosely linked events, tell about the events in the order in which they occurred, and provide a reaction to what happened.
1st: Write narratives in which they recount two or more appropriately sequenced events, include some details regarding what happened, use temporal words to signal event order, and provide some sense of closure.
2nd: Write narratives in which they recount a well-elaborated event or short sequence of events, include details to describe actions, thoughts, and feelings, use temporal words to signal event order, and provide a sense of closure.
Intermediate (3rd and 4th) Standards:
3rd: Write narratives to develop real or imagined experiences or events using effective technique, descriptive details, and clear event sequences. (a- Establish a situation and introduce a narrator and/or characters; organize an event sequence that unfolds naturally.) (b- Use dialogue and descriptions of actions, thoughts, and feelings to develop experiences and events or show the response of characters to situations.) (c- Use temporal words and phrases to signal event order.) (d- Provide a sense of closure.)
4th: Write narratives to develop real or imagined experiences or events using effective technique, descriptive details, and clear event sequences. (a- Orient the reader by establishing a situation and introducing a narrator and/or characters; organize an event sequence that unfolds naturally.) (b- Use dialogue and description to develop experiences and events or show the responses of characters to situations.) (c- Use a variety of transitional words and phrases to manage the sequence of events.) (d- Use concrete words and phrases and sensory details to convey experiences and events precisely.) (e- Provide a conclusion that follows from the narrated experiences or events.)
Outline of narrative writing teaching unit…
What is narrative writing?
Teaching the difference between big events and small moments
Write an introduction
Sequencing events
Teaching how to write conclusions
Tying it all together & practice opportunities
Stock up on your narrative writing mentor texts!
All of the pieces within this blog post should have a mentor text example along with it. Each time you teach your students about a component of narrative writing, use a strong example! Each of the book links below are affiliate links to Amazon.
What You Know First by Patricia Maclachlan
Every Friday by Dan Yaccarino
Fireflies by Julie Brinckloe
Owl Moon by Jane Yolen
Bigmama's by Donald Crews
Knuffle Bunny by Mo Willems
Roller Coaster by Maria Frazee
Chicken Sunday by Patricia Polacco
When I Was Young in the Mountains by Cynthia Rylant
Enemy Pie by Derek Munson
The Relatives Came by Cynthia Rylant
Last Stop on Market Street by Matt de la Pena
Let's begin… Start by teaching WHAT narrative writing is.
First, we are going to kick off our writing unit with teaching WHAT narrative writing is and how it's different from the other big writing pieces. Since it is one of the three types of writing pieces, it's important for students to really understand what goes into personal narratives and fictional narratives. The big components I'm going to talk about in this blog post (focused towards K-4) is introduction, events (we will get more in detail later), and conclusion. It's important that students understand all the pieces of that before they try writing their own.
It is also important for students to recognize the difference between personal narratives and fictional narratives. Since they're going to be asked to write both types of narrative writing pieces throughout their units (links below), it's important they know what goes into each one.
After you introduce narrative writing and teach the types of narrative writing, give them some activities to help them practice determine what parts of the story they're listening to or reading. One activity is a story read aloud. The teacher will read aloud a sample personal narrative, then he or she will reread it one sentence at a time. Then, students will turn and talk with a partner to identify if that sentence is part of the introduction, events, details, or conclusion. Another activity they can do is a fold-and-snip book where they lift a flap and write a sample sentence under each (or they can write the purpose of each personal narrative component).
Teach big event & small moments
Now it's time to teach about big events and small moments. When you're teaching narrative writing, it gets tricky for younger students to differentiate between big events that happened and smaller moments within those moments. For example, a big event would be taking a trip to Disney World. But focusing on a smaller moment within that event could be meeting Cinderella or riding the new Avatar roller coaster. This helps students focus in on writing more specific details, feelings, and actions when they're writing their narratives.
Give the students lots of practice with big events and small moments. With partners and groups, give students an example big event and ask them to come up with sample smaller moments. First, give them specific big events on a smaller circle map. Then, ask them to come up with their own big event examples.
Move on to introductions
Students will now be ready to move on to introductions because you taught them components and small moments. They're ready to start practicing! First, you need to introduce introductions (mouthful, right?) You'll teach them the different ways that you can introduce their narrative and hook their reader. Then, you'll let them practice identifying sample introductions. This will benefit them in two ways. One way is that they're getting tons of exposure to different examples of strong introductions. Another way is that they'll be comfortable with the different types of introductions, which are using dialogue, asking questions, giving details, giving facts, using onomatopoeia, and using emotion.
Once they've listened to mentor texts and practiced with strong examples, it's time for them to start practicing coming up with their own. First, ask students to work with a partner to come up with a clever introduction when they see a picture card. Then, they can practice writing a sentence or two on a worksheet when giving a topic.
Teach how to sequence events
After your students practice introduction, you can get into the bulk of your writing… the events. This is one of the hardest parts of teaching narrative writing because the majority of the story detail is in this piece of their writing. Within the body, students are going to cover the sequenced events, details, feelings, actions, and emotions.
One way to ask them to practice this is by showing them sequenced events on a picture strip. This shows details of a story line that students can verbally discuss with a partner. After they study the pictures, they can try to create 3 sentences for each picture to describe the events. A big focus of this part of narrative writing is temporal words, or words such as first, next, then, last. This will help students be able to organize their events in a chronological order.
Another way to help kids with events is to show them strong mentor texts as examples. When reading aloud a story, such as Owl Moon, it is important for the teacher to stop and discuss when they find new events and details that the author has provided. Then, students can write about the 'first, next, then, and the last events in the text they read.
Don't forget to include details when you're teaching narrative writing. If you look at the Common Core standards listed above, you will see that second grade is the age that students are expected to start adding details. They're expected to start using feelings and actions to help explain their story. Give them lots of practice opportunities to perfect adding these into a story.
Teaching narrative writing conclusions
And finally, we will move onto conclusions in narrative writing. When you're teaching narrative writing, it's important that students know the different types of conclusions, like giving a suggestion, asking a question, or describing a vivid image. First, you can read a few mentor texts' conclusions to show examples. Then, you can ask them to come up with their own examples after learning about each specific type.
After a few activities that show students different examples of all types of conclusions, let them practice coming up with their own when they're given a topic.
Tying narrative writing all together
And now for the fun part!
Finally, you've taught all the pieces of your narrative writing unit. Therefore, it's time to practice, practice, practice. Choose high-interest and engaging topics for students to write about. Give them lots of different prompts to pick from. Provide them with scaffolded graphic organizers that will help them brainstorm and pre-write. They're going to rock those narratives!
FREE WRITING ACTIVITY 
When you sign up, you'll be delivered this FREE WRITING ACTIVITY directly to your email inbox.
Are you ready for some Narrative Writing Resources?
Kindergarten Narrative Writing
1st Grade Narrative Writing
2nd Grade Narrative Writing
3rd Grade Narrative Writing
4th Grade Narrative Writing
Want more writing blog posts for ideas and tips?
How to teach opinion writing
Tying writing into your math block
Warming up for your writing block
How to make their writing interactive
Read more about: Common Core Aligned , Uncategorized , Writing Blog Posts
You might also like...
Help Your Elementary Students Master Context Clues with These Three Anchor Charts
Context clues are vital tools that help students determine and decipher the meanings of unfamiliar words when reading. As an elementary English Language Arts teacher,
How to Fit Science Into Your Instruction
Science isn't just a subject to teach—it's a way of thinking and exploring the world around us. Integrating science into your elementary classroom doesn't have
5 Ways to Make Social Studies More Engaging
Engaging students in the world of social studies goes beyond learning dates and facts—it's about immersing them in history, cultures, and communities to ignite their
Join these happy teachers
Join the email list.
Get teaching tips, how-to guides, and freebies delivered right to your inbox every Wednesday!
Hi, I'm Jessica
I help elementary teachers master the standards by providing helpful standards-based tips, guides, and resources.
Let's Connect
Access your purchases
© Elementary Nest • Website by KristenDoyle.co
A Step-by-Step Plan for Teaching Narrative Writing
July 29, 2018
Can't find what you are looking for? Contact Us
Listen to this post as a podcast:
Sponsored by Peergrade and Microsoft Class Notebook
This post contains Amazon Affiliate links. When you make a purchase through these links, Cult of Pedagogy gets a small percentage of the sale at no extra cost to you.
"Those who tell the stories rule the world."  This proverb, attributed to the Hopi Indians, is one I wish I'd known a long time ago, because I would have used it when teaching my students the craft of storytelling. With a well-told story we can help a person see things in an entirely new way. We can forge new relationships and strengthen the ones we already have. We can change a law, inspire a movement, make people care fiercely about things they'd never given a passing thought.
But when we study storytelling with our students, we forget all that. Or at least I did. When my students asked why we read novels and stories, and why we wrote personal narratives and fiction, my defense was pretty lame: I probably said something about the importance of having a shared body of knowledge, or about the enjoyment of losing yourself in a book, or about the benefits of having writing skills in general.
I forgot to talk about the  power of story. I didn't bother to tell them that the ability to tell a captivating story is one of the things that makes human beings extraordinary. It's how we connect to each other. It's something to celebrate, to study, to perfect. If we're going to talk about how to teach students to write stories, we should start by thinking about why we tell stories at all . If we can pass that on to our students, then we will be going beyond a school assignment; we will be doing something transcendent.
Now. How do we get them to write those stories? I'm going to share the process I used for teaching narrative writing. I used this process with middle school students, but it would work with most age groups.
A Note About Form: Personal Narrative or Short Story?
When teaching narrative writing, many teachers separate personal narratives from short stories. In my own classroom, I tended to avoid having my students write short stories because personal narratives were more accessible. I could usually get students to write about something that really happened, while it was more challenging to get them to make something up from scratch.
In the "real" world of writers, though, the main thing that separates memoir from fiction is labeling: A writer might base a novel heavily on personal experiences, but write it all in third person and change the names of characters to protect the identities of people in real life. Another writer might create a short story in first person that reads like a personal narrative, but is entirely fictional. Just last weekend my husband and I watched the movie Lion and were glued to the screen the whole time, knowing it was based on a true story. James Frey's book  A Million Little Pieces  sold millions of copies as a memoir but was later found to contain more than a little bit of fiction. Then there are unique books like Curtis Sittenfeld's brilliant novel American Wife , based heavily on the early life of Laura Bush but written in first person, with fictional names and settings, and labeled as a work of fiction. The line between fact and fiction has always been really, really blurry, but the common thread running through all of it is good storytelling.
With that in mind, the process for teaching narrative writing can be exactly the same for writing personal narratives or short stories; it's the same skill set. So if you think your students can handle the freedom, you might decide to let them choose personal narrative or fiction for a narrative writing assignment, or simply tell them that whether the story is true doesn't matter, as long as they are telling a good story and they are not trying to pass off a fictional story as fact.
Here are some examples of what that kind of flexibility could allow:
A student might tell a true story from their own experience, but write it as if it were a fiction piece, with fictional characters, in third person.
A student might create a completely fictional story, but tell it in first person, which would give it the same feel as a personal narrative.
A student might tell a true story that happened to someone else, but write it in first person, as if they were that person. For example, I could write about my grandmother's experience of getting lost as a child, but I might write it in her voice.
If we aren't too restrictive about what we call these pieces, and we talk about different possibilities with our students, we can end up with lots of interesting outcomes. Meanwhile, we're still teaching students the craft of narrative writing.
A Note About Process: Write With Your Students
One of the most powerful techniques I used as a writing teacher was to do my students' writing assignments with them. I would start my own draft at the same time as they did, composing "live" on the classroom projector, and doing a lot of thinking out loud so they could see all the decisions a writer has to make.
The most helpful parts for them to observe were the early drafting stage, where I just scratched out whatever came to me in messy, run-on sentences, and the revision stage, where I crossed things out, rearranged, and made tons of notes on my writing. I have seen over and over again how witnessing that process can really help to unlock a student's understanding of how writing actually gets made.
A Narrative Writing Unit Plan
Before I get into these steps, I should note that there is no one right way to teach narrative writing, and plenty of accomplished teachers are doing it differently and getting great results. This just happens to be a process that has worked for me.
Step 1: Show Students That Stories Are Everywhere
Getting our students to tell stories should be easy. They hear and tell stories all the time. But when they actually have to put words on paper, they forget their storytelling abilities: They can't think of a topic. They omit relevant details, but go on and on about irrelevant ones. Their dialogue is bland. They can't figure out how to start. They can't figure out how to end.
So the first step in getting good narrative writing from students is to help them see that they are already telling stories every day . They gather at lockers to talk about that thing that happened over the weekend. They sit at lunch and describe an argument they had with a sibling. Without even thinking about it, they begin sentences with "This one time…" and launch into stories about their earlier childhood experiences. Students are natural storytellers; learning how to do it well on paper is simply a matter of studying good models, then imitating what those writers do.
So start off the unit by getting students to tell their stories. In journal quick-writes, think-pair-shares, or by playing a game like Concentric Circles , prompt them to tell some of their own brief stories: A time they were embarrassed. A time they lost something. A time they didn't get to do something they really wanted to do. By telling their own short anecdotes, they will grow more comfortable and confident in their storytelling abilities. They will also be generating a list of topic ideas. And by listening to the stories of their classmates, they will be adding onto that list and remembering more of their own stories.
And remember to tell some of your own. Besides being a good way to bond with students, sharing  your stories will help them see more possibilities for the ones they can tell.
Step 2: Study the Structure of a Story
Now that students have a good library of their own personal stories pulled into short-term memory, shift your focus to a more formal study of what a story looks like.
Use a diagram to show students a typical story arc like the one below. Then, using a simple story—like this Coca Cola commercial —fill out the story arc with the components from that story. Once students have seen this story mapped out, have them try it with another one, like a story you've read in class, a whole novel, or another short video.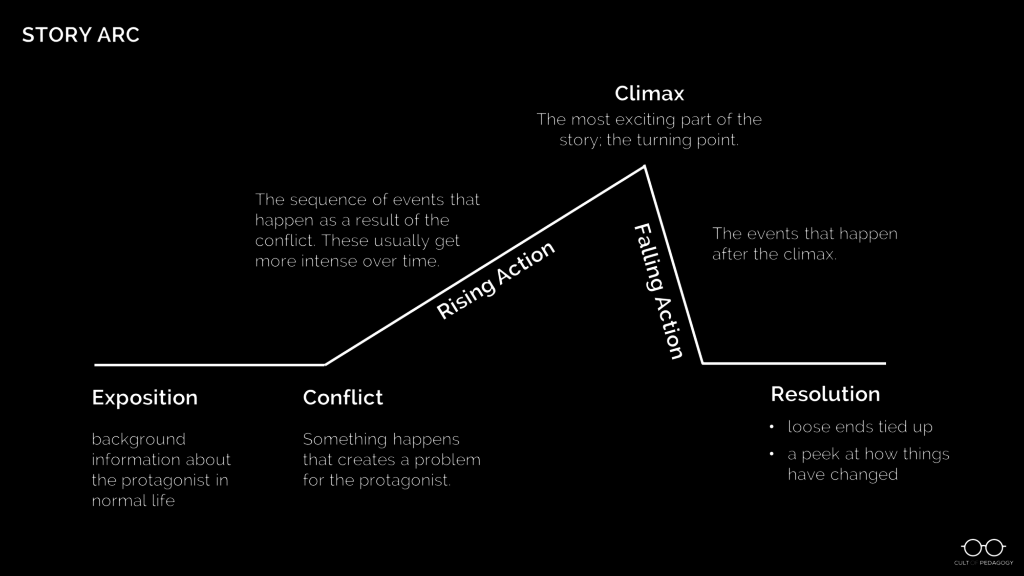 Step 3: Introduce the Assignment
Up to this point, students have been immersed in storytelling. Now give them specific instructions for what they are going to do. Share your assignment rubric so they understand the criteria that will be used to evaluate them; it should be ready and transparent right from the beginning of the unit. As always, I recommend using a single point rubric for this.
Step 4: Read Models
Once the parameters of the assignment have been explained, have students read at least one model story, a mentor text that exemplifies the qualities you're looking for. This should be a story on a topic your students can kind of relate to, something they could see themselves writing. For my narrative writing unit (see the end of this post), I wrote a story called "Frog" about a 13-year-old girl who finally gets to stay home alone, then finds a frog in her house and gets completely freaked out, which basically ruins the fun she was planning for the night.
They will be reading this model as writers, looking at how the author shaped the text for a purpose, so that they can use those same strategies in their own writing. Have them look at your rubric and find places in the model that illustrate the qualities listed in the rubric. Then have them complete a story arc for the model so they can see the underlying structure.
Ideally, your students will have already read lots of different stories to look to as models. If that isn't the case, this list of narrative texts recommended by Cult of Pedagogy followers on Twitter would be a good place to browse for titles that might be right for your students. Keep in mind that we have not read most of these stories, so be sure to read them first before adopting them for classroom use.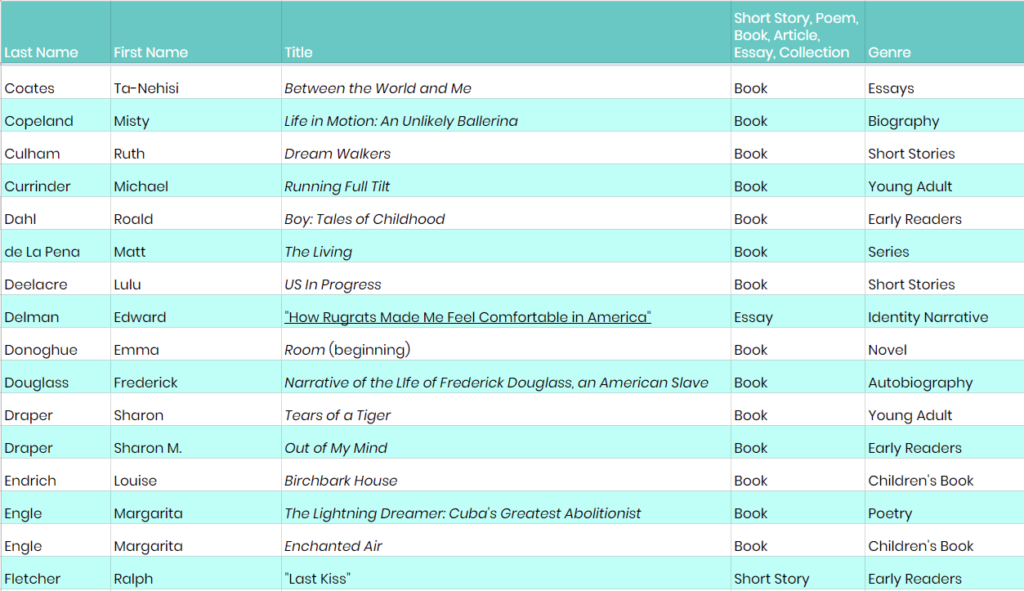 Click the image above to view the full list of narrative texts recommended by Cult of Pedagogy followers on Twitter. If you have a suggestion for the list, please email us through our contact page.
Step 5: Story Mapping
At this point, students will need to decide what they are going to write about. If they are stuck for a topic, have them just pick something they can write about, even if it's not the most captivating story in the world. A skilled writer could tell a great story about deciding what to have for lunch. If they are using the skills of narrative writing, the topic isn't as important as the execution.
Have students complete a basic story arc for their chosen topic using a diagram like the one below. This will help them make sure that they actually have a story to tell, with an identifiable problem, a sequence of events that build to a climax, and some kind of resolution, where something is different by the end. Again, if you are writing with your students, this would be an important step to model for them with your own story-in-progress.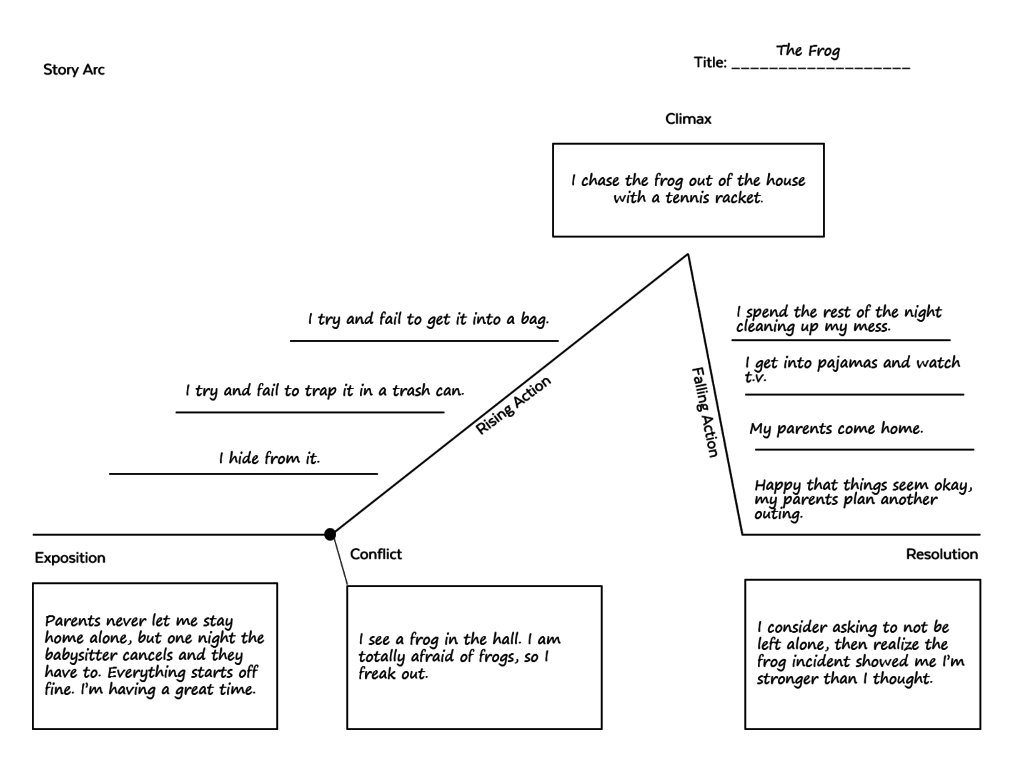 Step 6: Quick Drafts
Now, have students get their chosen story down on paper as quickly as possible: This could be basically a long paragraph that would read almost like a summary, but it would contain all the major parts of the story. Model this step with your own story, so they can see that you are not shooting for perfection in any way. What you want is a working draft, a starting point, something to build on for later, rather than a blank page (or screen) to stare at.
Step 7: Plan the Pacing
Now that the story has been born in raw form, students can begin to shape it. This would be a good time for a lesson on pacing, where students look at how writers expand some moments to create drama and shrink other moments so that the story doesn't drag. Creating a diagram like the one below forces a writer to decide how much space to devote to all of the events in the story.
Before students write a full draft, have them plan out the events in their story with a pacing diagram, a visual representation of how much "space" each part of the story is going to take up.
Step 8: Long Drafts
With a good plan in hand, students can now slow down and write a proper draft, expanding the sections of their story that they plan to really draw out and adding in more of the details that they left out in the quick draft.
Step 9: Workshop
Once students have a decent rough draft—something that has a basic beginning, middle, and end, with some discernible rising action, a climax of some kind, and a resolution, you're ready to shift into full-on workshop mode. I would do this for at least a week: Start class with a short mini-lesson on some aspect of narrative writing craft, then give students the rest of the period to write, conference with you, and collaborate with their peers. During that time, they should focus some of their attention on applying the skill they learned in the mini-lesson to their drafts, so they will improve a little bit every day.
Topics for mini-lessons can include:
How to weave exposition into your story so you don't give readers an "information dump"
How to carefully select dialogue to create good scenes, rather than quoting everything in a conversation
How to punctuate and format dialogue so that it imitates the natural flow of a conversation
How to describe things using sensory details and figurative language; also,  what  to describe…students too often give lots of irrelevant detail
How to choose precise nouns and vivid verbs, use a variety of sentence lengths and structures, and add transitional words, phrases, and features to help the reader follow along
How to start, end, and title a story
Step 10: Final Revisions and Edits
As the unit nears its end, students should be shifting away from revision , in which they alter the content of a piece, toward editing , where they make smaller changes to the mechanics of the writing. Make sure students understand the difference between the two: They should not be correcting each other's spelling and punctuation in the early stages of this process, when the focus should be on shaping a better story.
One of the most effective strategies for revision and editing is to have students read their stories out loud. In the early stages, this will reveal places where information is missing or things get confusing. Later, more read-alouds will help them immediately find missing words, unintentional repetitions, and sentences that just "sound weird." So get your students to read their work out loud frequently. It also helps to print stories on paper: For some reason, seeing the words in print helps us notice things we didn't see on the screen.
To get the most from peer review, where students read and comment on each other's work, more modeling from you is essential: Pull up a sample piece of writing and show students how to give specific feedback that helps, rather than simply writing "good detail" or "needs more detail," the two comments I saw exchanged most often on students' peer-reviewed papers.
Step 11: Final Copies and Publication
Once revision and peer review are done, students will hand in their final copies. If you don't want to get stuck with 100-plus papers to grade, consider using Catlin Tucker's station rotation model , which keeps all the grading in class. And when you do return stories with your own feedback, try using Kristy Louden's delayed grade strategy , where students don't see their final grade until they have read your written feedback.
Beyond the standard hand-in-for-a-grade, consider other ways to have students publish their stories. Here are some options:
Stories could be published as individual pages on a collaborative website or blog.
Students could create illustrated e-books out of their stories.
Students could create a slideshow to accompany their stories and record them as digital storytelling videos. This could be done with a tool like Screencastify or Screencast-O-Matic .
So this is what worked for me. If you've struggled to get good stories from your students, try some or all of these techniques next time. I think you'll find that all of your students have some pretty interesting stories to tell. Helping them tell their stories well is a gift that will serve them for many years after they leave your classroom. ♦
Want this unit ready-made?
If you're a writing teacher in grades 7-12 and you'd like a classroom-ready unit like the one described above, including slideshow mini-lessons on 14 areas of narrative craft, a sample narrative piece, editable rubrics, and other supplemental materials to guide students through every stage of the process, take a look at my Narrative Writing unit . Just click on the image below and you'll be taken to a page where you can read more and see a detailed preview of what's included.
What to Read Next
Categories: Instruction , Podcast
Tags: English language arts , Grades 6-8 , Grades 9-12 , teaching strategies
50 Comments
Wow, this is a wonderful guide! If my English teachers had taught this way, I'm sure I would have enjoyed narrative writing instead of dreading it. I'll be able to use many of these suggestions when writing my blog! BrP
Lst year I was so discouraged because the short stories looked like the quick drafts described in this article. I thought I had totally failed until I read this and realized I did not fai,l I just needed to complete the process. Thank you!
I feel like you jumped in my head and connected my thoughts. I appreciate the time you took to stop and look closely at form. I really believe that student-writers should see all dimensions of narrative writing and be able to live in whichever style and voice they want for their work.
Can't thank you enough for this. So well curated that one can just follow it blindly and ace at teaching it. Thanks again!
Great post! I especially liked your comments about reminding kids about the power of storytelling. My favourite podcasts and posts from you are always about how to do things in the classroom and I appreciate the research you do.
On a side note, the ice breakers are really handy. My kids know each other really well (rural community), and can tune out pretty quickly if there is nothing new to learn about their peers, but they like the games (and can remember where we stopped last time weeks later). I've started changing them up with 'life questions', so the editable version is great!
I love writing with my students and loved this podcast! A fun extension to this narrative is to challenge students to write another story about the same event, but use the perspective of another "character" from the story. Books like Wonder (R.J. Palacio) and Wanderer (Sharon Creech) can model the concept for students.
Thank you for your great efforts to reveal the practical writing strategies in layered details. As English is not my first language, I need listen to your podcast and read the text repeatedly so to fully understand. It's worthy of the time for some great post like yours. I love sharing so I send the link to my English practice group that it can benefit more. I hope I could be able to give you some feedback later on.
Thank you for helping me get to know better especially the techniques in writing narrative text. Im an English teacher for 5years but have little knowledge on writing. I hope you could feature techniques in writing news and fearute story. God bless and more power!
Thank you for this! I am very interested in teaching a unit on personal narrative and this was an extremely helpful breakdown. As a current student teacher I am still unsure how to approach breaking down the structures of different genres of writing in a way that is helpful for me students but not too restrictive. The story mapping tools you provided really allowed me to think about this in a new way. Writing is such a powerful way to experience the world and more than anything I want my students to realize its power. Stories are how we make sense of the world and as an English teacher I feel obligated to give my students access to this particular skill.
The power of story is unfathomable. There's this NGO in India doing some great work in harnessing the power of storytelling and plots to brighten children's lives and enlighten them with true knowledge. Check out Katha India here: http://bit.ly/KathaIndia
Thank you so much for this. I did not go to college to become a writing professor, but due to restructuring in my department, I indeed am! This is a wonderful guide that I will use when teaching the narrative essay. I wonder if you have a similar guide for other modes such as descriptive, process, argument, etc.?
Hey Melanie, Jenn does have another guide on writing! Check out A Step-by-Step Plan for Teaching Argumentative Writing .
Hi, I am also wondering if there is a similar guide for descriptive writing in particular?
Hey Melanie, unfortunately Jenn doesn't currently have a guide for descriptive writing. She's always working on projects though, so she may get around to writing a unit like this in the future. You can always check her Teachers Pay Teachers page for an up-to-date list of materials she has available. Thanks!
I want to write about the new character in my area
That's great! Let us know if you need any supports during your writing process!
I absolutely adore this unit plan. I teach freshmen English at a low-income high school and wanted to find something to help my students find their voice. It is not often that I borrow material, but I borrowed and adapted all of it in the order that it is presented! It is cohesive, understandable, and fun. Thank you!!
So glad to hear this, Nicole!
Thanks sharing this post. My students often get confused between personal narratives and short stories. Whenever I ask them to write a short story, she share their own experiences and add a bit of fiction in it to make it interesting.
Thank you! My students have loved this so far. I do have a question as to where the "Frog" story mentioned in Step 4 is. I could really use it! Thanks again.
This is great to hear, Emily! In Step 4, Jenn mentions that she wrote the "Frog" story for her narrative writing unit . Just scroll down the bottom of the post and you'll see a link to the unit.
I also cannot find the link to the short story "Frog"– any chance someone can send it or we can repost it?
This story was written for Jenn's narrative writing unit. You can find a link to this unit in Step 4 or at the bottom of the article. Hope this helps.
I cannot find the frog story mentioned. Could you please send the link.? Thank you
Hi Michelle,
The Frog story was written for Jenn's narrative writing unit. There's a link to this unit in Step 4 and at the bottom of the article.
Debbie- thanks for you reply… but there is no link to the story in step 4 or at the bottom of the page….
Hey Shawn, the frog story is part of Jenn's narrative writing unit, which is available on her Teachers Pay Teachers site. The link Debbie is referring to at the bottom of this post will take you to her narrative writing unit and you would have to purchase that to gain access to the frog story. I hope this clears things up.
Thank you so much for this resource! I'm a high school English teacher, and am currently teaching creative writing for the first time. I really do value your blog, podcast, and other resources, so I'm excited to use this unit. I'm a cyber school teacher, so clear, organized layout is important; and I spend a lot of time making sure my content is visually accessible for my students to process. Thanks for creating resources that are easy for us teachers to process and use.
Do you have a lesson for Informative writing?
Hey Cari, Jenn has another unit on argumentative writing , but doesn't have one yet on informative writing. She may develop one in the future so check back in sometime.
I had the same question. Informational writing is so difficult to have a good strong unit in when you have so many different text structures to meet and need text-dependent writing tasks.
Creating an informational writing unit is still on Jenn's long list of projects to get to, but in the meantime, if you haven't already, check out When We All Teach Text Structures, Everyone Wins . It might help you out!
This is a great lesson! It would be helpful to see a finished draft of the frog narrative arc. Students' greatest challenge is transferring their ideas from the planner to a full draft. To see a full sample of how this arc was transformed into a complete narrative draft would be a powerful learning tool.
Hi Stacey! Jenn goes into more depth with the "Frog" lesson in her narrative writing unit – this is where you can find a sample of what a completed story arc might look. Also included is a draft of the narrative. If interested in checking out the unit and seeing a preview, just scroll down to the bottom of the post and click on the image. Hope this helps!
Helped me learn for an entrance exam thanks very much
Is the narrative writing lesson you talk about in https://www.cultofpedagogy.com/narrative-writing/
Also doable for elementary students you think, and if to what levels?
Love your work, Sincerely, Zanyar
Hey Zanyar,
It's possible the unit would work with 4th and 5th graders, but Jenn definitely wouldn't recommend going any younger. The main reason for this is that some of the mini-lessons in the unit could be challenging for students who are still concrete thinkers. You'd likely need to do some adjusting and scaffolding which could extend the unit beyond the 3 weeks. Having said that, I taught 1st grade and found the steps of the writing process, as described in the post, to be very similar. Of course learning targets/standards were different, but the process itself can be applied to any grade level (modeling writing, using mentor texts to study how stories work, planning the structure of the story, drafting, elaborating, etc.) Hope this helps!
This has made my life so much easier. After teaching in different schools systems, from the American, to British to IB, one needs to identify the anchor standards and concepts, that are common between all these systems, to build well balanced thematic units. Just reading these steps gave me the guidance I needed to satisfy both the conceptual framework the schools ask for and the standards-based practice. Thank you Thank you.
Would this work for teaching a first grader about narrative writing? I am also looking for a great book to use as a model for narrative writing. Veggie Monster is being used by his teacher and he isn't connecting with this book in the least bit, so it isn't having a positive impact. My fear is he will associate this with writing and I don't want a negative association connected to such a beautiful process and experience. Any suggestions would be helpful.
Thank you for any information you can provide!
Although I think the materials in the actual narrative writing unit are really too advanced for a first grader, the general process that's described in the blog post can still work really well.
I'm sorry your child isn't connecting with The Night of the Veggie Monster. Try to keep in mind that the main reason this is used as a mentor text is because it models how a small moment story can be told in a big way. It's filled with all kinds of wonderful text features that impact the meaning of the story – dialogue, description, bold text, speech bubbles, changes in text size, ellipses, zoomed in images, text placement, text shape, etc. All of these things will become mini-lessons throughout the unit. But there are lots of other wonderful mentor texts that your child might enjoy. My suggestion for an early writer, is to look for a small moment text, similar in structure, that zooms in on a problem that a first grader can relate to. In addition to the mentor texts that I found in this article , you might also want to check out Knuffle Bunny, Kitten's First Full Moon, When Sophie Gets Angry Really Really Angry, and Whistle for Willie. Hope this helps!
I saw this on Pinterest the other day while searching for examples of narritives units/lessons. I clicked on it because I always click on C.o.P stuff 🙂 And I wasn't disapointed. I was intrigued by the connection of narratives to humanity–even if a student doesn't identify as a writer, he/she certainly is human, right? I really liked this. THIS clicked with me.
A few days after I read the P.o.C post, I ventured on to YouTube for more ideas to help guide me with my 8th graders' narrative writing this coming spring. And there was a TEDx video titled, "The Power of Personal Narrative" by J. Christan Jensen. I immediately remembered the line from the article above that associated storytelling with "power" and how it sets humans apart and if introduced and taught as such, it can be "extraordinary."
I watched the video and to the suprise of my expectations, it was FANTASTIC. Between Jennifer's post and the TEDx video ignited within me some major motivation and excitement to begin this unit.
Thanks for sharing this with us! So glad that Jenn's post paired with another text gave you some motivation and excitement. I'll be sure to pass this on to Jenn!
Thank you very much for this really helpful post! I really love the idea of helping our students understand that storytelling is powerful and then go on to teach them how to harness that power. That is the essence of teaching literature or writing at any level. However, I'm a little worried about telling students that whether a piece of writing is fact or fiction does not matter. It in fact matters a lot precisely because storytelling is powerful. Narratives can shape people's views and get their emotions involved which would, in turn, motivate them to act on a certain matter, whether for good or for bad. A fictional narrative that is passed as factual could cause a lot of damage in the real world. I believe we should. I can see how helping students focus on writing the story rather than the truth of it all could help refine the needed skills without distractions. Nevertheless, would it not be prudent to teach our students to not just harness the power of storytelling but refrain from misusing it by pushing false narratives as factual? It is true that in reality, memoirs pass as factual while novels do as fictional while the opposite may be true for both cases. I am not too worried about novels passing as fictional. On the other hand, fictional narratives masquerading as factual are disconcerting and part of a phenomenon that needs to be fought against, not enhanced or condoned in education. This is especially true because memoirs are often used by powerful people to write/re-write history. I would really like to hear your opinion on this. Thanks a lot for a great post and a lot of helpful resources!
Thank you so much for this. Jenn and I had a chance to chat and we can see where you're coming from. Jenn never meant to suggest that a person should pass off a piece of fictional writing as a true story. Good stories can be true, completely fictional, or based on a true story that's mixed with some fiction – that part doesn't really matter. However, what does matter is how a student labels their story. We think that could have been stated more clearly in the post , so Jenn decided to add a bit about this at the end of the 3rd paragraph in the section "A Note About Form: Personal Narrative or Short Story?" Thanks again for bringing this to our attention!
You have no idea how much your page has helped me in so many ways. I am currently in my teaching credential program and there are times that I feel lost due to a lack of experience in the classroom. I'm so glad I came across your page! Thank you for sharing!
Thanks so much for letting us know-this means a whole lot!
No, we're sorry. Jenn actually gets this question fairly often. It's something she considered doing at one point, but because she has so many other projects she's working on, she's just not gotten to it.
I couldn't find the story
Hi, Duraiya. The "Frog" story is part of Jenn's narrative writing unit, which is available on her Teachers Pay Teachers site. The link at the bottom of this post will take you to her narrative writing unit, which you can purchase to gain access to the story. I hope this helps!
Leave a Reply
Your email address will not be published.
Grades 6-12
School Leaders
Sign Up for Our Free Daily December Printables!
What Is Narrative Writing, and How Do I Teach It in the Classroom?
It's more than just telling stories.
Narrative writing is one of the three major types of written work we ask students do in the classroom. But what exactly do we mean by narrative writing, and what are the most effective strategies for teaching students how to do it? WeAreTeachers is here with everything you need to know.
What is narrative writing?
Narrative writing is, well, writing narrative. Officially described as: writing that is characterized by a main character in a setting who engages with a problem or event in a significant way. As writing instruction goes, narrative writing encompasses a lot: author's purpose, tone, voice, structure, in addition to teaching sentence structure, organization, and word choice.
[contextly_auto_sidebar]
Yes, that's a lot, so what exactly do I need to teach?
In many ways, teaching students to write narrative involves teaching them to think like the authors that they like to read. Kevin Henkes, Roald Dahl, Beverly Cleary—all of the narrative writing skills students will use are the ones that their favorite authors employ. You can find lots of narrative writing lessons online, but, specifically, you'll need to teach:
Organization
Students must understand the basics of story structure to create their own. In narrative, stories are often organized in a certain way, with the characters and setting introduced before the problem. Then, the plot progresses chronologically.
Here's a third grade narrative lesson that focuses on organization and transition words.
Characters are the people, animals, or other beings that move the story forward. They are whom the story is about. Creating characters by describing the character and planning how they will act in the story is an important prewriting step.
Read more about bringing characters to life in students' writing .
It's important for narratives to catch the reader's attention. Help students figure out how to set up an interesting beginning by showing them examples of different ways to begin .
The plot of the story involves a problem that the character must address or a main event that they need to navigate. Outlining the events and how they unfold will help students craft out the body of their story.
Read about how one teacher teaches plot using picture books . For older readers, there are different types of plots that they can create.
Narrative writing incorporates a lot of detail—adding details about the character, explaining a setting, describing an important object. Teach students when and how to add detail .
Cliffhangers
Narrative writers often engage readers with cliffhangers or suspenseful situations that leave the reader wondering: What happens next? One way to teach students about cliffhangers is to read books that have great ones and talk about what the author did to create the suspense.
After the problem is resolved, and the climax of the story has concluded, students need to wrap up the story in a satisfying way. This means bringing the memories, feelings, thoughts, hopes, wishes, and decisions of the main character to a close.
Here's how one teacher teaches students about endings .
The theme of the story is what it's all about. Incorporate these ideas on teaching theme to improve your students' knowledge of theme in reading and writing.
How does teaching narrative writing look different across the grade levels?
Your students engage with narrative as readers from the first day of school (and probably before), but they'll start writing narrative in early elementary school.
In early elementary school (K–2), students are learning about the writing process. Teach them about narrative through read alouds, both fiction and nonfiction. Reading aloud and talking about the elements of narrative in what they read, teaches students about what components go into any narrative. Students can also start crafting their own basic narrative stories.
In third and fourth grade, students will have an idea of what narrative writing is all about, and they can write their own stories. Help students organize their narratives with timelines and outlines of important events. Also, teach mini-lessons on strong introductions, endings, and adding details in the story.
In upper elementary school and beyond, students should know how to write a narrative. Now, they are learning how to strengthen their narratives with evidence and are learning advanced narrative skills, like how to tell stories from different points of view.
What about personal narrative?
When a narrative is fiction it's, well, made up. Nonfiction stories (or personal narratives) are stories that are from real life. The same writing techniques used in fiction are used in personal narrative, the main difference is that students can only pull from what actually happened.
This second grade lesson plan takes students through writing a personal narrative.
This overview of personal narrative writing has ideas and assignments for middle and high school students.
Here is a list of personal narrative topics that one middle school teacher banned.
My students struggle with narrative writing, how can I help?
Prewriting and organization: Students may need help organizing their ideas. Graphic organizers can provide the structure that students need to organize their narratives before they write.
Transition words: Narratives are often told in chronological order, so a list of transition words , like "as soon as," "during," or "finally," can help students connect events.
Ideas for helping when narrative writing reduces a student to tears .
I have students who are great at narrative writing, how do I push them?
Have them think about how they want the reader to feel at each point in their story. Do they want the reader to cry? Laugh? Gasp? Then, challenge them to write a story that engages those emotions.
Add minor characters. Once students are good at writing main characters, add minor characters. How do the minor characters impact the thinking and actions of the main character(s)? How do they change the plot?
Get more help teaching narrative writing:
Videos that you can use during instruction and as reminders for students who need a refresher.
Five narrative writing mini-lessons that are must-plans.
Ideas for introducing narrative writing to students in elementary school.
Mentor texts for narrative writing for grades K–2.
Come share your tips and questions for teaching narrative writing in our WeAreTeachers HELPLINE group on Facebook. 
Plus check out What Is Writing Workshop, and How Do I Use It in the Classroom?
Copyright © 2023. All rights reserved. 5335 Gate Parkway, Jacksonville, FL 32256
Terrific Teaching Tactics
Make Learning Fun
Third Grade Writing – Personal Narratives
Are you struggling to teach writing to your 3rd graders? Perhaps you just don't know where to start. You're constantly googling, 'how do you teach writing to 3rd graders?' or 'how can I help my 3rd graders with writing?' You're tearing your hair out with frustration.
Maybe it's because your school doesn't provide you with a writing curriculum. So, you're spending your precious evenings and weekends looking on Pinterest for lesson ideas. Or worse, a curriculum is provided…but it's just downright terrible. You can't make sense of it and your students hate it.
Perhaps your students just hate writing in general and roll their eyes at the thought of it.
Well, here's the thing. Teaching writing 'aint easy. In fact, it can be straight up tricky, I get it!
But don't worry friend, I've got you covered.
Introducing Terrific Writing
Terrific Writing is a comprehensive writing curriculum for Third Grade. This curriculum is standards based (to the common core) and genre based. But best of all, it's actually easy to teach and engaging for students!
In this curriculum, your students will develop a love of writing. The graphic organizers, interactive notebooks, and final craft will engage students much more than a blank piece of paper. The final writing piece asks students to write about a special day that they have chosen! After all, students love to write about things that they are interested in.
Writing doesn't have to be dull and students definitely shouldn't hate writing!
In Unit 1 'Personal Narratives', students learn how to write engaging personal narratives about their lives.
Are you short on time?
This 5 week unit has EVERYTHING you need, because let's be honest, teachers are time poor.
So, let's get your evenings and weekends back, my friend! Take a break from lesson planning and searching for engaging materials. It's all right here.
Are you ready? I'm going to share some of the awesome things about it!
What's included in this third grade writing – personal narratives unit?
First up, there are a bunch of teacher docs. Unit contents, common core standards, and teacher directions? Check.
To begin, there's some suggested mentor texts (with links to Amazon and YouTube). Also, a scope is included which shows the 25 lessons that feature in this unit and the third grade common core standards that are relevant.
Also, there is a unit at-a-glance calendar, as well as a table which tells you what materials you will need for each lesson. Basically, I've tried to make this unit super easy to implement. It has everything you need!
Next, there's some suggested lesson times. To clarify, it doesn't matter how long your writing block is, this unit can be adapted to suit it!
A lot of teachers struggle with finding the time to teach writing. If this is you, you're not alone!
Then, there's the 25 scripted (and step-by-step) lesson plans. The lessons follow a simple format of mini lesson, think and share, and independent writing time. There's a lesson focus to guide you and all of the required materials are listed with numbers. For example, you'll know exactly which posters and printables you need.
Subsequently, there's a video that comes with this unit. This will help you organize and implement everything.
Wondering how to assess your student's writing? Don't sweat it!
There's an assessment document for this unit too. It includes a rubric to help you grade your student's writing.
However, I'm not just throwing you to the sharks here! Rubrics can sometimes be generic or difficult to decipher. That's why I've made a comprehensive document with teacher directions, as well as elaborations and examples. Moreover, there's a video to help you understand the rubric.
Personal narrative mentor texts
I do give a list of suggested mentor texts that you can source, but in addition, I provide two original mentor texts for this unit! These come in PDF and PowerPoint versions (as well as color and black and white). You can print them in any size or just display them on an interactive whiteboard.
The great thing about these original mentor texts is that they include all of the features of a personal narrative that are taught in the unit. For example, students will see examples of dialogue, paragraphing, and hooks.
Personal Narrative Posters
This unit comes with 25 posters that you can reference to! Each lesson corresponds to them. Most importantly, they are great for giving writing ideas and reinforcing the narrative structure.
You can print them in color and laminate them. They are great for displaying in the classroom. However, you can also display these posters digitally (if you have limited printing options).
Already interested in this third grade writing personal narratives unit? Grab it here !
Personal narrative printables
There are student workbook covers that you can print. There are three options, 'My Writing Folder', 'My Writing Notebook', and 'My Writing Journal'. Your students can glue these covers onto their folders or books. The covers come in color and black and white (there are also boy and girl versions).
Let's now take a look at the writing prompts, worksheets, interactive notebooks and graphic organizers!
Small Moments
In the first few lessons, students complete a pre-assessment and then an interactive notebook where they brainstorm narrative ideas based off things they love.
Students then learn about zooming in on a small moment. They are introduced to the concept of 'big idea, smaller topic, and small moment'.
Next, they think about happy and sad moments in their lives.
The Elements of a narrative
They then learn about the importance of characters, setting, problems, and solutions in narrative writing.
The Structure of a narrative
Later, students learn about how narratives have a beginning, middle and end. After that, they start planning their final narrative.
Writing a strong lead
Students learn about the importance of writing a hook and a strong introduction. This aligns well with the common core standard –
W.3.3.A – Establish a situation and introduce characters.
Features of a good narrative
There are a few lessons about concepts such as dialogue and paragraphing. Likewise, students learn about making their writing more descriptive by stretching their sentences and doing 'show, don't tell'.
This aligns well with the common core standard –
W.3.3.B – Use dialogue and descriptions of actions, thoughts, and feelings to develop experiences and events or show the response of characters to situations.
The conclusion to a narrative
Later, there's a lesson about adding transition words. Students also learn about how to write a strong ending to their narrative. These lessons align well with the following common core standards –
W.3.3.C – Use temporal words and phrases to signal event order.
W.3.3.D – Provide a sense of closure.
narrative Checklists
After students have written their first draft, they use two checklists to proofread their work. One checklist grades narrative structure and the other is a more generic checklist for grammar, spelling, and punctuation.
The students do a self check, peer check, and adult check.
narrative Writing craft
Finally, students create a cute flipbook craft for their final writing piece. They write about their special day. For instance, a birthday, holiday, celebration, or fun day out.
It's a flipbook, so they can add as many pages underneath as they need! This craft is great for a bulletin baord display.
Personal narrative Task Cards
I think it's super imortant to have purposeful early finisher tasks and extension activities during writing lessons. Above all, we should be challenging our advanced writers. That's why this unit also includes task cards for writing personal narratives.
Here's an overview, with some more information about the unit –
What's included in this unit?
25 step-by-step scripted lesson plans
20 graphic organizers / worksheets
2 interactive notebooks and 1 writing craft
2 original mentor texts (PowerPoint versions and PDF in color and b&w)
24 tasks cards extension activities (2 versions – b&w, color)
1 assessment rubric
Here's everything else that's included in this unit –
Video overview to help organize and implement the unit
List of common core standards that align with this unit
Teacher directions for the lesson plans
Suggestions for differentiation and lesson times
List of recommended mentor texts (with links)
Unit scope and at-a-glance calendar
Lesson materials list
Student book/folder cover (3 versions – journal, notebook, or folder)
1 writing prompt pre-assessment
4 lined pages (for first drafts and crafts)
2 checklists
1 set of compliment notes (2 versions – b&w, color)
1 certificate (2 versions – b&w, color)
Teacher directions, examples, and elaborations for the rubric
Video with tips for using the rubric
Here's a breakdown of the lessons –
In the first 11 lessons, students develop an understanding of what a personal narrative is. They also learn about small moments and choosing a writing topic. Then, they start learning about the structure of a narrative.
Lesson 1 – What is a personal narrative?
What can I write about?
What is a small moment?
My small moment
Positive memorable moments
Negative memorable moments
What is the structure of a narrative?
Personal narratives need characters
Personal narratives need a setting
Narratives have problems
Narratives have solutions
For the next part of the unit, students begin planning and writing their final writing piece.
What will my narrative be about?
Let's plan a narrative
Start with a hook
Writing an introduction
Show, don't tell
Stretching sentences
Using dialogue
Powerful paragraphs
Transition words
Writing an ending
Putting it all together
Revise and edit
Final draft and illustrations
Publishing party
Click here to see a video that shows everything in the unit.
Want to try a free sample?
Yep, you can try one of the lessons, graphic organizers, and posters for free! Click here to grab the free sample.
I hope you've enjoyed reading about this third grade writing personal narratives unit!
Click here to grab the full unit!
Sharing is caring!
Reader Interactions
Leave a reply cancel reply.
Your email address will not be published. Required fields are marked *
Save my name, email, and website in this browser for the next time I comment.
Teacher Instagram
TPT Seller Instagram
Save 10% on your first purchase! Use the coupon code TERRIFIC10 at checkout. Dismiss
We noticed you're visiting from Australia. We've updated our prices to Australian dollar for your shopping convenience. Use United States (US) dollar instead. Dismiss
Mrs. Winter's Bliss - Resources For Kindergarten, 1st & 2nd Grade
Time-saving + research-backed resources, professional development training, activities, and centers aligned with Science of Reading!
View My Account
How to Teach Narrative Writing
In this post, I share 5 tips for How to Teach Narrative Writing and provide details about the Narrative Writing Units I have created for Kindergarten, 1st and 2nd grade students. Be sure to download 3 FREE narrative writing graphic organizers !
As teachers we spend a tremendous amount of time teaching our students to write. And for good reason! The ability to clearly express one's thoughts in writing is an essential academic and life-skill. Study after study has shown that students who are able to master writing skills early on struggle less in overall literacy and communication .
The Common Core writing domain focuses on three big types of writing: informative, opinion and narrative writing. Each genre serves a unique purpose and follows a specific structure which we must explicitly teach our students.
In earlier posts I shared tips and resources for teaching Informative Writing and Opinion Writing . Today I'm excited to move on to the final genre, Narrative Writing.
I love to teach narrative writing. Personal narratives are a great genre to start the year with because they allow you to get to know your students a little bit better. Most kids love to tell us stories about their lives, so writing personal narratives often comes naturally to them.
Imaginative narratives, on the other hand, allow students' creativity to shine! Many students find it very motivating and engaging to be allowed to write the stories they create in their own mind.
Today I'm sharing 5 tips for teaching narrative writing, as well as details about my narrative writing resource. It is a writing unit that has everything you need to bring narrative writing into your kindergarten , first grade, or secon d grade literacy centers!
Tips for Teaching Narrative Writing
1. read narrative writing mentor texts .
Before you can ask your students to write in a genre that is new to them, you must first immerse them in it. So to begin your unit, you'll want to share examples of narrative writing with your students. These mentor texts provide students with examples of excellent narrative writing.
As you read them aloud, highlight the way the author structures their writing. Identify the author's purpose, the topic, the order of the events, and how the author felt. All of these things will help students better understand what type of writing we are asking them to do.
When you're picking narrative mentor texts to share with your students there are a few things to consider . First, do you (the educator) think it is excellent? Second, is it easy for your students to understand? And finally, is it relevant to the type of writing you are teaching? If you answer "Yes!" to all three, then you're good to go!
To help you out I've created a list of excellent mentor texts you can use when teaching narrative writing to kindergarten, first, or second grade students.
A List of Narrative Writing Mentor Texts:
New Shoes – Chris Raschka
Jabari Jumps – Gaia Cornwall
Knuffle Bunny: A Cautionary Tale – Mo Willems
Library Mouse – Daniel Kirk
Rocket Writes a Story – Tad Hills
Diary of a Worm – Doreen Cronin
The Night I Followed My Dog – Nina Laden
Rubia and the Three Osos – Susan Middleton Elya
The Three Snow Bears – Jan Brett
I've saved all these titles on one board so you can easily take a closer look at these mentor texts. Click here to see this list on Amazon .
2. Model Your Own Narrative Writing
When modeling your own narrative writing I suggest you use an experience you've shared as a class. It could be as simple as a short nature walk outside the school building, a field trip you went on, or a class celebration you had. Show your students that narratives don't have to be about big events. Small moments, like a walk outside, can be stretched out and turned into a great narrative writing piece!
Next, model how you plan your writing using a graphic organizer. Highlight how you have a topic, use temporal words to order your events, details and a closing sentence. Don't be afraid to put the events out of order! Let the students catch the mistake and help you fix it!
Model how you use the graphic organizer to guide you as you write out your full piece.
Finally, reread your work aloud to ensure it makes sense and that the events are in the correct order. Check for any silly mistakes and come up with a fitting title!
3. Use Anchor Charts
You want your students to know that when they write a narrative piece they are writing a story to entertain the reader. It can be a true, personal story from their life, or an imagined fictional one. Creating an anchor chart with this information helps to remind students their purpose for writing.
Create a second anchor chart that reviews temporal words. Words such as yesterday, today, first, next, or last describe time or order of events and help make a narrative story more clear for the reader.
When writing fictional narratives, an anchor chart of fictional sentence starters can help students to get ideas for a story.
Finally, you'll want to create an anchor chart using the writing you model. This will serve as another example of excellent narrative writing. As a class, add labels to identify the title, the topic, temporal words, details, and the closing sentence in your shared writing.
All of these anchor charts can be posted in your writing center. Encourage your students to refer back to them and use them as support as they write their own pieces.
4. Allow students to edit and share their writing
Provide a good writers checklist at your writing center. For narrative writing you'll want the checklist to include items such, "Does my writing have a title?" "Is there a clear beginning, middle, and end?" "Did I use temporal words?" as well as reminders to check for spelling, capitalization, and punctuation errors.
You can also create a rubric specific to the genre. Model how you use it to assess your own work and how it can be used to provide feedback to others.
Give students the opportunity to share their writing with others! Pair students with partners and let them read their pieces to each other. Encourage them to provide feedback using the editing checklist and the rubric as a guide.
5. Provide Daily Opportunities for Students to Write
As with all things, writing takes PRACTICE! Students need dedicated instructional time to learn the skills and strategies necessary to become effective writers, as well as time to practice what they learn.
When you think about your daily instructional schedule, make sure you are giving your students ample opportunities to practice their narrative writing through whole group instruction, small groups, and/or through independent practice in writing centers.
Narrative Writing Units For Kindergarten, First, and Second Grade Students
Today I'm excited to share with you the details about my Kindergarten Narrative , 1st Grade Narrative , and my 2nd grade Narrative writing units! I love them because they have ALL the resources you need to give your students the practice needed to master narrative writing.
These narrative writing units were developed with standards-based research specific to each grade. You can use them within whole class or small group lessons, or as a literacy center activity where students can practice narrative writing independently!
Let's take a closer look at each one….
Kindergarten Narrative Writing Unit
The kindergarten resource has everything you need to incorporate narrative writing into your literacy centers all year long!
To help your students better understand the genre you'll get two mini-lessons , one on personal narratives and the other for imaginative narratives. I recommend focusing on personal narratives at the start of the year and moving onto imaginative narratives in the second semester.
You'll also get a list of suggested mentor texts and online resources, academic vocabulary posters, printable anchor charts, graphic organizers and differentiated writing prompts.
These seasonal and all-year-long writing prompts come in 3 differentiated versions to meet your Kindergarteners where they are developmentally throughout the year. Each writing prompt comes with a vocabulary word web to assist young writers in brainstorming ideas and spelling words while writing.
Finally, you'll get a narrative writing editing checklist appropriate for the kindergarten level.
First Grade and Second Grade Narrative Writing Units
The first and second grade resources were designed with standards-based research specific to grade. You'll get a personal narrative mini-lesson and imaginative narrative mini-lesson to use as a review of the genre. You'll also get a list of suggested mentor texts and online resources, academic vocabulary posters, anchor charts, graphic organizers and seasonal writing prompts!
You won't hear students say, "I don't know what to write about!" when they are using this resource! The seasonal writing prompts include choice boards for personal narratives and imaginative narratives, as well as sentence starters and vocabulary banks to assist in brainstorming ideas and spelling words while writing.
The personal narrative and imaginative narrative seasonal prompts are both PRINTABLE & DIGITAL. The digital version has been PRELOADED for you, with 1 click add them to your Google Drive or upload them to SeeSaw.
Finally, you'll get self-editing checklists and rubrics for both personal and imaginative narrative writing. The rubric makes a great self-assessment tool and can be used as a guide for peer feedback.
I love these resources because they can be used in so many different ways. They offer opportunities for students to practice both personal and imaginative narrative writing as a whole class, in small groups, as a literacy center activity, for homework, or as a meaningful activity for when they have a substitute teacher!
FREE Narrative Writing Graphic Organizers
Are you ready to begin teaching Narrative Writing in your classroom? To help get you started, I am happy to offer you 3 FREE narrative writing graphic organizers! You can download them here.
Writing is an essential skill that benefits students well beyond the walls of our classrooms. As teachers, we work hard to plan engaging activities that we hope will build our students' confidence and help them to develop a lifelong love of writing.
I hope the information and resources I've shared on narrative, opinion and informative writing will help to bring stronger instruction and more meaningful writing practice to your kindergarten, first and second grade classrooms!
-shop this post-
– PIN for LATER –
Leave a Reply Cancel reply
Your email address will not be published. Required fields are marked *
Save my name, email, and website in this browser for the next time I comment.
This site uses Akismet to reduce spam. Learn how your comment data is processed .
Find what you need
MEET CHRISTINA
Shop teaching resources
Access your account
Privacy Policy
Teaching Resources
Bliss in your Inbox
This website uses cookies to ensure you get the best experience on our website. See full disclosure here.​
Skip to primary navigation
Skip to main content
Skip to primary sidebar
Skip to footer
Thrifty in Third Grade
By Cassie Smith - Engaging Elementary Resources
6 Easy Tips for Teaching Personal Narrative Writing
June 21, 2022 by Cassie Smith
Are you looking for ways to help your students write better personal narratives? If so, you'll want to check out the following tips! These suggestions will help your second, third, fourth, or fifth-grade students produce well-written and engaging personal narratives.
1. Help your students understand what a personal narrative is.
A personal narrative is a story about something that happened in the writer's life. It is usually written in first-person point of view, which means that the writer uses "I" statements.
2. Encourage your students to brainstorm ideas for their personal narratives.
What are some events that have happened in their lives that would make for a good story?
3. Once your students have brainstormed some ideas, help them choose one to write about.
Encourage them to think about what kind of story they want to tell and what details they will need to include. At this point, you'll want to teach your students to narrow their topics down from watermelon to seed !
4. Help your students plan their personal narratives by having them map out the events in sequence.
This will help them to remember all the details they want to include. Graphic organizers are always helpful for young students to be able to see the parts of their writing.
5. Encourage your students to use strong verbs and descriptive language in their narrative writing.
Personal narratives are all about painting a picture for the reader, so the more vivid the language, the better. For young students, teach them to add vivid descriptions that use their senses.
6. Finally, you'll teach your students to proofread their work before they submit it.
It is important to look back over the rubric and/or checklist.
As a teacher, when you are grading your students' writing, choose what you will focus on. You don't want to discourage young writers by correcting every grammatical error , every spelling mistake, every run on sentence, etc… Instead, focus on what you taught them and what is covered in the rubric. As the school year goes on, you can hold students accountable for more and more grammar.
I hope you found these tips helpful and that you will be able to use them in your classroom. If you're looking for a complete unit on personal narrative writing, look no further! I've created a unit that walks students through each step of the process, from brainstorming topics to proofreading their work.
Grab the personal narrative writing unit for your grade level here!
Learn why I teach Personal Narrative writing at the beginning of the school year, plus get alternatives to the overused "what I did this summer" writing prompt!
Meet Cassie
I'm Cassie Smith and I'm so glad you decided to stop by. I am passionate about creating engaging curriculum for teachers in grades K-5! I believe learning can be fun AND aligned to standards! Learn More
Looking for something?
About Cassie
ABCs of Salvation
Privacy Policy
Terms of Use
Disclaimers
Let's Connect
Get support.
Come join our Elementary Teachers Support Group on Facebook! You'll be able to collaborate and get tips from thousands of teachers just like you!
Get a Surprise!
Sign up for our email list and we'll send a surprise freebie right to your inbox!