Essay Writing
Extended Essays
IB Internal Assessment
Theory of Knowledge
Literature Review
Dissertations
Research Writing
Assignment Help
Capstone Projects
College Application
Online Class
Order Assignment
History Extended Essay: Definition, Outline, Assessment Criteria
by Antony W
September 3, 2022
History Extended Essay is an assignment that gives you the opportunity to conduct in-depth research in an area of your interest – and of local, regional, and global significance.
Your research should clearly demonstrate a structured essay that addresses your research question in-depth.
The research question should encourage investigation that leads to in-depth analysis and critical commentary.
Rather than focusing on the "how" or "what" type of questions, focus on the "how successful" or "how significant" questions because they get you involved in comprehensive analysis of the issue you want to investigate.
Writing an extended essay in history isn't hard, but it can be challenging if you struggle with history topic selection , extensive research, and writing.
That's why we're here to help.
Don't let your IB History Extended Essay give you sleepless nights or wait until the last minute. Hire our team of IB experts to help you write and score an A in the subject.
Get 100% unique history EE written on any topic and completed on time.
Take advantage of our 25% off discount on your first order if you're new to Help for Assessment
However, if you have the time to write your History EE and you need a complete guide to help you through the process, keep reading.
What is IB History Extended Essay?
What is IB History Extended Essay?
An IB History Extended Essay is a 4,000-word long essay that offers a more in-depth exploration of a topic of your interest with an emphasis on primary sources.
The Extended Essay in History requires thorough, independent research of the topic.
As you work on the essay, you'll develop and sharpen your research, analytical, and communication skills.
By the time you complete this assignment, you'll not only have a clear idea of the kind of research professors will expect you to do in university but also develop the capacity to analyze, evaluate, and synthesize knowledge.
How to Write a History Extended Essay Based on the Assessment Criteria
The following assessment criteria will help you to write a comprehensive, A-level Extended Essay in History:
1. Focus and Method (6 Points)
Your research issue must be historical, confined to a specific period, country, people, or events that took place 10 or more years ago.
Make the research question specific and straightforward to allow in-depth analysis and wide enough for the word limit.
To get an A, ensure your topic is accurate, properly focused, and clearly stated. Your research methodology must be exhaustive, effective, and credible.
2. Knowledge and Understanding (5-6 Points)
Demonstrate that you understand the research question you selected in the wider historical context.
Also, you should show a proper use of relevant historical terms and concepts and, while you're at it, stick to the ten-year rule.
To get a 6, show in your History Extended Essay an in-depth knowledge and understanding of the selected topic. Then, use the methods learned in the coursework and textbooks to explore the topic effectively.
3. Critical Thinking (12 Points)
To get 12 points for critical thinking, your History Extended Essay should demonstrate a crucial engagement with the past .
Don't quote what you read from other sources.
Instead, go as far as to explore and analyze the sources to come up with a compelling argument supported by analysis of the research material followed by consistent conclusions.
Examiners are interested in your analytical skills, not your ability to describe historical events. Once you've identified your position relative to your sources, draw convincing arguments for or against it.
Follow that by giving an analysis of the evidence, making sure you explain how reliable and/or accurate you think the evidence is.
Overall, your essay must have:
A reasoned argument developed from your research
A critical evaluation of your research
A structure and coherent argument where minor inconsistencies don't hinder the main argument or invalidate the conclusion
A conclusion consistent with the material analyzed
4. Presentation (4 Points)
Presentation evaluates how well you've structured your essay in relation to the acceptable academic standards.
Include section structure with a logical arrangement and the required formatting.
Use charts, graphs, tables, and related figures ONLY where you feel they illustrate points more clearly, and make sure you name and explain them well.
Acknowledge figures, calculations, text, and any other element used directly from a source.
Because your intention is score good marks for presentation, your History Extended Essay should have a clear layout that supports and simplifies the reading and evaluation of the work.
5. Engagement (6 Points)
Engagement evaluates how well you interact with the research process.
To score a six, you need to demonstrate a high level of engagement with clear insights so that your supervisor can clearly see your thoughts and decision-making process.
To do this, give clear evidence for your conclusions without making assumptions.
The best way to explain personal engagement is y being critical with your own methods and conclusion, even to the extent where you show where you think you should have done better.
If you can describe the challenges you face and the solutions you adopted, you'll score a six.
Your reflections also count as far as engagement is concerned.
If anything, you need to make sure they communicate a high degree of intellectual and personal engagement with the research question developed during the initial stages.
Lastly, ensure you us your own voice to show authenticity, a creative approach, and an intellectual initiative.
History Extended Essay Format/Outline
What remains now is to write your essay.
But first, since organization counts towards the total points for presentation, we need to outline the essay in an acceptable extended essay format.
Here's one example.
You should note that the title page, table of contents, bibliography, appendix, and the various figures do not count towards the word count.
However, figures with a lot of words will be added. Also, anything past 4000 words will not be read or graded.
We already have a full article on how to choose a history EE essay which you can check out here on our blog's article section. You will also find lots of sample topics to help you get started.
About the author
Antony W is a professional writer and coach at Help for Assessment. He spends countless hours every day researching and writing great content filled with expert advice on how to write engaging essays, research papers, and assignments.
Extended Essay Guide: Criteria, Format, Sample EEs
EE Workshops
Criteria, Format, Sample EEs
Annotated Bibliographies
DP Research Process
Databases & Academic Journals
Evaluate Sources
Academic Integrity
MLA Citation Format
CSE Citation Format (Science & Math)
Video Tutorials
The Assessment Crtiteria in Detail!
Criterion A: Focus and method
Criterion B: Knowledge and understanding
Criterion C: Critical Thinking
Criterion D: Presentation
Criterion E: Engagement
EE_How to maximize marks for different subjects?
Criterion C: Critical thinking
Notes from the IB
RE: Research Question and Title of Extended Essay
Please note the statement below from the EE curriculum manager regarding the need to have both a title and a RQ for all subjects. Previous versions of the EE Guide indicated that the title and the RQ should be the same for History, Business Management and Mathematics. This is no longer the case. All essays, regardless of the subject, need to have both a RQ and a title.
Hi Kathy,
To answer your question, I am going to quote directly from a response John Royce provided, on this forum, in October in response to a very similar question: (it was a question about using Spanish sources - hence the mention of Spanish)
It is certainly permissible to use sources which are not in the language of the essay, but translation into the target language is required , one cannot assume that the reader understands the original language.
It is usual to quote the original as well as presenting the translation. [Do not put quotation marks around your translation, just around the original]
Umberto Eco argues ("in Mouse or rat?") that direct translation may lose meaning, paraphrase or use of different idioms may be required to get the ideas across. Paul Bellos ("Is that a fish in your ear?") makes a similar argument - direct translation may confound meaning... Direct translation may not be ideal - meaning and understanding are preferred - so, not to worry that your student with her good Spanish cannot present a direct translation.
What must be made clear is that the translations are those of the student; these are her understandings. Readers can make of that what they will - and if unsure, are presented with the original - they can seek another translation. A note in the acknowledgements and/or in the introduction to the effect that all translations are those of the writer is ... essential.
In response to the question about the Bibliography/Works cited, my preference would be to list the source in its original Thai version, but perhaps with the English in brackets, to help the examiner.
Your bibliography will have the entries in Thai characters first in the document. Any in-text citation to Thai sources will be in (Thai characters [English translation]).
Citation in Thai [English translation]
Works Cited Example:
วงษ์ปัญญา, ธนกร [Wongpunya, Thanakorn]. "โรงงานยาสูบรวยแค่ไหน และเอาเงินไปทำอะไรบ้าง." [How rich is the Thailand Tobacco Monopoly and where does the money go?] (candidate translation). The Standard, The Standard, 30 Aug. 2018, thestandard.co/thailand-tobacco-monopoly/.
Format of the Extended Essay
Required Formatting
The extended essay should be written in a clear, correct and formal academic style, appropriate to the subject from which the topic is drawn. Given that the extended essay is a formally written research paper, it should strive to maintain a professional, academic look.
To help achieve this, the following formatting is required:
12-point, readable font (Calibri or Times New Roman);
double spacing throughout entire Essay;
page numbering - top right corner;
no candidate or school name or supervisor name on the title page or page headers.
Submitting the extended essay in the required format will help set the tone of the essay and will aid readability for on-screen assessment by examiners.
Required S tructure
The structure of the essay is very important. It helps students to organize the argument, making the best use of the evidence collected.
There are six required elements of the final work to be submitted. More details about each element are given in the "Presentation" section. Please note that the order in which these elements are presented here is not necessarily the order in which they should be written.
Six required elements of the extended essay:
Contents page
Introduction
Body of the essay
References and bibliography -- if MLA "Works Cited" if CSE "References"
1. Required Title Page
The title page should include only the following information:
the title of the essay
the research question
the subject the essay is registered in (if it is a language essay also state which category it falls into; if a world studies essay also state the theme and the two subjects utilized)
The upper limit is 4,000 words for all extended essays.
2. Required Contents Page
A contents page must be provided at the beginning of the extended essay and all pages should be numbered. Please note that an index page is not required and if included will be treated as if it is not present.
3. Required Introduction
The introduction should tell the reader what to expect in the essay. The introduction should make clear to the reader the focus of the essay, the scope of the research, in particular an indication of the sources to be used, and an insight into the line of argument to be taken.
While students should have a sense of the direction and key focus of their essay, it is sometimes advisable to finalize the introduction once the body of the essay is complete.
4. Required Body of the Essay (research, analysis, discussion, and evaluation)
The main task is writing the body of the essay, which should be presented in the form of a reasoned argument. The form of this varies with the subject of the essay but as the argument develops it should be clear to the reader what relevant evidence has been discovered, where/how it has been discovered and how it supports the argument. In some subjects, for example, the sciences, sub-headings within the main body of the essay will help the reader to understand the argument (and will also help the student to keep on track). In structuring their extended essay, students must take into consideration the expected conventions of the subject in which their extended essay is registered.
Once the main body of the essay is complete, it is possible to finalize the introduction (which tells the reader what to expect) and the conclusion (which says what has been achieved, including notes of any limitations and any questions that have not been resolved).
Any information that is important to the argument must not be included in appendices or footnotes/endnotes. The examiner will not read notes or appendices, so an essay that is not complete in itself will be compromised across the assessment criteria.
5. Required Conclusion
The conclusion says what has been achieved, including notes of any limitations and any questions that have not been resolved. While students might draw conclusions throughout the essay based on their findings, it is important that there is a final, summative conclusion at the end. This conclusion(s) must relate to the research question posed.
6. Required References & Bibliography
Students should use their chosen style of academic referencing as soon as they start writing. That way they are less likely to forget to include a citation. It is also easier than trying to add references at a later stage. For more information on this, refer to the guidelines in the IB document Effective citing and referencing.
Writing the essay takes time but if students have used their Researcher's reflection space and reflection sessions in a meaningful way they should be well prepared to develop their arguments.
Extended Essay - Examples & Exemplars
Essays from May 2018 with IB marks and commentaries
Assessed Student Work & Commentary IB-provided. "Student sample extended essays, corresponding marks and comments from senior examiners are available for the following Diploma Programme disciplines. Please note that in light of not having authentic RPPFs to accompany these essays, they are marked against criteria A – D only, for a total of 28 possible marks. Following the first assessment session in 2018, exemplars will be refreshed with authentic sample material." more... less... Biology English Economics History Studies in language and literature Language acquisition Mathematics Psychology Visual arts World studies extended essay (WSEE)
Excellenet Extended Essays Concordian GoogleDoc
EngA1_Othello EE Othello 2018 From inThinking.net Click the link to see the score and evaluation.
Fifty (50) More Excellent Extended Essays DVD by International Baccalaureate Call Number: HS DVD 808.4 ISBN: 9781906345600 Publication Date: 2011 1 DVD-ROM (1:33 min.)
Past CIS Extended Essays
Available in the library behind the desk are file folders of past Extended Essays by Concordian students and IB EE Exemplars. Feel free to browse the papers which must be kept in the library.
<< Previous: EE Workshops
Next: Annotated Bibliographies >>
Last Updated: Dec 7, 2023 1:44 PM
URL: https://concordian-thailand.libguides.com/ee
MR SPENCE HISTORY
Writing an EE in history is the most popular choice for IB students. With the only stipulation being that the essay cannot deal with events from the last ten years - there are boundless possibilities. As history does not have the rigid parameters of other subjects, it is a difficult discipline to fail. As long as it is on topic, close to 4000 words and contains citations, you should be fine. However, the percentage of students who receive an A is very low. There are numerous explanations for this, and by following the guidance on this page, you should be able to avoid mistakes. The perhaps predominant reason that students fail to score highly is selecting a poor question. You have to be very clear about what the EE is.
You are NOT conducting original research. The IB guide may claim to welcome original archival work or family history, but they do not score well. I have included at the bottom of the page a social history essay, that I felt was an excellent piece of historical research and writing. However, the marker clearly did not feel was a good EE and scored it a C. The student put in hundreds of hours of original research for nothing.
What the IB wants you to do is outline and evaluate a historical debate and for you to come to a reasoned decision. Therefore, you want to find an area where there is not complete agreement amongst historians. The views do not have to be dichotomous, but there should be differing interpretations. As with your IA, you should look to find the big historical ideas within small events. There are no prizes for originality. I have given an A to an essay on whether the Nagasaki atomic was a warning to the USSR. While the topic was well-worn, the student evaluated the various viewpoints well. The biggest thing to avoid is formulating a question that can only be answered in a narrative way.
How to select an EE Question?
Researching a History essay should be the most pleasurable aspect of the EE process. Hopefully, you have selected an area in which you are interested. The PowerPoint and guides below will give a full account of where to find information and how to organise your time. Speak with your supervisor for more specific suggestions.
How to conduct research in history
Reflecting on the EE process is worth six out of the 34 total marks available for an EE. It is critical that you complete this component. Even a bad essay can be partially rescued if you are able to identify where things went awry. You are required to think deeply about what lessons you have taken, personally and intellectually, from the process. The key thing to avoid is just making a list of tasks completed and conversations with your supervisor. There are more detailed advice and exemplars in the PowerPoint. If you would like to look at some other examples then see Mr Spence.
Writing a reflection
Writing well in history is a difficult skill to become adept at. With its 4000 word limit, the EE is a challenge for high school students. Nevertheless, by following the basic rules below and by using the documents at the bottom of the section, you should produce an engaging scholarly piece. I tell students that their draft should be 5,000-6,000 words. Heavy editing to eliminate circumlocutions and passive voice should get you below the word limit without losing your key ideas.
History writing is about balance. Too often students are too narrative in their writing or attempt evaluation of ideas without making the debates' context to the reader. Your first responsibility is to produce something clear that uses evidence to answer your question. Sure to get an A, you will be expected to evaluate others' views on the evidence, but first you need to show you have grasped the key ideas. Remember also to cite consistently. Each paragraph should have at least three citations. For more specific guidance see the history guide above.
Too often students fail to present evidence well, which means their evaluation is nonsensical and therefore scores poorly. The rules of historical writing are simple. Each paragraph should begin with a clear topic sentence which outlines what single idea will be covered. Three pieces of evidence should then be selected to illustrate the paragraph's theme. Only one idea should be in each sentence. Use the evidence to drive your argument; don't give evidence then explain what it means. If you present your evidence succinctly, you should have space for evaluation. Evaluation means examining the veracity of the evidence in proving the key idea outlined at the paragraph's beginning. There is more specific guidance on writing evaluatively in the document below. Also below is a general template on writing an EE, an EE format that would score full marks, and a guide of mistakes markers look for.
Writing a history EE
Other Resources
History Assessment Criteria EE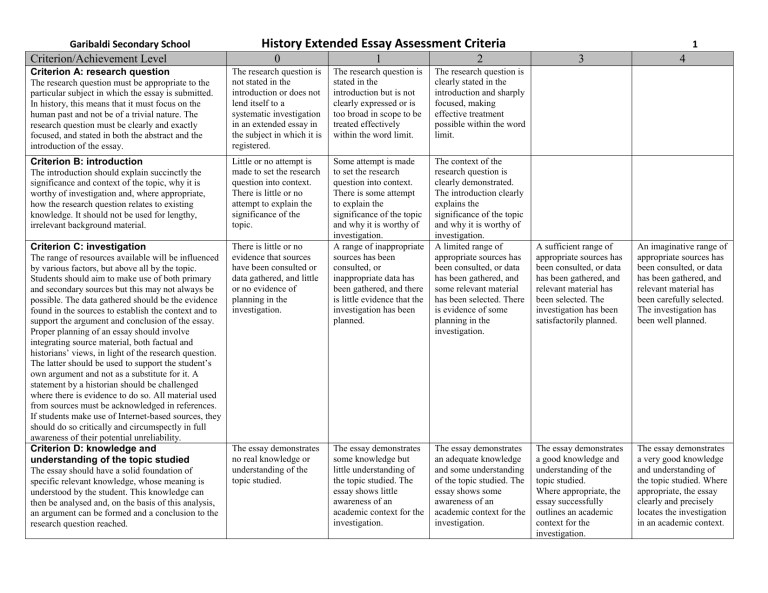 Related documents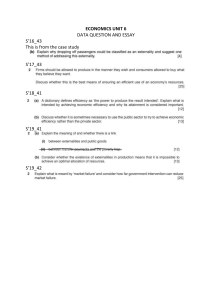 Add this document to collection(s)
You can add this document to your study collection(s)
Add this document to saved
You can add this document to your saved list
Suggest us how to improve StudyLib
(For complaints, use another form )
Input it if you want to receive answer