Higher English Online
Critical essay, close reading, folio & nab advice., the great gatsby, the great gatsby – themes.
Click on the image to view a useful visual summary of some of the themes in 'The Great Gatsby.'
Share this:
Critical essay advice – organising ideas.
I've attached a diagram that might help you to organise some of the thoughts you've been having about your critical essay.
A Brilliant Critical Essay.
Click below to read a critique of 'The Great Gatsby,' that achieved full marks at Higher. It is very good.
Critical Essay Advice – Planning
You will probably now be considering how to plan your critical essay.
Above and beyond everything else, resist the temptation to write everything you know about this text or paraphrase the story. I have read the text, so I don't need you to summarise it for me. You will score very poorly if you retell the story.  You are analysing, not summarising.  Please be cognizant of this – it is very important.
Before you start answering the question, you must select the relevant information from a range of possibilities. The features and techniques used to convey the themes are:
Imagery & motif. The whiteness of Daisy/ the gaudiness of Gatsby, the green light/ green land, the eyes of Eckleburg/ God.
It would be useful to sketch out a visual plan, where techniques  clearly convey themes.
Critical Essay – Writing an Introduction
Now that you have finished your novel, the emphasis will move from analysis and understanding, to determining the structure and requirements of critical essay writing.
The introdution to any critical essay is fundamentally important. If your introduction is poor, it will set the tone for the remainder of your essay.
Introductions should be sophisticated, short, and technically perfect. They should begin by introducing the text, the author and the genre, and should answer the question, stating the techniques the author used to convey their theme.
There should also be a very brief synopsis of the salient point of the text. Note that this should be very brief.
F. Scott Fitzgerald's 'The Great Gatsby,' is a powerful example of a confrontation between two characters that is centrally important to the reader's appreciation of the text. Fitzgerald effectively utilises setting, symbolism and characterisation to convey the hollowness of the upper classes and the corrosive effect of an impossible dream. The novel is a withering analysis of the death of both the American dream and the dream of the eponymous character.
Write an introduction to the follow question and bring it to class tomorrow:
Choose a novel which explores the cruelty of human nature. Show how the writer explores this theme and discuss how its exploration enhances your appreciation of the novel as a whole.
Video Link – Great Gatsby – Setting
Click on the picture to enjoy some really valuable visual analysis of setting in 'The Great Gatsby:'
Critical Terminology – Practice
Consider F.Scott Fitzgerald's use of epiphany and pathetic fallacy.
List five examples of the author's use of pathetic fallacy and explain how they contribute to your understanding of the importance of setting in 'The Great Gatsby.'  (300 words)
Then, consider Tom's realisation, during lunch with Nick, Jordan, Gatsby and Daisy. How has Fitzgerald converyed this epiphany to you? Is it effective in developing your understanding of the characters in the novel. If so, pay particular attention to Daisy and Tom, and explain your reasoning. (300 words)
Critical Essay – Prose Carousel Activity
As part of a carousel activity, undertake one of the following tasks, as you have been assigned:
Consider the settings of the novel. How significant are they in adding to your appreciation of the text?
Pick 2 characters and describe the importance of their relationship to your enjoyment of the text.
How important is symbolism in the novel? Describe the key examples of this and how they aid your understanding of the themes of the novel.
Regardless of which task you undertake, you must identify the key themes of the novel.
For each task, pick five key quotations that evidence your thoughts.
Ensure that you refer to specific techniques the author has used.
For each task, write a summary of the impact of the specified aspect on the reader.
Critical Evaluations – Openings
Below are sample openings to the critical evaluations that will form the basis of your critical essays:
F. Scott Fitzgerald effectively uses symbolism throughout 'The Great Gatsby,' to suggest the …
The author's characterisation of Tom at the start of of the novel prepares the reader for the inevitable relationship between …
Fitzgerald utilises setting to highlight the contrasting roles of West Egg, East Egg, The Valley of Ashes and New York City. This…
Whilst describing a multitude of characters, the author waits until chapter four before properly introducing Jay Gatsby in order that…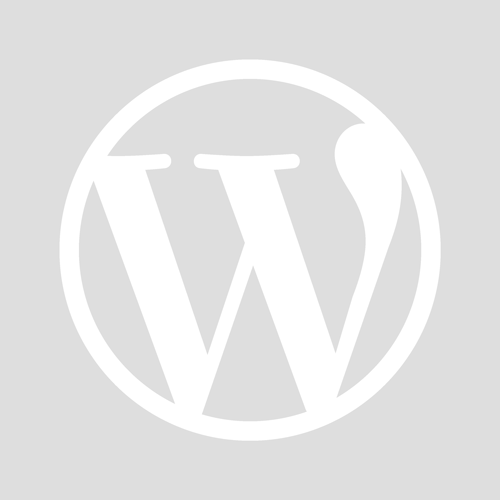 Already have a WordPress.com account? Log in now.
Follow Following
Report this content
View site in Reader
Manage subscriptions
Collapse this bar
Mrs Sutherland's English Classroom
The Great Gatsby
Resources for The Great Gatsby
The Great Gatsby Mini The Great Gatsby Notes Gatsby Character Notes Analysing a quotation helpful-quotes symbols-in-gatsby gatsby-revision critical-essays-in-higher-english gatsby-essay-questions character-profiles the-great-gatsby
Already have a WordPress.com account? Log in now.
Follow Following
Copy shortlink
Report this content
View post in Reader
Manage subscriptions
Collapse this bar
methodinyourmadness
Ms nitsche's blog for higher english pupils.
The Great Gatsby – Critical Essay
Here's an example paragraph to help with your essay planning – remember this is an example to guide you; don't copy it for your own essay.
P (TOPIC SENTENCE): Fitzgerald uses this turning point to reveal how brutal the impact of Gatbsy's uncovering is, as well as hinting at the dark end to come. E (EVIDENCE): When Tom reveals Gatsby's true source of income and reveals him for the criminal he really is, the shock of Gatsby's undoing is clearly apparent. "[Gatsby] looked – and this is said in all contempt for the babbled slander of his garden – as if he had 'killed a man'. For a moment the set of his face could be described in just that fantastic way. E (EVALUATION): Fitzgerald's use of the phrase "killed a man" immediately suggests that there has been a death, but it is not a literal one; rather, it is the death of the man Gatsby had created around himself. The word choice of "fantastic" also has dual meanings here – it says that though it is untrue that Gatsby has killed someone, it echoes the fantastical nature of his persona – that he has created a character in his life as Jay Gatsby. The quote effectively shows that at this moment, any front or false persona Gatsby has left has now disappeared – he is revealed for what he truly is. This is the key turning point in the novel – we see how Gatsby has symbolically been "killed"; nothing remains of the charismatic pretender we met early in the novel. Instead, this quotation foreshadows his literal death at the hands of George Wilson, and implies that this is almost unavoidable – that there the most important part of him is already "dead" or destroyed.
Share this:
Leave a reply cancel reply.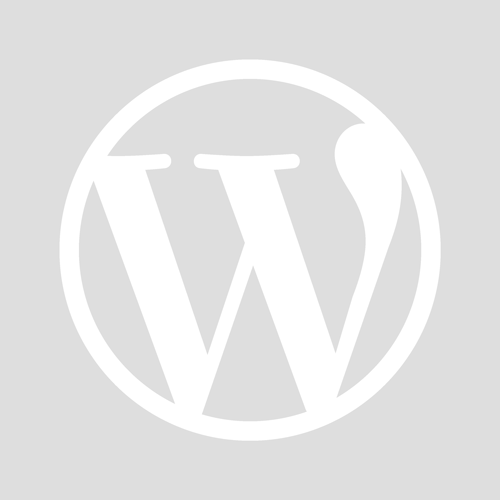 Already have a WordPress.com account? Log in now.
Follow Following
Copy shortlink
Report this content
View post in Reader
Manage subscriptions
Collapse this bar
International
Schools directory
Resources Jobs Schools directory News Search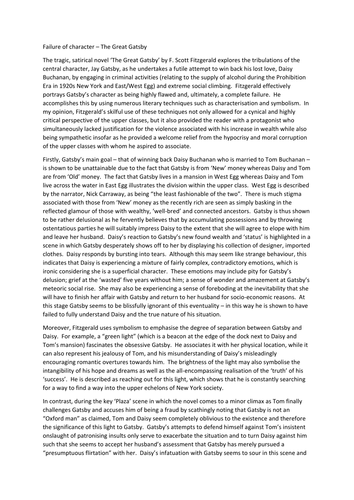 Higher English 5x critical essays, tasks and test 'The Great Gatsby'
Subject: Guided reading
Age range: 11-14
Resource type: Other
Last updated
17 March 2018
Share through email
Share through twitter
Share through linkedin
Share through facebook
Share through pinterest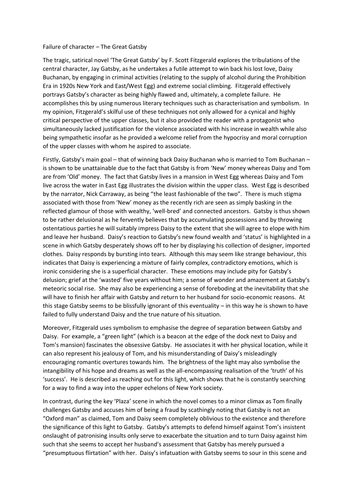 Tes paid licence How can I reuse this?
Get this resource as part of a bundle and save up to 84%
A bundle is a package of resources grouped together to teach a particular topic, or a series of lessons, in one place.
100 A grade essays: GCSE National 5 Higher A level English
A bundle of 100 A grade essays relevant to the GCSE, National 5, Higher and A Level English syllabi.
118 x A-grade Higher and National 5 English Folio and Critical Essays
Your rating is required to reflect your happiness.
It's good to leave some feedback.
Something went wrong, please try again later.
This resource hasn't been reviewed yet
To ensure quality for our reviews, only customers who have purchased this resource can review it
Report this resource to let us know if it violates our terms and conditions. Our customer service team will review your report and will be in touch.
Not quite what you were looking for? Search by keyword to find the right resource: