Home — Essay Samples — Entertainment — Freedom Writers — Sociological Theories In The Movie Freedom Writers

Sociological Theories in The Movie Freedom Writers
Categories: Film Analysis Freedom Writers Movie Review
About this sample

Words: 1128 |
Published: Mar 18, 2021
Words: 1128 | Pages: 2 | 6 min read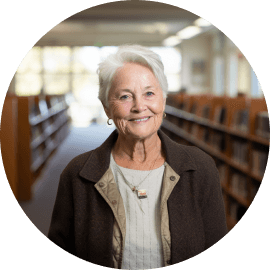 Cite this Essay
Let us write you an essay from scratch
450+ experts on 30 subjects ready to help
Custom essay delivered in as few as 3 hours
Get high-quality help

Prof Ernest (PhD)
Verified writer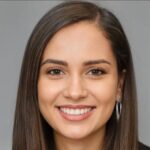 + 120 experts online
By clicking "Check Writers' Offers", you agree to our terms of service and privacy policy . We'll occasionally send you promo and account related email
No need to pay just yet!
Related Essays
2 pages / 880 words
3 pages / 1310 words
4.5 pages / 1968 words
2 pages / 909 words
Remember! This is just a sample.
You can get your custom paper by one of our expert writers.
121 writers online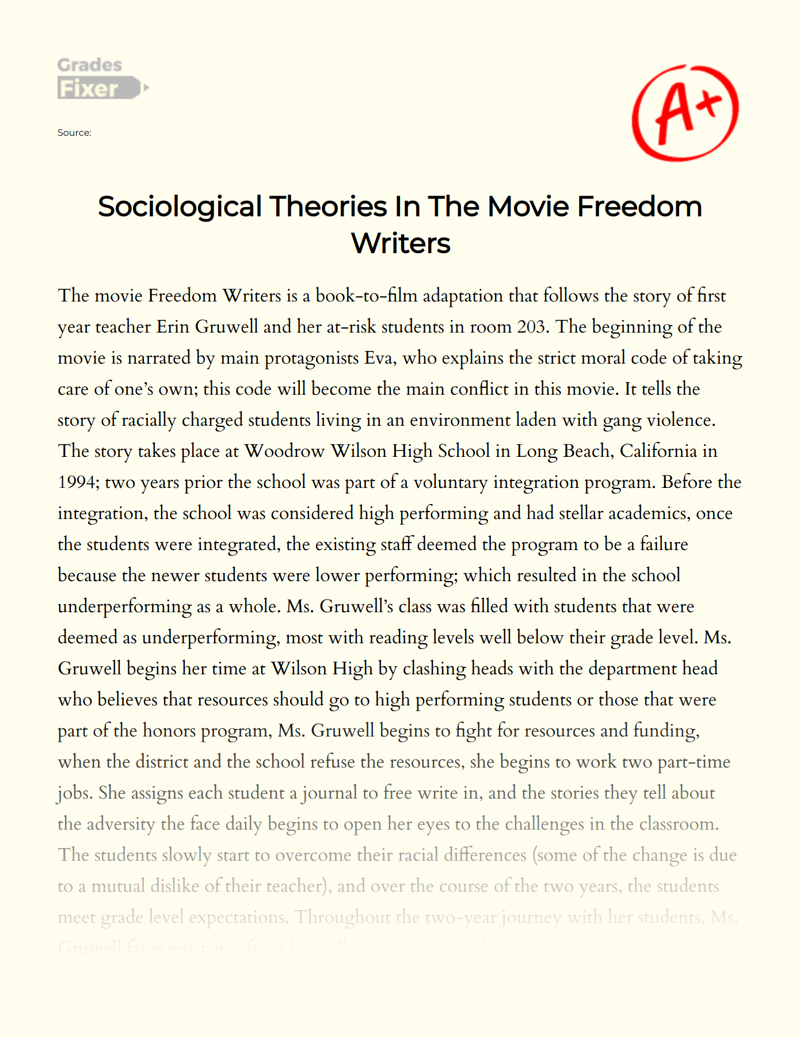 Still can't find what you need?
Browse our vast selection of original essay samples, each expertly formatted and styled
Related Essays on Freedom Writers
The "Freedom Writers" summary encapsulates the transformative journey of a class and their teacher, Mrs. Gruwell. Throughout the film, every main character embarks on a profound learning journey, showcasing various forms of [...]
The film, Freedom Writers, displays a story of a devoted teacher who works for a gang-filled school, and cannot find any backing or resources for her classroom since none of the faculty believes they will even pass freshmen [...]
"Freedom Writers," an American film based on a true story, unfolds the inspiring journey of a dedicated teacher, Erin Gruwell, who empowers her initially combative and confrontational students to see life beyond gang [...]
Freedom writers is a movie directed by Richard LaGravenese which was released on January 5,2007 in the USA. Mrs. Erin Gruwell whom belong to the upper class of people in social stratification went to teach these high schoolers [...]
Introduction to the theme of power and corruption in "Animal Farm" and "Divergent" Mention of the assertion that "all power tends to corrupt, and absolute power corrupts absolutely" Discussion of how both texts [...]
Through intense visuality and the complex connections among various characters, Woody Allen in Annie Hall suggests an inextricable connection between geographical location and identity in terms of class, religion, politics, and [...]
Related Topics
By clicking "Send", you agree to our Terms of service and Privacy statement . We will occasionally send you account related emails.
Where do you want us to send this sample?
By clicking "Continue", you agree to our terms of service and privacy policy.
Be careful. This essay is not unique
This essay was donated by a student and is likely to have been used and submitted before
Download this Sample
Free samples may contain mistakes and not unique parts
Sorry, we could not paraphrase this essay. Our professional writers can rewrite it and get you a unique paper.
Please check your inbox.
We can write you a custom essay that will follow your exact instructions and meet the deadlines. Let's fix your grades together!
Get Your Personalized Essay in 3 Hours or Less!
We use cookies to personalyze your web-site experience. By continuing we'll assume you board with our cookie policy .
Instructions Followed To The Letter
Deadlines Met At Every Stage
Unique And Plagiarism Free
Freedom Writers Film Analysis Essay
What techniques does the director of Freedom Writers, Richard LaGravenses, use to engage the audience?
Introduction Freedom Writers is based on a true story set in America in 1994, where a first time teacher, played by Hilary Swank, faces a group of students who have been considered by the government to be "un-teachable and at–risk" teenagers. These students represent street kids who have all witnessed street fights as well as the murder of their friends and family. The movie demonstrates the way non-white Americans are over represented in teenage homicides, incarceration, unemployment, poverty and poor educational outcomes, but also the way they are viewed in the media. The film also has several references to ghettos, street life, drug busts and continual involvement with the police. The target audience for this film is teenagers. A way this is known is because of the way the film is presented to the audience with the way the language use is presented.
The scene selected to illustrate the techniques used to engage the audience occurs when Erin and her students engage in an argument/confrontation about respect and the importance of legacy between 'gangs'.
Context Erin is a white middle-aged teacher with a passion for helping "troubled" students. Within her class a majority of the students are black and hispanic. In the chosen scene, Erin is confronted with a racist drawing of one of the students. This prompts Erin to talk about the holocaust. She says to her class, "It starts with a drawing like this, and some kid dies in a drive-by never even knowing what hit him." After this statement, a student named Eva speaks about how she feels about white people, which sparks a discussion between Erin and her students.
The discussion that unfolds demonstrates the frustration, passion and emotion of the students, with several of them talking about respect and legacy between their gangs. This scene is not only confronting for both the students and Erin, but also for the viewers watching.
Language Throughout the scene, the use of language provides the audience with a clear understanding of the position of each speaker. One significant example of this is when Eva says, "White people always wanting their respect like they deserve it for free. It's all about colour, it's about people deciding what they deserve and wanting what they don't deserve. About white's thinking that they run the world no matter what, see I hate white people. " Eva is suggesting that she thinks white people believe they should have the respect of people because they are white, rather than because they have earned it in some way.
Then she goes on to say that white people run the world and that white people can do or get anything they want because they can, because they're white. Eva describes how "white" people took her father away from her when she was a young girl, and how "white" police officers shot her friend in the back for no reason. This is Eva's reason for not giving respect to "white people" including the teacher Erin. In this exchange, Erin remains calm and impassive while Eva becomes emotional, raising her voice and showing her frustration, anger and sadness.
Marcus, another student in the class goes on to say, "When I look out in the world, I don't see nobody like me with their pockets full unless there rapping a lyric or dribbling a ball so what else you go in here for me. And what if you can't rap a lyric or dribble a ball? It ain't tradition… I made it to high school ain't nobody stop me. Lady I'm lucky if I make it to 18, we in a war, we graduate everyday we living because we ain't afraid to die protecting our own. At least when you die for your own, you die with respect." In his use of the language of the street, the audience can empathise with Marcus' point of view. Significantly the words, "I'm lucky if I make it to 18, we in a war, we ain't afraid to die protecting our own," make the audience think about the situation in which these young people live and think about how the students would react.
Film techniques The audience is drawn further to appreciate the perspective of the young people portrayed through the camera angles chosen by the director. Much of the scene is shown from the perspective of the students, with the camera at their level, looking up at the teacher, allowing the audience to empathise with their position. Close ups were used when the students were talking, showing the emotion on their faces. An example of this was when Eva was talking and she was expressing her feelings towards white people. Eva's face was shown in a close up revealing the emotions of anger, passion and tears.
A medium shot was used when Erin was talking to Marcus about his sense of purpose. This showed both their facial expression, but it also showed the emotion on the faces of the other students in the class as this discussion was confronting to everyone. This shot revealed great sadness on the student's faces as Erin spoke to them.
Long shots were used to show the classroom, when the teacher was talking or asking rhetorical questions. But to also show the body language of the students in the scene. For example, when Erin talks to the students about when they die, they rot in the ground, a long shot was used to show the emotion on their faces. Which showed they were shocked by what the teacher said to the class, but sad because they knew it was the truth.
Conclusion In this particular scene from Freedom Writers, the Director successfully used the American context to set the scene, but also used different language and film techniques to engage the audience.
More Essays
Matilda Film Analysis Essay
Atonement Film Analysis Essay
Shawshank Redemption Film Analysis Essay
Essay about Film Techniques In Ron Howard's A Beautiful Mind
Matchmoving: Cinematic Techniques In Film Essay
500 Days Of Summer Film Analysis Essay
The Brass Teapot Film Analysis Essay
Shawshank Redemption Film Techniques Analysis Essay
Essay on Zero Gravity Film Analysis
Essay on Pan's Labyrinth Film Analysis
Freedom Writers Movie Analysis
This essay sample essay on Freedom Writers Movie offers an extensive list of facts and arguments related to it. The essay's introduction, body paragraphs and the conclusion are provided below.
The movie "Freedom Writers" is an inspiring story about one teacher's dedication and commitment to her students. Remarkably, she manages to overcome the many struggles and hardships and significantly change the lives of her students. The film is based on an inspiring true story that encourages teachers to be passionate about their work.
Many individuals do not understand the complex work teachers contribute to society or the challenges that teachers must face throughout their career. Freedom Writers" and all that I have acquired this semester has exposed me to the realities of teaching and challenged me to consider whether teaching was right for me.Teachers, Schools, and Society introduced me to the realities of teaching that most people don't realize until they experience it themselves. Many concepts covered in the readings correlated with the educational concepts and theme in the film.
One major educational concept mentioned in both the text and the film is different ways of learning. Freedom Writers" demonstrates the different ways of learning from the beginning of the movie. Mrs. Gruwell is assigned to a classroom of "at-risk" students. Many of the students are failing, have no desire to perform well in school, and have no respect for their teacher or their peers. Instead of simply giving up on these students, Mrs. Gruwell sacrifices her lifestyle, challenges the board of education, and shows these students that she truly wants them to succeed.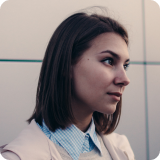 Proficient in: Writer
" Thank you so much for accepting my assignment the night before it was due. I look forward to working with you moving forward "
As mentioned in the film, a teacher must care about their students to effectively teach them.
Writers Paper
Individuals have different ways of learning, perceiving information, and retaining classroom material. A teacher must be patient for some students learn and respond more slowly than others. Mrs. Gruwell also helped her students alter their locus of control. An external locus of control involves the individual attributing their success or failure to external factors. In the film, Mrs. Gruwell's students blamed society for their failures. When the students claimed no one cared if they succeeded or not, Mrs. Gruwell showed them that she cared and inspired them to apply themselves.
Stereotypes are absolute statements applied to all members of a group, suggesting that members of a group have a fixed, often inherited set of characteristics" (Sadker & Zittleman 34). The students in the film fit the stereotype that exist in society today of low socioeconomic children. The other teachers in the film believed in these stereotypes, having no hope for these students because they truly believed they could not be helped. Stereotypes are a very unfortunate part of education that teachers should fight to change. Observing a classroom really allows one to see the role of teaching first hand.
I saw many educational concepts in the classroom that I had learned about in the text and saw in the film. The classroom I have been observing is full of diverse students of all ethnicities, learning styles, races, genders, and economic statuses. I found that it was interesting these same concepts were found in the elementary school I observe and in the high school in the film. Mrs. Gruwell's diverse students were majorly being affected by racism and diversity separation. In the beginning, cliques of race, gangs, separated the students.
The Asians sat with other Asians, African American's with other African American's, Hispanics with other Hispanics and etc. A clear racial divide was evident among the classroom. Mrs. Gruwell put an end to this by giving the student's something to relate to. Learning about the Holocaust made the student's realize the negative effects racism and stereotypes can have. As a result, the classroom united and no one saw the color of his or her classmates skin anymore. As inspiring as this was, these issues remain to be a problem in society.
Mrs. Gruwell demonstrated the Cultural difference theory by mediating the cultural gap separating the cultural differences of the students and the school. I have realized the power and influence of a teacher's attitude on their classroom. Mrs. Gruwell followed the expectation theory, holding high standards and expectations for her students despite their racial and ethnic groups, and therefore had a profound impact on the students. The other teachers in the film held little expectations for these students and therefore, as Mrs. Gruwell stated, "could not teach them if they didn't even like them.
Believing in your students and holding high expectations for them will help them believe in themselves and want to improve their academic achievement. Almost ten percent of students enrolled in public schools across America are English language learners. Learning how to teach these learners effectively can be very difficult. In the film, Mrs. Gruwell's diary assignment helps one of her bilingual students work on his English. In the classroom that I am observing, the student from Haiti, who speaks little English, is also helped in many ways in the classroom.
I admired the other students who worked with him trying to help him understand directions through hand signals and gestures. The teacher also happens to know enough Spanish to help him with instructions and learning material. I realize how hard it is for him to keep up with the other students, but despite the difficulty he really shows a desire to understand. The teacher also informed me that the school offers him an after school program assisting him additional instruction in reading and writing in English.
The text refers to multicultural education as "expanding the curriculum to reflect America's diversity, using teaching strategies that are responsive to different learning styles, ensuring and supporting multicultural competence of teachers, comfortable and knowledgeable working with students and families of different cultures; and a commitment to social justice. " Mrs. Gruwell displayed all of these dimensions and serves as a role model for multicultural education. We have discussed this issue many times in class and I have come to realize how important this concept is.
Culturally responsive teaching encourages students to be comfortable in their classroom and treat one another equally. Lastly, classroom management is one of the key concepts I have acquired through my experiences this semester. Everyday, my professor starts class exactly on time. He does not waste time preparing his lesson plan but already has it done. Having his students immediately engage in classroom discussions or lectures allows no time for students to get distracted. Allocated time, engaged time, and academic learning time are all beneficial when it comes to increasing academic learning time and student achievement.
Creating fair and reasonable rules and handling misbehavior contribute to creating a well-managed classroom. In the film, Mrs. Gruwell allows her students to express their opinion as long as they are respectful. Having the students feel as though their voices are actually being heard makes them want to participate, achieve, and work cooperatively. They gain a great deal of respect for Mrs. Gruwell because of the way she has managed her classroom. I asked the teacher I observe, since she is fairly young, how she learned to manage her classroom efficiently.
She informed me that it comes with experience, and that when she first started teaching she struggled with behavioral issues and academic learning time. I understood that observing a classroom and teaching a classroom are not the same. I may think I know how to well-manage my classroom, but it will be much different when I am actually managing a classroom. In class, we went over how to effectively handle behavioral issues. We did an activity where we had to show how we would handle a student's misbehavior without disrupting the rest of the classroom.
Having each one of us give a stern look actually helped me acquire a future technique I will use in my classroom. Teachers are extremely important today. They are responsible for educating the future leaders of our country, serving as role models and influencing student's behavior, preparing students for the real world. A teacher's dedication and passion about his or her work is illustrated through their teaching methods and student's achievement. If a teacher strives to do whatever needs to be done in order for a student to achieve, they have an increasingly better chance of reaching the student.
Using active engagement, interesting teaching methods, holding high expectations, providing equal treatment to the students, having patience, managing the classroom efficiently, and keeping the classroom attentive through questioning and discussions are all factors I believe contribute to teacher effectiveness. As mentioned before, teaching is not easy. Many people underestimate the work that goes into this profession. People say not to make one's job their life, but sometime's ones job is their life.
Mrs. Gruwell gave up her marriage, worked multiple jobs, and sacrificed so much for her students because she loved helping others and truly cared about her students. The reality of every teacher having this same influence on their students is highly unlikely, however it is examples such as "Freedom Writers" that show us it is possible. Through everything that I have acquired, I hope to always be passionate about teaching. This course and the experiences I have endured throughout the semester have challenged me to question whether teaching is right for me. Through it all, I know that teaching is what I am passionate about.
Mrs. Gruwell was a powerful educator that was able to change the lives of each and every one of her students in her classroom. Believing in her students, accepting their uniqueness, and refusing to let them fail encouraged them to succeed. Being there for a student who may not have anyone else can have a powerful impact on the student. For me to be able to have a positive effect on even just one student would be enough for me to know I am making a difference. Ultimately, I have become destined to be an effective teacher and help every possible student that I can to reach his or her highest academic and personal achievement.
Sample details
Literature,
Language Learning,
Related Topics
Manifest Destiny
Short Story
The Souls of Black Folk
Everyday Use By Alice Walker
West Side Story
Characterization
Love stories
Stereotypes
Waiting For Godot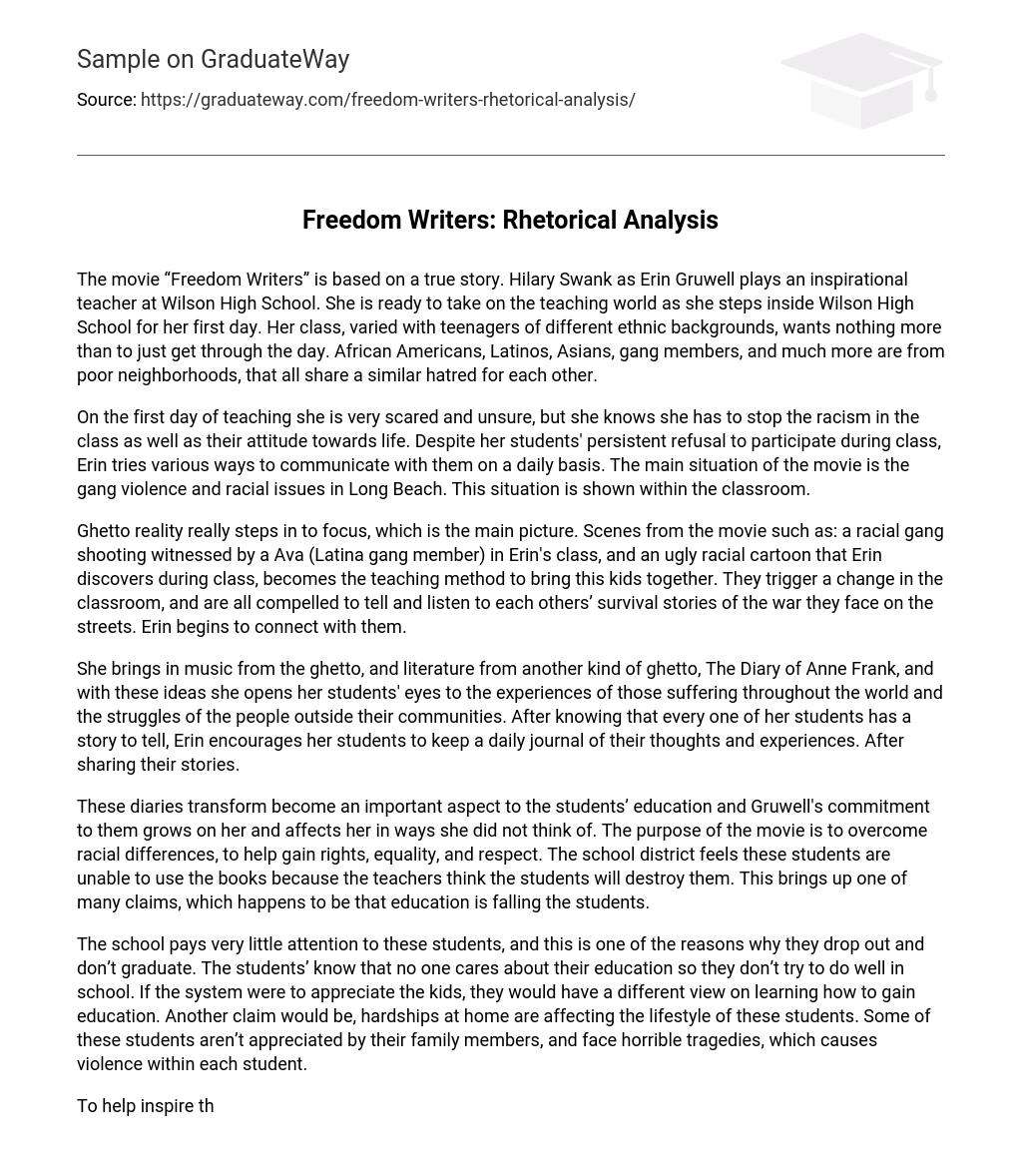 Freedom Writers: Rhetorical Analysis
The movie "Freedom Writers" is based on a true story. Hilary Swank as Erin Gruwell plays an inspirational teacher at Wilson High School. She is ready to take on the teaching world as she steps inside Wilson High School for her first day. Her class, varied with teenagers of different ethnic backgrounds, wants nothing more than to just get through the day. African Americans, Latinos, Asians, gang members, and much more are from poor neighborhoods, that all share a similar hatred for each other.
On the first day of teaching she is very scared and unsure, but she knows she has to stop the racism in the class as well as their attitude towards life. Despite her students' persistent refusal to participate during class, Erin tries various ways to communicate with them on a daily basis. The main situation of the movie is the gang violence and racial issues in Long Beach. This situation is shown within the classroom.
ready to help you now
Without paying upfront
Ghetto reality really steps in to focus, which is the main picture. Scenes from the movie such as: a racial gang shooting witnessed by a Ava (Latina gang member) in Erin's class, and an ugly racial cartoon that Erin discovers during class, becomes the teaching method to bring this kids together. They trigger a change in the classroom, and are all compelled to tell and listen to each others' survival stories of the war they face on the streets. Erin begins to connect with them.
She brings in music from the ghetto, and literature from another kind of ghetto, The Diary of Anne Frank, and with these ideas she opens her students' eyes to the experiences of those suffering throughout the world and the struggles of the people outside their communities. After knowing that every one of her students has a story to tell, Erin encourages her students to keep a daily journal of their thoughts and experiences. After sharing their stories.
These diaries transform become an important aspect to the students' education and Gruwell's commitment to them grows on her and affects her in ways she did not think of. The purpose of the movie is to overcome racial differences, to help gain rights, equality, and respect. The school district feels these students are unable to use the books because the teachers think the students will destroy them. This brings up one of many claims, which happens to be that education is falling the students.
The school pays very little attention to these students, and this is one of the reasons why they drop out and don't graduate. The students' know that no one cares about their education so they don't try to do well in school. If the system were to appreciate the kids, they would have a different view on learning how to gain education. Another claim would be, hardships at home are affecting the lifestyle of these students. Some of these students aren't appreciated by their family members, and face horrible tragedies, which causes violence within each student.
To help inspire the students more, Erin gave them an educational trip about the Holocaust War that the students don't have any idea about. But after giving so much effort and time to her students, her husband eventually gave up on their relationship. They divorced, but that didn't stop Erin to continually support her students, which is that time, treated by her as a family. The students' started gaining respect for Erin. The students' started to come together and tried to start life new, and make changes within their lifestyle.
The audience of this movie has a very wide range. However, I think majority of the viewers should been teenagers having to do with different racial backgrounds. Also, the education system should be one of the main viewer's of this movie. This movie is an inspiration to kids who are facing similar difficulties' that are faced in this movie. It shows that anyone can turn their lives around, but you have to want to do it, you can't force anyone to make a change for you. Erin was the students' support system and was there to motivate these kids to make a change.
Cite this page
https://graduateway.com/freedom-writers-rhetorical-analysis/
You can get a custom paper by one of our expert writers
Lamb to The Slaughter
Values of Life
Strengths And Weaknesses
Character Analysis
12 Angry Men
My Neighborhood
Clash of Civilizations
Fast Food Nation
Check more samples on your topics
Tolerance in "the freedom writers diary" analysis.
The Freedom Writers Diary by Erin Gruwell and her students show many great examples of the vast importance of tolerance. This novel is about one teacher who taught her students tolerance and knowledge. This novel even shares how to support tolerance and diversity. Tolerance is important to have in this world because without tolerance, there
Grief and Loss in Film "Freedom Writers" Analysis
Film Analysis
The movie "Freedom Writers" depicts how a teacher named Erin Gruwell is able to make a positive impact on the education and lives of a diverse group of students in a high school. Despite being inexperienced, Mrs. Gruwell faces challenges in helping her class, which is considered as misfits and incapable of learning. However, as
Describe an important character in Freedom Writers Character Analysis
An important character in the fim "Freedom Writers" directed by Richard LaGravenese is Ms Gruwell. She is an enthusiastic teacher, determined to help students succeed she is a problem solver and is altruistic. Four techniques that helped me understand this character are camera work, costumes, dialogues and editing. She was enthusiastic when she first arrived
The Freedom Writers Analysis
Introduction Freedom Writers is a drama based on the book "The freedom writers' diary" by Erin Gruwell and her students at the Woodrow Wilson Classical High School in California. The book is an agglomeration of the writings of these students, inspired by their teacher, to write about the experiences they had to undergo due to
Freedom Writers Summary
The movie "Freedom Writers" was about Erin Gruwell, a young teacher who accepted a position teaching freshman and sophomore English at Woodrow Wilson High School in Long Beach, California. Mrs. Gruwell dramatically transformed a chaotic class of hardened inner city youths. This class was consisted of African Americans, Latinos, Asians, Juvenile Delinquents, gang members, one
The Freedom Writers was Made Following the Rodney King Trial
Honors English 11 April 12, 2013 "l had lunch before class in the high school quad and noticed that, like everywhere else, it was really separated by race. Each race has its own section and nobody mixes. Everyone, including me, eats lunch with their own kind, and that's that... From what's going on around me,
Desire for Freedom and Desire for Limitations on Freedom
Both a desire for freedom and a desire for limitations on freedom are essential for peaceful living, as people can have both. Absolute freedom is unattainable as removing constraints also removes freedoms. Without societal rules, individuals could harm each other without consequences. We value freedom because restrictions hinder our autonomy over our bodies. Our physical bodies are
Good Readers Good Writers Analysis
In his 1948 essay "Good Readers and Good Writers," Nabokov explores the potential harmonious connection between skilled readers and skilled writers. The essay examines reading and writing, which have lost some value and become standardized due to advancements in education. Literacy is now taken for granted, and little consideration is given to the qualities
Writers And Inspiration
Inspiration
Intelligence
Writers seem to be of a different breed than a lot of people. They have a "reputation of being enormously mentally unstable" (Gilbert 2013) and "manic, alcoholic depressives" (Gilbert 2013). It has been said that anguish and artistry go hand in hand (Gilbert 2013) but is that true? Is a troubled mind full of despair

Hi, my name is Amy 👋
In case you can't find a relevant example, our professional writers are ready to help you write a unique paper. Just talk to our smart assistant Amy and she'll connect you with the best match.
The Freedom Writers Diary
Erin gruwell, everything you need for every book you read..
Welcome to the LitCharts study guide on Erin Gruwell's The Freedom Writers Diary . Created by the original team behind SparkNotes, LitCharts are the world's best literature guides.
The Freedom Writers Diary: Introduction
The freedom writers diary: plot summary, the freedom writers diary: detailed summary & analysis, the freedom writers diary: themes, the freedom writers diary: quotes, the freedom writers diary: characters, the freedom writers diary: symbols, brief biography of erin gruwell.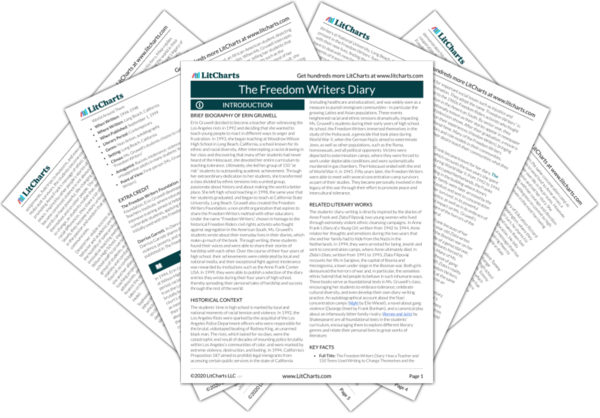 Historical Context of The Freedom Writers Diary
Other books related to the freedom writers diary.
Full Title: The Freedom Writers Diary: How a Teacher and 150 Teens Used Writing to Change Themselves and the World Around Them
When Written: 1994-1998
Where Written: Long Beach, California
When Published: September 1, 1999
Literary Period: Contemporary
Genre: Non-fiction, autobiography
Setting: Long Beach, California
Climax: Ms. Gruwell's students choose to call themselves "Freedom Writers"
Antagonist: Racism; intolerance; violence; the uncaring, unsupportive adults in many students' lives
Point of View: First-person (Ms. Gruwell and the Freedom Writers)
Extra Credit for The Freedom Writers Diary
The Freedom Writers Foundation. At the Freedom Writers Foundation, Erin Gruwell developed the Freedom Writer Teachers Institute, where educators can receive a five-day intensive training aimed at helping them teach at-risk and vulnerable students, applying the same techniques that Erin initially used with the Freedom Writers.
Darrius Garrett. In Diary of a Freedom Writer , Freedom Writer Darrius Garrett shares the entirety of his personal story of violence, poverty, and success, expanding on the entries he first published in The Freedom Writers Diaries .
StudyDriver in your Smartphone!
"Freedom Writers" (Summary Essay)
So many people believed that the film Freedom Writers was a waste of time and wasn't as interesting as it may have seemed. The movie gives you an overview on gang affiliation and violence, being neglected, poverty and adversity, diversity, faith, love and change. There's so much to learn from this film that it even ties in with real events based on a true story. Many people did not get what the film was actually trying to justify in regards to the real world, but this essay is to discuss some archetypes (repeatedly description components such as circumstances, personality, and signs that emerge in tales across cultures that speak to worldwide human experiences) that look to clarify the films meaning and purpose. 
Starting with The Villain. The villain is a person who gives trouble or difficulty, as principal Margaret Campbell played this role while she gave a demeanor towards the teacher Mrs.Gruwell (or Mrs.G). The principal was not only the villain, but also the static character. Due to her not changing and acting the same way with a prejudice mind caused her to resemble the static character archetype. Mr.Gelford also played this role just as well as the principal, for both of them did not want to see her do great and accomplish what she had in store for her class. In this situation, since the villain always has to have a main target, Mrs.G plays the hero. She overcomes any obstacles that gets thrown at her and find ways to still help the children in their rough lives or need of matter. Although she tries to be a Good Samaritan, her peers still try to bring her down. In a way, this is like Jesus when he went around trying to help everyone by spreading the good news, but was cursed, hated and crucified for his actions. Another possible hero can also be the lady who was Department Head. When Mrs.G tried to fight to get her class again for Junior and Senior year, the principal and Mr.Gelford tried to convince the Department Head that she would not be fit since Mr.Gelford taught higher classed kids and she didn't. Though the principal and Mr.Gelford seemed pleased at their argument they thought might get her to not have the position for her class, the Department Head made her decision and let Mrs.G teach her class until they graduated. So now that makes her hero of the day! Moving forward, the archetypes mentor and caregiver is well presented by Mrs.G and Miep Gies, role models we need in today's generation. When Mrs.G really started getting attached to her students after days of hard work and dedication teaching them the lesson of life, she finds herself making trips for them, seeing and talking to special people, and even takes them home as she quotes here getting home to her husband "Sorry, it got late. I drove the kids home. I didn't want them taking buses," not knowing that would put her in the middle of a divorce and sacrificing her marriage. As for Miep Gies, she plays a very special part on being a mentor (an experienced and trusted advisor). She was a holocaust survivor that was invited by Mrs.G through letters the students wrote. She told them her story, how it was like living through that experience and gave them words of wisdom on how they are their own heroes. You can say she imparted wisdom giving them something that impacted them for the rest of their lives. Although throughout the film it shows the kids lifestyle, the setting was mostly in the classroom. The classroom represents unity and diversity. Of course, they just didn't start out liking and communicating towards one another. They originally hated each other; gang vs gang and origin vs origin. It took them months, probably years to finally interact together as one which symbolizes unity. The students realized they all had something in common, no one was different, and that theirs no race that's more superior that another ethnicity. As they realize this, they see diversity from their Asian, Cambodian, African-American, Caucasian, and Puerto Rican(Dominican) coequals. There's still so much racism going on in this world that the film could possibly help people to better see each other as one, in harmony, no division. The class better represents the Character Arc archetype (as well as Marcus's mom by having a change of heart to let him live with her again after his apology). They accomplished this by changing, bettering themselves, coming to sense that they can be finer then what anybody tells them or how they will be viewed. They changed their lives with the help of Mrs.Erin Gruwell, giving themselves the ability to recreate their future, and puts them in a place where they can call themselves the Freedom Writers. 
Though people did not understand what the film was trying to vindicate in view to the physical world, this essay was to analyze some archetypes that looked to explain the films sense and intentions.
Cite this page
"Freedom Writers" (Summary Essay). (2021, May 24). Retrieved from https://studydriver.com/freedom-writers-summary-essay/
""Freedom Writers" (Summary Essay)." StudyDriver.com , 24 May 2021, https://studydriver.com/freedom-writers-summary-essay/
StudyDriver.com. (2021). "Freedom Writers" (Summary Essay) . [Online]. Available at: https://studydriver.com/freedom-writers-summary-essay/ [Accessed: 24 Nov. 2023]
""Freedom Writers" (Summary Essay)." StudyDriver.com, May 24, 2021. Accessed November 24, 2023. https://studydriver.com/freedom-writers-summary-essay/
""Freedom Writers" (Summary Essay)," StudyDriver.com , 24-May-2021. [Online]. Available: https://studydriver.com/freedom-writers-summary-essay/ . [Accessed: 24-Nov-2023]
StudyDriver.com. (2021). "Freedom Writers" (Summary Essay) . [Online]. Available at: https://studydriver.com/freedom-writers-summary-essay/ [Accessed: 24-Nov-2023]
"Freedom Writers" (Summary Essay). (2021, May 24). Retrieved November 24, 2023 , from https://studydriver.com/freedom-writers-summary-essay/
Save time with Studydriver!
Get in touch with our top writers for a non-plagiarized essays written to satisfy your needs
Stuck on ideas? Struggling with a concept?
A professional writer will make a clear, mistake-free paper for you!
Leave your email and we will send a sample to you.
Please check your inbox
Interested in this topic?
Please indicate where to send you the sample.
Hi! I'm Chatbot Amy :)
I can help you save hours on your homework. Let's start by finding a writer.
Home / Essay Samples / Entertainment / Freedom Writers / "Freedom Writers": Summary of the Movie
"Freedom Writers": Summary of the Movie
Category: Entertainment , Literature
Topic: Freedom Writers , Mary Shelley , Movie Review
Pages: 2 (792 words)
Views: 7926
--> ⚠️ Remember: This essay was written and uploaded by an--> click here.
Found a great essay sample but want a unique one?
are ready to help you with your essay
You won't be charged yet!
Bridge Essays
Boyz N The Hood Essays
Movie Review Essays
Ready Player One Essays
Boys and Girls Essays
Related Essays
We are glad that you like it, but you cannot copy from our website. Just insert your email and this sample will be sent to you.
By clicking "Send", you agree to our Terms of service and Privacy statement . We will occasionally send you account related emails.
Your essay sample has been sent.
In fact, there is a way to get an original essay! Turn to our writers and order a plagiarism-free paper.
samplius.com uses cookies to offer you the best service possible.By continuing we'll assume you board with our cookie policy .--> -->