Creative writing
A degree in creative writing allows you to develop your writing, research and creative thinking skills. You'll also gain skills that are useful in a range of other careers such as publishing, marketing, PR and teaching
Job options
Jobs directly related to your degree include:
Advertising copywriter
Arts administrator
Creative director
Digital copywriter
Editorial assistant
Higher education lecturer
Lexicographer
Magazine journalist
Newspaper journalist
Publishing copy-editor/proofreader
Talent agent
Jobs where your degree would be useful include:
Academic librarian
Digital marketer
Film director
Marketing executive
Primary school teacher
Public librarian
Public relations officer
Social media manager
Web content manager
Remember that many employers accept applications from graduates with any degree subject, so don't restrict your thinking to the jobs listed here.
Work experience
Building a portfolio of written work, especially any that you've had published, will help to evidence your writing skills and establish your reputation as a writer.
You can gain valuable experience by writing for your student newspaper or magazine, volunteering in schools, or getting involved with writers' groups. Also, try submitting work to journals or anthologies, entering competitions, performing at spoken word events or approaching local drama groups to see if they will use your scripts. This will boost your profile and help build your confidence.
To make yourself more employable, look for opportunities to gain some solid work experience. This could be in the form of paid administrative work for a company or volunteering, perhaps with a local charity helping them to promote the work they do.
You could also write speculatively to a number of businesses, including publishing houses and marketing firms, to ask if you could complete some short-term work experience or shadowing. This can have the advantage of getting you a foot in the door in a highly-competitive industry and could lead to a permanent position.
As well as creative talent and writing experience, you will also need perseverance and determination to succeed as a writer.
Search for placements and find out more about work experience and internships .
Typical employers
As a creative writing graduate you may work to establish yourself as a writer on a self-employed basis, either writing your own works, or writing for others in a freelance capacity.
Alternatively, you could find opportunities with a variety of employers, including:
publishing houses or editorial/technical writing service companies
advertising, marketing and public relations agencies, particularly in a copywriting capacity
primary, secondary, further and higher education institutions
media organisations and social media companies
general businesses - in an administrative or general management position
Civil Service, library or charitable organisations.
Find information on employers in marketing, advertising and PR , media and internet , teacher training and education , and other job sectors .
Further study
As a creative writing graduate you can develop your creative writing skills further by undertaking further study at Masters or PhD level. You can also specialise in an area such as screenwriting, the graphic novel, writing for young people, writing poetry, or writing and producing comedy.
Alternatively, you may want to undertake further vocational training in areas such as teaching, journalism, librarianship or publishing. Vocational courses allow you to study in an area in which you would like to have a career.
You may also want to consider further study in areas such as PR, marketing or advertising.
For more information on further study and to find a course that interests you, see Masters degrees and search postgraduate courses in creative writing .
What do creative writing graduates do?
One in ten (10%) creative writing graduates who are in employment in the UK are working in artistic, literary and media occupations, while 11% are working as sales, marketing and related associate professionals, 6% are teaching professionals and 5% are media professionals.
Find out what other creative writing graduates are doing 15 months after finishing their degrees in What do graduates do?
Graduate destinations data from the Higher Education Statistics Agency.
How would you rate this page?
On a scale where 1 is dislike and 5 is like
Dislike 1 unhappy-very
Like 5 happy-very
Thank you for rating the page
Creative Writing
Have you always wanted to pursue a career as a writer? Do you love literature and feel that this is the direction you wish to take after university? Majoring in Creative Writing at York allows you to explore unending possibilities as you develop knowledge of different genres and approaches to writing by contemporary and past authors. You will have access to accomplished professors and exposure to a variety of opportunities to improve your writing abilities and gain a good understanding of the profession and opportunities in your field of interest before graduation.
Career Options in Creative Writing
Skills developed through a creative writing degree, professional associations and organizations.
Below is a sample list of some future choices to explore following studies in Creative Writing. This list is not exhaustive but it provides a solid idea of what fellow graduates have gone on to do and what potential careers a Creative Writing degree can offer. Some options are more directly associated with specific areas of Creative Writing than others.
Children's Writer
Communications Consultant
Cultural Consultant
Entrepreneur
Event Planner
Fundraising Coordinator
Human Resources Specialist
International Aid Director
International Development Worker
Interpreter
Legal Aid Representative
Literary Editor
Magazine Contributor
Marketing Director
Media Correspondent
Non-Profit Organization Director
Public Relations Representative
Social Program Director
Speech Coach
Speech Writer
Travel Magazine Editor
UN Representative
Some of these career choices may require additional education or preparation in the form of graduate studies, experiential education or professional formative courses and exams. For a more in-depth description of some of the careers mentioned above visit Career Cruising (login information can be found on the home page of the Career Centre's online system ) or the National Occupational Classification website.
A background in Creative Writing ensures that you develop the skills and mindset to tackle many different professional challenges. Here are just a few of the skills a Creative Writing degree can help you develop:
Core Creative Writing Skills
Familiarity with contemporary and classic literary works and analysis of different styles of writing.
An ability to understand and mould language with great ease to fit your needs as a writer.
A capability to experiment with different forms of writing to get your message across.
Through exposure to various works and methods you will develop your own style, discover what sort of writing most compels you and gain confidence in your writing.
Communication, Data Gathering and Organizational Skills
The ability to present your thoughts clearly and intelligently in written statements and written opinion pieces
The ability to learn new information and apply this to professional demands
The capacity to critically analyze problems, think creatively and make sound decisions while considering different sides of an argument
The ability to explain complex ideas clearly to others and to apply complex theoretical concepts to everyday practice and professional dilemmas
The skills to collect various types of information, assess them, analyze and incorporate potential linkages from different fields, put them into writing and efficiently convey your message and the goal of your work
Management and Teamwork
The ability to interpret and analyze information presented by peers and efficiently and constructively support or challenge their proposals, theories, ideas and reports in order to achieve a project's intended and successful end result
The capacity to lead and interact with a variety of people with different approaches and personal and professional backgrounds
The ability to debate, persuade, mediate and present your thoughts and opinions to others, as well as the capacity to recognize and incorporate other potential solutions or applications to given problems
The capability to identify priorities and proper courses of action, to plan the execution of tasks and to determine and delegate responsibilities to group members to most effectively carry out projects
Knowing the industry and how to excel in it after receiving a degree are key elements of future success. University study sets up the building blocks you will need to develop and enhance your understanding and knowledge in your career. Being part of a professional organization or network and gaining further insight through training are excellent ways of increasing your knowledge of the field. The following is a selection of organizations related to the field of Creative Writing that you may want to visit as you research career options for Creative Writing graduates.
Professional Writers' Association of Canada
Canadian Author's Association
The Writer's Union of Canada
Canadian Creative Writers and Writing Programs (CCWWP)
York University Creative Writing Website

Keele, Glendon and Markham Campus Contact (416) 736-2100 Campus Maps
Community Safety
Privacy & Legal
Accessibility
Admission and Aid
Student Life
Jobs with a Bachelor's in Creative Writing
Creative writing is at its heart about storytelling. Whether you are writing a fiction novel, creating a marketing campaign or educating the next generation, a bachelor's in creative writing can help you find success in a variety of career fields. As you consider how you want to use your writing skills to further your career goals, know that you can find the right fit for you, just as countless others have, through earning a degree in creative writing.
What Is Creative Writing?
Creative writing takes on many forms. However, the focus of most creative writing bachelor's programs – including the program at UM – will fall into three categories: fiction, nonfiction and poetry.
A bachelor's in creative writing can encompass just one or a mix of these categories. The purpose of creative writing as a bachelor's is to increase your understanding of the fundamentals of good storytelling, to learn about the existing literature, both classic and modern, and to apply the techniques used in that literature to create compelling and interesting stories of your own.
A career in creative writing will require strong writing skills; editing, attention to detail, and the ability to recognize and create provocative language and ideas. With a BFA in creative writing, you will be equipped to make readers want to take action, not just give your topic a look and then forget about it. At the University of Montana, you will be in good company as you pursue your creative writing bachelor's, with professors and alumni who have won numerous awards in the field of creative writing.
Creative Writing vs. English Literature
While studying for your bachelor's in creative writing you will study a lot of English literature, but the two fields are distinct. A bachelor's in creative writing has a stronger focus on the practical side of literature, teaching those who pursue the degree how to create original works as well as how to recognize quality in the written word.
Where English literature has a broad-strokes approach to understanding the written word and the impact it has had on society, the bachelor's in creative writing provides deeper context on how those works came to be so impactful, and provides a link to the heartbeat of society through that context.
Where a degree in English literature may be helpful for pursuing a career in education, a bachelor's in creative writing can be helpful in a broader scope. The gaming industry seeks out creative writers for story development on AAA video game titles. The film industry looks for creative writing graduates, as well. Publishing houses and marketing firms also look for those with a degree in creative writing.
Why Choose a Career in Creative Writing?
When you have been part of the development of a new brand in marketing, a new intellectual property in film or television or have done your part to educate the next generation of creative writers, you will know the fulfillment that comes with a bachelor's in creative writing.
Just as the name implies, there is a great deal of creative freedom that comes with a creative writing BFA. You will be prepared to work in the arts, in marketing, education and more.
Careers in Creative Writing offer flexibility
There is so much that you can do with a bachelor's in creative writing. The world is ready for more creative, groundbreaking leaders in education, media and the art of storytelling. In addition to offering a broad array of career paths to pursue, creative writing jobs also offer the flexibility to work remotely.
Jobs with a Creative Writing Bachelor's offer diverse options
A bachelor's degree in creative writing is listed as a requirement for many careers in film, television, digital media, video games, education, marketing, and even politics as a speech and campaign writer. The possibilities are open to you, no matter your interests.
What Can You Do with a Creative Writing Bachelor's?
The most common careers for those with a bachelor's in creative writing are in the fields of marketing and advertising, publishing, higher education, and visual and written media. High profile companies like Sony, Disney and Random House all frequently have positions available in their employ which list a bachelor's in creative writing as a prerequisite
As you pursue a career with your BFA in creative writing, the technical and artistic skills you have learned as a student at UM will become invaluable, setting you a cut above those with just experience in the field.
The choice to achieve your own bachelor's in creative writing ultimately comes down to how you want to use it. If the arts are your desire, visual, written and digital media are there for you. If you are more interested in the printed word, marketing and publishing houses are there, too.
A List of Careers for a Creative Writing Bachelor's Degree
There are many career paths available for you if you get a creative writing bachelor's, as you've already seen. They span academic careers as well as the arts industry.
Literary Agent
Screenwriter
Video Game Story Writer
Social Media Manager
Marketing Copywriter
Website Developer
A list of careers for a Creative Writing Master's degree
If you desire to take your education further, you can be assured that your prospects for a career increase as well. A creative writing master's degree opens up additional doors, with a greater expansion into the field of academia.
Literary Historian
Marketing Management
Grant Writing
Public Relations
A list of careers for a Creative Writing Doctoral degree
Pursuing a Ph.D. in creative writing provides an incredible amount of prestige. It is a great undertaking, and will set you apart from every other person with a creative writing degree as less than 2% of the US population have a Ph.D. The career fields which are specifically open to those with a doctorate in creative writing are almost exclusively academic.
Literary Researcher
Creative Director
Governmental Writer
Where Do those with a Bachelor's in Creative Writing Work?
A BFA in creative writing opens doors for employment in numerous fields. Frequently, those with a bachelor's degree in creative writing work in universities as professors or adjunct staff, or as researchers. Much of the research work done by those with a bachelor's in creative writing offers unique opportunities to read English texts from as far back as the 15 th century. Aside from these academic opportunities, earning you creative writing bachelor's degreeopen doors to working in media marketing, digital arts and gaming. With some additional education, even teaching in high school and elementary school become options.
Among the possibilities of employment for those with a bachelor's degree in creative writing are:
Universities
Marketing Agencies
Social Media Marketing
Film Industry
AAA Gaming Industry
High Schools
Literary History Preservation
Start Your Creative Writing Career: Earn Your Bachelor's in Creative Writing at the University of Montana
The creative writing bachelor's at the University of Montana is a program with a rich history in publication, and with many prestigious alumni. Nearly all the professors for the program are published, with dozens of awards in literature across their diverse backgrounds.
The creative writing major at UM offers an array of classes in fiction, nonfiction and poetry, courses in reading and revision and a class in which students solicit, write and publish submssion to The Oval, UM's undergraduate literary magazine .  
As you consider the University of Montana as the place where you'll get your own bachelor's in creative writing, you can learn more about the individual professors and staff that make this program so incredible.
Learn more about the University of Montana's Creative Writing Bachelor's Program
Apply Now to Become an Undergraduate Student
UM's Creative Writing B.A. degree
Explore UMontana
Request Information
Apply as an Undergraduate
Launch UM virtual tour.

Broken Arrow
Graduate College
Gather Here. Go Far
NSU is where success begins. Here professors know their subjects and how to get you ready for a career after you graduate. We empower individuals to become socially responsible global citizens by creating and sustaining a culture of learning and discovery.
What Can I Do With A Major In Creative Writing?
Creative writing, career opportunities.
Greeting Card Writer
Reviewer (books, products, etc.)
Writing Coach/Consultant
Advertising/Marketing (creative)
Ghostwriter
Travel Writer
Article Writer
Video Game Writer
Personal Poet
Technical Writer
Website Content Writer
Proofreader
Speech Writer
Public Relations
Screenwriter
Grant Writer
Degree Information
Connect with NSU Career Services
Skip to main content
Creative writing Jobs
Found 119 jobs in this campaign.
Relevance Newest first
Head of Policy & Public Affairs
London (Greater)
£60,000 + benefits including pension, private medical and life assurance
Creative UK
We are looking for an experienced professional with an extremely strong public affairs, policy & research background.
View details Head of Policy & Public Affairs
12 days ago
Save Head of Policy & Public Affairs You need to sign in or create an account to save
Safeguarding & Quality Officer
Stockport, Greater Manchester
Up to £26,343 per annum
CREATIVE SUPPORT
Have you got good attention to detail and follow up? And do you want to be part of a dynamic and experienced team?
View details Safeguarding & Quality Officer
5 days left
Save Safeguarding & Quality Officer You need to sign in or create an account to save
Editor/Writer (Maternity Cover)
Vauxhall, London (Greater)
On application
CULTURESHOCK MEDIA
We are looking for an experienced editor with a strong track record of arts reporting, interviewing & writing.
View details Editor/Writer (Maternity Cover)
Save Editor/Writer (Maternity Cover) You need to sign in or create an account to save
Lower School Creative Arts Assistant Teacher
London (Central), London (Greater)
£29,000 - £32,000 dependent on experience and qualifications
THE AMERICAN SCHOOL IN LONDON
ASL is seeking a passionate creative arts educator to join the primary school Kindergarten.
View details Lower School Creative Arts Assistant Teacher
Expiring today
Save Lower School Creative Arts Assistant Teacher You need to sign in or create an account to save
PR Associate Director / Junior Director - Highly creative & integrated B2B Tech role
London (Central)
Premier Resourcing
Associate Director/Junior Director required for a highly creative and integrated communications agency.  My client is expanding their agency and we a
View details PR Associate Director / Junior Director - Highly creative & integrated B2B Tech role
6 days left
Save PR Associate Director / Junior Director - Highly creative & integrated B2B Tech role You need to sign in or create an account to save
Corporate Development Executive
Hybrid – between home and office location (London)
£30,000 – £33,500 per annum
DEMENTIA UK
Join our creative and hard-working team as a Corporate Development Executive.
View details Corporate Development Executive
3 days left
Save Corporate Development Executive You need to sign in or create an account to save
Senior Talent Agent - Film/TV Production - £40k-£45k
£40k-£45k (pro rata for part-time)
HARRISON PURSEY MEDIA SPECIALISTS
This Talent Agency who work with below the line film/production talent is looking for an Agent to represent and grow their own roster of Clients.
View details Senior Talent Agent - Film/TV Production - £40k-£45k
Save Senior Talent Agent - Film/TV Production - £40k-£45k You need to sign in or create an account to save
Volunteer eBay Lister
Home/Head Office at Tenovus Cancer Care, 1st Floor Jones Court, Womanby Street ,Cardiff, CF10 1BR
TENOVUS CANCER CARE
We're looking for some creative and resourceful volunteers to help us market some of the amazing donated stock though our digital platforms.
View details Volunteer eBay Lister
16 days ago
Save Volunteer eBay Lister You need to sign in or create an account to save
Marketing Assistant
Our client are looking for a Marketing Assistant to join their busy Audiences department.
View details Marketing Assistant
10 days ago
Save Marketing Assistant You need to sign in or create an account to save
Account Executive – Sports Fashion PR
£24,000 – £27,000
MEDIA CONTACTS
This is a brilliant opportunity to join a renowned sportswear, lifestyle and fashion PR agency. Working on an eclectic mix of well-known, internati...
View details Account Executive – Sports Fashion PR
Save Account Executive – Sports Fashion PR You need to sign in or create an account to save
Create a job alert and receive personalised job recommendations straight to your inbox:
Senior Content Executive
East London
Competitive Salary
Senior Content Executive needed with strong copy & content creation plus exceptional relationship building skills. Office-based.
View details Senior Content Executive
7 days left
Save Senior Content Executive You need to sign in or create an account to save
PR Senior Account Executive
Richmond upon Thames, London (Greater)
£30-£35k+package
Do you love architecture? Want a role that offers variety and no two days the same? One day photo shoots, next writing compelling content?
View details PR Senior Account Executive
Save PR Senior Account Executive You need to sign in or create an account to save
Principal Medical Writer – Medical Communications
Greater Manchester
£55,000 - £75,000 (+ benefits & bonus)
This is an opportunity with one of the most exciting full-service healthcare communications agencies on the planet. With unrivalled in-house resour...
View details Principal Medical Writer – Medical Communications
Save Principal Medical Writer – Medical Communications You need to sign in or create an account to save
Marketing Executive
If you are an Essex based digital marketer, with excellent social media and SEO experience then this could be for you.
View details Marketing Executive
Save Marketing Executive You need to sign in or create an account to save
Account Manager- Consumer PR
Do you want to work for an award-winning PR agency? Do you want to be a part of the most influential and exciting campaigns in the industry? A full...
View details Account Manager- Consumer PR
Save Account Manager- Consumer PR You need to sign in or create an account to save
Medical Writer – Medical Communications
Manchester, Greater Manchester
£30,000 - £42,000 (+ benefits & bonus)
View details Medical Writer – Medical Communications
Save Medical Writer – Medical Communications You need to sign in or create an account to save
Communications, PR & Events Manager (Maternity Leave cover)
£42K and £46K (depending on experience).
John Lyon's Charity is a grant-giving Charity that gives grants to promote the life chances of children and young people through education.  They a...
View details Communications, PR & Events Manager (Maternity Leave cover)
4 days left
Save Communications, PR & Events Manager (Maternity Leave cover) You need to sign in or create an account to save
Senior PR Executive
£38000 - £40000 per annum
Opportunity for a Senior PR Executive with proven experience of media relations/working with journalists. Hybrid.
View details Senior PR Executive
Save Senior PR Executive You need to sign in or create an account to save
Junior Account Executive
£23-28k plus benefits
ALEXANDER JAMES RECRUITMENT LTD
Graduates needed for a PR agency in Clerkenwell. Great training and career potential, along with a starting salary of £23-28k!
View details Junior Account Executive
20 days ago
Save Junior Account Executive You need to sign in or create an account to save
Related Topics
How to Write a Novel
How to Write a Thriller Novel
How to Write a Fantasy Novel
How to Start a Novel
How Many Chapters in a Novel?
Mistakes to Avoid When Writing a Novel
Novel Ideas
How to Plan a Novel
How to Outline a Novel
How to Write a Romance Novel
Novel Structure
How to Write a Mystery Novel
Novel vs Book
Round Character
Flat Character
How to Create a Character Profile
Screenplay Writer Overview
Screenplay Overview
How to Write a Screenplay
Screenplay vs Script
How to Structure a Screenplay
How to Write a Screenplay Outline
How to Format a Screenplay
How to Write a Fight Scene
How to Write Action Scenes
How to Write a Monologue
Types of Writers
How to Become a Writer
Short Story Writing Overview
Author Overview
Document Manager Overview
Technical Writer Career Path
Technical Writer Interview Questions
Technical Writer Salary
Google Technical Writer Interview Questions
How to Become a Technical Writer
UX Writer Career Path
Google UX Writer
UX Writer vs Copywriter
UX Writer Resume Examples
UX Writer Interview Questions
UX Writer Skills
How to Become a UX Writer
UX Writer Salary
Google UX Writer Overview
Google UX Writer Interview Questions
Technical Writing Certifications
Grant Writing Certifications
UX Writing Certifications
Proposal Writing Certifications
Content Design Certifications
Knowledge Management Certifications
Medical Writing Certifications
Grant Writing Classes
Business Writing Courses
Technical Writing Courses
Content Design Overview
Documentation Overview
User Documentation
Process Documentation
Technical Documentation
Software Documentation
Knowledge Base Documentation
Product Documentation
Process Documentation Overview
Process Documentation Templates
Product Documentation Overview
Software Documentation Overview
Technical Documentation Overview
User Documentation Overview
Knowledge Management Overview
Knowledge Base Overview
Publishing on Amazon
Amazon Authoring Page
Self-Publishing on Amazon
How to Publish
How to Publish Your Own Book
Document Management Software Overview
Engineering Document Management Software
Healthcare Document Management Software
Financial Services Document Management Software
Technical Documentation Software
Knowledge Management Tools
Knowledge Management Software
HR Document Management Software
Enterprise Document Management Software
Knowledge Base Software
Process Documentation Software
Documentation Software
Internal Knowledge Base Software
Grammarly Premium Free Trial
Grammarly for Word
Scrivener Templates
Scrivener Review
How to Use Scrivener
Ulysses vs Scrivener
Character Development Templates
Screenplay Format Templates
Book Writing Templates
API Writing Overview
How to Write a Book
Writing a Book for the First Time
How to Write an Autobiography
How Long Does it Take to Write a Book?
Do You Underline Book Titles?
Snowflake Method
Book Title Generator
How to Write Nonfiction Book
How to Write a Children's Book
How to Write a Memoir
Mistakes to Avoid When Writing a Book
How to Write a Book Title
How to Write a Book Introduction
How to Write a Dedication in a Book
How to Write a Book Synopsis
Business Writing Examples
Business Writing Skills
Types of Business Writing
Dialogue Writing Overview
Grant Writing Overview
Medical Writing Overview
Nanowrimo Overview
How to Write 50,000 Words for Nanowrimo
Camp Nanowrimo
Nanowrimo YWP
Nanowrimo Mistakes to Avoid
Proposal Writing Overview
Technical Writing Overview
UX Writing Overview
Reddit Writing Prompts
Romance Writing Prompts
Flash Fiction Story Prompts
Dialogue and Screenplay Writing Prompts
Poetry Writing Prompts
Tumblr Writing Prompts
Creative Writing Prompts for Kids
Creative Writing Prompts for Adults
Fantasy Writing Prompts
Horror Writing Prompts
Book Writing Software
Novel Writing Software
Screenwriting Software
ProWriting Aid
Writing Tools
Literature and Latte
Hemingway App
Final Draft
Writing Apps
Grammarly Premium
Wattpad Inbox
Microsoft OneNote
Google Keep App
Home » Blog » The 10 Best Creative Writing Jobs
The 10 Best Creative Writing Jobs
TABLE OF CONTENTS
Readers are attracted to creative writing because they like to step out of the regular boundaries of day to day life. They like to read about the author's imaginations, feelings, explanations, and original ideas. Creative writing jobs are jobs that have you writing pieces that are meant to entertain.
Your work should keep readers interested and play on their desire for fantasy and imagination. This is about a writer allowing the imagination to take over a little bit, and let an interesting story to be told.
Creative writing jobs are gathering momentum as more clients are looking for writers who can add some originality and creativity to their business. Creative writing is becoming a part of modern society.
There's a considerable increase in the demand for quality creative writers. This has, consequentially, created an increase in available creative writing jobs.
The Best Creative Writing Jobs
There are many lucrative creative writing jobs out there that are looking for writers to conjure new and exciting ideas. They want ideas that can help them convey their messages to the audiences in an engaging way.
As a creative writer, you can work with magazines, advertising platforms, websites, freelance sites, and even for yourself. The onus is on you as a creative writer to prove your worth and give the very best of yourself to your readers or audiences.
[table id=30 /]
Novel Writing
This job entails writing a long work of narrative fiction.
To be a good novelist you need to be creative, productive, and engaging. It equally requires talent, patience, and imaginative alertness since most ideas come from the abstract.
While novel writing can be enjoyable and lucrative, it is not easy. A novel has many elements to consider:
Note-taking
Brainstorming
Perspective
And many more
It's a long and complicated process. There are many common mistakes you'll probably make, and then need to correct. Make sure you're mentally prepared.
A professional author can make around $65,048 per year, though this depends on the value and popularity of their work.
How to Become a Novelist
In order to become a novelist, you first need to write a novel! This is no small undertaking. For some, it takes them years to complete that manuscript.
Fortunately, there are many helpful writing tools out there these days that can make the process easier.
Squibler , for example, is a fantastic novel writing software that aims to help you write and publish your book within 30 days. This may sound like a crazy feat, but with proper organization, it can be done.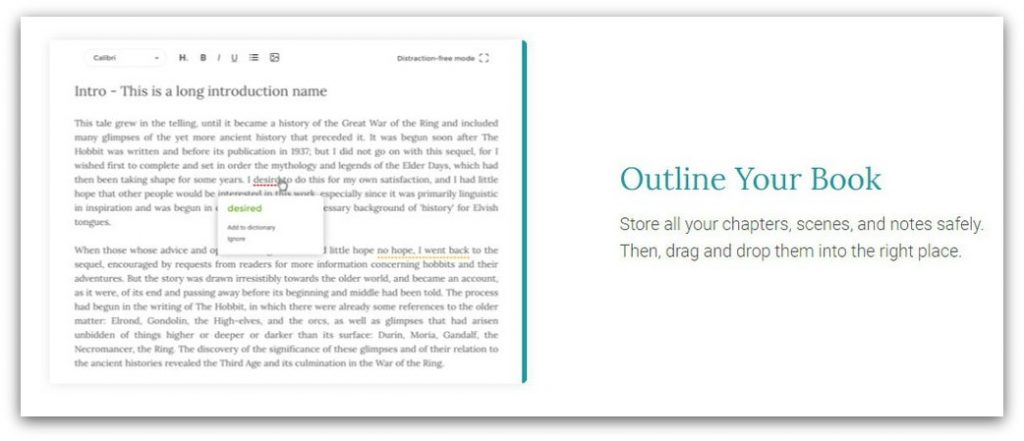 Squibler is simple but powerful. It offers you assistance and organization for every part of your novel, from brainstorming to publishing.
Scriptwriting
Scriptwriting will have writers creating scripts for mass media. This includes many things:
Feature film
Television production
Video games
Youtube videos
When people think of script writing , their minds almost always go to movies and TV. This may be the most popular type of script, but it's not the only kind.
Many online video publications need scripts written as well. Some companies produce web series, which are only available to view online.
To have a good script you first need a good story. From a good story idea , you add sequence, create your scenes, bring in dialogue, cut away dead weight, and revise it.
Scriptwriting is similar to writing a novel in that you're telling a story. After that, the differences start becoming obvious. You're not just writing for someone else to read. They're going to be watching .
This requires many different elements, such as cut scenes, transitions, actions, movements, placement, etc. It will require you to have a good visual sense as well as writing skills.
How to Sell Your Screenplay
There are a few avenues you can take to sell your screenplay to someone who will get it made.
Professional feedback is always valuable. There are consultants and coaches who work in the area of screenplays specifically. They can help you improve the script itself as well as advise you on how to get it sold.
Pitchfests and conferences. Sometimes, a writing conference of some sort will have a pitch component. This is an opportunity to pitch your screenplay to several people. The concept gets some criticism and many will advise you to go in without any expectations. The odds of actually selling your script on this day are low. But, it's a chance to meet some people, introduce yourself, and make industry connections.
Get an agent. As with books, you can choose to find an agent to represent you. This will cost you some money up front, but a good agent or manager will have a strong list of contacts to itch your script to. They will also have plenty of industry knowledge to share with you.
Contests. These can be tricky and often come with an entry fee. But, they can be a good way to get attention. Should you do well in a contest, your work has a chance of being read by some top industry professionals, depending on the caliber of the contest.
Experienced and advanced writers can make up to one million dollars per screenplay. The low end for a good quality, original script from an unknown, first-time writer may be around $100,000.
Short Story Writing
Short stories can be a tremendous way for creative writers to flex their muscles. Individuals and websites always need writers of short stories – both fiction and nonfiction – to write compelling, exciting and entertaining stories.
To write a captivating story requires you to follow the principles of writing. A good story will contain a beginning, a middle, and an end.
How to Become a Short Story Writer
The process here is similar to that of a novelist. You first must write the stories. Once they are written, you can start the editing process and eventually move into publishing.
Typically, short stories are published in an anthology or collection.
This can be a collection of stories all from the same author. Or, a third party may put together an anthology with stories from many different authors. These usually have a theme of some sort.
The benefit of short stories is that there are many more freelancing opportunities. Websites, blogs, and other online publications might hire a creative writer on a regular basis to contribute short stories.
Or, they may go the route of taking submissions, and paying the writers of accepted pieces. Either way, you can make some money from individual stories in this way – without going through the entire publishing process yourself.
A writer can make up to $30 per hour of writing a story or charge about 12.5 cents per word. Word counts for a short story can range from 2-10,000 words on average.
Poetry Writing
Most people don't think of poetry when they think of ways to make money from creative writing, but it is a possibility.
This is one of the creative writing jobs that need a very artistic way of writing. Poetry aims to stir the reader's imagination and create emotion.
A writer can do this by choosing and arranging their words correctly and carefully. You'll want to pay attention to rhythm, meaning, and sound. Poets can charge around $20 per page if their services are in demand.
How to Become a Paid Poet
Unlike some of the other creative writing jobs out there, it can be incredibly difficult to make your entire living off your poetry. Unless, of course, you get to the point of publishing your own collections – and they become successful.
That being said, there are a number of online publications that will pay you for your poetry. Depending on the type of website as well as it's popularity, these can pay between $10 and $200 per accepted poem.
To begin, all you must do is research these publications. Find some that take submissions in your preferred style and/or genre, and start sending yours in.
It can be a tedious process. But, if you're good, you could make a considerable amount of extra money from your prose.
Greeting Card Text Writing
This is an excellent writing job available for creative writers who are good at evoking emotion with a small number of words.
A highly creative mind is needed here. The words need to be clear and concise as well as witty and clever all at the same time.
Greeting cards are written for many different things:
Anniversaries
Get well soon
Expressing condolences
Mothers day
Fathers day
As a greeting card writer, you will need to be detailed. Your words need to be specific to the occasion you are writing for.
How to Become a Greeting Card Writer
The most important thing is to familiarize yourself with the different styles. I already listed off the many occasions that greeting cards are written for, but there are different styles a well.
Humor and poetry tend to be the most popular – with humor cards usually commanding a higher price.
That being said, it's important, as a writer, to work with where you feel most comfortable and passionate. If you're a poet and you want to work in this industry, write some beautifully rhymed greeting cards. There is still a huge market for this.
Once you find some you like, seek out their submission process. Some may work solely off submissions, while others may hire regular writers.
Knowing what kind of style, and even what occasion you'd most like to write for will help you determine where to go for employment. You'll have to research companies that publish greeting cards in your desired area.
On average, a submission will pay around $25.However, a seasoned greeting card writer working for higher-end companies can make up to $300 per approved submission.
Songwriting
You need to be creative to write good songs. Songwriting has several different components:
Some people write every element of a song on their own. Others collaborate. One person writes the lyrics while another writes the music.
Some bands even make it a group effort when creating new songs. How the song gets written will depend on the talents and abilities of all those involved. If an artist is lacking something, that's where you can come in.
It may be hard to believe, but many of the world's most famous singers do not write their own songs. Just because someone can sing doesn't mean they are gifted writers.
If you are both creative and musically inclined, songwriting can be a lucrative career option for you.
To be an original songwriter, you need to be able to visualize ideas and mix sounds together. Originality is key. There are many lawsuits created all the time because someone is being accused of stealing someone else's song.
You need to be willing and able to put in the work to create something new, fresh, and interesting.
How to Become a Songwriter
The first step is simple – write a song! Many songwriters take classes and receive professional training, while many do not. In the end, it all comes down to how good and how appealing your work is.
Once you have some songs written, you can start sharing them with artists you think might like to sing them. You'll have to start small and work your way up.
A talented and successful songwriter will eventually have artists coming to them for new material, rather than having to advertise themselves.
A songwriter typically makes $45 – 500 per song depending on the client and job.
Speech Writing
This writing job requires you to create entertaining, convincing, and sometimes humorous content that urges the audience to listen. Speech writing can be for various occasions like weddings, elections, and anniversaries.
Writing a speech needs someone who is expressive enough to be able to articulate deep and thought-provoking ideas in a concise way. They need to be personalized to help sway the audience to the speaker's side.
Most of the time, a winning speech you should have a little humor in it – everyone loves a good laugh! Of course, there are exceptions to this depending on the context of the speech.
How to Become a Speech Writer
To begin, A speechwriter should have a bachelor's degree in communications, journalism, and/or English.
Once you have the degree under your belt, it's time to start gaining experience. There are a few ways you an go about finding work as a speech wrier:
Find employment with a public relations agency. They will have you writing speeches for multiple clients.
Go freelance. This allows you to work on a contract basis for as many organizations and clients as you want.
Occasionally, a company or even an individual may choose to keep a full-time speechwriter on staff.
How to Write a Good Speech
There are many different types of speeches and different settings in which they will be given. That said, there are a few key things to remember when writing a good speech.
Your overall goal is to make a good impression and leave the audience with two or three main takeaways.
Make them remember you. Many speeches have gone down in history, but they tend to be famous for only one brilliant, witty, and/or hilarious line. Use a strong metaphor, an unusual analogy, or shock factor to leave a lasting impression.
Make the opening count. Your audience is most receptive at the beginning of your speech. Grab their attention right away. Questions, funny stories, or shocking statistics can do this.
Make it short, sweet, and simple. If a certain detail or sentence doesn't help you get your main idea or message across, take it out. A short, easy to understand speech is much more impactful than a long one with a lot of unnecessary detail.
A talented and successful speechwriter can make around $100,000 per year.
Column Writing
This job is about a writer sharing their thoughts, ideas, or opinions within a publication. A column will have a writer who contributes regular articles on the same general topic. For example, an advice column will have the writer answering reader-submitted questions.
Regular readers of the publication will grow to know and like the columnist. Eventually, readers will build trust with them. They will willingly take the advice given, products recommended, or whatever the case may be.
Columns will appear in many types of publications, both on and offline:
How to Become a Column Writer
First, you will need to decide which type of publication you most want to write for. Do you want to write for a print publication like a magazine or newspaper? Or do you want to contribute to an online blog or website?
Some people prefer to be published in print. But, this will limit you to what's available locally. Pursuing online publications will give you many more options.
Next, it's all about persistence. Find the publications you want to write for, and get in contact. Not every publication will love your writing or share your vision. Don't give up.
Writing a Good Column
Writing a good column takes practice. And practice regularly, you must. Publications change their content all the time. If readers aren't absolutely loving your column you're at risk of being phased out.
Here are some tips for maintaining a good column, once you've gotten in somewhere:
Stay on schedule. Constantly missed deadlines will make you undesirable to work with in no time.
Always be interesting. Don't let your column get repetitive. Even if you're always writing on the same general subject, find ways to keep it fresh and engaging.
Spend the proper amount of time on each piece. After a while, writing your column will feel routine. Don't let yourself slip. It may only be 1000 words, but the quality needs to be top-notch.
Choose your publications wisely. In the beginning, it may be tempting to apply to everything and accept the first offer you get. Don't rush into anything. Do your research. Many print publications are dying out. You don't want t jump onto a sinking ship.
Different publications will pay different rates. Often, the more popular and well-known the publication is, the more they will pay their contributors.
Some may be paid a salary while others are paid per article written. On average, however, a columnist might make between $20-30/hour.
A job as a professional editor is something many creative writers decide to pursue. It's important to know that editing will require much less writing on your part. You will mostly be going over the work of other people.
Even still, editing is a rewarding job that you can take pride in. Editors are often in charge of the entire publication, so you will see a variety of work and writing styles.
This is fun and exciting for some. Putting together a magazine, newspaper or even maintaining a website is a real art. The finished product is something to admire when done well.
How to Become an Editor
Most who wish to be an editor will pursue a degree in journalism, communications, or English. This will give employers confidence that you have the appropriate knowledge, though it's not always required.
Editors can work on a freelance basis, but it's more common for a publication, website, or other company to have full time editors on staff.
These jobs are often posted on job boards and websites, or can be discovered through word of mouth.
Skills Required to Become an Editor
While it is a common pursuit, not all writers can also be editors. It does require a certain set of skills:
Extensive knowledge of grammar rules
Extreme attention to detail
Excellent communication skills – you will often be working with writers
Intermediate to advanced computer skills. Even if you are editing for a print publication, most of the work will be done on a computer.
Good knowledge of current communication and publishing tools.
If this sounds like you, perhaps a job as an editor would suit you. The average salary for an editor is about $56,000. However, higher-end publications may pay more.
Ghostwriting
This is a writing job that some don't like to do. However, if you're willing to do the work and let someone else take the credit, it can be quite lucrative.
Ghostwriters are people who write something for someone, who then turns around and posts it under their name – or perhaps the company name.
As long as both parties agree to the terms, this is perfectly fine and is actually quite common. Many websites hire ghostwriters to keep their content coming regularly.
Others will pay someone to ghost write an entire book. This could be any number of things:
Short stories or novellas. Some people have a creative idea in mind but aren't good at writing it out. They will hire a ghostwriter to actually craft the story, but it will be published under their own name.
Nonfiction/self-help books. Again, they have the idea but need someone to structure and write it for them.
How-to guides. Someone has the knowledge, expertise, and process for something. Someone else turns it into a readable and cohesive instructional for consumers.
Their own autobiography. There are some people who have an incredible life story. It's one they want to share with the world, but they aren't a writer. Many ghostwriters write someone else's life story.
Resumes. Every employee needs help with their resume whether that's for an HR generalist or VP of marketing.
The list can go on. Those willing to ghost write are endlessly valuable to those with good ideas but no real writing skills and/or lack of time.
How to Become a Ghostwriter
Most ghostwriters find their work online, and work is often done on a freelance basis. Freelance job boards, blogging job boards, and LinkedIn jobs posts from HR coordinators are good places to start.
Some websites or companies might advertise for themselves that they are looking for a ghostwriter. With this, all you must do is follow the given application instructions.
The pay range for a ghostwriter is quite large. They can make anywhere from $0.01/word to $0.25/per word. Others go from $10/hour to $100/hour.
The rate you are paid depends largely on your skill level, the amount of experience you have, and the individual client you are working with.
Where to Find Creative Writing Jobs Online
So, now you've learned how to turn your creative writing into some money. As discussed above, there are many ways you can go about selling your work or getting hired to produce it.
Some methods are online, while others are done offline. The websites listed below are some good places to get started.
They won't make you millions. But, you can start building your professional portfolio and generate some cash at the same time.
Flash Fiction Online
This is a good one for those looking to sell their short stories. Every month, they publish a small collection of flash fiction. This is essentially a very short story – between 500-1000 words.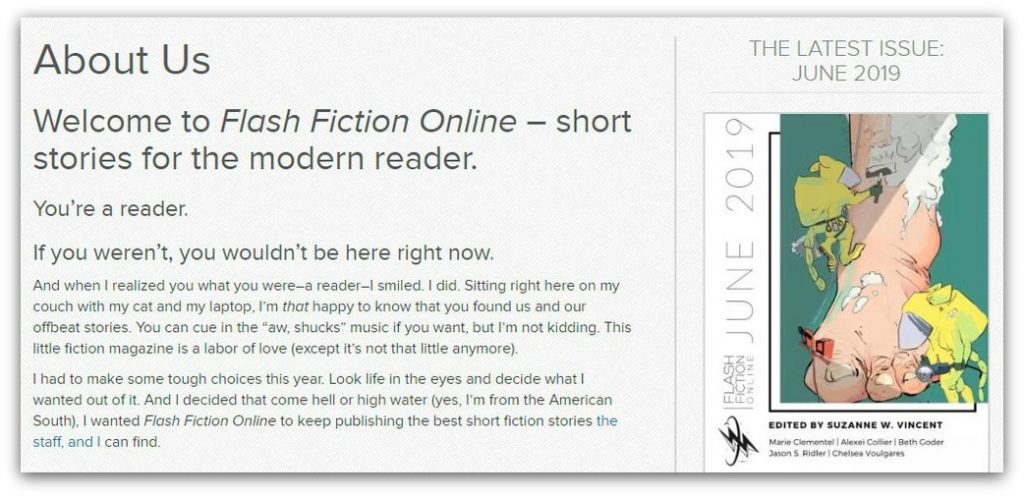 They accept submissions in any genre or category and anyone can submit. They pay out $60 per published story if they are given exclusive rights. For a story previously published elsewhere, they will pay 2 cents per word.
The Sun Magazine
The Sun is an online magazine that publishes a variety of content including fiction, nonfiction , and poetry. They have a lean towards personal writing but are always on the lookout for bold pieces on cultural and political topics.
For fiction and nonfiction, they pay between $300-2000, depending on length. There is no minimum word count, though they don't like to publish pieces over 7000 words.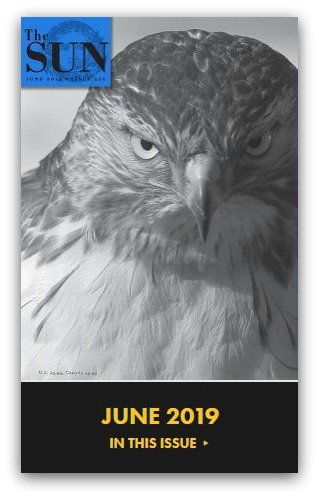 For poetry, they pay between $100-250.
If you are interested, they also accept interview pitches and photography submissions. Online submission is easy, and there is no cost.
Rattle is a publication that focuses on poetry. They publish a physical issue four times a year, with around 100 pages of poetry. They also run a blog which will feature one poem each day.
Rattle is passionate about poetry and want to see it revived in this day and age. They also want to encourage poets of all kinds. This means that they don't care for credentials or previous credits.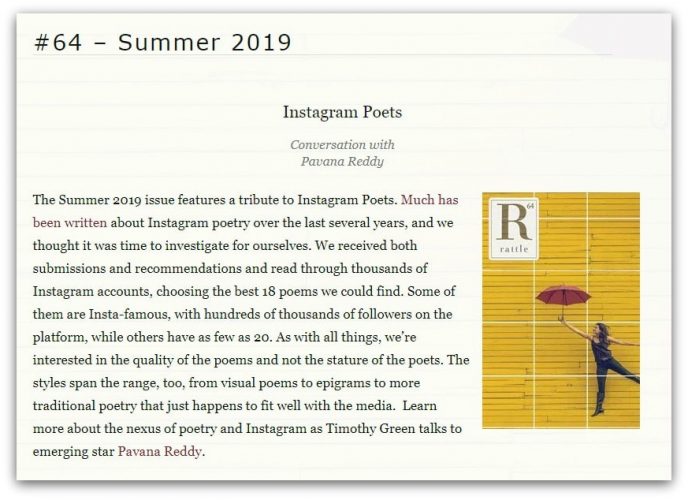 If they like your poem, they will publish it.
If your work is featured in a printed issue, they pay $100. For work that doesn't make the print publication but gets featured on the blog, they pay $50.
It is free to submit, and there are no restrictions whatsoever in regards to length or genre.
Clarkesworld Magazine
Clarkesworld Magazin e publishes short stories and short novellas in the science fiction and fantasy genres. the magazine is published monthly and contains interviews and articles along with several pieces of fiction.
Word counts must be between 10-22,000 words. If accepted, stories are paid at a rate of 10 cents per word for the first 7000 words, and 8 cents for each word over 7000.
Clarkesworld has won many awards and is a well-respected publication that pays its writers well. If you're a science fiction or fantasy writer , definitely consider submitting here.
Freelance Job Boards
All of the above-mentioned publications are places where you can submit your work for free, and get paid upon acceptance. This can be an effective way to make some extra cash and build your portfolio as a creative writer.
But, it's not necessarily a way to build a true career. Where applicable, pursue the "real world" avenues. Make connections, talk to agents, practice your in-person pitch.
In addition to this, you may consider perusing some freelance job boards as well. These will often have all kinds of freelance jobs posted – not just writing.
However, once you narrow your search, it can be a good way to find regular clients to hire you on a contract basis. This will create good contacts and a more steady, reliable income.
Short story writing, script writing, ghostwriting, songwriting, and editing can all commonly be found as freelance-based jobs.
Finding a Creative Writing Job is Not Impossible
The term "starving artist" is familiar to most. Many have resigned themselves to making their writing a hobby. You don't have to do this.
It may be more difficult than obtaining your run of the mill retail job, but you can still do what you love for a living as a creative mind.
Pursue a degree if you think it will help you, and stay persistent. Send queries. Submit your work. Cold-pitch all day long.
Pile up your rejection letters and let them serve as your biggest motivation. With talent, drive, and determination, you will find the people who share your vision. You'll find the people who value good writing and are willing to pay for it.
Related Posts
Published in Career
Join 5000+ Technical Writers
Get our #1 industry rated weekly technical writing reads newsletter.